This winter and on into spring, Kaufman Music Center presents the 2018 Ecstatic Music Festival, which will spotlight a talented lineup of artists from across the sonic spectrum. They'll perform for nine collaborative, one-night-only performances. The festival will feature collaborations from more than 75 artists, including Kronos Quartet, the Bang on a Can All-Stars, Margaret Leng Tan, Glasser, Xenia Rubinos, Mantra Percussion, Mahogany L. Browne, Carla Kihlstedt, Patrick Zimmerli, Ethan Iverson, and Buke & Gase's Arone Dyer.
The season runs January 27th, 2018 through April 26th, 2018 (we've got the spring highlights called out below). The festival is presented in association with New Amsterdam Records. All concerts will be held at Kaufman Music Center's Merkin Concert Hall and begin at 7:30pm.
Star Power: Performances Through April 2018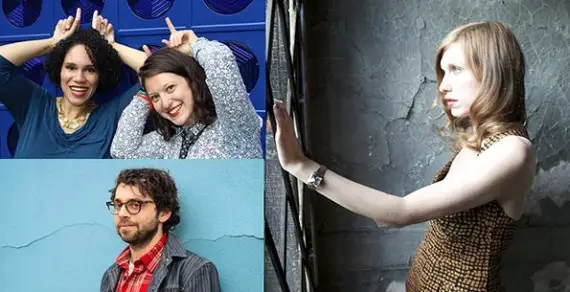 Thursday, March 22, 7:30pm
Glasser (with Robbie Lee & Eleonore Oppenheim) and big dog little dog. Glasser (Cameron Mesirow), renowned for her ethereal vocals and atmospheric electro-pop, will venture into new territory with her all-acoustic trio, which presents multi-instrumentalist Robbie Lee and bassist Eleonore Oppenheim. They will be joined by big dog little dog—the new duo project of composer-violinist Jessie Montgomery, and bassist and songwriter Eleonore Oppenheim. Each band will perform sets of their own material, then together they'll premiere a new piece written specifically for the festival.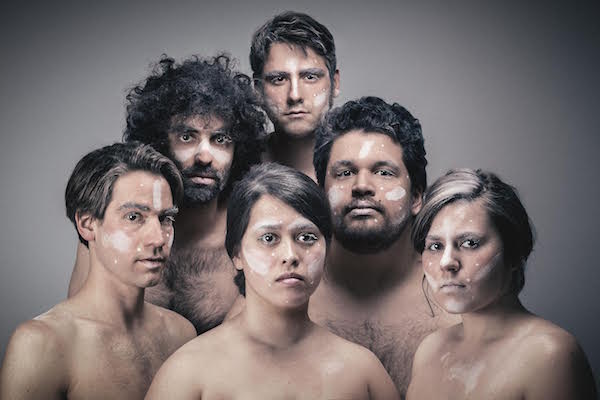 Bent Knee. Photo: Chris Anderson 
Thursday, March 29, 7:30pm
Bent Knee & Mantra Percussion
This Boston band comes together with the visionary Mantra Percussion to present a lineup of new works. The two ensembles will perform separate sets and then join to premiere a new work by Bent Knee that weaves in influences from rock, pop, and avant-garde.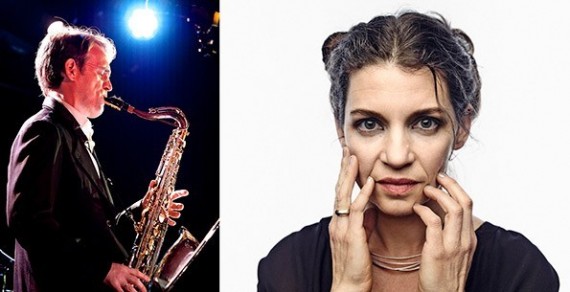 Saturday, April 14, 8:30pm
Clockworks & Songs of Mourning
The performance begins with a celebration of the release of composer-saxophonist Patrick Zimmerli's Clockworks, a musical meditation on time, in all its forms. It is performed by Zimmerli with former Bad Plus pianist Ethan Iverson, bassist Chris Tordini, and composer-jazz drummer John Hollenbeck. During the show's second half, pop/art song composer-violinist-vocalist Carla Kihlstedt and composer Jeremy Flower join Zimmerli, Tordini, and Hollenbeck for the world premiere of Songs of Mourning—an exploration of sorrow ranging from the political to the personal, and other works from their cumulative pasts.
Thursday, April 19, 7:30pm
ModernMedieval & Julianna Barwick
This New Sounds Live co-presentation is hosted by John Schaefer and streamed live on NewSounds.org, Some of the greatest voices in contemporary music come together for this performance. Julianna Barwick's powerfully emotive voice paired with celebrated performers of early music ascends into an ecstatic sonic world. Featuring premieres of new works by Barwick, Caleb Burhans, and Caroline Shaw, who is the youngest-ever winner of the Pulitzer Prize for Music. The three-member super-group ModernMedieval features former Anonymous 4 founder Jacqueline Horner-Kwiatek and Roomful of Teeth's Martha Cluver and Eliza Bagg.
Thursday, April 26, 7:30pm
Margaret Leng Tan Premieres George Crumb, Suzanne Farrin & Kelly Moran
This New Sounds Live co-presentation is hosted by John Schaefer and streamed live on NewSounds.org. Margaret Leng Tan gives the New York premiere of Metamorphoses—a major new work written for her by the seminal 20th century composer George Crumb, for amplified piano, toy piano, percussion, and voice. Metamorphoses is performed with Monica Duncan's video projections, in which atmospheric visual textures complement the music. Tan will also premiere two new EMF-commissioned pieces by young composers responding to Cage and Crumb's influence: a work for prepared piano by Kelly Moran, and a haunting piece by 2017 Rome Prize winner Suzanne Farrin that acknowledges not only Crumb's important contribution to American music, but, in Farrin's words, "also Margaret Leng Tan's special role as the artist who has brought the piano's insides to life on stage." Works by Toby Twining and John Cage round out the program.
129 W. 67th St., kaufmanmusiccenter.org.
Tickets are available at 212-501-3330 or EcstaticMusicFestival.com.