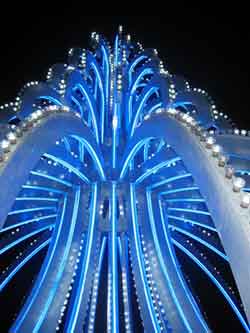 From Feb. 27 through Apr. 5, the Plaza at
Rockefeller Center
will be bathed in the LED-generated light of
Electric Fountain
, one of the few major public art installations by the acclaimed British artists Tim Noble and Sue Webster. This monumental 3-D outdoor light sculpture will be 35 feet (10.72 meters) high and 30 feet (10.6 meters) in diameter. Fabricated from 3,390 LED bulbs and 527 meters of neon tubing, the design and sequencing will replicate the movement of water: streaming, pooling, splashing and flowing, creating a hypnotic experience for viewers. Presented by Art Production Fund, sponsored by Lexus, and hosted by Tishman Speyer, co-owners of Rockefeller Center,
Electric Fountain
will be on view, free and open to the public.
Electric Fountain
represents Noble & Webster's modern take on the world's oldest form of public art, the fountain. It simultaneously references iconic pop culture symbols, such as marquee signs in Las Vegas and Times Square, and historical fountains built in civic spaces, such as Bernini's Triton Fountain.
"The project mimics the tradition of a fountain as a monument found in public squares around the world, but its magic lies in the emulation of light where water should be," said artist Sue Webster. "During daylight hours the viewer will really get a sense of
Electric Fountain
's architectural and sculptural qualities as the lights react with the changing moods of New York City's daily weather conditions. As nighttime falls, the sculptural form will slowly disappear into darkness leaving only the illusion of bright cascading water in its wake."
A monument for the 21st century,
Electric Fountain
is a celebration of the spectacle, excess, beauty and desire of contemporary culture and a provocative comment on the nature of consumer society - a theme often present in Noble & Webster's work.
Rockefeller Plaza lies between 5-6 Aves. from 48th to 51st St., 212-632-3975; www.rockefellercenter.com