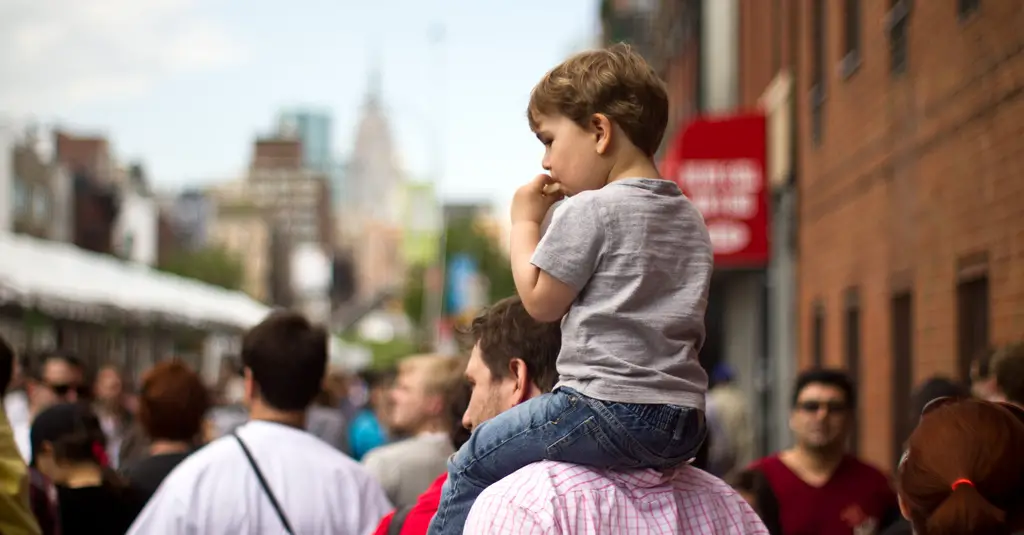 Photo: Michael Dougherty/Flickr

While New York City is often thought of as a playground for adults, there's still plenty of fun activities with children. From museum specials to readings to musical performances, City Guide's collection of weekend events for kids in New York City will have your little ones never wanting to leave the concrete jungle.


Watson Adventures' Whodunit at the Met Family Scavenger Hunt - Metropolitan Museum of Art
February 09, 2019 - New York
Join Watson Adventures on a unique murder mystery scavenger hunt for kids 10 and up! A killer is on the loose at the Metropolitan Museum of Art, and it's up to you to stop him! The killer has created a scavenger hunt that reveals his name, the weapon he used and where he hid the body. Follow the trail of clues throughout the museum and answer tricky questions to solve the crime. Can you figure out whodunit? Kids must be accompanied by an adult. Price includes museum admission. Advance purchase is required.
Lunar New Year Celebration - Snug Harbor Cultural Center & Botanical Garden
February 09, 2019 - Staten Island
Come welcome the Year of the Pig with a Lunar New Year Celebration! Children will enjoy treats, tales, and traditional crafts as part of one of the biggest cultural celebrations in the world. The Pig is the twelfth of all zodiac animals. According to one myth, the Jade Emperor said the order of the animals in the zodiac would be decided by the order in which they arrived to his party. Pig was late because he overslept. Another story says that a wolf destroyed his house. He had to rebuild his home before he could set off. When he arrived, he was the last one and could only take twelfth place. Building P Lobby General Admission: Adults: $10 | Children: $7 | Children under 3: Free Snug Harbor Members: Adults: $8 | Children: $5 | Children under 3: Free BUY TICKETS HERE: https://snug-harbor.org/event/lunar-new-year-celebration/ Your family will love: – Storytelling: Listen to the legend of Nien, hear about the Chinese zodiac, learn the many ways we celebrate the 15 days of the Lunar New Year, and discover the traits of 2019's Pig. – Crafts: Kids can make a lion's head to ward off evil spirits, create a hong bao envelope to give and receive special treats, and practice ... (read more)
Just Kidding: Liz Joyce and a Couple of Puppets: The Doubtful Sprout - Symphony Space
February 09, 2019 - New York
Get ready to explore the world under your feet in this underground puppet adventure. Tunnel down with Worm and Sprout as they discover the mysterious life found in soil. Along the way, kids help figure out the secrets that help Sprout grow. Acclaimed master Puppeteer Liz Joyce, brings this ecological wonderland to life with several styles of puppets, projections and song
Saturday Morning Show - Brookfield Place
February 09, 2019 - Battery Park City
Join us Saturday mornings for performances by magicians, musicians, storytellers and more that are perfect for a pint-sized audience! 10am Music with Rolie Polie Guacamole Rolie Polie Guacamole has developed a smart, parent-friendly musical style that dresses up original tunes and classic covers with vibrant harmonies and deft instrumental layers, plugging in a sizzling electric current of rhythm that lights up lyrics humming with relevance and humor. 11am Magic with Gary the Great Gary's brings his high energy blast of magic and comedy back to Hudson Eats for another chance to fill up your Saturday morning with some interactive awesomeness. Don't forget your magic wand!
Magic show - Broadway Comedy Club
February 09, 2019 - New York
Prepare yourself for an afternoon filled with mystery and inspiration during the Magic Show, one hour show at the legendary Broadway Comedy Club. Master magician will enchant the young at heart with a dazzling display of sleight of hand tricks for kids and mentalism for adults. It is an interactive experience for the young at heart. DOORS OPEN AT 12:30 P.M. SHOW RUNS FROM 1:00 P.M. TO 2:00 P.M. Please note – there i
Watson Adventures' Wizard School Scavenger Hunt for Harry Potter Fans - Metropolitan Museum of Art
Through February 09, 2019 - New York
Join us on a Harry Potter-themed scavenger hunt for kids ages 10 and up! Young wizards will enjoy a trip to the Metropolitan Museum, in search of art that echoes characters and enchanted objects in the Harry Potter books. You'll track down serpents, Dumbledore look-alikes, and figures as scary as any Death Eater. The hunt is not an addition to or variation on Harry's adventures, but instead references to the books will provide a surprising bridge to many strange and wonderful works of art. Kids must be accompanied by an adult, but all-adult teams can compete separately. Advance purchase is required. Price includes museum admission. **Additional Dates: February 16; February 19; February 22**
Mary Poppins Sing-Along - Schimmel Center
February 10, 2019 - New York
Join us for pre-show activities including games, prizes, and a meet-and-greet with Mary Poppins herself!
NY Metro Pet Reptile Expo - Westchester County Center
February 10, 2019 - White Plains
Come see thousands of live pet reptiles on display and for sale as pets. More than 100 reptile breeders will be displaying! If you like reptiles or are looking for a scaly new pet, this is the event for you!
Bean Throwing (Setsubun) - Japan Society
February 10, 2019 - New York
Explore Japan's seasonal customs and culture through storytelling, creative play, songs and art making. Preschool-aged children and their caregivers enjoy intimate, tactile and interactive classes based on a different theme each month. Bean Throwing (Setsubun) Join in one of the favorite traditions of Japanese kids — welcome spring by scaring away ogres by throwing soybeans at them! Dress your parents up like ogres, then practice some ogre moves and dances before the bean-throwing begins.
Bonsai - Japan Society
February 10, 2019 - New York
Experience the many aspects of Japanese art and culture through a variety of artmaking experiences. School-aged children and their families enjoy the opportunity to construct works of art based on a different theme each month. Bonsai Create (and take home) your own bonsai tree!
Pillowland - The Pete at The Flea Theater
Through April 14, 2019 - new york
Pillowland presented by NYC Children's Theater Written by Barbara Zinn Krieger (Ballerina Swan) Devised by Jonathan Shmidt Chapman (Up and Away) Directed by Khalia Davis (Judy Moody and Stink: The Mad, Mad, Mad, Mad Treasure Hunt) Based on the song by Laurie Berkner Stanley always has trouble falling asleep - even counting sheep doesn't help! When he receives an invitation to visit the Kingdom of Pillowland, he sets off on an exciting adventure with his friends Finn, Quinn and you! From the company that brought you Please Bring Balloons comes a new interactive play for your youngest theatergoers based on the hit song by Laurie Berkner. 50 minutes duration. October 7, 2018 - April 14, 2019 | 10am and 12pm | Select Sundays through April 14th The Pete at The Flea Theater 20 Thomas Street New York, NY 10007 (212) 226-0051 *Before Pillowland opens join us for FREE Story Time on Saturday, September 15th at 11am at Strand Books (ADD the address for Strand books here) Pillowland is best for ages 2-5 Tickets: $25.00 | Tickets on sale at : https://nycchildrenstheater.org/shows-and-events/current-season/ #Pillowland
Gentle Martial Arts for Kids - Aikido - Aikido of Westchester
Through December 28, 2019 - White Plains
Give Your Child the Gift of Aikido Aikido is a gentle martial art that teaches children how to resolve conflicts in a non-violent way and practice self-defense techniques that help develop focused, calm minds and strong bodies. Aikido helps increase children's coordination, flexibility and balance while learning a practical skill that extends to everyday life. Classes Year Round Our program is open to girls and boys ages 6-12. Classes are held every Saturday 9-10 am and last approximately one hour.
Connected Worlds - New York Hall of Science
Through January 31, 2020 - Flushing Meadows, Queens
The New York Hall of Science (NYSCI) will open Connected Worlds, its exciting and groundbreaking new exhibition on environmental sustainability, on June 27, 2015. Presented in NYSCI's iconic Great Hall, Connected Worlds is a fully immersive, digitally rendered interactive experience where visitors are encouraged to explore the interconnectedness of different environments, learn about the importance of keeping systems in balance, and see how our individual and collective actions can have widespread impact. Through their gestures and movements, visitors interact with animated creatures, plants, trees and other objects, and see how human decisions affect the environment. "Connected Worlds reflects what NYSCI is all about – a playful hands-on activity, a focus on problem-solving, and deep engagement with a topic. Connected Worlds gives visitors confidence in their ability to effect change, and empowers them within a larger environment," said Margaret Honey, president and CEO of NYSCI. "This leads to passionate learners – a hallmark of the NYSCI experience." Connected Worlds features gesture-based technologies that generate and project images onto seven massive screens. Six... (read more)
Pilates for the Kids - Real Pilates
Through May 05, 2028 - New York
In honor of National Pilates Day and National Fitness Day, Real Pilates presents Pilates for the Kids, two group mat/tower classes for kids age 12 - 17. 10 a.m. Upper East Side, 1226 Lexington Ave 1 p.m. Tribeca, 177 Duane Street Sign up: (212) 625-0777 realpilatesnyc.com
Kidville Upper East Drop Off Pajama Party - Kidville Upper East
Through August 11, 8017 - New York
Join us for a three-hour drop off pajama party at Kidville Upper East. Includes free play, dinner, arts and crafts, story time, dance time, movie time, The SMART Playbook leadership building curriculum and so much more!