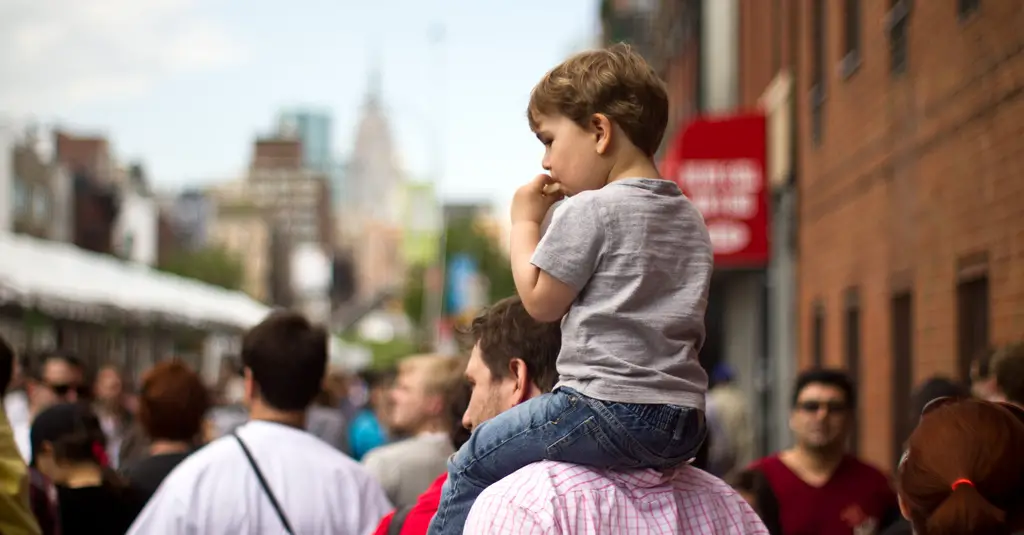 Photo: Michael Dougherty/Flickr

While New York City is often thought of as a playground for adults, there's still plenty of fun activities with children. From museum specials to readings to musical performances, City Guide's collection of weekend events for kids in New York City will have your little ones never wanting to leave the concrete jungle.
Hinamatsuri (Doll's Day) - Japan Society
March 03, 2019 - New York

Explore Japan's seasonal customs and culture through storytelling, creative play, songs and art making. Preschool-aged children and their caregivers enjoy intimate, tactile and interactive classes based on a different theme each month. Hinamatsuri (Doll's Day) Enjoy an authentic display of intricately decorated hina dolls, experience Hinamatsuri traditions, sing songs and make your own dolls to take home! Families wish for the health and happiness of young girls on Hinamatsuri, and decorate their houses with special hina doll displays.
Japanese Classical Dance - Japan Society
March 03, 2019 - New York
Experience the many aspects of Japanese art and culture through a variety of artmaking experiences. School-aged children and their families enjoy the opportunity to construct works of art based on a different theme each month. Japanese Classical Dance Learn the basic movements of Japanese classical dance and how to use dance fans for expressive movements. Perform a short dance piece that expresses the beauty of flowers!
Ajijaak on Turtle Island - The New Victory Theater
Through March 10, 2019 - New York
Kites morph into soaring birds and branches transform into a gentle deer. Visionary puppetry artist Heather Henson and Grammy Award winner Ty Defoe bring together an ensemble of North American First Nations Peoples to tell the tale of Ajijaak, a young whooping crane who must face her first migration south. Indigenous songs, languages, and dance weave together in a spectacle of artistry to create this affecting fable about the dangerous effects of climate change on animals and our Mother Earth. With puppets from Jim Henson's Creature Shop and music by Ty Defoe, Grammy nominee Dawn Avery and Kevin Tarrant of The SilverCloud Singers, AJIJAAK ON TURTLE ISLAND takes flight in a celebration of the natural world. AJIJAAK ON TURTLE ISLAND has a running time of 60 minutes with no intermission, and is recommended for audiences ages 7 and up.
Not My Monster! - The Flea Theater
Through March 30, 2019 - New York
Have you ever noticed a small bearded man running around your house? Look again because Russian folklore promises that every home has a Domovoi, the house spirit who protects the family. In Not My Monster! Father, Mother, Darya and Vasily are forced to move from their lavish penthouse in the city to a creepy cabin in the middle of a swamp when the Russian economy tanks. Watch what happens when the children are not so sure that their Domovoi came along too. Not My Monster! is best for families with children ages 5 and up. Children under 1 are FREE.
Pillowland - The Pete at The Flea Theater
Through April 14, 2019 - new york
Pillowland presented by NYC Children's Theater Written by Barbara Zinn Krieger (Ballerina Swan) Devised by Jonathan Shmidt Chapman (Up and Away) Directed by Khalia Davis (Judy Moody and Stink: The Mad, Mad, Mad, Mad Treasure Hunt) Based on the song by Laurie Berkner Stanley always has trouble falling asleep - even counting sheep doesn't help! When he receives an invitation to visit the Kingdom of Pillowland, he sets off on an exciting adventure with his friends Finn, Quinn and you! From the company that brought you Please Bring Balloons comes a new interactive play for your youngest theatergoers based on the hit song by Laurie Berkner. 50 minutes duration. October 7, 2018 - April 14, 2019 | 10am and 12pm | Select Sundays through April 14th The Pete at The Flea Theater 20 Thomas Street New York, NY 10007 (212) 226-0051 *Before Pillowland opens join us for FREE Story Time on Saturday, September 15th at 11am at Strand Books (ADD the address for Strand books here) Pillowland is best for ages 2-5 Tickets: $25.00 | Tickets on sale at : https://nycchildrenstheater.org/shows-and-events/current-season/ #Pillowland
Gentle Martial Arts for Kids - Aikido - Aikido of Westchester
Through December 28, 2019 - White Plains
Give Your Child the Gift of Aikido Aikido is a gentle martial art that teaches children how to resolve conflicts in a non-violent way and practice self-defense techniques that help develop focused, calm minds and strong bodies. Aikido helps increase children's coordination, flexibility and balance while learning a practical skill that extends to everyday life. Classes Year Round Our program is open to girls and boys ages 6-12. Classes are held every Saturday 9-10 am and last approximately one hour.
Connected Worlds - New York Hall of Science
Through January 31, 2020 - Flushing Meadows, Queens
The New York Hall of Science (NYSCI) will open Connected Worlds, its exciting and groundbreaking new exhibition on environmental sustainability, on June 27, 2015. Presented in NYSCI's iconic Great Hall, Connected Worlds is a fully immersive, digitally rendered interactive experience where visitors are encouraged to explore the interconnectedness of different environments, learn about the importance of keeping systems in balance, and see how our individual and collective actions can have widespread impact. Through their gestures and movements, visitors interact with animated creatures, plants, trees and other objects, and see how human decisions affect the environment. "Connected Worlds reflects what NYSCI is all about – a playful hands-on activity, a focus on problem-solving, and deep engagement with a topic. Connected Worlds gives visitors confidence in their ability to effect change, and empowers them within a larger environment," said Margaret Honey, president and CEO of NYSCI. "This leads to passionate learners – a hallmark of the NYSCI experience." Connected Worlds features gesture-based technologies that generate and project images onto seven massive screens. Six... (read more)
PJ Library Helps The 14th Street Y Connect Jewish Families and Celebrate Jewish Life - 14th Street Y
Through February 08, 2020 - New York
PJ Library Helps The 14th Street Y Connect Jewish Families and Celebrate Jewish Life Grants will strengthen social connections and increase opportunities for Jewish experiences and learning across the New York Metro area New York, NY- Manhattan-area families raising Jewish children will now have more opportunities to participate in Jewish life, thanks to a grant recently awarded by PJ Library®, a flagship program of the Harold Grinspoon Foundation that provides free books to families raising Jewish children all over the world. The 14th Street Y received $15,000 to expand Pause/Play's PJ Play program, which provides accessible, theatrical Shabbat experiences for families with young children in our East Village community. The winning initiatives are designed to provide innovative programs that find and engage families who are new to the organization and connect families to compelling and high-quality Jewish experiences in New York.They range from family cooking series to social justice programming to Shabbat experiences. The 16 winning grant proposals were chosen through a competitive process open to organizations implementing PJ Library across the New York Metro area... (read more)
Pilates for the Kids - Real Pilates
Through May 05, 2028 - New York
In honor of National Pilates Day and National Fitness Day, Real Pilates presents Pilates for the Kids, two group mat/tower classes for kids age 12 - 17. 10 a.m. Upper East Side, 1226 Lexington Ave 1 p.m. Tribeca, 177 Duane Street Sign up: (212) 625-0777 realpilatesnyc.com
Kidville Upper East Drop Off Pajama Party - Kidville Upper East
Through August 11, 8017 - New York
Join us for a three-hour drop off pajama party at Kidville Upper East. Includes free play, dinner, arts and crafts, story time, dance time, movie time, The SMART Playbook leadership building curriculum and so much more!