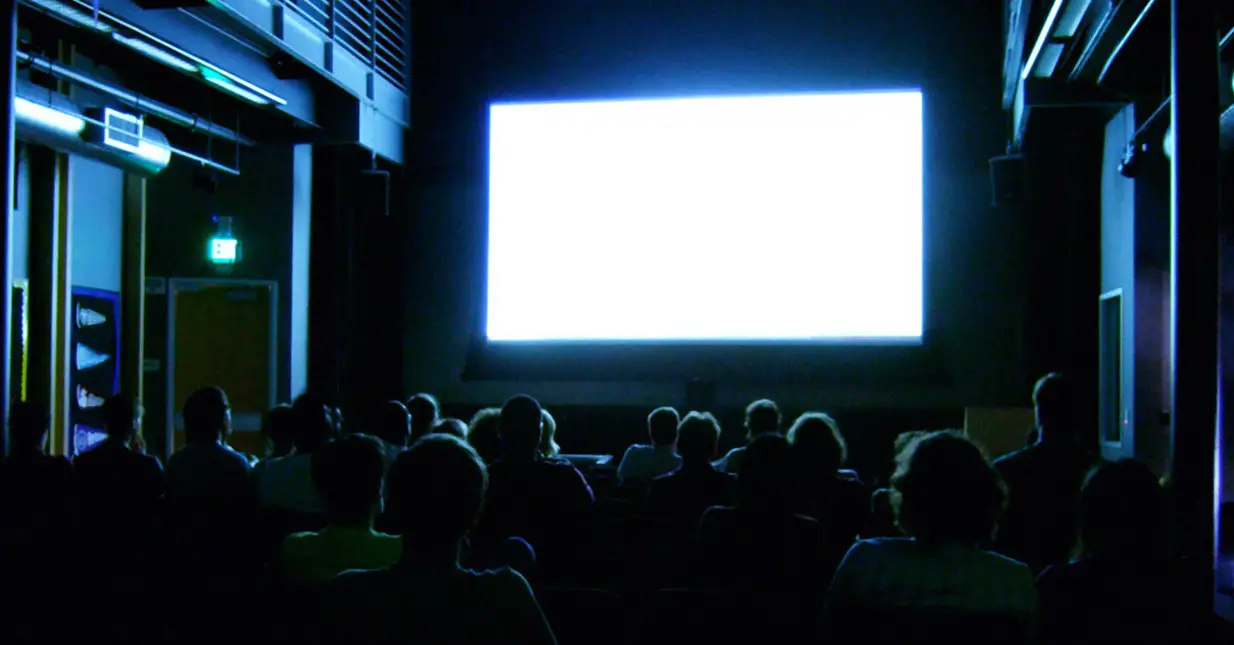 Photo: Flickr/Kenneth Lu

New York has a vibrant repertory film scene, with classic movie houses like Film Forum joined by newer venues like Metrograph, Videology, and Nitehawk Cinema. You can also find movie specials, premieres, and simulcasts like the Metropolitan Opera Live in HD listed in City Guide?s film calendar section.


NYC Cannabis Film Festival - House Of Yes
December 09, 2018 - Brooklyn
The 4th Annual NYC Cannabis Film Festival bring the world's best cannabis inspired and infused cinema to High NY! Genres include comedy, drama, romance, music video, documentary, and, of course, hybrids. Come enjoy highly creative, informative films, free popcorn, and great vibes.
Nt Live: King Lear - Symphony Space
December 09, 2018 - New York
Ian McKellen reigns supreme in this triumphant production.' (Daily Telegraph) Broadcast live from London's West End, see Ian McKellen's 'extraordinarily moving portrayal' (Independent) of King Lear in cinemas. Chichester Festival Theatre's production received five-star reviews for its sell-out run, and transfers to the West End for a limited season. Jonathan Munby directs this 'nuanced and powerful' (The Times) contemporary retelling of Shakespeare's tender, violent, moving and shocking play. Considered by many to be the greatest tragedy ever written, King Lear sees two ageing fathers – one a King, one his courtier – reject the children who truly love them. Their blindness unleashes a tornado of pitiless ambition and treachery, as family and state are plunged into a violent power struggle with bitter ends.
The Nightmare Before Christmas - Museum of the Moving Image
December 09, 2018 - Astoria
Dir. Henry Selick. 1993, 76 mins. DCP. Featuring an original score and songs by Danny Elfman. It is the 25th anniversary of the stop-motion holiday mash up of Halloween and Christmas, originally conceived by Tim Burton as a poem. When King of Halloween Town Jack Skellington decides he wants to celebrate something other than just Halloween he kidnaps Santa to take over Christmas. Things do not quite work out as planned when Jack and friends put their own dark and spooky twist on Christmas. Recommended for ages 7+
The Very Lennie & Those Girls Holiday Spectacular - The Laurie Beechman Theatre
December 11, 2018 - New York
Starring Lennie Watts & Those Girls (Eve Eaton, Rachel Hanser, Karen Mack & Wendy Russell) Featuring: Janice Hall, Rick Jensen, Robin Kradles, Tanya Moberly, Ricky Ritzel, Derek Staranowski, Amy Wolk
Nt Live: Allelujah - Symphony Space
December 14, 2018 - New York
Alan Bennett's sharp and hilarious new play is 'just what the doctor ordered' (Daily Telegraph). Filmed live at London's Bridge Theatre during its limited run, don't miss this acclaimed production full of 'singalongs and stinging wit' (Guardian). The Beth, an old fashioned cradle-to-grave hospital serving a town in Yorkshire, is threatened with closure as part of an efficiency drive. A documentary crew, eager to capture its fight for survival, follows the daily struggle to find beds on the Dusty Springfield Geriatric Ward, and the triumphs of the old people's choir. One of Britain's most celebrated writers, Alan Bennett's plays include The History Boys, The Lady in the Van and The Madness of George III, all of which were also seen on film. Allelujah! is his tenth collaboration with award-winning director Nicholas Hytner.
Blood Manor: Krampus Holiday Experience - Blood Manor
Through December 30, 2018 - New York
Experience the wrath of Krampus -- half goat, half demon -- this December only at Blood Manor! Legend says that during Christmas season, Krampus puts anybody who has misbehaved during the year in a sack -- and drowns them, eats them, plucks their eyeballs out and feeds their limbs to the demons, transporting them to hell. Krampus Holiday Experience is a fully immersive and interactive experience, where the naughty come face to face with Krampus and several other holiday horror demons. If you make it out alive (of course, you will?), you enter Santa's Broadway Photo Factory, where you can meet Santa Clause himself and snap photos of the whole family with him and in front of holiday greeting card sets and designs built especially for this holiday event!
SEE MARY QUEEN OF SCOTS at The Paris Theatre and then continue your royal experience at The Plaza! - The Paris Theatre
Through December 31, 2018 - New York
Starting December 7, those who purchase a ticket to see MARY QUEEN OF SCOTS at The Paris Theatre will be invited to The Plaza to continue their royal experience. With the purchase of any cocktail or evening fare at The Rose Club at The Plaza, the moviegoer will receive a uniquely regal dessert inspired by Queen Mary. How does the promotion work? Here's what is required to receive the complimentary item at The Plaza: - Guest must purchase a ticket to see MARY QUEEN OF SCOTS at The Paris Theatre in New York City, NY. The theatre is located at 4 W 58th St, New York, NY 10019. - Guest must exchange their ticket for a promotional invite at The Paris' box office. - From December 7-December 31, 2018 -- guest must purchase a cocktail or food at The Rose Club AND present the promotional invite to their server. To purchase tickets, please visit: www.MQOSxThePlazaxTheParis.com ABOUT Academy Award nominees Saoirse Ronan and Margot Robbie star as Mary Stuart and Elizabeth I in MARY QUEEN OF SCOTS. Queen of France at 16 and widowed at 18, Mary returns to her native Scotland to reclaim her rightful throne. When Scotland and England fall under the rule of the compelling Elizabeth... (read more)
SEE MARY QUEEN OF SCOTS at The Paris Theatre and then continue your royal experience at The Plaza! - The Paris Theatre
Through December 31, 2018 - New York
Starting December 7, those who purchase a ticket to see MARY QUEEN OF SCOTS at The Paris Theatre will be invited to The Plaza to continue their royal experience. With the purchase of any cocktail or evening fare at The Rose Club at The Plaza, the moviegoer will receive a uniquely regal dessert inspired by Queen Mary. How does the promotion work? Here's what is required to receive the complimentary item at The Plaza: - Guest must purchase a ticket to see MARY QUEEN OF SCOTS at The Paris Theatre in New York City, NY. The theatre is located at 4 W 58th St, New York, NY 10019. - Guest must exchange their ticket for a promotional invite at The Paris' box office. - From December 7-December 31, 2018 -- guest must purchase a cocktail or food at The Rose Club AND present the promotional invite to their server. To purchase tickets, please visit: www.MQOSxThePlazaxTheParis.com ABOUT Academy Award nominees Saoirse Ronan and Margot Robbie star as Mary Stuart and Elizabeth I in MARY QUEEN OF SCOTS. Queen of France at 16 and widowed at 18, Mary returns to her native Scotland to reclaim her rightful throne. When Scotland and England fall under the rule of the compelling Elizabeth... (read more)
Room H.264 - Museum of the Moving Image
Through January 27, 2019 - Astoria
2018. Jeff Reichert (b. 1978, Northfield, New Jersey. Resides in Brooklyn), Damon Smith (b. 1968 in Houston, Texas, Eric Hynes (b. 1974, Staten Island, New York. Resides in Brooklyn). Video installation. In his 1982 documentary Room 666, German director Wim Wenders asked the question "Is cinema a dead language, an art which is already in the process of decline?" to directors including Steven Spielberg, Michelangelo Antonioni, Jean-Luc Godard, Rainer Werner Fassbinder, and others. Nearly 35 years later, the makers of Room H.264 invited filmmakers to answer the same question. Each filmmaker was recorded under specific conditions replicating those of the Wenders film: the subjects were left alone in a hotel room with a tripod mounted camera running for ten minutes. Room H.264: Astoria, NY, January 2018, projected on the main screen in the Video Screening Amphitheater, is a film created from footage captured at the Paper Factory Hotel in Long Island City in January 2018. On side monitors are the raw, unedited sessions from the two Room H.264 shoots to date, in Brooklyn and Long Island City. The Wim Wenders film from 1982 plays on a monitor on a pedestal. The title of the installa... (read more)