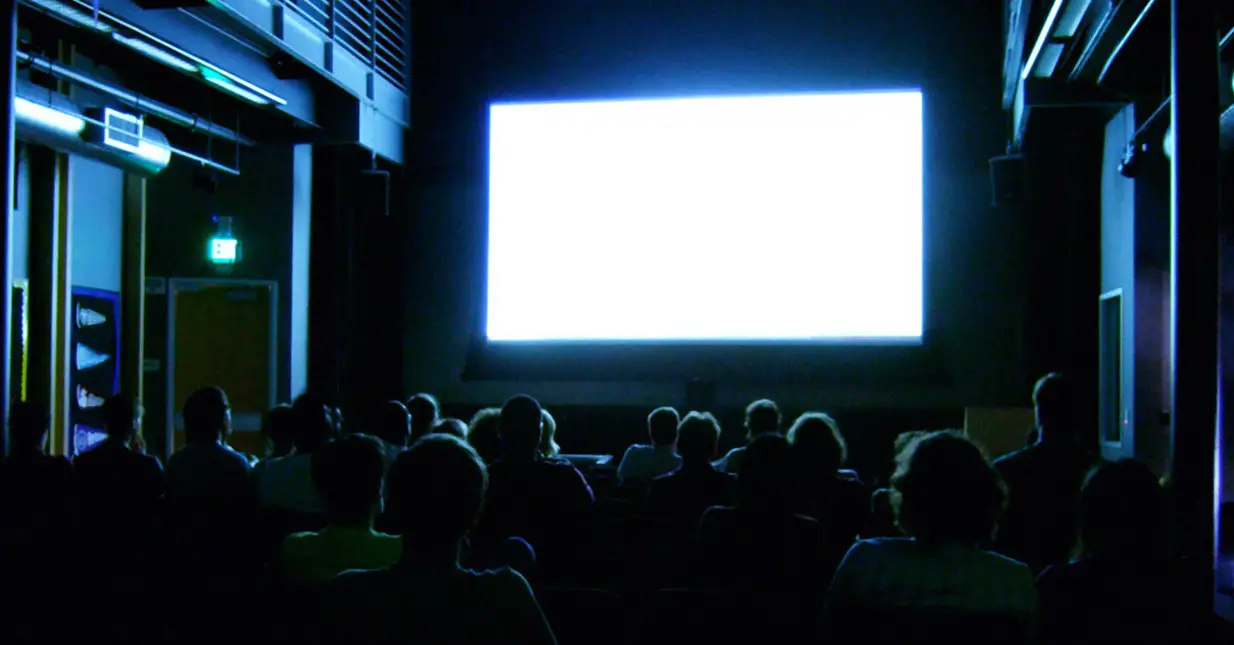 Photo: Flickr/Kenneth Lu

New York has a vibrant repertory film scene, with classic movie houses like Film Forum joined by newer venues like Metrograph, Videology, and Nitehawk Cinema. You can also find movie specials, premieres, and simulcasts like the Metropolitan Opera Live in HD listed in City Guide?s film calendar section.


L.A. Times - Rooftop Films
July 15, 2018 - Brooklyn
Sophisticated 30-somethings pursue an urban myth of happiness in this classically styled comedy. Annette (Michelle Morgan) and Elliot (Jorma Taccone) are a mostly happy, moderately neurotic LA couple. Annette doesn't enjoy game nights or taco stands quite as much as Elliot does, but no relationship is perfect, right? But instead of embracing their differences, Annette obsessively compares their relationship to those of their happy friends, a compulsion that quickly disrupts their domestic bliss. Turning to her beautiful but romantically troubled best friend Baker (Dree Hemingway), Annette re-enters the bleak LA dating scene and quickly comes to realize romantic perfection isn't so easy to come by. Taking its cues from classic mid-20th Century comedies with a stylish and contemporary spin, L.A. Times is an irreverent tale of life and the search for elusive love in the 21st Century.
Downstairs Film Club: Pov Shorts - Ace Hotel
July 15, 2018 - New York
Downstairs Film Club features a dozen free screenings Sunday nights this summer in Liberty Hall. Presented by Ace Hotel New York in partnership with The Breslin and a quartet of big-picture curators —Nordic International Film Festival, NewFest, POV by PBS and CLOG —the series showcases campy cult classics, science fiction, powerful docs and works by emerging indie talents. And, if you're 21 or older, you can get two beers and a small popcorn for ten bucks. Seating is first come first served. 7:00 - Doors Open 7:30 - Movie Starts RSVP encouraged but not required. Tonight's films have been curated by Nordic International Film Festival. Based in New York City at the renowned Scandinavia House on Park Avenue, also known as The Nordic Center, NIFF celebrates Nordic and international films annually. NIFF strives to find new and upcoming independent films as well as honoring great work from already established filmmakers.? They are a cultural hub for Nordic and International filmmakers to meet and begin collaborations for future projects and to support independent film in New York City. If you want to spend the night, might we suggest the Downstairs Film Club Sleepover offer:... (read more)
Badlands - Videology Bar & Cinema
July 16, 2018 - Brooklyn
In this veiled reply to American crime films based on the real-life killing spree of Charles Starkweather and Caril Ann Fugate, an impressionable teenage girl (Sissy Spacek) from a dead-end town and her older greaser boyfriend (Martin Sheen, emulating James Dean) embark on a killing spree in the South Dakota badlands.
The Princess and the Frog - Tribeca Film Center
July 16, 2018 - New York
Hardworking and ambitious, Tiana (Anika Noni Rose) dreams of one day opening the finest restaurant in New Orleans. Her dream takes a slight detour when she meets Prince Naveen (Bruno Campos), who has been turned into an amphibian by evil Dr. Facilier. Mistaking her for a princess and hoping to break the spell, Naveen plants a kiss on poor Tiana -- thereby turning her into a frog as well. The pair hop along on an adventure through the bayous to seek the help of a powerful voodoo priestess.
Beauty and The Beast - Free Summer Movie - Palace Theatre
July 17, 2018 - New York
Doors Open at NOON for Fun & Activities / Movie Begins at 1PM Tickets are available at the Palace Theatre Box Office in Advance or on the Day of Movie
Movie Night Under the Arch: Coco - Washington Square Park
July 18, 2018 - New York
Bring a blanket, food, and friends to Movie Night Under the Arch featuring Disney Pixar's Coco. Space opens at 6:00 PM for blankets and picnicking—first come, first served—so arrive early to snag a spot. The movie will begin at dusk (around 8:30 PM). Captions will be displayed for the movie. No tables, tents, and umbrellas are permitted and strictly enforced by Park Security. All packages, bags, briefcases, backpacks, etc. subject to inspection.
A Summer Movie Under the Stars - The Wizard of Oz - Prospect Park Alliance
July 18, 2018 - Brooklyn
Brooklyn Borough President Eric L. Adams and Prospect Park Alliance present A Summer Movie Under the Stars in partnership with Brooklyn's Nitehawk Cinema. On Wednesday, July 18, join us for a free, family-friendly screening of The Wizard of Oz (1939). Get lost in the Land of Oz with Dorothy, Toto and the rest of the gang, and enjoy musical entertainment from Highline Chamber Ensemble's jazz trio playing 1930s and 40s standards and songs from the soundtrack. Neighborhood partners will also provide onsite activities. All musical entertainment will start at 7 p.m. and films begin shortly after sundown at Long Meadow North, located nearest to the Grand Army Plaza entrance at Eastern Parkway. The closest subway station is the Eastern Parkway Brooklyn Museum stop on the 2, 3, and 4 lines. There are no rain dates in the event of inclement weather.
Sundance Short Films - Rooftop Films
July 21, 2018 - Brooklyn
The Sundance Film Festival continues to be one of the most important places for independent film. For the sixth consecutive year, Rooftop Films is excited to team with Sundance to present some of our favorite short films from their most recent edition. Hailing from the next generation of independent filmmakers and a few twisted minds. These magical-real ghost stories, backyard deer docs and brutal romances represent the best of independent shorts and a diverse array of storytelling from around the world.
Menashe - Rooftop Films
July 22, 2018 - Brooklyn
A loving Hasidic father struggles to maintain custody of his son after his wife passes away. Set within the New York Hasidic community in Borough Park, Brooklyn, Menashe follows a kind but hapless grocery store clerk trying to maintain custody of his son Rieven after his wife, Lea, passes away. Since they live in a tradition-bound culture that requires a mother present in every home, Rieven is supposed to be adopted by the boy's strict, married uncle, but Menashe's Rabbi decides to grant him one week to spend with Rieven prior to Lea's memorial. Their time together creates an emotional moment of father/son bonding as well as offers Menashe a final chance to prove to his skeptical community that he can be a capable parent. Shot in secret entirely within the Hasidic community depicted in the film, and one of the only movies to be performed in Yiddish in nearly 70 years, Menashe is a warm, life affirming look at the universal bonds between father and son that also sheds unusual light on a notoriously private community. Based largely on the real life of its Hasidic star Menashe Lustig, the film is a strikingly authentic and deeply moving portrait of family, love, connection, and commun... (read more)
72 Hour Shootout Film Competition - Asian American Film Lab
Through August 01, 2018 - New York
JOIN THE FILM LAB! Create and Nurture Diverse & Innovative New Entertainment! Film Lab has an open Officer position and is currently accepting applications for Treasurer. The Treasurer applies for 2-3 grants a year. The position is unsalaried, however the Treasurer receives a commission from each successful grant award and works with a fabulous team doing great work to create positive social change through media entertainment! Email info@film-lab.org for more information. JOIN THE FILM LAB! Create and Nurture Diverse & Innovative New Entertainment! Film Lab is now accepting applications for the 2018 72 Hour Shootout filmmaking competition coordinator. Registration for the competition opens March 1st, 2018, and ends with a grand finale screening of the top ten films at AAIFF in NYC in the summer of 2018. The coordinator should have some filmmaking experience and must be local to NYC and generally available during May-August 2018! Email Shootout@film-lab.org for more information.
Oceans: Our Blue Planet 3D Premiere at Liberty Science Center - Liberty Science Center
Through August 25, 2018 - Jersey City
New ocean science and technology has allowed us to go further into the unknown than we ever thought possible. From the coastal shallows to deeper, more mysterious worlds, Oceans: Our Blue Planet uncovers spectacular stories of life and survival beneath the waves. Leap for joy with dolphins, meet fascinating creatures in the coral reefs, and explore mysteries of the abyss in this extraordinary journey through our oceans. Oceans: Our Blue Planet is a co-production of longtime collaborators OceanX Media (formerly known as Alucia Productions) and BBC, who also collaborated together on ten shoots for BBC's acclaimed Blue Planet II series.
RAMM?LLZ??: Racing for Thunder - Red Bull Studios New York
Through August 26, 2018 - New York
The cultural impact of the equation known as The Rammellzee (1960—2010) — legendary artist, graf writer, hip-hop pioneer, Gothic Futurist theoretician and New York cult icon — set the groundwork for today's interdisciplinary creative hyphenates. Taking over the entirety of Red Bull Arts New York, RAMM?LLZ??'s largest survey to date examines the evolution of the artist's diverse body of work. From seminal post-graffiti works to his rare but robust formal output throughout the 1980s, the show features important artworks and sculptures created over the last 20 years of his life. The exhibition gathers archival materials and artworks from RAMM?LLZ??'s estate and collections around the world, alongside oral histories recently commissioned by Red Bull Arts New York. This historic survey aims to introduce a new generation to an artist-prophet from the edge who found himself, again and again, in the center of everything.