Free Things to Do in Brooklyn This Week - June 10-June 17
June 10, 2018 - by CG Directory Editor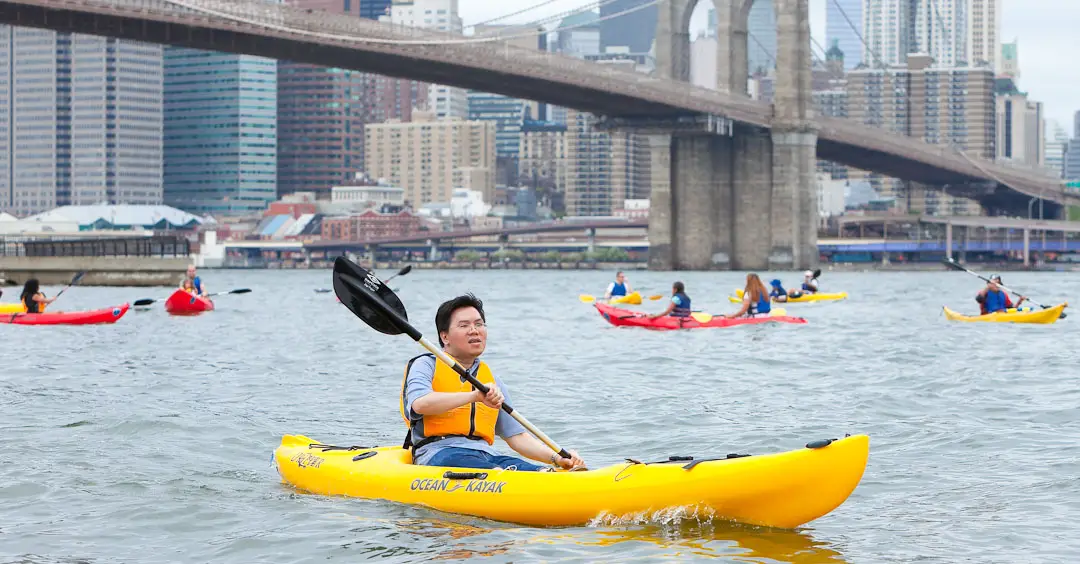 Photo: Charlie/Flickr

On a budget? Not to worry. City Guide's weekly roundup of free things to do in Brooklyn will keep your entertained without breaking the bank. From catching a free outdoor movie screening to exploring breathtaking Prospect Park, there's something in this weekly roundup for everyone wanting to travel without burning a hole in their wallet.


Smorgasburg Prospect Park - Prospect Park Alliance
June 10, 2018 - Brooklyn
Smorgasburg, the celebrated open-air food fair presented by Brooklyn Flea in partnership with Prospect Park Alliance, returns to Prospect Park this spring! On Sundays from April through October, over 100 local and regional food purveyors will gather on Breeze Hill to offer a range of cuisines.
Wild Waterfront - SPARK by Brooklyn Children's Museum
Through June 20, 2018 - Brooklyn
Wild Waterfront Wednesday, 10:00 – 11:00 am Ages 2 to 4 years Brooklyn's own waterfront offers endless ways to explore nature up close! We'll get our hands a little dirty, have a close look at some of the plants and animals in our Brooklyn backyard, and create hands-on projects inspired by our outdoor adventures. This spring we will explore Spark's special waterfront oyster estuary with the Billion Oyster Project. Children must be accompanied by a parent or caregiver. Schedule and offerings subject to change. Register online at brooklynkids.org/spark
Gerard & Kelly - Pioneer Works
Through June 24, 2018 - Brooklyn
Brennan Gerard and Ryan Kelly have collaborated since 2003. Their installations and performances use choreography, writing, video, and sculpture to address questions of sexuality, memory, and the formation of queer consciousness. Exhibitions and performances of their work have been presented by the Festival d'Automne (Paris), Chicago Architecture Biennial, Guggenheim Museum (New York), New Museum (New York), Made in LA Biennial at the Hammer Museum (Los Angeles), and The Kitchen (New York). Gerard & Kelly completed the Whitney Museum Independent Study Program in 2010, and received their MFAs from the UCLA Department of Art in 2013. They have received numerous recognitions for their work, including grants from the New England Foundation for the Arts' National Dance Project, Art Matters, Graham Foundation, and the Juried Award from the New York Dance and Performance Awards, also known as the Bessies. Their work is in the collections of the Hammer Museum, Los Angeles, and the Guggenheim Museum, New York.
Clockwork - Pioneer Works
Through July 01, 2018 - Brooklyn
ioneer Works is pleased to present CLOCKWORK, an exhibition by Gerard & Kelly on view May 31 through July 1, 2018. Extending the artists' inquiry of memory and modernist architecture in their ongoing project Modern Living, the exhibition marks the New York premiere of the film Schindler/Glass as well as new works in performance and installation commissioned by Pioneer Works. Gerard & Kelly's Modern Living is a series of performances and videos sited in iconic modernist homes around the world. The artists mine these "ruins" of modernism for their hidden choreographies and radical social experiments. Driven by movement that revolves around a "clock," the project poses a question at once political and personal: "What would a home have to be today to shelter intimacies that do not fit within dominant narratives of family, marriage, or domesticity?"
Maia Cruz Palileo: Meandering Curves of a Creek - Pioneer Works
Through July 01, 2018 - Brooklyn
Meandering Curves of a Creek is Maia Cruz Palileo's first solo institutional exhibition, comprised of a selection of recent paintings and drawings that continue the artist's ongoing exploration of her personal identity, cultural heritage and feelings of multiplicity as a Filipino-American. This body of work traces a direct lineage to the ethnographic photographs of Dean C. Worcester, an American zoologist turned Secretary of the Interior who traveled to the Philippines at the turn of the nineteenth century. Palileo unearthed Worcester's dehumanizing images in Chicago's Newberry Library during the summer of 2017, and in turn used these photographs as a point of creative departure for transposing a bygone past into an intimately imagined world where history, myth, and superstition intersect. In creating these works, Palileo also looked to Damián Domingo's watercolors of people living in Manila during the 1820s, and Isabelo De Los Reyes's 1889 manuscript El Folk-lore Filipino, a collection of texts which debased the fraught assertion that the Philippines lacked civilized culture prior to Spanish colonization.
Demian DinéYazhi' and R.I.S.E.: Radical Indigenous Survivance & Empowerment: A Nation Is a Massacre - Pioneer Works
Through July 08, 2018 - Brooklyn
Join us as we celebrate the opening of Demian DinéYazhi' and R.I.S.E.: Radical Indigenous Survivance & Empowerment: A Nation Is a Massacre on view in our third floor galleries from May 17 – July 8 2018. In A Nation is a Massacre, the first New York institutional solo exhibition by artist and activist initiative R.I.S.E.: Radical Indigenous Survivance & Empowerment and Demian DinéYazhi', its founder, provides a space aimed at creating awareness about ongoing inhumane acts of settler-induced violence against Indigenous bodies.
Judha Su - Art in General
Through July 31, 2018 - Brooklyn
Judha Su is an art critic and writer, working on shifting boundaries of contemporary arts, diverse forms of artistic practices, and politics of knowledge. She perceives art as a point of contact, negotiation, and entry to imagine beyond a conditioned reality. Her current project revolves around reclaiming thinking subjectivities, a transmission of bodily and nonverbal knowledge, and a re-distribution of sensory experiences. From 2015–16, she received a research fellowship from the Japan Foundation Asia Center to conduct fieldwork about practices of art writing in Indonesia, Philippines, and Japan. Last year, she initiated a collaborative project titled "To Whom It May Concern"; started as a laboratory exhibition at Bangkok CityCity Gallery, the project has now developed into a Thai-English online platform for collective learning. Judha is also a laborer of "soi" – a space for dialogue, research, and pedagogy. Judha is in residence at Art in General from April to July 2018 through the support of the Asian Cultural Council.
The Means of a Ready Escape: Brooklyn's Prospect Park - Prospect Park Alliance
Through September 30, 2018 - Brooklyn
In celebration of the 150th anniversary of Prospect Park, Brooklyn Historical Society and Prospect Park Alliance present an exhibition that celebrates the founding vision of the Park, traces its social and historical trajectories, and examines the important role that Prospect Park has played as "Brooklyn's Backyard" for 150 years. The Brooklyn Historical Society is closed on major holidays.
Yang Yuanyuan - Art in General
Through September 30, 2018 - Brooklyn
Yang Yuanyuan (b. 1989, Beijing) lives and works in Beijing. She received a BA (hons) in photography at London College of Communications, University of the Arts London in 2013. By experimenting with different ways of visual storytelling, Yang creates narratives where facts and fiction coexist and speak about topics such as memory and history. Yang's work has been exhibited and published internationally. Her solo exhibitions include: "At the Place of Crossed Sights"(C-Space, Beijing, 2016) and "In-between Places" (Being 3 Gallery, Beijing, 2012). She participated Anren Biennale (2017) and Guangzhou Image Triennial (2017). Her works have been the subject of exhibitions at Guangzhou Times Museum, Guangzhou (2017); Yang Art Museum, Beijing (2017); Fotogalerie Wien, Vienna (2016)?Benaki Museum, Athens (2015); Objectifs, Singapore (2015); Espacio de Arte Contemporáneo (EAC), Montevideo (2015) and Three Shadows Photography Art Center, Beijing (2012).
Looking for Free Group Planning Services?
Get free advice on planning your group's trip to New York.
MORE Activity Planner ARTICLES
RESTAURANTS

Beloved midtown spot takes inspiration from local tradition,...

THEATER

Gaston Leroux's famous period thriller is now one of Broadwa...

SHOPPING

PANDORA, one of the leading names in jewelry for more than 3...

SIGHTSEEING

Start by ascending to the top of the tallest building in the...