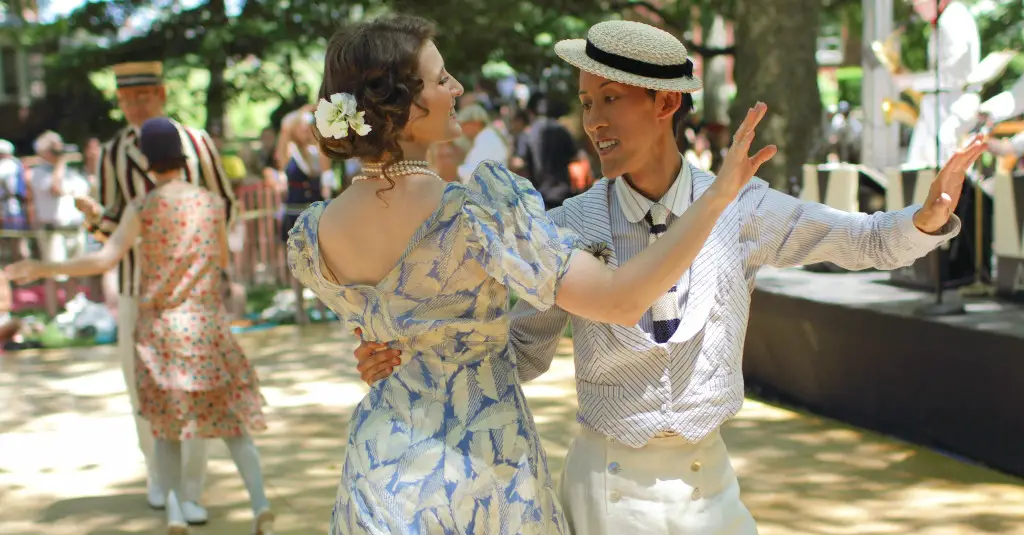 Photo: Flickr/Paul Stein

City Guide's calendar of free things to do in Manhattan shows off all the incredible things New York offers at no expense. Museums, parks, concerts, and popups are only the beginning of the rich offerings you can find here. From Downtown to Midtown to Uptown, check out City Guide's suggestions for great free events in Manhattan.


Amigos De La Zarzuela - Carnegie Hall
November 11, 2018 - New York
Zarzuela (Spanish pronunciation: [?a???wela]) is a Spanish lyric-dramatic genre that alternates between spoken and sung scenes, the latter incorporating operatic and popular song, as well as dance. The etymology of the name is uncertain, but some propose it may derive from the name of a Royal hunting lodge, the Palacio de la Zarzuela near Madrid, where, allegedly, this type of entertainment was first presented to the court.[1] The palace was named after the place called "La Zarzuela" because of the profusion of brambles (zarzas) that grew there, and so the festivities held within the walls became known as "Zarzuelas".
Choir Rehearsal - Judson Memorial Church
November 11, 2018 - New York
MEETING ROOM (Enter by way of 55 Washington Square South)
The Orchestra Now presents "Tan Dun & Respighi's Pines of Rome" - Rose Theater at Jazz at Lincoln Center
November 11, 2018 - New York
The Orchestra Now presents "Tan Dun & Respighi's Pines of Rome" Sunday November 11, 2018 at 3 pm in Rose Theater at Jazz at Lincoln Center's Frederick P. Rose Hall The Orchestra Now presents "Tan Dun & Respighi's Pines of Rome" conducted by Tan Dun, Grammy and Academy Award-winning composer and conductor. The Orchestra Now (T?N) is a group of vibrant young musicians from across the globe who are making orchestral music relevant to 21st-century audiences. They are lifting the curtain on the musicians' experience and sharing their unique personal insights in a welcoming environment. Hand-picked from the world's leading conservatories—including The Juilliard School, Shanghai Conservatory of Music, Royal Conservatory of Brussels, and the Curtis Institute of Music—the members of T?N are not only thrilling audiences with their critically acclaimed performances, but also enlightening curious minds by giving on-stage introductions and demonstrations, writing concert notes from the musicians' perspective, and having one-on-one discussions with patrons during intermissions. This Sunday matinee performance includes: Smetana: Vltava (The Moldau) from Má Vlast (My Country) Tan Dun... (read more)
New York Comedy Festival - Gabriel Iglesias in New York - Beacon Theater
November 11, 2018 - New York
Enrique Miguel Iglesias Preysler (Spanish pronunciation: [en?rike mi??el i??lesjas 'p?eizle?]; born 8 May 1975) is a Spanish singer, songwriter, actor and record producer. He is widely regarded as the King of Latin Pop.[3][4] Iglesias started his career in the mid-1990s on an American Spanish-language record label Fonovisa Records under the stage name Enrique Martinez, before switching to his notable surname Iglesias.[5] By the turn of the millennium, after becoming one of the biggest stars in Latin America and the Hispanic market in the United States, he made a successful crossover into the US mainstream market. He signed a multi-album deal with Universal Music Group for US$68 million with Universal Music Latino to release his Spanish albums and Interscope Records to release English albums. In 2010, he parted with Interscope Records and signed with another Universal Music Group label Republic Records to release bilingual albums. In 2015, Iglesias parted ways with Universal Music Group after being there for over a decade. He signed with Sony Music and his subsequent albums to be released by Sony Music Latin in Spanish and RCA Records in English.[6]
All is Calm: The Christmas Truce of 1914 - Sheen Center
Through November 11, 2018 - New York
"A heartbreaking tribute to the men, who, in defiance of their commanders had the courage to affirm their common humanity." ?– The New Yorker "All is Calm puts a human face on WWI." – San Francisco Globe "One of the top live events for Christmas in North America." – BBC Music Magazine Christmas of 1914. Out of the violence- a silence, then a song. A German soldier steps into "No Man's Land" singing Stille Nacht. This begins an extraordinary night of camaraderie, music, peace. A remarkable true story told in the words and song of the men who lived them.
Mount Olympus: To glorify the cult of tragedy (a 24-hour performance) - NYU Skirball
Through November 11, 2018 - New York
Belgian director Jan Fabre's monumental masterpiece, Mount Olympus: To glorify the cult of tragedy (a 24-hour performance), will have its North American premiere with a one-day-only performance at NYU Skirball from Saturday, November 10 at 5pm through Sunday, November 11 at 5 pm. This is the only chance for U.S. audiences to experience Mount Olympus - there are no other performances scheduled this year. Mount Olympus is a graphic, Dionysian orgy of madness, murder and that invites audiences to join its 27 performers in a transformative, 24-hour catharsis. It is not a modernization of Greek tragedy, but rather a hallucinatory vision of Homeric themes and characters, blending dance, poetry, and music with stories of murder, bloody battles, rampant sexuality, death and raving madness. Jan Fabre takes the audience to the marrow of the tragedy. Over the course of 24 hours, the Gods, heroes and demons of Greek mythology spring to life: Dionysus, Odysseus, Ulysses, Phaedra, Hercules, Jason, Agamemnon, Oedipus, Medea, Electra and Clytemnestra appear, wrenching open their flaws until they are left in tatters, smashed by violence, hubris, laughter and ecstasy. Mount Olympus is ... (read more)
Nashville based blues artist James House will be performing at City Winery in New York City on 11/12 - City Winery
November 12, 2018 - New York
Nashville based blues artist James House will be performing at City Winery in New York City on November 12, 2018. A widely respected songwriter in many genres, James House has spent over two decades writing songs that have been honored with Grammys, Country Music Association and Academy Country Music Awards, and countless other Billboard Chart Toppers for various artists, including Martina McBride, Rod Stewart, Tina Turner and most recently Joe Bonamassa. James and his band, The Blues Cowboys, will perform original songs from his latest self-titled album, which is available now on iTunes, Amazon and Spotify. The show will also feature Mary Gauthier and Terry Radigan and will benefit SongwritingWith:Soldiers. For more info: JamesHouseMusic.com
Silver Hill Hospital Giving Hope Gala - Cipriani 42nd Street
November 12, 2018 - New York
On Monday, November 12, Silver Hill Hospital will hold its ninth annual fall benefit, the Giving Hope Gala, at Cipriani 42nd Street in New York City, honoring Emmy Award-winning talk show host Dick Cavett with the 2018 Visionary Award. The award honors an individual who, through personal contribution and action, has inspired others and helped remove the stigma of mental illness or addiction. In addition, professional golfer, author and mental health activist Michael Wellington will be the evening's guest speaker. Award-winning comedienne Mina Hartong, a Ladies of Laughter National Contest Finalist, will serve as emcee and auctioneer. The evening includes dinner, dancing and a live auction. The live auction features a work of art entitled Taking Flight, a watercolor and collage piece on silver Japanese Shikishi board, which is the inspiration for the event's invitation design and décor for the evening. Created by artist Beverly Miller Orthwein, it is a depiction of birds in three different stages, transitioning from the depth of a tree to soaring into the sun, and is Orthwein's interpretation of the pathway to restoring mental health at Silver Hill. The Giving Hope Gala is ... (read more)
Free Skating For Vets - Bryant Park
November 12, 2018 - New York
Bank of America Winter Village at Bryant Park is offering veterans and active military members, plus four guests, free skate rentals, at the only admission-free skating rink in NYC, when they show their ID.
Broadway Under the Stars - The Shops at Columbus Circle
November 12, 2018 - New York
Select cast from today's hottest Broadway musicals will perform every Monday at 5pm from November 12 to December 10 on the second-floor mezzanine, with the final performance of the Broadway series on Dec. 10 against the backdrop of the famous twelve massive stars. These stars are the largest specialty crafted exhibit of illuminated color display in the world, which hang from the 100-foot-high ceilings. Select cast from today's hottest Broadway musicals will perform every Monday at 5pm from November 12 to December 10 on the second-floor mezzanine, with the final performance of the Broadway series on Dec. 10 against the backdrop of the famous twelve massive stars. These stars are the largest specialty crafted exhibit of illuminated color display in the world, which hang from the 100-foot-high ceilings. Hosted by Broadway actor George Psomas(Fiddler on the Roof, South Pacific), the casts of the following shows will perform songs from the given musicals for approximately 20 minutes each: ·       Nov. 12 – School of Rock, Kinky Boots, Anastasia, Be More Chill  ·       Nov. 19 – Ruben & Clay's Christmas Show, Head Over Heels, The Band's Visit, Beautiful: The Carole King Musi... (read more)
Hx: The Hotel Experience - Jacob K. Javits Convention Center
Through November 12, 2018 - New York
HX is the premier marketplace and conference for the hospitality industry. Featuring every trend and innovation in hospitality and dining — from front-of-the-house, guest-facing amenities and technologies to back-of-the-house nuts and bolts. HX caters to hotel owners, GMs, and hospitality property executives from casinos and resorts, independent and branded hotels, management and purchasing companies, military base lodging, and more. Where Hospitality & Dining meet to reimagine an industry.
Bdny (Boutique Design New York) - Jacob K. Javits Convention Center
Through November 12, 2018 - New York
Now in its ninth year, Boutique Design New York (BDNY) is the leading trade fair and conference for the hospitality design industry, serving the eastern United States, Canada and Europe. Presented annually by Boutique Design, BDNY brings interior designers, architects, purchasing agents and hospitality owners/developers together with manufacturers and marketers of high-caliber design elements for hospitality interiors. Ranked among the fastest-growing trade fairs in the U.S. for the past four years, BDNY will expand again in 2018, to 135,000 nsf of exhibit space. More than 600 customized displays will offer a gallery of inventive furnishings, lighting, fabrics, wallcoverings, flooring, carpeting, bath and spa, accessories, artwork and more—exceptional products that create the wow in hotels, restaurants, spas, clubs and cruise ships around the world. It's an elevated trade fair experience that includes an extensive conference program with CEU sessions, hands-on demos and workshops; unique social events held at some of Manhattan's most exciting venues; and an atmosphere conducive to learning, networking and growing your business.
The Distant Light Latvian Radio Choir Sigvards K?ava, conductor - St Mary the Virgin Church
November 13, 2018 - New York
Known around the world for its "miraculously cohesive sound" (Guardian, U.K.) and imaginative programs, the Latvian Radio Choir returns to the White Light Festival for a luminous evening of a cappella music. Pairing transcendent Mahler with contemporary Latvian composers and a beautiful meditation by visionary Ukrainian composer Valentin Silvestrov, the choir moves seamlessly between Latvian, Old Slavonic, Tibetan, German, and English texts to illuminate a universal yearning for inner peace.
Private Wealth Management Group Meeting - CFA Society New York
November 13, 2018 - New York
he Private Wealth Management Thought Leadership Group seeks to enrich and enable finance professionals to meet the modern needs of private clients, and to remain at the forefront of professionalism and knowledge in serving private clients. The Group welcomes CFANY members who manage assets for individuals and for themselves. Our group members are creative, well-read, and forward-thinking in our private discussions and in our presentations to the general membership of CFANY. Their professional practices encompass portfolio management, investment research, investment advisory, financial planning, and firm leadership. We focus discussions and meetings on investment strategy, implementation, and communications with the goal of enriching our professional experience and practice. The Group pursues collaboration with other CFANY groups in programming, especially with the Value Investing and Market Integrity Interest Groups. The group encourages its members to participate in other activities at CFANY, such as volunteering to grade reports, mentoring a university team, or judging the Final Four in the Investment Challenge.
Beat Girl! Featuring Bettina May! - Sid Gold's Request Room
November 13, 2018 - New York
Glittery Gals! Sparkling Drinks! And One Glamorous Songbird!
Scavenger Hunt - Bryant Park
November 13, 2018 - New York
Join us for the 8th annual Holiday Shops Scavenger Hunt. Discover 10 items hidden throughout the kiosks. First to find all 10 items wins! Tuesday, November 13, 5:00pm–7:00pm Bank of America Winter Village at Bryant Park
Waiting for Godot By Samuel Beckett Directed by Garry Hynes Produced by Druid - Gerald W Lynch Theater
Through November 13, 2018 - New York
Laugh, abide, despair, persevere: Ireland's iconic Druid theater company presents Samuel Beckett's irreverent masterpiece, Waiting for Godot. Existential ennui meets startling slapstick comedy in this "superb reimagining" (Guardian, U.K.) by Tony Award–winning director Garry Hynes that offers a refreshing perspective on our tragicomic plight.
Judson Arts Wednesdays Presents: Dead Darlings - Judson Memorial Church
November 14, 2018 - New York
MEETING ROOM (ENTER by way of 55 Washington Square South) Judson Arts Wednesdays artist - in - residence Amanda Duarte thrills again with her delightful Dead Darlings. Doors open at 55 Washington Square South at 7:15pm. Free Drinks and eats until the show at 8:00pm. JAW FOOD. ART. COMMUNITY. SPACE. FREE.
The Selects Pop-Up Store Opening Party - The Selects
Through November 14, 2018 - New York
WHO: The Selects, a collaborative project to promote Korean fashion designers and assist them to break into the American fashion market. This will be the first time most of the designers will have direct retail exposure to American consumers. WHAT: The Selects is opening a pop-up store in Soho, New York, featuring ten emerging Korean fashion designers along with ten curated K-beauty brands. FASHION: The Selects represents ten of the most promising designers evolving in the Korean fashion industry; Bmuet(te), Beyond Closet, The Centaur, Heohwan Simulation, Hidden Forest Market, KYE, LIE, Nohant, SWBD, and Wnderkammer. K-BEAUTY: The Selects have partnered with ten K-beauty brands for the pop-up. K-beauty is highly focused on health and hydration, and the ingredients are innovative and inspired by nature. The beauty brands that will be highlighted and sold in the store; Agerin, IPKN, Jinsoon, Knours, Meg, Moart, SKINRx Lab, Too Cool for School, Vika and Whal Myung, represent some of the best Korean skincare and makeup on the market. WHEN: Opening Party: October 26th from 5pm - 8pm. The store will be open Sunday-Thursday 12:00 PM - 7:00 PM, Friday-Saturday 11:00 AM... (read more)
The Samuel Waxman Cancer Research Foundation 21st Anniversary Gala - Cipriani Wall Street
November 15, 2018 - New York
Join us in celebrating an incredible community of friends who are supporting cancer research for a cure. Performance By DAWES Proceeds from this event will directly support cancer research with the Samuel Waxman Cancer Research Foundation's Institute Without Walls and Aging and Cancer Programs. For further info, please call 212-867-4502 Or visit our website: www.waxmancancer.org/Events/Gala
Race, Myth, Art, and Justice Exhibition | Opening Reception - Caribbean Cultural Center African Diaspora Institute
November 15, 2018 - New York
On Thursday, November 15th, you're invited to the opening of Race, Myth, Art, and Justice! The exhibition explores intersecting ideas of race, myth, art, and justice through the lens and unique interpretations of twelve inter-generational photographers. Via innovative contemporary art practices, the photographers engage with the premise of "race" as a social construct rooted in myth, while simultaneously interrogating its profound implications and indignities on our 21st-century lives. With roots in the United States and throughout Africa and the Caribbean—including Guyana, Jamaica, Nevis, Panama, Puerto Rico, St. Martin, and Sierra Leone—the photographers draw from an African Diasporic worldview steeped in their personal experiences as well as larger geographical political histories. Collectively, their images offer a poignant and provocative portrait of the ways the mythology of race and the pursuit of justice continue to permeate the global African experience. Featured Artists: Kwesi Abbensetts, Faisal Abdu'Allah, Terry Boddie, Jonathan Gardenhire, John E. Dowell, Jr. Adama Delphine Fawundu, Deborah Jack, Zoraida Lopez-Diago, Radcliffe Roye, Stan Squirewell, Ming Smit... (read more)
The Doobie Brothers: Toulouse Street in New York - Beacon Theater
November 15, 2018 - New York
Toulouse Street is the second studio album by American rock band The Doobie Brothers. The album was released on July 1, 1972, by Warner Bros. Records. It was their first album with new bassist Tiran Porter and second drummer Michael Hossack to augment existing drummer John Hartman, so it meant that they now had their trademark twin-drummer sound. Toulouse Street is the name of a street in the French Quarter of New Orleans. The cover and inside centerfold photos were taken at a former brothel on Toulouse Street.
Unmanned Security & Safety Expo - Jacob K. Javits Convention Center
Through November 15, 2018 - New York
Unmanned Security & Safety Expo @ ISC West returns this year focusing on Unmanned Aerial Vehicles (UAVs), Unmanned Ground Robotics & Vehicles (UGVs) and the various software and applications that support them. As robotics become more sophisticated, they will become more widely adopted within security.
Isc East - Jacob K. Javits Convention Center
Through November 15, 2018 - New York
ISC East is the largest physical security tradeshow & conference in the Northeast featuring over 200 security manufacturers & brands. Attendees come from New York, New Jersey, Connecticut, Pennsylvania, Massachusetts and further to view the latest products in Access Control, Video Surveillance, Alarms, Monitoring, Public Security and more. While at the show, attendees are also able to attend free education sessions provided by the Security Industry Association. Sherida Sessa, Event Director 203-840-5831 ssessa@reedexpo.com inquiry@isc.reedexpo.com
The New York Pops - Carnegie Hall
November 16, 2018 - New York
From overtures to dream ballets to 11 o'clock numbers, The New York Pops presents your favorite moments from musical theater, featuring compositions by Leonard Bernstein, Richard Rodgers, and Jule Styne.
Sustainable Investing Group Meeting - CFA Society New York
November 16, 2018 - New York
References herein to any specific sponsor or service do not necessarily constitute or imply the endorsement, recommendation or favoring by CFA Society New York. CFA Society New York strives to be a community for diverse opinions and differing perspectives, and the views and opinions expressed by speakers, presenters and/or organizers at events do not necessarily state or reflect those of CFA Society New York. CFA Society New York expects all attendees to comply with CFA Society New York's Code of Conduct while attending CFA Society New York events or meetings. CFA Society New York expressly reserves the right, in its sole discretion, to grant or deny access to any individual, or to expel any individual from any CFA Society New York event or meeting.
AstroCafe - Intrepid Sea, Air & Space Museum
November 16, 2018 - New York
Imagine your life today without the Internet, personal digital device, Instagram, Facebook, or the ability to predict weather (or find that special pizza place in Brooklyn.) Or services and products essentially unknown just 30 years ago. Many of those recent advances came about, believe it or not, because of the space and satellite industries. They are indispensable to daily life. Go back even further and think of the century before airplanes, cars, TV, electric lighting and many of the things from the Industrial Age that totally transformed the human economy. This is where we are NOW. But don't worry. Space-age innovators are creating a "New Space" economy right here. Dr. Joseph N. Pelton, former Dean of the International Space University, Founding President of the Society of Satellite Professionals International and Pulitzer Prize nominated author, will discuss how this new global economy will change the world and recast humans as masters of time and space. And give us things as unimaginable as an airplane trip in the year 1820! The evening will also include an opportunity to meet recipients of the first-ever Astropreneurship Awards, presented on November 1st by the New York S... (read more)
Subway Mobile Dance Party - Overlook
November 16, 2018 - New York
Limited to just 75 people, this dance party combines elements of a flash mob, night club, and city tour all mixed into one incredible night. Geared with headphones playing two channels of non-stop party music, we go underground as we hit several iconic NYC subway platforms and terminals, as well as bars! Not only will you learn about the NYC subway system, but your Party Tour Guide/Emcee will have you singing and dancing as if the subway platform was your stage. Surprise the unsuspecting passengers and onlookers with your vocal prowess and nifty dance moves. This won't be like your normal subway ride and you'll thank us for it! Check-in location: Overlook Bar Check-in time: 7:00-8:00pm // Leave at 8:00pm *Party ends at Overlook Bar Two channels of music: Green Channel: Top 40 Dance Hits Blue Channel: 90's, 2k Throwbacks, Hip-Hop Your experience includes: • A pair of Quiet Events headphones • An experienced tour guide/emcee • Glow in the dark gear • Fun NYC facts to tell your friends! Special Notes: • 21+ to party • Limited tickets so act fast! • Comfortable shoes are recommended What you'll need: • Metrocard with at least two swipes • Valid ID • No n... (read more)
Watson Adventures' Wizard School Scavenger Hunt 2: The Museum of Magical History - American Museum of Natural History
November 17, 2018 - New York
Join us on a Harry Potter-themed scavenger hunt for ages 10 and up! Embark on a wizarding adventure at the American Museum of Natural History where you'll search for exhibits that echo characters, places and enchanted objects in the books and movies of the Harry Potter universe. Be prepared to track fantastic beasts through a forbidden (rain)forest, dance with Hagrid-like giants, encounter a cute cousin of dragons and more. This hunt references the books to provide a bridge to many wonderful exhibits. Kids must be accompanied by an adult, but all-adult teams can compete separately. Price includes museum admission. Advance purchase is required.
PORTALS, A Photo Experience from Canon - Soho Pop-Up
Through November 18, 2018 - Manhattan
Canon will be hosting PORTALS, A Photo Experience from Canon. The 11-day pop-up will be built around photo moments that will transport visitors to an entirely new world by embedding camera tips and tricks into the consumer journey. Made up of five unique photography setups, PORTALS will allow photographers (amateur and experienced) to open up their imaginations while producing exciting – and Instagrammable – photos.
The International Human Rights Art Festival - Wild Project
Through November 18, 2018 - Manhattan
The International Human Rights Art Festival is thrilled to announce its 2018 Festival, co-produced by and held at the Wild Project, from November 12-18, 2018. The Festival will comprise more than 20 events and 150+ artists, presenting advocacy performances and art which bring together beauty, sincerity, vulnerability and engagement to open a space for healing, discussion and social change.
Group.BR presents INSIDE THE WILD HEART - Aich Studios
Through November 18, 2018 - New York
Group.BR presents INSIDE THE WILD HEART An Immersive Theatrical Experience  based on the works of Clarice Lispector October 18 - November 18, 2018 Benefit Performance: October 27, 2018 Group.BR, New York's only Brazilian theatre company presents INSIDE THE WILD HEART, a fully immersive theatrical experience based on the works of Brazil's most acclaimed Jewish writer, Clarice Lispector. The show will run from October 18 - November 18, 2018, Thursdays through Sundays at Aich Studios, 218 E. 25th Street, New York NY 10010, with a benefit performance on October 27, 2018. For more information and to purchase tickets, please visit https://www.group.br.com/productions-inside-the-wild-heart. Conceived by Group .BR co-founders Andressa Furletti and Debora Balardini, Inside the Wild Heart had a successful run in 2016 directed by Regina Miranda at Immersive Gallery, Williamsburg. Now the show finds its way to Aich Studios, a multilevel brownstone that fulfills the original vision, where a house becomes not only Clarice's home but her inner world as well. Built in 1848, and converted to a foundry at the turn of the century, Aich will host this new, revamped production directed by L... (read more)
Anime Nyc - Jacob K. Javits Convention Center
Through November 18, 2018 - New York
Anime NYC is New York City's anime convention! A showcase of the best of Japanese pop culture in the biggest city in America, Anime NYC brings anime fans and publishers together for three days of unique exhibits, exclusive screenings, extensive panels, and appearances by some of the biggest creators in Japan. Join us for a celebration of Japanese animation, manga, and cosplay in the heart of NYC!
Restaurant Fest at Eataly NYC Flatiron - Eataly NYC Flatiron
Through November 18, 2018 - New York
Restaurant Fest at Eataly NYC Flatiron WHAT: Restaurant Fest kicks off on Monday, November 5th at Eataly NYC Flatiron. During this two-week dining festival, guests can enjoy two-course lunch and dinner specials at any of Eataly's six restaurants! Diners are welcome to select from any of Eataly NYC Flatiron's six full-service restaurants. Each restaurant embraces its own distinctive themes, chefs, and menus, providing guests with an endless array of dining options! Once diners have selected a restaurant, simply select two courses from the prix-fixe menu. Amplify your experience in true Italian fashion with a $25 bottle of wine from an exclusive selection curated by our wine experts. Be sure to check Eataly.com for menu updates, and in the meantime peek below for more details on participating restaurants: TWO COURSES FOR $18 Il Pastaio La Pizza & La Pasta La Piazza TWO COURSES FOR $28 Manzo SERRA by Bierreria Il Pesce WHEN: Monday, November 5th to Sunday, November 18th WHERE: Eataly NYC Flatiron 200 Fifth Avenue New York City CONTACT: Arianna Cohen HL Group acohen@hlgrp.com
The Now - Largest Interactive Public Art - Coolture Impact
Through November 24, 2018 - New York
he Now, created by video artists Laia Cabrera and Isabelle Duverger in collaboration with interactivity designers NoirFlux and Karan Parikh, is the first featured art presentation at Coolture Impact and the largest interactive public art installation on the windows of the Port Authority Bus Terminal in Times Square. The now offers a journey into magical worlds, intertwining reality and fantasy, opening doors to hidden places and participatory environments. The Now explores transitory spaces and unseen parallel realities, in a cinematic voyage to visually striking realms, live painting, and animated characters with evolving narratives. Visitors are invited to walk, move and unravel the different storylines.
American Museum of Natural History Presents: Sackler Brain Course: A Natural History of the Senses - American Museum of Natural History
Through November 26, 2018 - New York
Our experiences are shaped by the ways we sense our environment. How do we see, hear, smell, and feel the natural world? In this five-part course, we examine the science of sensory experience across the Tree of Life. Hear from neuroscientists and field biologists how sensory systems in humans and other animals are tuned to detect a diverse array of stimuli that guide behavior.
Wellness Calligraphy & Yoga with UN Calligraphy Artist - Asia Society
Through December 01, 2018 - New York
Explore the connection between mind, body, and spirit through Licao Shu Wellness Calligraphy and Yoga. Exclusively at Asia Society for seven classes, world-renowned Master Zhou Bin will take you on a journey that integrates yoga and meditation with the power of the written script "Licao Shu calligraphy." Artfully designed by Master Zhou, you will participate in this interactive, mindfulness workshop that lowers stress, promotes healing, and enhances your spiritual connection. Purchase a ticket for one workshop or the whole series at: http://bit.ly/as_yoga You don't need previous experience in yoga or Chinese to attend. Just bring comfortable clothing and a yoga mat. Other dates for this workshop series are: Friday, Nov 9th, 6 p.m. - 8 p.m. Friday, Nov 30th, 6 p.m. - 8 p.m. Saturday, Dec 1st, 10 a.m. - 12 p.m. Saturday, Dec 1st, 2 p.m. - 4 p.m.
Epic New York Beer Tour - Bars, Taprooms, Breweries - Empire State Building
Through December 22, 2018 - New York
The Beer Adventures app offers 150+ highly curated tours in 75 cities around the globe. Currently in 25 US cities, we take you to all of the best bars, taprooms and breweries in town giving you a day out to remember on your own terms. For this 'Epic New York Beer Tour' we invite you to join us in NYC as we hit up to 10 venues across Manhattan and Brooklyn in one day. This is one of our favourite Beer Adventures and it's done best by a combination of walking, subway and whatever else mode of transport is for you! Starting by the Empire State Building you'll pass loads of famous landmarks, go over and under the East River, hit both villages (Greenwich and East) and of course visit all the very best beer bars NYC has to offer. Come thirsty, hungry and ready to make a day of it! HOW IT WORKS: Search for 'Beer Adventures' in the Apple appstore or Google Play and download for free. You can then select the city and tours you want in-app. The Beer Adventures app acts as a magical mystery tour directing beer fans around a city at the touch of a few buttons. Available on iOS and Android, we offer highly curated, built in itineraries in most major cities. STARTING O... (read more)
Grand Central Holiday Fair - Grand Central Terminal
Through December 24, 2018 - New York
The 2018 Grand Central Holiday Fair will open on Monday, November 12, 2018. Please check back for vendor information and Fair hours closer to the date. In the meantime, watch our video of the 2016 Fair build out in historic Vanderbilt Hall!
New York Makers Showcases Statewide Artisans - Grand Central Terminal
Through December 24, 2018 - New York
New York Makers, the first-of-its-kind digital marketplace + magazine celebrating the makers, movers, and shakers of the Empire State, will have its inaugural shop in Grand Central Terminal this holiday season. As part of the beloved Grand Central Holiday Fair, New York Makers has specially curated a collection of high-quality, distinctive New York products created by more than 20 talented artisans from Buffalo to Westchester and everywhere in between. Holiday shoppers will have six weeks to see and shop at the Holiday Fair, beginning November 12 through December 24, 2018.
Models and Bottles Fridays ... Free on the A.C. Pass Guest List - Show
Through December 29, 2018 - New York City
Models and Bottles Fridays Text keyword SHOWNYC to 83361 for Instant RSVP and chance to win a VIP Party (FREE Admission, Bottle & More!) SHOW. NYC Nightclubs. 135 West 41st Street. Times Square. 10 pm-???(Broadway and 6th Ave) A.C. Pass List invites you to "The Original" Models and Bottles Fridays at NYCs newest premier hotspot, Show NYC! This will be the biggest Friday Night party NYC has ever seen. Top DJs, aerialists, dancers, expert mixologists, bottle service served by our #Showgirls, a true VIP experience, a sexy crowd, all in a spectacular new venue. Ask about our specials, VIP packages and Group/ Birthday specials.. World reknown DJs play open format, house music, old skool, top 40, mash-ups and more. Everyone receives complimentary admission on the "A.C. Pass List" (ladies til 12am, Gents til 12am). Ask me about special birthday (& group) packages. Call me direct @ 917.653.0768 for Table Service and more details. 21+ID. To expedite entry, get on the "A.C. Pass Guest List" please e-mail me directly, crisac@mac.com. Doors and list opens at 10 pm & all list closes at 2 am. All admission is at the discretion of the doorman. Dress fashionable please. Dress code: Ladie... (read more)
NYC Scavenger Hunt - Central Park
Through December 30, 2018 - New York
Join Big City Hunt on an Epic Scavenger Hunt Tour of Central Park. This scavenger hunt is great for kids, families, and friends. You'll learn a ton about your city and Central Park! New York's Central Park stretches across 843 acres of land. It is larger than independent city-states Monaco and Vatican City combined. Bethesda Fountain, Belvedere Castle, and The Dakota are just a few of the landmarks you'll discover on this exciting two-hour hunt. Explore Central Park's rich history through this fun and engaging hunt through this iconic park using your smartphone. Check out this page for more information: https://www.scavengerhunt.com/locations/central_park_nyc_scavenger_hunt.html
Toward A Concrete Utopia: Architecture In Yugoslavia, 1948–1980 - The Museum of Modern Art
Through January 13, 2019 - Manhattan
Situated between the capitalist West and the socialist East, Yugoslavia's architects responded to contradictory demands and influences, developing a postwar architecture both in line with and distinct from the design approaches seen elsewhere in Europe and beyond. The architecture that emerged—from International Style skyscrapers to Brutalist "social condensers"—is a manifestation of the radical diversity, hybridity, and idealism that characterized the Yugoslav state itself. Toward a Concrete Utopia: Architecture in Yugoslavia, 1948–1980 introduces the exceptional work of socialist Yugoslavia's leading architects to an international audience for the first time, highlighting a significant yet thus-far understudied body of modernist architecture, whose forward-thinking contributions still resonate today.
Liliana Porter: Other Situations - El Museo del Barrio
Through January 27, 2019 - New York
Born in Argentina in 1941, Liliana Porter, originally educated in printmaking — a discipline that deeply influenced her practice — moved to New York in 1964, where she cofounded the New York Graphic Workshop with artists Luis Camnitzer and José Guillermo Castillo. Since then, Porter has worked in a variety of media including painting, drawing, printmaking, photography, assemblages, video, installation and, more recently, theater. Porter's art has been exhibited in more than 35 countries in over 450 group shows, and is a part of public and private collections including El Museo del Barrio. Her work has been reviewed in Artforum, Art in America, and Sculpture Magazine, among other publications. In 2013, the Fundación Patricia Phelps de Cisneros published the book Liliana Porter in Conversation with Inés Katzenstein as part of the Conversaciones/Conversations series. Galleries in Europe, Latin America and the United States represent the artist.
Judson Dance Theater: The Work Is Never Done - The Museum of Modern Art
Through February 03, 2019 - Manhattan
For a brief period in the early 1960s, a group of choreographers, visual artists, composers, and filmmakers made use of a local church to present performances that Village Voice critic Jill Johnston declared the most exciting new developments in dance in a generation. Redefining the kinds of movement that could count as dance, the Judson participants—Trisha Brown, Lucinda Childs, Philip Corner, Bill Dixon, Judith Dunn, David Gordon, Alex Hay, Deborah Hay, Fred Herko, Robert Morris, Steve Paxton, Rudy Perez, Yvonne Rainer, Robert Rauschenberg, Carolee Schneemann, and Elaine Summers, among others—would go on to profoundly shape all fields of art in the second half of the 20th century. Taking its name from the Judson Memorial Church, a socially engaged Protestant congregation in New York's Greenwich Village, Judson Dance Theater was organized as a series of open workshops from which its participants developed performances. Together, the artists challenged traditional understandings of choreography, expanding dance in ways that reconsidered its place in the world. They employed new compositional methods to strip dance of its theatrical conventions, incorporating "ordinary" movements—ge... (read more)
Constantin Brancusi Sculpture - The Museum of Modern Art
Through February 24, 2019 - Manhattan
Poet Erza Pound spoke of artist Constantin Brancusi's work as providing "the master keys to the world of form." Over a career that spanned half a century, Brancusi's innovations transformed sculpture as it had been known, and influenced generations of artists to come. After moving to Paris in 1904 from his native Romania, Brancusi affected the appearance of a Romanian peasant—a long beard, work shirt, and sandals—while embedding himself in avant-garde art circles. He soon began pushing modernist sculpture to the threshold of abstraction, developing a new, simplified vocabulary of graceful crescents, gleaming ovoids, and rough-hewn blocks that often evoked rather than resembled the things named in their titles, such as Bird in Space or Fish. He put the natural properties of his materials on display, carving directly into wood and stone and polishing metal to high reflectivity. The bases for his sculptures were often built of stacked elements—wood cubes, cylindrical slices, pyramidal blocks, or cruciform stones—becoming an integral component of the work itself and hinting at the possibility of infinite rearrangement, an idea that would prove fertile in future decades.