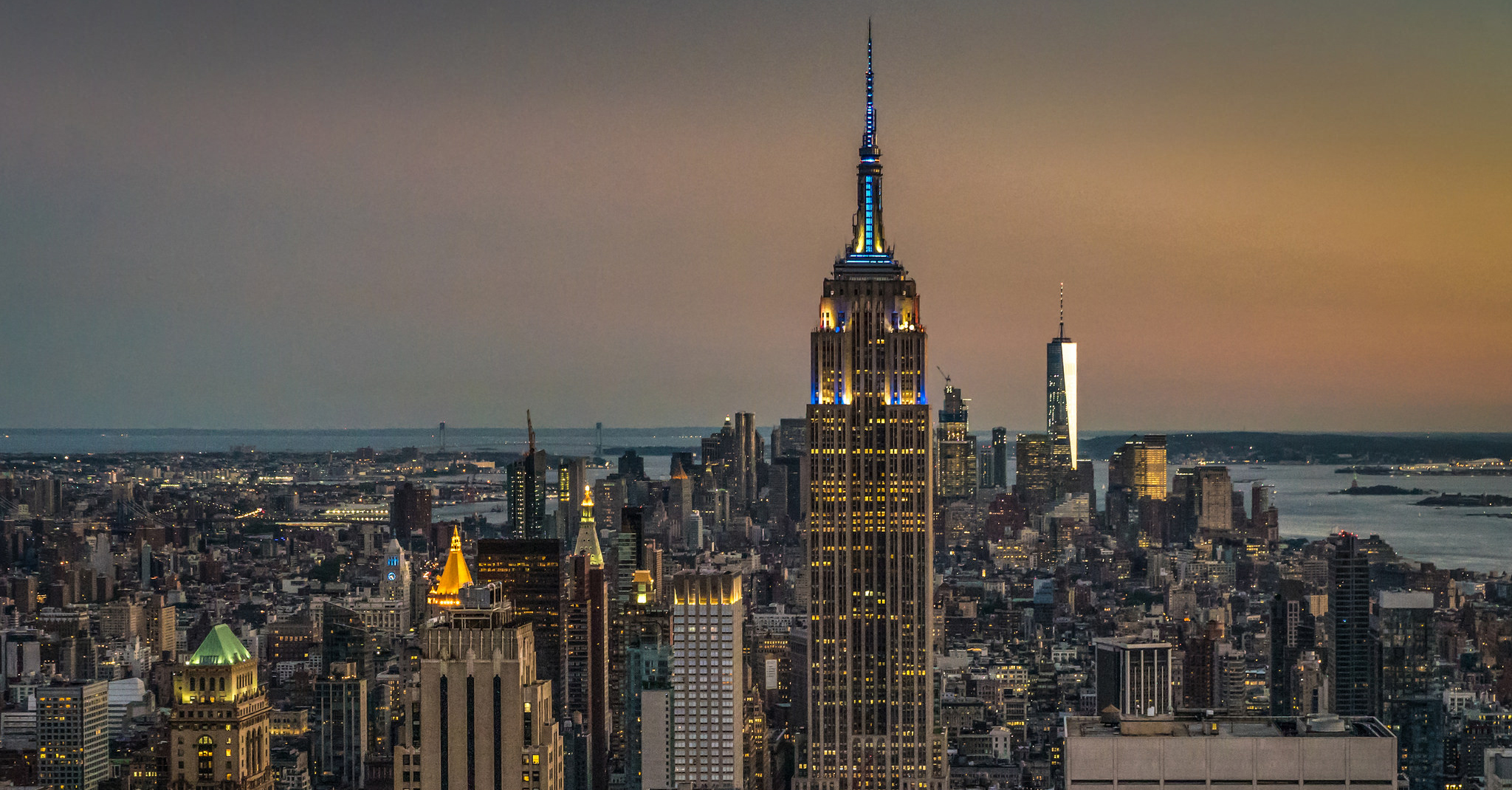 Photo: John St John/Flickr

There's no denying that Manhattan is the sparkle in New York City's eye, but that doesn't mean you have to dump out your wallet to hang out there. City Guide's compiled all the best free things to do in Manhattan this weekend, and for those wanting to explore the city's most famous borough on the cheap, this is your go-to guide.


O.P.P.A. - Free Comedy Show
April 26, 2019 - New York
Comedy Evening is a completely free comedy show in the heart of the West Village featuring comedians who have appeared on Comedy Central, TruTV, Late Night with Stephen Colbert, and more! The show takes place in the downstairs/basement lounge of the venue. Please note that you must be 21+ to attend as the venue is a bar. While there is no cover or item minimum for the show, it is recommended that you get a drink (soda, beer, wine, etc.) or food item to support the bar and help keep the show free. Seating for the show begins at 7pm with the show starting at 7:30pm. Seating at the venue is limited and it is recommended that you get there before the show starts. Feel free to drop by Oppa/karaouke lounge before 7pm to enjoy the happy hour specials: $5 beer/$4 wines/$4 well drinks, $6 wings, $4 fries. The show was part of the New York Comedy Festival in 2018. http://nycomedyfestival.com/oppa-comedy-bar-crawl/ Past performers for the show include: Subhah Agarwal ("Comedy Central"), Myq Kaplan ("Comedy Central", "Conan"), and Tom McCaffrey ("Comedy Central").
Innovators - Intrepid Sea, Air & Space Museum
April 26, 2019 - New York
AstroCafe has a new look! Welcome to Innovators, a speaker series focused on game-changing advancements that are made possible by commercial space enterprise. Life on Earth: Brought to You by Satellite Friday, April 26 Space Shuttle Pavilion Talk begins at 7:30pm. Doors open at 7:00pm. Free to attend. Wine and beer are available for purchase. Ages 21+ The modern world is brought to you by satellite – literally. From TV to computer networks, weather forecasts to maps, your world is powered by amazing gadgets orbiting hundreds or thousands of miles above the Earth. They are the invisible yet indispensable infrastructure of the planet. Where are they and how do they work? What do they really do for you every day? What's in store for the future? Today, a generation of innovators is creating new space technology and applications that will do things we never dreamed possible before. 7:00pm: Arrival 7:30pm: Presentation 8:30pm–10:00pm: Networking Robert Bell is the executive director of Space & Satellite Professionals International (SSPI), where he is responsible for its programs, finances and operations. Under his leadership, SSPI has introduced new programs focusing on advanc... (read more)
Pre-College Opera Scenes - The Juilliard School
April 27, 2019 - New York
2:00 - 4:00 PM - Opera Scenes
Map Student Recital | Flute - The Juilliard School
April 27, 2019 - New York
Flute students of the Music Advancement Program (MAP) perform.
Fitbit Local Bodyweight Bootcamp & Cardio Boxing - W New York - Downtown
April 27, 2019 - New York
Are you ready for a full-body, HIIT bootcamp class with boxing fundamentals led by Fitbit Local Ambassadors Jason Tran & Josh Martinez? No matter what your fitness level, the answer is yes! Come sweat it out, learn to punch and have some fun. Stick around after the workout and enjoy a cash bar happy hour, courtesy of the W New York - Downtown! You're going to want to wear your lucky workout clothes for this one! In addition to getting your heart pumping, we'll also be raffling off some of our latest Fitbit products that you're absolutely going to love. There's something for everyone so you won't want to miss this. Here's what you could win: Fitbit Versa Lite Edition: A bold health and fitness smartwatch with advanced fitness features in a swimproof, lightweight design. Fitbit Inspire HR: An easy-to-use fitness tracker with 24/7 heart rate, workout features, sleep stages and more, designed to help you embrace your fitness goals. Everyone is welcome, so invite your friends and bring a smile. Owning a Fitbit product is not necessary to participate. Be sure to arrive early as Fitbit Local workouts are FIRST COME, FIRST SERVE. An Eventbrite ticket does not guarantee entry. What t... (read more)
Earth Day Workout: IronStrength and Zumba in Herald Square! - In Front Of Macy's - Herald Square
April 27, 2019 - New York
Calling All Fitness Enthusiasts! Join us for a special workout to celebrate Earth Day on Saturday, April 27th right in the middle of Herald Square! IronStrength community fitness program in partnership with the 34 street alliance presents a FREE workout - a combination of 30 minutes of IronStrength taught by Dr Jordan Metzl followed by 30 minutes of Zumba taught by the amazing Angelina Alfaro! All fitness levels, ages, and dancing abilities are welcome! Class will run from 2-3 PM - RSVP required. Come throw it down with us in the middle of Herald Square!
Whiskey & Cheese at Fine & Rare - Fine & Rare
April 27, 2019 - New York
Jordan Zimmerman, former Murray's Cheese Education Manager, will expertly guide you through this mouthwatering pairing class, and you will learn how to pair fine Scotches with artisanal cheeses. You will nose and taste the following selection: Teeling's Small Batch Irish Whiskey: Chèvre d'Argental Mitcher's Unblended American: Quadrello di Bufala Dalmore 12yr: Stockinghall Cheddar Jura 18yr: Bay Blue
(Free Tasting) Japan's No.1 Fukushima Sake Debut to New York - Union Square Wine & Spirits
April 27, 2019 - New York
Fukushima's Sake Debut to New York! Experience the best sake in Japan, without leaving NYC!! Most Gold Prizes 6 years in a row in the century-old Japan Sake Awards. "Champion Sake" in 2015 and 2018 at the International Wine Challenge. Unmatched craftsmanship and the finest taste. While famous in Japan, Fukushima sake has remained a mystery to the outside world—until now! Enjoy a FREE tasting session of premium Fukushima sake with us. Tasting session participants will receive a 20% discount for Fukushima sake purchased during event hours (while supplies last). You will enjoy 10 sake brands! Be the first to taste these sake in New York. 1. Tenmei Hiire Junmai - Akebono Brewery 2. Tenmei Hiire Junmai Ginjo - Akebono Brewery 3. Junmai Kokken - Kokken Brewery 4. Kokken Yume no Kaori (Tokubetsu Junmai) - Kokken Brewery 5. Yamahai Junmai Kokken - Kokken Brewery 6. Daiginjo Kokken - Kokken Brewery 7. Junmai Daiginjo - Sakaegawa Brewery 8. Chidoriashi(Honjozo) - Sakaegawa Brewery 9. Kissui Hidari Uma Junmai Daiginjo - Ariga Brewery 10. Kissui Hidari Uma Junmai Ginjo - Ariga Brewery
Keep It on the Dl Fridays at the Dl Free - The DL
Through April 27, 2019 - New York
Get on the free guestlist for Keep it on the DL Fridays at The DL New York on Friday 4/26/2019!
Senior Dance Production - The Juilliard School
Through April 27, 2019 - New York
Senior Dance Production is the culmination of a year-long creative and educational process focused on self-producing a showcase of original work, featuring the Class of 2019.
Senior Dance Production - The Juilliard School
April 28, 2019 - New York
Senior Dance Production is the culmination of a year-long creative and educational process focused on self-producing a showcase of original work, featuring the Class of 2019.
Asssscat 3000 - New York Comedy Club East Village
April 28, 2019 - New York
Performers from The Upright Citizens Brigade Theatre perform longform improv with frequent special guests from your favorite TV shows and movies. The 7:30pm shows cost $12 and tickets go on sale 2 weeks before the show date at 12pm. The 9:30pm show is FREE but you must make a reservation in advance. Reservations become available at 12pm (noon) the day of the show. PLEASE NOTE: The listed cast lineup is subject to change. Our talented performers are very in-demand and although they would like to do so, other obligations prevent them from being able to do ASSSSCAT every week.
Junior Opera Theater in Greenfield Hall - Manhattan School of Music
Through April 28, 2019 - New York
Catherine Malfitano (BM '71), Coordinator and Director
Winter Is Coming to AT&T Times Square - AT&T Store Times Square
Through April 30, 2019 - New York
Can't wait until April 14 for the return of the 8th and final season of Game of Thrones? Beginning April 1, AT&T's flagship store in Times Square will be completely transformed to give excited fans a chance to dive in to all things GoT. Designed to capture the excitement and anticipation of the show's final season, visitors will be immediately immersed in a world they had only ever seen through their screens. This in-store experience has been strategically developed to welcome new viewers into the Game of Thrones "kingdom" and give die-hard fans the in-depth experiences they crave. The store will feature an exclusive look at series memorabilia and authentic costumes from House Lannister, – including Tyrion, Cirsei and Jaime's costumes, and Jaime's Golden Hand – as well as reality-altering VR and AR experiences, limited-reveal video content and custom digital games.
HSA Department Of Art & Design Presents INTERWOVEN - HSA Gallery
Through May 25, 2019 - New York
The Harlem School of the Arts with curator and Director of Art & Design, Adrienne Elise Tarver, proudly presents, "INTERWOVEN," an exhibition featuring the work of artists Sedrick and Letitia Huckaby. This unique exhibition presents married couple, Sedrick and Letitia Huckaby's work side-by-side highlighting their individual and mutual interests in the ties that bind generations in the black community. Textiles play a large role in these recent bodies of work, as they have in the histories of the black community in America. From the cotton picked in southern plantations to the intricate patchwork quilts made from scraps of old clothes, there's resilience and resourcefulness that is woven into the threads of black history in the United States. Letitia presents work from her series "40 Acres...Gumbo Ya Ya," referencing the unfulfilled promise of land to formerly enslaved individuals in post-civil-war America, and the Cajun phrase meaning everybody is talking at once. She stretches images of rural Louisiana, Mississippi, and Texas printed on fabric over embroidery hoops, referencing domestic work and handmaid heirlooms which cultivate sentimental value over generations instead ... (read more)
BUILD Brunch - Build Series NYC Studio
Through September 10, 2025 - New York
Digital entertainment program BUILD Series takes its popular and extensive live interview show to the next level, adding a new, daily morning talk show "BUILD Brunch," as BUILD Series continues its commitment to bring its fans closer to culture. Airing weekdays at 11am live on BUILDseries.com/Brunch, it will feature a roundtable of diverse, young and influential personalities speaking to breaking news, hot topics and the latest in entertainment. PLEASE READ BEFORE ARRIVAL: Doors open 30 minutes before showtime and CLOSE 5 minutes prior to each show. There will be a standby line for every show. VALID ID REQUIRED FOR ENTRY for security purposes (No age minimum). Please note we clear the studio after every event and we DO NOT permit autographs on our premises. This event will be streamed LIVE on BUILDseries.com! Make sure to check out the BUILD Series Newsletter for updates and information about our events: