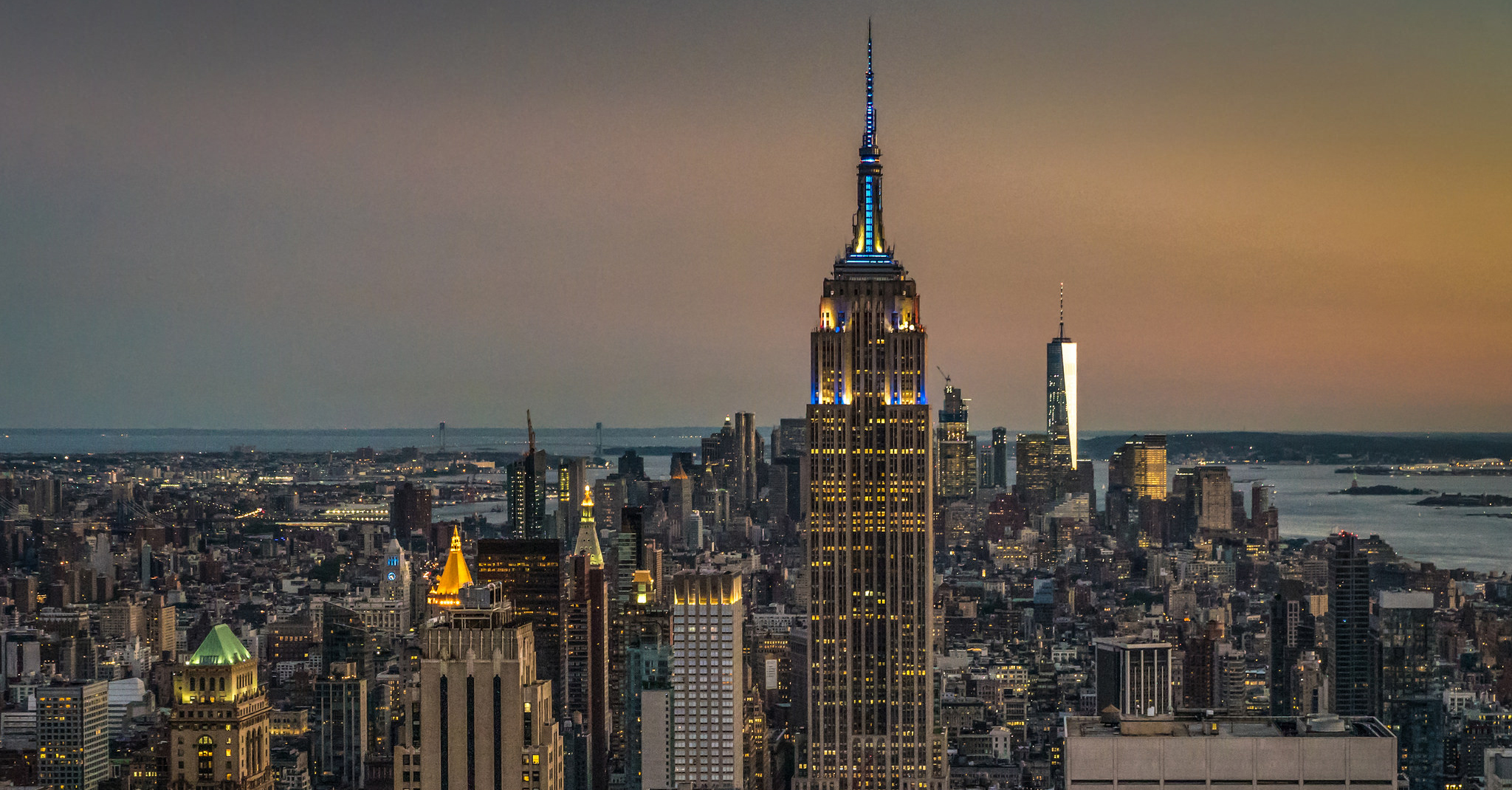 Photo: John St John/Flickr

There's no denying that Manhattan is the sparkle in New York City's eye, but that doesn't mean you have to dump out your wallet to hang out there. City Guide's compiled all the best free things to do in Manhattan this weekend, and for those wanting to explore the city's most famous borough on the cheap, this is your go-to guide.


Free Music Fridays - American Folk Art Museum
April 27, 2018 - New York
Music featured at the Free Music Fridays series thematically reflects the spirit of the self-taught art on view at the museum. Support the proceedings with a donation-based cash wine bar. Admission is always free. Hosted by Lara Ewen. Click here for bookings, backline, and more info. Tonight's Performance 5:30 pm - Tom Hayes Irish-born singer/songwriter 6:05 pm - Warren Malone Acoustic singer/songwriter 6:40 pm - Jessi Robertson Dreamy alternative folk
Heart of the Park Tour - Central Park Conservancy
April 27, 2018 - New York
Walk straight through the heart of Central Park on this east-to-west tour led by Central Park Conservancy guides. Enjoy a great variety of the scenic, sculptural, and architectural elements the Park has to offer. Visit some of the Park's most famous landmarks, including Conservatory Water, Loeb Boathouse, Bethesda Terrace, Bow Bridge, Cherry Hill, the Lake, and Strawberry Fields. Details Meet: Samuel F. B. Morse statue (inside the Park at 72nd Street and Fifth Avenue). Tour ends at 72nd Street and Central Park West. Map of start location Terrain: A few stairs Length of Tour: approximately 90 minutes Cost: Free. Register in advance for easiest check-in! (Pre-registration not required)
Friday Stories and Glories: World Mythology at The Met (Ages 6–8) - The Met Fifth Avenue
Through April 27, 2018 - New York
Lauren Ebin, instructor Uncover the world of art at The Met! Jump into stories, mythology, and folklore from around the globe during this interactive gallery program just for kids. This is a drop-off program; however, interested adults are welcome to attend. Please register interested siblings separately. Classes are limited to 20 children and registration is required.
World Tai Chi Day Kicks off Bryant Park's 2018 Tai Chi Season - Bryant Park
April 28, 2018 - New York
Bryant Park, New York's town square, will kick off its annual Tai Chi program on Saturday, April 28 with "World Tai Chi Day." Free instruction will be provided to newcomers. Hundreds of cities in more than 80 nations participate in World Tai Chi Day, which seeks to inform people of the health and healing benefits of the ancient Chinese ritual. Tai Chi is a way of moving. Its graceful, slow-moving pace works with one's "qi" or life force. Originally developed 500 years as a martial art, modern practitioners focus more on its healing aspects. Bryant Park's Tai Chi classes, provided by the Tai Chi Chuan Center and led by teachers and students who train at CK Chu Tai Chi under the direction of Master Hyland Harris, take place on Tuesdays and Thursdays beginning on May 1 and ending on August 30, from 7:30 to 8:30 AM on the Fountain Terrace, off Sixth Ave. and 41st St. All classes and free and registration is not required. For more information on Tai Chi and hundreds of other free public events and programs, please visit the Bryant Park website or call 212-768-4242.
Pre-College String Ensemble - Peter Jay Sharp Theater/the Juilliard School
April 28, 2018 - New York
Live Piano Karaoke with Leslie Goshko! - Sid Gold's Request Room
April 28, 2018 - New York
Leslie Goshko (Huffington Post Comedy) is the host and creator of the monthly storytelling series, Sideshow Goshko, which has been hailed as a Time Out New York and New York Times "Critics' Pick", and also noted as "a well-programmed night" by the New York Times.Sideshow Goshko has been featured on TruTV'sImpractical Jokers, NPR'sSnap Judgment, and inThe New Yorker.Her cabaret show "An Old-Fashioned Piano Party with Leslie Goshko" is heralded as a Time Out New York "Critic's Pick" and she served as the musical director for NY1 anchors Pat Kiernan and Jamie Stelter's live show at 92Y, "Pat and Jamie's NY." And thanks to the support of many Internet voters, she performed with the cast of Hairspray on Broadway. https://www.lesliegoshko.com/
Open Bar & Everyone Free - ATTIC Rooftop
Through April 28, 2018 - New York City
Drop in Tech Support - 92Y
April 29, 2018 - Upper East Side
Meet in the Parenting Center lounge. Bring your device and get your questions answered by two savvy teen Parenting Center alums.
Vegan Pop-up Market - Grand Bazaar NYC
April 29, 2018 - New York
The Seed NYC is bringing its vegan and plant-based shopping experience to NYC's largest weekly curated market, Grand Bazaar NYC. The Seed's top merchants will be joining the over 100 vendors of Grand Bazaar NYC for a spring Vegan Pop-up. There'll be something for everyone, so bring your vegan and non-vegan friends with you! Be sure to come hungry! Come visit The Seed's Vegan Pop-up Market: WHEN: Sunday, April 29 from 10am - 5:30pm WHERE: Grand Bazaar NYC, 100 West 77th St. (Corner of Columbus Ave.) ADMISSION: Free Interested in becoming a vendor? Please fill out the application form HERE! http://theseed.nyc/become-a-participant/
Open Studio for Families - Solomon R. Guggenheim Museum
April 29, 2018 - New York
For families with children ages 3 and up. Explore the themes and materials seen in the works on view at our drop-in studio art-making program.
Modern and Contemporary Art in French - The Met Fifth Avenue
Through May 01, 2018 - New York
Visitors are introduced to the Museum's exceptional collection of modern art—including painting and sculpture—through works representing the major stylistic movements of the twentieth century. The European collection includes works by artists such as Bonnard, Picasso, Matisse, Miró, Balthus, and Kiefer; the American collection encompasses paintings by the Eight, the Stieglitz circle, Edward Hopper, the Abstract Expressionists, and Jasper Johns. The tour may also visit sculpture by Isamu Noguchi, David Smith, and others.
Exhibition Tour—Thomas Cole's Journey: Atlantic Crossings - The Met Fifth Avenue
Through May 02, 2018 - New York
This exhibition provides a vivid new context for one of the Museum's most celebrated works, Thomas Cole's The Oxbow, 1836, a founding masterpiece of American landscape painting. Assistive listening devices are provided in the gallery where the program begins.Assistive listening devices are provided in the gallery where the program begins.
Exhibition Tour—William Eggleston: Los Alamos - The Met Fifth Avenue
Through May 08, 2018 - New York
The exhibition presents the landmark series Los Alamos by photographer William Eggleston (American, born 1939). Completed in 1974, the work has never been shown in its entirety in New York City.
American Life: Historic Rooms and Decorative Arts - The Met Fifth Avenue
Through May 16, 2018 - New York
This voyage through the history of American domestic interiors uses architectural elements, furnishings, silver, glass, and other decorative and utilitarian objects to tell fascinating stories of American life, from the seventeenth through the early twentieth century. Many of the newly renovated period rooms are equipped with state-of-the-art interactive computer touch screens, which explore the social and historical context of the rooms and catalogue information about their furnishings. The Henry R. Luce Center for the Study of American Art displays additional examples of American art.
American Art in French - The Met Fifth Avenue
Through May 17, 2018 - New York
This tour provides an overview of the comprehensive collections of The American Wing and may include paintings, sculpture, furniture, period rooms, and decorative arts, as well as architectural spaces. Periods covered are from Colonial America to the early twentieth-century Frank Lloyd Wright Room, and will emphasize the newly reopened Galleries for Paintings, Sculpture, and Decorative Arts. The American Wing has outstanding examples of furniture by John Townsend, Duncan Phyfe, and Charles-Honoré Lannuier; paintings by John Singleton Copley, Thomas Cole, Winslow Homer, and John Singer Sargent; and sculptures by Augustus Saint-Gaudens.
30-Minute Met: Guide's Choice in Japanese - The Met Fifth Avenue
Through May 22, 2018 - New York
A tour of favorite objects; guide's choice, your treat.
Arts of the Islamic World in French - The Met Fifth Avenue
Through June 11, 2018 - New York
A tour of the New Galleries for the Art of the Arab Lands, Turkey, Iran, Central Asia, and Later South Asia explores the Metropolitan Museum's collection of Islamic art, a collection that is one of the finest and most comprehensive in the world. Fifteen galleries grouped by geographic region trace the course of Islamic civilization from Spain in the West to India in the East. The tour draws on this collection to explore the rich artistic traditions of the Islamic world and the distinct cultures within its fold.
30-Minute Met: Guide's Choice in Spanish - The Met Fifth Avenue
Through June 11, 2018 - New York
Morning Hours for Members and Patrons - The Met Fifth Avenue
Through June 30, 2018 - New York
Start your day at The Met! Each month, Members and Patrons* are invited to attend private morning hours for one or more select exhibitions before the Museum is open to the public. Please present your Member or Patron card to admit you and a guest. Only the street-level entrance at 81st Street and the Parking Garage entrance will be open during this hour.