Fuerza Bruta - Running, Sloshing & Rocking Indefinitely
February 21, 2013 - by Griffin Miller, Theatre Editor
A non-traditional performance space: No seats. No proscenium. No ceiling. No ushers -- just people-wranglers -- and a pleasant sense of discombobulation. Then... Fog. Darkness. A cosmic beat. A male voice: "You are in a space with three exits. A voice-over, seemingly hijacked from a sci-fi epic, rattles off a litany of orders that, among other things, forbid flash photography and the depositing of personal belongings on the floor. (Big Brother may be watching, but who cares?)
Suddenly we are jettisoned into a non-verbal, Kafkaesque universe of music, unsettling noises, klieg lights, intense water play, and an ongoing barrage of bodies in kinetic motion: a sensory-altering Tilt-a-Whirl that spins us forward into the ride of our lives. Welcome to Fuerza Bruta… Welcome to "Brute Force."
Pronounced f'WHERE-zah-BROO-tah, the title serves as a metaphor for the show's transcendent energy while hinting at the onslaught of surprises poised to unfurl from every direction imaginable for the next 70 minutes.
It's a performance experience unlike any other in the Big Apple, and only a month or two ago, Fuerza Bruta was slated to close after a five-year run. But happily, fans and fate have put an end to, well, the end.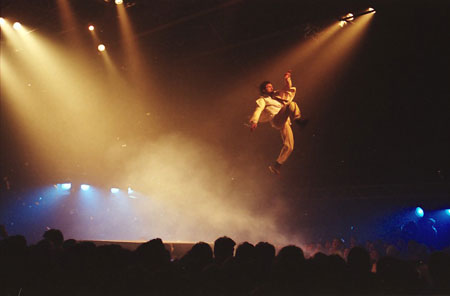 "We took a few months to test the temperature," said executive producer Stephen Shaw, adding, "and since announcing our closing, nothing but tremendous support and never-before-achieved numbers at the box office was the result...so we had to extend indefinitely into 2013."
Fuerza Bruta comes from the same duo that created an earlier convention-shattering theatrical blockbuster, De La Guarda: Buenos Aires natives Diqui James (creator/artistic director) and Gaby Kerpel (musical director/composer).
And as they proved in De La Guarda, they're are open to anything so long as it's mind-blowing. This explains why they opted to return to downtown's Daryl Roth Theatre (where De La Guardia plied its high-flying escapade): not many performance spaces come with a 360-degree playing area capable of holding up to 500 theatregoers, elevated stages, the occasional bit of monster machinery, and boundless aerial capabilities.
Describing Fuerza Bruta in a linear way can be pointless—although there is the thread of a through line vis-á-vis a main character who dominates the opening segment of the show only to disappear and reappear and disappear and reappear… whenever.
R&B star Usher's infatuation with Fuerza Bruta not only led him to perform in the show last year, it also inspired him to tap into the show for his "Scream" video. And he's far from the only celebrity fan of the show. A (very abbreviated) list of big names who have attended include: Beyoncé, Jim Carrey, Bradley Cooper, Leonardo DiCaprio, Neil Patrick Harris, Jay-Z, Jude Law, Blake Lively, Rachel McAdams, Demi Moore, Isabella Rossellini, Shakira, and Serena Williams.
Yet what continues to draw people to Fuerza Bruta is its uniqueness, which is not easy to compartmentalize. As a result, I'm taking the free-association route in the hope of giving you a taste of this awesomely visceral production:
….An assembly line treadmill where actors two-dimensionally fall backwards... a burst of blinding light… a caterpillar crawl of a metallic canopy replaces the walls… whistle blasts…. high-flying female nymphs fly then thrash through the stratosphere, turning into she wolves… an airborne stage-sail playground… a dance club scenario shifts into a gleeful insurrection and then to a tribal disco… actors infiltrate the audience armed with Styrofoam slabs… percussion… bursts of mist from a hose wielded by a crazed DJ in a George Washington wig… far above the spectators water and slithering bodies cavort on a gargantuan Slip-n-Slide… free-for-all energy… a transparent plastic pool dome is lowered, stopping just above the crowd… hands reach up; some make contact…. more twists… more turns… more uncanny interactive imagery.
In the end, no words can match the "being there" impact of Fuerza Bruta. My advice: opt for comfortable shoes, dress casually, leave your belongings with coat check, and let the evening happen."
Fuerza Bruta is playing at Off-Broadway's Daryl Roth Theatre, 20 Union Square East at 15th St., 212-239-6200; fuerzabrutanyc.com. BONUS: Fuerza Bruta invites audience members to a dance party after both the Friday 10:30pm and Saturday 10pm shows, which includes access to the D-lounge and 2-for-1 drinks.
Looking for Free Group Planning Services?
Get free advice on planning your group's trip to New York.
RESTAURANTS

Conveniently located in the Port Authority Bus Terminal, the...

THEATER

An epic love story about the relationship between John, an A...

SHOPPING

Indulge in natural luxury with the softest bedding on the pl...

SIGHTSEEING

Customized, state of the art fleet will get you from the air...