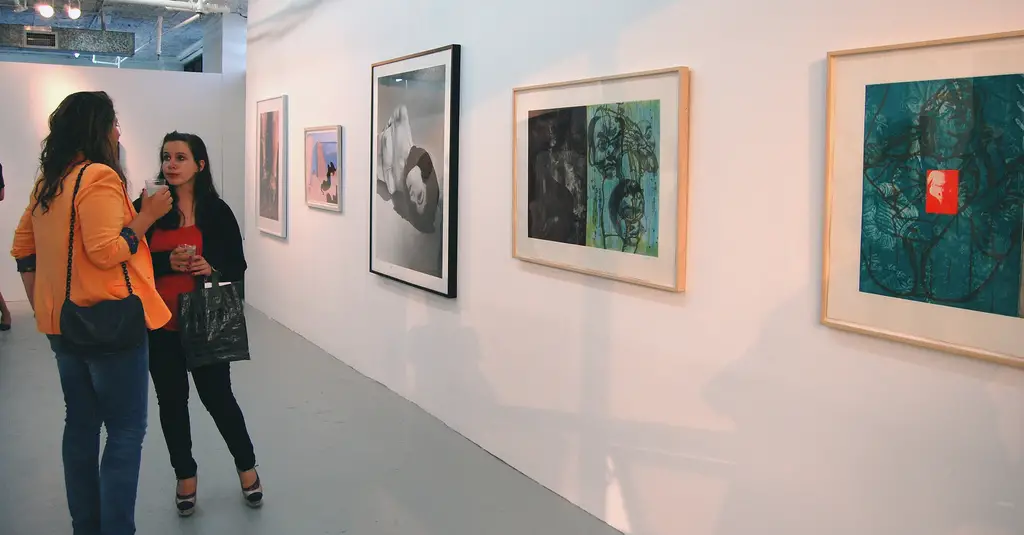 Photo: Andrew Russeth/Flickr

Many of the world's most acclaimed artists live in New York City, including up-and-coming painters, sculptors, video and performance artists, and photographers. Take advantage of the rich art scene by checking out some gallery shows in New York City this month. City Guide has the best gallery events rounded up here.


"Art Benefit Raises Funds for Human Trafficking Awareness Play" - Chinatown Soup Gallery
Through February 16, 2018 - New York
In 2017, more than 3,500 sex trafficking cases were reported to the National Human Trafficking Resource Center, and there are thousands of cases that go unreported because far too often the victims of trafficking have been silenced through a fear of recriminations and violence by their handlers. That is why Mirage Theatre is working with playwright Melisa Tien, a NY Foundation of the Arts Fellow and member of New Dramatists to create a play that gives voice to victims and survivors of human trafficking. Her script and the resulting production will confront the ordeals faced by the most vulnerable members of our society who live in a form of modern slavery that exists throughout the United States and globally.
Make Korean Paper Pojagi - Flushing Town Hall
February 09, 2019 - Flushing
Flushing Council on Culture and the Arts dba Flushing Town Hall is a not for profit organization which receives major support from the National Endowment for the Arts; New York State Council on the Arts with the support of Governor Andrew Cuomo and the New York State Legislature; New York State Assembly Member Ron Kim; New York City Department of Cultural Affairs, Mayor Bill de Blasio; Queens Borough President Melinda Katz; Council Members Adrienne Adams, Costa Constantinides, Daniel Dromm, Barry Grodenchik, Peter Koo, Karen Koslowitz, Francisco Moya, Paul A. Vallone, and Jimmy Van Bramer; and the Howard Gilman Foundation, the Fan Fox and Leslie R. Samuels Foundation, and the Lily Auchincloss Foundation. Support for our programs is also provided by Atlantic Philanthropies Director/Employee Designated Gift Program, Cathay Bank, Michael Cheng / Epos Development, Chinese Overseas University, Dr. Hsing-Lih Chou / New York Institute of Culture and the Arts, Con Edison, Crossings TV, Heidi & Jonathan Davis, Exploring the Metropolis, Steven Facey, Kuang-Yu Fong / Chinese Theatre Works, Barbara Garii, The Glow Foundation, Heather Harrison, Raymond D. Jasen, Jim Henson Foundation, Keith Ha... (read more)
Mickey: The True Original Exhibition - Mickey Exhibition
Through February 10, 2019 - New York
Mickey: The True Original Exhibition celebrates 90 years of Mickey Mouse's influence on art and pop culture. Opening in November 2018, this immersive experience is inspired by Mickey's status as a 'true original' and his consistent impact on the arts and creativity in all its forms. Guests will have the chance to explore the 16,000 square-foot exhibition featuring both historic and contemporary work from renowned artists.
"Unfortunately, Ready To Wear": The Climate Capsule Collection Presented by Luka Sabbat x Milk in partnership with NRDC - Milk Gallery
Through February 14, 2019 - New York
The "Unfortunately, Ready to Wear" collection is a set of innovative and futuristic fashion essentials designed to adapt to the current climate change threats. The capsule collection will be presented during New York Fashion Week at the Milk Gallery Exhibition. Milk Studios and Creative Entrepreneur, Luka Sabbat, in partnership with NRDC, are collaborating to send the message that if our environmental crisis does not improve these items will go from novelty to necessity. This five piece collection will include prototypes that address five pressing issues related to climate change: extreme storms,heat waves, air pollution, infectious diseases, and environmental refugees . The "Unfortunately, Ready to Wear" exhibit will provide education about climate change for a modern audience, bringing to life the story of the collection through the products and subsequent programming. Each product vignette will feature a merchandised display, a close-up look at the product materials and the process behind its development, and photography from the look book photographed by Noah Dillon. In addition to the product vignettes, the exhibit will feature projection art and a final moment f... (read more)
Whitney to offer 4-week Warhol master class - Whitney Museum of American Art
Through February 14, 2019 - New York
This winter, the Whitney Museum of American Art presents "If You Want to Know about Andy Warhol," a four-week course examining the artistic contributions of Andy Warhol. The course introduces participants to Warhol's work across media, explores connections between Warhol and his peers, and sheds new light on the relevance of his practice for working artists today. Alongside his paintings, the attendees will consider Warhol's films, photographs, and multimedia performances, while also delving into his use of commercial products and celebrity culture. Finally, the classes explore Warhol's rich engagement with the social landscape of his friends, fellow artists, and lovers, asking how he transformed the world he lived in into art and what his might reveal about the lesser-known political commitments and critiques put forward by the king of Pop Art. The master class will be led by Josh Lubin-Levy, a fellow at the Whitney and member of the faculty at the Institute for Curatorial Practice in Performance at Wesleyan University and in the department of Visual Studies at The New School. Participants can attend one of three sessions • Option 1: Wednesdays, January 23 and 30, and Feb... (read more)
'Pop-Porn' is Neo-Pop Erotica for the Masses! - MF Gallery
Through February 17, 2019 - Brooklyn
'Pop-Porn' is Neo-Pop Erotica for the Masses! Five artists celebrate all forms of intimacy; untethered, unabashed, and unbound. Pop-Porn will debut at MF Gallery in Brooklyn on Jan.12th 2019. Curated by Matt Myers, aka Eronin, Pop-Porn spotlights five artists working with modern concepts of eroticism and desire, and how it is essential to us right now. Exhibition curator Matt Myers has worked and shown his art at Sotheby's NY auction house since 2001. He became keenly aware of a cross-connect between Pop-Art and Eroticism, and the idea of Pop-Porn emerged as a platform to showcase a group of artists sharing this vision. The artists selected to participate in the Pop-Porn exhibition are: Eronin, Fernando Carpaneda, Ellen Stagg, Martina Secondo Russo and Anna Park. Just like Warhol, Wesselmann and Lichtenstein drew from everyday images from mass media and popular culture to create Pop-Art, Pop-Porn also draws from mass media, but from more provocative sources. There is a ever-growing trend in major venues and even auction houses to promote erotica as valid and essential. For two years in a row, Sotheby's London has celebrated erotica in their highly successful public auctions ... (read more)
Dora Budor with Andromache Chalfant: Benedick, or Else - 80WSE
Through February 17, 2019 - New York
Benedick, or Else is a collaborative exhibition at 80 Washington Square East by artist Dora Budor and scenographer Andromache Chalfant. Encompassing all five spaces of the gallery, the show consists of a series of built environments that explore the history of the building as a nineteenth century artist's residence, as well as an emerging space for contemporary art in the 1970s. Using scenographic tools Budor and Chalfant reconfigure the space of the gallery, creating a live set that responds to its temporary inhabitants.
Esmé Weijun Wang: The Collected Schizophrenias w/ Alice Sola Kim - Books are Magic
February 19, 2019 - Brooklynl
In The Collected Schizophrenias, Esmé Weijun Wang details her journey toward her diagnosis of schizoaffective disorder and provides insight into a condition long misunderstood. Written with a sharp analytic eye, which she honed as a former lab researcher at Stanford, these essays range from exploring the depths of a rare form of psychosis to how she uses fashion to present as high-functioning; from the failures of the higher education system to the complexity of compounding factors such as PTSD and Lyme disease. Schizophrenia is not a single unifying diagnosis, and Wang discusses also the medical community's own disagreement about labels and procedures for diagnosing those with mental illness and examines the ways in which schizophrenia manifests in her own life. Exhaustively researched and deeply moving, The Collected Schizophrenias is an essay collection of undeniable power. Esmé Weijun Wang is the author of The Border of Paradise. She received the Whiting Award in 2018 and was named one of Granta's Best of Young American Novelists of 2017. She holds an MFA from the University of Michigan and lives in San Francisco.
Engaging Artists: New Works in Practice - HERE
Through February 23, 2019 - New York
About the Exhibition Jan 24-Feb 23 Gallery Hours: Tue–Fri, 2–7pm | Weekends by appointment Curated by Melissa Liu Artists working to inspire social change engage in in-depth processes that often go unseen by the public. "Engaging Artists: New Works in Practice" is an entry point into the practices of emerging artists who participated in More Art's 2017-18 Engaging Artists Fellowship. The artists in this exhibition enter their work not from the studio, but through other disciplines and occupations: skilled trades, medicine, arts administrative work and community organizing—demonstrating the expanded role of artistic production in everyday contexts. This exhibition is a collaboration between More Art and HERE. While More Art is a visual arts organization and HERE is a theatrical space, these two cultural institutions both facilitate the creation of socially engaged art. Participating Artists: Vanessa Teran Collantes, Álvaro Franco, Noé Gaytan, Floor Grootenhuis, Bryan Rodriguez, Worker's Art Coalition
Engaging Artists: New Works in Practice - HERE
Through February 23, 2019 - New York
About the Exhibition Jan 24-Feb 23 Gallery Hours: Tue–Fri, 2–7pm | Weekends by appointment Curated by Melissa Liu Artists working to inspire social change engage in in-depth processes that often go unseen by the public. "Engaging Artists: New Works in Practice" is an entry point into the practices of emerging artists who participated in More Art's 2017-18 Engaging Artists Fellowship. The artists in this exhibition enter their work not from the studio, but through other disciplines and occupations: skilled trades, medicine, arts administrative work and community organizing—demonstrating the expanded role of artistic production in everyday contexts. This exhibition is a collaboration between More Art and HERE. While More Art is a visual arts organization and HERE is a theatrical space, these two cultural institutions both facilitate the creation of socially engaged art. Participating Artists: Vanessa Teran Collantes, Álvaro Franco, Noé Gaytan, Floor Grootenhuis, Bryan Rodriguez, Worker's Art Coalition