Gallery Shows in New York City This Month - January 2019
January 19, 2019 - by CG Directory Editor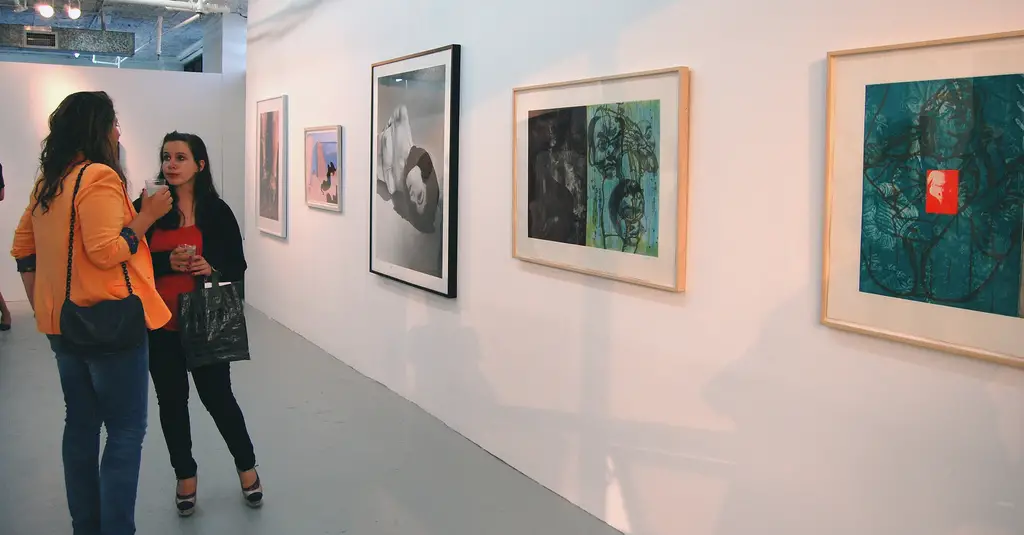 Photo: Andrew Russeth/Flickr

Many of the world's most acclaimed artists live in New York City, including up-and-coming painters, sculptors, video and performance artists, and photographers. Take advantage of the rich art scene by checking out some gallery shows in New York City this month. City Guide has the best gallery events rounded up here.


"Art Benefit Raises Funds for Human Trafficking Awareness Play" - Chinatown Soup Gallery
Through February 16, 2018 - New York
In 2017, more than 3,500 sex trafficking cases were reported to the National Human Trafficking Resource Center, and there are thousands of cases that go unreported because far too often the victims of trafficking have been silenced through a fear of recriminations and violence by their handlers. That is why Mirage Theatre is working with playwright Melisa Tien, a NY Foundation of the Arts Fellow and member of New Dramatists to create a play that gives voice to victims and survivors of human trafficking. Her script and the resulting production will confront the ordeals faced by the most vulnerable members of our society who live in a form of modern slavery that exists throughout the United States and globally.
BHS 18th Annual Winter Art Show - Bayside Historical Society
Through January 27, 2019 - Bayside
Our annual Winter Art Show features contemporary Queens artists working in all media. All artists are welcome! The opening reception will take place on Sunday, January 13, 2019 at 2:00pm; the show will close on Sunday, January 27, 2019 at 3:00pm. The registration deadline is Saturday, December 29, 2018. The exhibit and reception are open to the public. Viewing hours for the duration of the exhibit will be Thursday & Friday, 10:00 am to 4:00 pm, and Saturday & Sunday, noon until 4:00 pm. Admission is $5 per person, or free for BHS members. For more information and to download a registration form, go to: https://www.baysidehistorical.org/bhs-winter-art-show
Liliana Porter: Other Situations - El Museo del Barrio
Through January 27, 2019 - New York
Born in Argentina in 1941, Liliana Porter, originally educated in printmaking — a discipline that deeply influenced her practice — moved to New York in 1964, where she cofounded the New York Graphic Workshop with artists Luis Camnitzer and José Guillermo Castillo. Since then, Porter has worked in a variety of media including painting, drawing, printmaking, photography, assemblages, video, installation and, more recently, theater. Porter's art has been exhibited in more than 35 countries in over 450 group shows, and is a part of public and private collections including El Museo del Barrio. Her work has been reviewed in Artforum, Art in America, and Sculpture Magazine, among other publications. In 2013, the Fundación Patricia Phelps de Cisneros published the book Liliana Porter in Conversation with Inés Katzenstein as part of the Conversaciones/Conversations series. Galleries in Europe, Latin America and the United States represent the artist.
Dana Czapnik: The Falconer w/ Kaitlyn Greenidge - Books are Magic
January 31, 2019 - Brooklynl
Told in vibrant, quicksilver prose, The Falconer is a "wholly original coming-of-age story" (Chloe Benjamin, New York Times bestselling author of The Immortalists), providing a snapshot of the city and America through the eyes of the children of the baby boomers grappling with privilege and the fading of radical hopes. New York Times bestselling author Claire Messud calls The Falconer an "exhilarating debut," adding that "Dana Czapnik's frank heroine has a voice, and a perspective, you won't soon forget." Dana Czapnik is a 2018 NYSCA/NYFA Artist Fellow in Fiction from The New York Foundation for the Arts. In 2017, she was awarded an Emerging Writers Fellowship from the Center for Fiction. Czapnik earned her MFA at Hunter College where she was recognized with a Hertog Fellowship. She's spent most of her career on the editorial side of professional sports including stints at ESPN the Magazine, the United States Tennis Association and the Arena Football League. A native New Yorker, she lives in Manhattan with her husband and son.
Mickey: The True Original Exhibition - Mickey Exhibition
Through February 10, 2019 - New York
Mickey: The True Original Exhibition celebrates 90 years of Mickey Mouse's influence on art and pop culture. Opening in November 2018, this immersive experience is inspired by Mickey's status as a 'true original' and his consistent impact on the arts and creativity in all its forms. Guests will have the chance to explore the 16,000 square-foot exhibition featuring both historic and contemporary work from renowned artists.
'Pop-Porn' is Neo-Pop Erotica for the Masses! - MF Gallery
Through February 17, 2019 - Brooklyn
'Pop-Porn' is Neo-Pop Erotica for the Masses! Five artists celebrate all forms of intimacy; untethered, unabashed, and unbound. Pop-Porn will debut at MF Gallery in Brooklyn on Jan.12th 2019. Curated by Matt Myers, aka Eronin, Pop-Porn spotlights five artists working with modern concepts of eroticism and desire, and how it is essential to us right now. Exhibition curator Matt Myers has worked and shown his art at Sotheby's NY auction house since 2001. He became keenly aware of a cross-connect between Pop-Art and Eroticism, and the idea of Pop-Porn emerged as a platform to showcase a group of artists sharing this vision. The artists selected to participate in the Pop-Porn exhibition are: Eronin, Fernando Carpaneda, Ellen Stagg, Martina Secondo Russo and Anna Park. Just like Warhol, Wesselmann and Lichtenstein drew from everyday images from mass media and popular culture to create Pop-Art, Pop-Porn also draws from mass media, but from more provocative sources. There is a ever-growing trend in major venues and even auction houses to promote erotica as valid and essential. For two years in a row, Sotheby's London has celebrated erotica in their highly successful public auctions ... (read more)
Looking for Free Group Planning Services?
Get free advice on planning your group's trip to New York.
MORE Activity Planner ARTICLES
RESTAURANTS

Multi-concept restaurant offering modern Japanese cuisine, a...

THEATER

In a heartbeat, 38 planes with 6,579 passengers were strand...

SHOPPING

A premier destination for family entertainment....

SIGHTSEEING

Sweeping, unobstructed, open-air views of NYC from the top o...