Gallery Shows in New York City This Month - March 2019
March 9, 2019 - by CG Directory Editor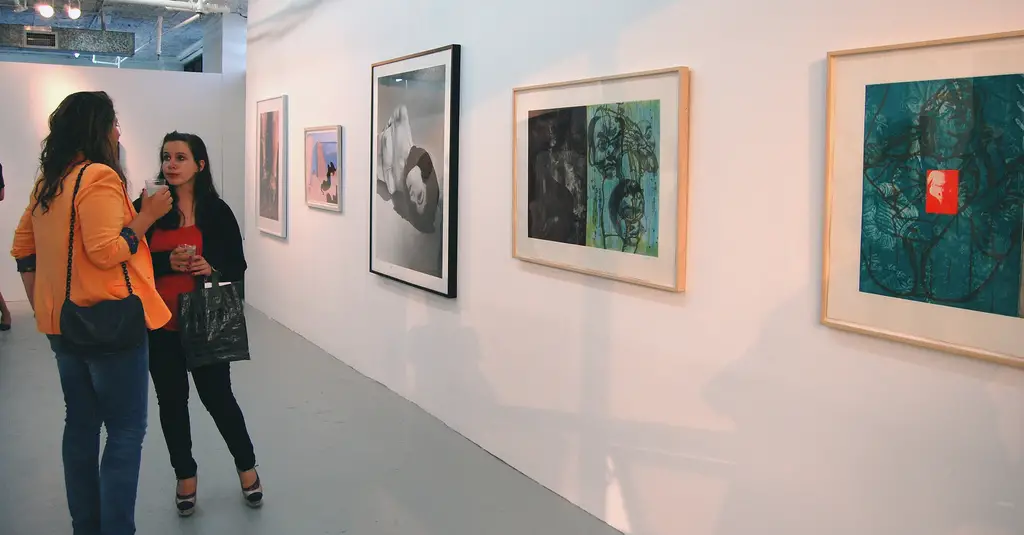 Photo: Andrew Russeth/Flickr

Many of the world's most acclaimed artists live in New York City, including up-and-coming painters, sculptors, video and performance artists, and photographers. Take advantage of the rich art scene by checking out some gallery shows in New York City this month. City Guide has the best gallery events rounded up here.


A Notorious Brunch & Day Party - MIST Harlem
March 09, 2019 - New York
It's been 22 years since we lost The Notorious B.I.G. but his memory still lives on through some of his timeless hits. This Saturday, March 9th The Alumni Group plans to do it BIG for B.I.G. at Mist Harlem. We plan to take you back to when folks would race home to watch Video Music Box, MTV, or The Box to watch music videos. This brunch will feature 100% Music videos spun by NYC's hottest DJ/VJs. The Alumni Group is known for throwing the hottest brunch parties in NYC so join us as we Sip Champagne when we Thirstay! At this B.I.G. Bottomless brunch.
Chelsea gallery tour - West Chelsea Art Building
March 09, 2019 - New York
Take a fascinating gallery tour of Chelsea - the world's center for contemporary art - and see the very latest in painting, sculpture, electronic media & photography. Our guide, who holds a Ph.D. in arts education, helps explain the artwork and leads the group in lively discussion. The tour takes place Sat. March 9 at 1:00 PM & 3:45 PM. These two tours will be identical in every way: the same guide and the same exhibits, so choose whichever start time best fits your schedule. It will take place no matter the temperature or weather, as the art is all indoors. Meet at 526 W. 26th St. between 10th & 11th Ave. Nearest subways: C- or E-Train to 23rd St. Admission is $25. SPECIAL OFFER: visit our website to request a DISCOUNT ticket link for $8-off admission! For more info, visit http://www.nygallerytours.com or call 917-250-0052.
A4TY: A DAY OF WORLD PREMIERES - Symphony Space
March 09, 2019 - Manhattan
Bloomingdale School of Music students, ages 7-18, take the stage to perform each others' original compositions. In addition, a new work by composer Taylor Brook will be premiered at both concerts. "And yes, they were Works of Art indeed - no kiddie recital, this! (George Crumb, move over!)." - Jon Deak, Founder, New York Philharmonic Very Young Composers Program For 15 years Bloomingdale School of Music (BSM) has maintained a special focus on introducing very young children (ages 7-17) to composition through their A4TY (Album for the Young) student Composing Program. The March 9th recitals will feature more than 30 student compositions, divided over two concerts, ranging from solo works for piano, violin or cello, to works for small chamber ensembles of strings or mixed wind, strings, brass and percussion groups. The first concert at 2 pm is for the very young students the second concert at 5 pm will represent the work of older and more advanced students. Both recitals which feature the premiere of a new commissioned work by composer, Taylor Brook, current 2018-19 Con Edison Exploring the Metropolis Composer-in-Residence. Since its inception the A4TY program has premiered over ... (read more)
Sonder Exhibition - Sonder
Through March 10, 2019 - Allen St
Sonder Exhibition, an art exhibit curated by teenagers, will be featuring the works of 50+ young multimedia artists. From zines to photographs to fine art, Sonder will have all forms of art on display. With an array of art from up-and-coming creators, both local and global, Sonder's collection is definitely worth checking out. posters by: tarra boroumandi
Battle! Hip-hop In Armor - The Metropolitan Museum of Art
March 22, 2019 - New York
The world of hip-hop dance culture collides with the bygone age of chivalry when freestyle dancers meet knights in armor. Discover the unexpected parallels in this unrivaled series of thrilling dance battles, commissioned by MetLiveArts in collaboration with The Met's Arms and Armor department and the fierce artists from the urban dance organization Dancing in the Streets of the South Bronx.
Forms of Enclosure: New Prints 2019/Winter - International Print Center New York
Through March 23, 2019 - New York
INTERNATIONAL PRINT CENTER NEW YORK (IPCNY) presents the fifty-ninth presentation of its New Prints Program, a biannual, juried open call for prints and print-based work created in the preceding twelve months. Titled Forms of Enclosure, this exhibition features 30 artists from the United States, Argentina, France, Poland, Canada, and Bulgaria. Find additional information about the exhibition at ipcny.org/formsofenclosure Image: Ulrike Müller. 'Keks', 2018. Monotype with chine-collé. Sheet: 29 x 22 inches. Printed by Marina Ancona; published by 10 Grand Press, Brooklyn. Edition: Unique. Courtesy of the artist and 10 Grand Press, Brooklyn, NY. © 2019 10 Grand Press & the artist.
JCAL Black History Month Presents: PUBLIC ART, Standing Ovation: African Diva Project - Jamaica Performing Arts Center (JPAC)
Through March 25, 2019 - Jamaica
The outdoor art installation Standing Ovation: African Diva Project in Queens celebrates some of the biggest black female singers in entertainment. Standing Ovation is part of Margaret's larger ongoing series, The African Diva Project, created to reconnect Black art, music, and performance to its African roots. Standing Ovation is comprised of select figures taken from The African Diva Project, printed to life-size, and installed on the Jamaica Performing Arts Center lawn. "This installation represents a selection of popular African American women soloists whose songs and celebrity have touched many lives. The black women behind these masks are entertainers given high spiritual and ritual significance. As African Divas, they become powerful representatives of changing times shouldered with the support and grace of ancestral Africa." –Margaret Rose Vendryes
Facing the Future: Predicting and Preparing for Disease Outbreaks - Museum of the City of New York
April 03, 2019 - New York
Experts expect the next deadly epidemic to happen within two generations so, the question becomes, how can we prepare? Data and informatics are available as tools to inform and promote public health as never before. Now we can track and analyze microbes and diseases through bodies, populations, and places. However, there are legal and ethical concerns about privacy when tracking people's data. What does this kind of biosurveillance mean, especially in a world where health policy has become increasingly political? Investigative journalist and author Sonia Shah sits down with Larry Madoff, MD, director of ProMED-mail, Amy Fairchild, PhD, MPH, associate vice president for Faculty and Academic Affairs at the Health Science Center at Texas A&M University, and Lauren Flicker, associate director of the Montefiore Einstein Center for Bioethics to discuss how best to predict and prepare for the next impending outbreak.
Le Board presents...INDIRA CESARINE x NEON Exhibit - Le Board
Through April 13, 2019 - New York
You are invited to the Opening Reception of the INDIRA CESARINE x NEON Exhibit, presented by Le Board. Le Board is redefining the rules of retail by creating an immersive space where entertainment meets fashion through innovation. OPENING RECEPTION: DATE: THURSDAY, FEBRUARY 14TH TIME: 5pm - 8pm LOCATION: Le Board (800B 5th Avenue, New York, NY) Cocktails by McQueen and The Violet Fog + Mi Campo Heart chakra opening elixirs with CBD oil Spiritual readings from With Love, Co. And much more ...
Fine Art Auction October 20 and 27 – Works by Leading Artists of the Salmagundi Club - Salmagundi Club
Through October 28, 2107 - New York
The Salmagundi Club, a leading center for fine artists presents its annual fall auctions. Auctions will be held on October 20 and 27, 2017 at 8:00 p.m., at the Club's historic brownstone mansion at 47 Fifth Avenue, New York City. To view the art online and bid now, visit liveauctioneers.com and search for Salmagundi.
Looking for Free Group Planning Services?
Get free advice on planning your group's trip to New York.
MORE Activity Planner ARTICLES
RESTAURANTS

Beloved midtown spot takes inspiration from local tradition,...

THEATER

Kander and Ebb's "musical vaudeville" in which Roxie Hart ga...

SHOPPING

An array of quality branded merchandise showcasing HBO's® aw...

SIGHTSEEING

Sweeping, unobstructed, open-air views of NYC from the top o...