Gallery Shows in New York City This Month - March 2019
March 16, 2019 - by CG Directory Editor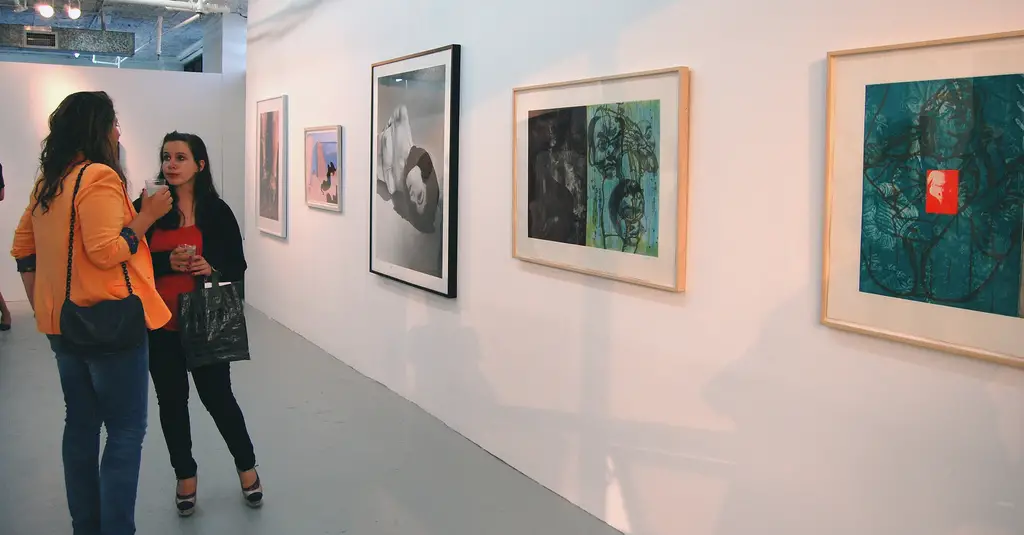 Photo: Andrew Russeth/Flickr

Many of the world's most acclaimed artists live in New York City, including up-and-coming painters, sculptors, video and performance artists, and photographers. Take advantage of the rich art scene by checking out some gallery shows in New York City this month. City Guide has the best gallery events rounded up here.


MOCA Audio History Saturdays - Record your past with Richard Cheu - Museum of Chinese in America (MOCA)
March 16, 2019 - Little Italy
Richard Cheu is a non-traditional PhD. student in World History at St. John's University in New York City majoring in Public History. He has been an independent scholar since the 1980s conducting research on Chinese Americans during America's Chinese Exclusion Era. The sixty-five oral histories he conducted are archived in the Hoover Institution at Stanford University. His "previous careers" include: neurophysiological research, marketing, international economics and reorganization of corporate entities and NGOs. He is a graduate of Stanford University (A.B. Biology), the University of Oregon (M.A. Biology), the Kellogg School of Management at Northwestern (M.B.A. Marketing and International Economics), and recipient of a U.S. Public Health Fellowship in Physiology, University of Oregon Medical School. He is an ordained Catholic deacon.
A Pun Cello Concert - Laugh a Little - Symphony Space
March 16, 2019 - Manhattan
Harry Wimmer, the internationally celebrated concert cellist and raconteur, presents a Fun Evening of Great Music, with Great Sayings, Great Quotes and Great Puns by William Shakespeare and Friends. The Maestro is abetted by Kevin Wimmer ( fiddler extraordinaire), Robert Raines Martin ( versatile actor/performer), Eduard Laurel (pianista superbo) and Special Guests Alexis Walls (virtuoso violinist) and Tom Mitchell ( swinging guitar slinger). This concert is dedicated to dear Shirley Givens, world-renowned violinist and beloved teacher, and an alumna of the 7 past "Soup to Nuts" shows at the Thalia. Net proceeds of this event go to the Givens Fellowship for The International Chamber Orchestra of Puerto Rico. The program will feature glorious music by Frescobaldi, Beethoven, Albeniz, Grainger, Bach, Falla, Bloch, Webern, Grieg, Villa-Lobos and Schubert plus arrangements by Django Reinhardt.
Bentley Meeker Exploring Light - Garvey Simon
Through March 16, 2019 - New York City
Garvey|Simon is pleased to present Exploring Light, a new series of illuminated, sculptural works by Bentley Meeker. The exhibition will take place during Armory week at 517 W. 37th Street NY, NY 10018, a street level gallery space in the Hudson Yards district in close proximity to the fairs. The show will be open and on view Tuesday - Saturday, 11am-6pm, and by appointment. An artist talk will be held in the gallery on Saturday, March 16, at 1pm. This new work is the result of Meeker's observations and research into visible light and its impact on the human psyche. The artist's expertise comes from decades of experimentation, study and use of varying light frequencies via his studio practice, as well as his commercial career as a renown lighting designer. Meeker's work is primarily focused around the essence and exploration of light's nature, its meaning to us, and the changes in our collective use of light. His mission is to create reactions and relationships between light sources and the human experience. Exploring Light consists of forty contemplative installations that create a unifying tableau and invite the viewer to immerse themselves in a collective perception. T... (read more)
Lincoln Center Tours - Lincoln Center
March 17, 2019 - New York
Join one of our expert guides for an unparalleled insider's experience at the world's leading performing arts center, home to the Metropolitan Opera, the New York City Ballet, the New York Philharmonic, and more.
Talking Menstrual Equity. Period - Brooklyn Historical Society
March 18, 2019 - Brooklyn
Safe, affordable, accessible menstrual products, is that so much to ask for? In her book Periods Gone Public: Taking a Stand for Menstrual Equity, Jennifer Weiss-Wolf tackles a taboo subject head-on: the tampon tax and other menstrual inequalities. Join her, along with author of Doing Harm: The Truth About How Bad Medicine and Lazy Science Leave Women Dismissed, Misdiagnosed, and Sick Maya Dusenbery, award-winning journalist Kimberly Seals Allers, and Sophie Houser who co-created the video game Tampon Run at the age of 17, for the kind of discussion that would have made your great-grandmother blush.
Mozart's Requiem - Lincoln Center
Through March 19, 2019 - Bronx
Our all-Mozart evening reveals the composer's genius. Manfred Honeck conducts the transcendent Requiem, with its darkly rich orchestration and otherworldly radiance; his captivating final piano concerto — autumnal, graceful, and serene, with soloist Richard Goode ("unfailingly beautiful tone" — The Washington Post); and more.
Battle! Hip-hop In Armor - The Metropolitan Museum of Art
March 22, 2019 - New York
The world of hip-hop dance culture collides with the bygone age of chivalry when freestyle dancers meet knights in armor. Discover the unexpected parallels in this unrivaled series of thrilling dance battles, commissioned by MetLiveArts in collaboration with The Met's Arms and Armor department and the fierce artists from the urban dance organization Dancing in the Streets of the South Bronx.
Ghp Exhibition: Rirkrit Tiravanija - Greenwich House Pottery
Through March 22, 2019 - New York
NEW YORK – The Jane Hartsook Gallery is pleased to present new work by Rirkrit Tiravanija. Tiravanija has transformed the gallery into a familiar environment that invites visitors to take a minute to sit, relax, have a drink and contemplate pottery. Tiravanija is known for creating similar installations and events that emphasize social engagement, as well as his traditional material-based art. He made a name for himself in the early '90s by eschewing typical visual arts practices and engaging audiences by cooking for them. He has continued this practice throughout the decades in nearly all subsequent installations and exhibitions, including during his 2017 residency at Greenwich House Pottery—cooking 3-inch thick porterhouse steak in his thrown custom-formulated flameware to make lunch for the Pottery's community. In Untitled (Billy Wilder doesn't like green tea), Tiravanija once again brings his material-based artwork together with his social practice. Born in Buenos Aires, Argentina, Tiravanija is a Thai artist widely recognized as one of the most influential artists of his generation. His work defies media-based description, as his practice combines traditional object making, p... (read more)
Roots and Wings - Agor Gallery
Through March 22, 2019 - NYC
Agora Gallery is pleased to announce Roots and Wings, a group exhibition on view March 2 through March 22, 2019. Roots and Wings features twelve artists whose works speak to the tension between political and social aspiration and the obstacles presented by everyday pressures. This exhibition includes James Chisholm, Markeith Woods, Diana Linsse, Poonam Verma, Roberta Caviglia, Teona Titvinidze-Kapon, Jon Kraja, Vasant Dora, Eunhyue Shin, Katha Rossein, Emil Silberman, Raul Mariaca Dalence and Yoram Kafkafi. Roots and Wings is an exhibition of works that rest somewhere on the continuum between figuration and abstraction. Yet, all of the works share in spatially and visually embodying the drama of historic aspiration. With themes ranging from the depiction of battlefields, to death under moonlight, to the more interior struggles of domestic life and the pressures of femininity, Roots and Wings communicates a melancholic atmosphere which isn't without a tincture of hope. Roots and Wings exhibits all the distinguishing characteristics of formalism, while showcasing all-too-familiar scenarios. In this way, the exhibition expresses the conatus of human aspiration as something that... (read more)
Bank of America Presents History Makers: Chris Matthews Discusses Robert F - Brooklyn Historical Society
March 23, 2019 - Brooklyn
In his best-selling biography, Bobby Kennedy: A Raging Spirit, Chris Matthews, anchor of MSNBC's Hardball, pulls back the curtain on one of the great figures of 20th century America. Join him as he draws on extensive research and interviews for a look at the life and man.
Forms of Enclosure: New Prints 2019/Winter - International Print Center New York
Through March 23, 2019 - New York
INTERNATIONAL PRINT CENTER NEW YORK (IPCNY) presents the fifty-ninth presentation of its New Prints Program, a biannual, juried open call for prints and print-based work created in the preceding twelve months. Titled Forms of Enclosure, this exhibition features 30 artists from the United States, Argentina, France, Poland, Canada, and Bulgaria. Find additional information about the exhibition at ipcny.org/formsofenclosure Image: Ulrike Müller. 'Keks', 2018. Monotype with chine-collé. Sheet: 29 x 22 inches. Printed by Marina Ancona; published by 10 Grand Press, Brooklyn. Edition: Unique. Courtesy of the artist and 10 Grand Press, Brooklyn, NY. © 2019 10 Grand Press & the artist.
JCAL Black History Month Presents: PUBLIC ART, Standing Ovation: African Diva Project - Jamaica Performing Arts Center (JPAC)
Through March 25, 2019 - Jamaica
The outdoor art installation Standing Ovation: African Diva Project in Queens celebrates some of the biggest black female singers in entertainment. Standing Ovation is part of Margaret's larger ongoing series, The African Diva Project, created to reconnect Black art, music, and performance to its African roots. Standing Ovation is comprised of select figures taken from The African Diva Project, printed to life-size, and installed on the Jamaica Performing Arts Center lawn. "This installation represents a selection of popular African American women soloists whose songs and celebrity have touched many lives. The black women behind these masks are entertainers given high spiritual and ritual significance. As African Divas, they become powerful representatives of changing times shouldered with the support and grace of ancestral Africa." –Margaret Rose Vendryes
Half the Picture: A Feminist Look at the Collection - Brooklyn Museum
Through March 31, 2019 - Brooklyn
Featuring more than 100 works from our collection, Half the Picture: A Feminist Look at the Collection explores a wide range of art-making, focusing on enduring political subjects—encompassing gender, race, and class—that remain relevant today. The exhibition's intersectional feminist framework highlights artworks, in a plurality of voices, that aim to rally support or motivate action on behalf of a cause, or to combat stereotypes and dominant narratives. (This exhibition contains sexually explicit content. Viewer discretion is advised.)
The Neuroscience of the Craving Brain - Marlene Meyerson JCC Manhattan
April 02, 2019 - Upper West Side
When we try to get rid of a bad habit, whether it involves food or drugs or gambling, it often seems like we're fighting ourselves inside. The reality is not far off: Addiction twists the reward pathways of the brain to keep addicts tied to whatever gets them high. But can we use our knowledge of the brain to undo these neurological knots? Join the Marlene Meyerson JCC Manhattan for an interactive discussion with Dr. Anna Yusim to learn what addiction is, why some people are more susceptible to it, the role different parts of the brain play in addiction and behavior, and how to break the addiction cycle.
Facing the Future: Predicting and Preparing for Disease Outbreaks - Museum of the City of New York
April 03, 2019 - New York
Experts expect the next deadly epidemic to happen within two generations so, the question becomes, how can we prepare? Data and informatics are available as tools to inform and promote public health as never before. Now we can track and analyze microbes and diseases through bodies, populations, and places. However, there are legal and ethical concerns about privacy when tracking people's data. What does this kind of biosurveillance mean, especially in a world where health policy has become increasingly political? Investigative journalist and author Sonia Shah sits down with Larry Madoff, MD, director of ProMED-mail, Amy Fairchild, PhD, MPH, associate vice president for Faculty and Academic Affairs at the Health Science Center at Texas A&M University, and Lauren Flicker, associate director of the Montefiore Einstein Center for Bioethics to discuss how best to predict and prepare for the next impending outbreak.
Celebrate Women's Month with Urban Zen - Urban Zen
Through April 07, 2019 - New York
Celebrate Women's Month at Urban Zen with a group exhibition curated by Mashonda Tifrere. Featuring female visual artists encompassing a mix of styles from street art to abstract painting, hyper-realism and portraiture. The exhibition will take place from March 8th to April 7th.
Le Board presents...INDIRA CESARINE x NEON Exhibit - Le Board
Through April 13, 2019 - New York
You are invited to the Opening Reception of the INDIRA CESARINE x NEON Exhibit, presented by Le Board. Le Board is redefining the rules of retail by creating an immersive space where entertainment meets fashion through innovation. OPENING RECEPTION: DATE: THURSDAY, FEBRUARY 14TH TIME: 5pm - 8pm LOCATION: Le Board (800B 5th Avenue, New York, NY) Cocktails by McQueen and The Violet Fog + Mi Campo Heart chakra opening elixirs with CBD oil Spiritual readings from With Love, Co. And much more ...
One: Do Ho Suh - Brooklyn Museum
Through May 05, 2019 - Brooklyn
Visitors will be able to walk within the installation Saturdays and Sundays during our regular public hours. At a time of mass global migration, the loss of leaving one's native country and searching for a permanent home have become universal issues. One: Do Ho Suh features a single, large-scale work by Korean-born artist Do Ho Suh, whose work engages with migration and cultural displacement. The Perfect Home II is a full-scale re-creation of the artist's former apartment in the Chelsea neighborhood of New York City and his home for 19 years. Visitors are invited to walk through the hand-sewn, translucent fabric replica, which includes details such as light fixtures, radiators, and even an intercom.
Ann Christopher: Edge and Line - Rosenberg & Co. Gallery
Through May 11, 2019 - New York
In honor of their major, forthcoming gallery expansion, the world-renowned art dealer Rosenberg & Co., is pleased to present Ann Christopher: Edge and Line, March 1 - May 11, 2019. A luminary in contemporary abstraction, the works of Ann Christopher, RA, encompass monumental sculpture in bronze, smaller sculptures of sterling silver and stainless steel, and architectural works on paper that reflect her mastery of line, light, and movement. Christopher is the youngest female sculptor ever to have been elected to the Royal Academy. Composed of four generations of art dealers, Rosenberg & Co. exhibits an international roster of works by prominent Impressionist, Modern, and Contemporary artists. The expansion to the building's second floor offers the opportunity to build upon their renowned modern and contemporary art program.
Frida Kahlo: Appearances Can Be Deceiving - Brooklyn Museum
Through May 12, 2019 - Brooklyn
Purchase advance tickets through Showclix. Timed tickets are for a specific date and time. Untimed tickets are for use at any time on a specific date. Advance ticket purchase strongly recommended. Same-day, on-site tickets are timed, offered on a first-come, first-serve basis, and sell out quickly each day. Members are encouraged to reserve their complimentary tickets in advance.
Gretchen Bender: So Much Deathless - Red Bull Arts
Through July 28, 2019 - New York
Red Bull Arts New York is proud to present Gretchen Bender: So Much Deathless, the first posthumous retrospective of the life and work of the influential, multi-disciplinary artist. Opening to the public on March 6, 2019, and remaining on view until July 28, the ambitious exhibition returns the spotlight to one of contemporary art's most prescient figures, detailing her historic importance and contemporary relevance. Gretchen Bender (1951-2004) was a pioneering artist who worked across video, sculpture, computer graphics, photography, print and installation to interrogate the accelerated age of mass media. Moving to New York in 1978, Bender quickly fell in with the Post-Pictures Generation scene, centered around the artist-run gallery Nature Morte, as well as a milieu of artist and performers connected to The Kitchen. She befriended and collaborated with such figures as artists Robert Longo and Cindy Sherman, the choreographers Bill T. Jones and Arnie Zane, and musicians Stuart Argabright and Vernon Reid. Building upon techniques developed in her years running a feminist-Marxist screen-printing collective in Washington, D.C., Bender's early two-dimensional work, made in New York, ... (read more)
Fine Art Auction October 20 and 27 – Works by Leading Artists of the Salmagundi Club - Salmagundi Club
Through October 28, 2107 - New York
The Salmagundi Club, a leading center for fine artists presents its annual fall auctions. Auctions will be held on October 20 and 27, 2017 at 8:00 p.m., at the Club's historic brownstone mansion at 47 Fifth Avenue, New York City. To view the art online and bid now, visit liveauctioneers.com and search for Salmagundi.
Looking for Free Group Planning Services?
Get free advice on planning your group's trip to New York.
MORE Activity Planner ARTICLES
RESTAURANTS

Multi-concept restaurant offering modern Japanese cuisine, a...

THEATER

In a heartbeat, 38 planes with 6,579 passengers were strand...

SHOPPING

An array of quality branded merchandise showcasing HBO's® aw...

SIGHTSEEING

The 9/11 Memorial honors the nearly 3,000 people killed in t...