Gallery Shows in New York City This Month - November 2018
November 3, 2018 - by CG Directory Editor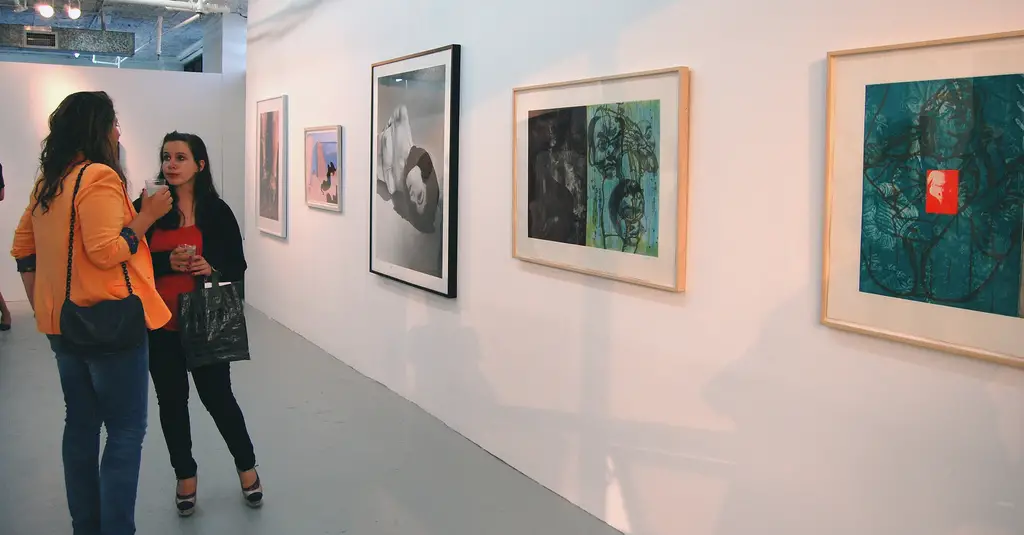 Photo: Andrew Russeth/Flickr

Many of the world's most acclaimed artists live in New York City, including up-and-coming painters, sculptors, video and performance artists, and photographers. Take advantage of the rich art scene by checking out some gallery shows in New York City this month. City Guide has the best gallery events rounded up here.


Learn The Art of Glass Etching - CraftJam
November 03, 2018 - New York
Enjoy drinks in style with glasses you designed. Join our glass etching CraftJam and learn to master this amazing technique. In this CraftJam you get to unleash your inner artist and decorate glasses just the way you like them. Perfect to liven up your home or give as a gift. In two hours your our certified JamMaster will show you: how to make creative and cool designs on glass how to create stencils with an x-acto knife and a cutting board how to transfer designs permanently on glass using etching creme This class is beginner-friendly; no experience necessary! And we've got all the materials you'll need, including 4 glasses, etching solution, brushes, stencils etc. BYOB – crafting is paired best with your favorite drink of choice! CraftJams are hosted in an intimate setting with a twelve attendee maximum. Make sure to purchase your ticket before the event is sold out! Before the class We encourage you to brainstorm and print out any ideas you have for your glasses. We suggest simple silhouettes, something that would be easy for you to cut out multiple times. The glasses are is 4" tall, so keep the designs around the 2" to 3" range. You get 4 glasses ... (read more)
4.48 Psychosis by Sarah Kane - Abron Arts Center
Through November 03, 2018 - Lower East Side
Experimental Theater F/M to Delancey/Essex; B/D to Grand St.; M14A to Pitt St. "4.48 Psychosis" is Sarah Kane's last work. A fragmented account of a woman on the verge of suicide, it explores depression and the consequences it brings to one's life, as well as its influence on the artist. The production's main initiative is to raise awareness to erase the stigma that follows mental illness. Proceeds will be going to teenlineonline.org, an organization dedicated to helping teenagers suffering from depression.
Art Exhibition: The River Flows Both Ways - Westchester
Through November 03, 2018 - 7 Maple Avenue
The Hastings-on-Hudson Village Arts Commission, in partnership with the Newington-Cropsey Foundation, presents The River Flows Both Ways, a contemporary and representational art exhibition that celebrates the enduring and ever-renewing romance with the Hudson River, muse to countless explorers, writers and artists. The show is an homage to Hastings' special connection to the prominent Hudson River School landscape artist Jasper Francis Cropsey, who lived and worked in Hastings during the final years of his career.
The Rumpus Presents: Beth Bachmann's Cease (Book Launch Party) - Ace Hotel
November 04, 2018 - New York
"Beth Bachmann writes like a sibyl burning the leaves and smelling the smoke. Intoxicating." – Robert Hass Join Beth and friends of The Rumpus as they celebrate the launch of her third poetry collection, CEASE, with a night of readings hosted by Rumpus Poetry Editor Cortney Lamar Charleston. Beth will read from the new book, alongside Hala Alyan, Safia Elhillo, Nick Flynn, and Alex Lemon. Books will be available for sale and signing and a cash bar will be open throughout the event. This event is presented in partnership with The Rumpus and its Poetry Book Club. The Rumpus Poetry Book Club chooses a forthcoming poetry book each month—not yet available to the public—and then hosts an exclusive online discussion with the book club and the author. CEASE will be featured as the club's October 2018 selection. The Rumpus thanks Pitt Poetry Series, Vanderbilt University, and WORD Brooklyn.
Alexander Mijares Art Preview - Hub 17
Through November 04, 2018 - New York
New York Vet - Jacob K. Javits Convention Center
Through November 09, 2018 - New York
New York Vet returns November 8-9, 2018, to the Javits Center in New York City! Curated by veterinarians, for veterinarians, this 2-day conference offers 3 clinical theaters, a new veterinary nursing theater, a practice business theater, 2 theaters of our popular innovation workshops, and an exhibit hall featuring 300+ exhibitors. This is an unmatched opportunity for every member of the veterinary team to engage with experts in the industry and earn up to 16 hours of practical, relevant RACE- and NYSED- approved CE. Register today at www.newyorkvet.com
Cosmos Navigators - NonFinito Gallery
Through November 10, 2018 - New York
Raimondo Galeano solo exhibition
Bdny (Boutique Design New York) - Jacob K. Javits Convention Center
Through November 12, 2018 - New York
Now in its ninth year, Boutique Design New York (BDNY) is the leading trade fair and conference for the hospitality design industry, serving the eastern United States, Canada and Europe. Presented annually by Boutique Design, BDNY brings interior designers, architects, purchasing agents and hospitality owners/developers together with manufacturers and marketers of high-caliber design elements for hospitality interiors. Ranked among the fastest-growing trade fairs in the U.S. for the past four years, BDNY will expand again in 2018, to 135,000 nsf of exhibit space. More than 600 customized displays will offer a gallery of inventive furnishings, lighting, fabrics, wallcoverings, flooring, carpeting, bath and spa, accessories, artwork and more—exceptional products that create the wow in hotels, restaurants, spas, clubs and cruise ships around the world. It's an elevated trade fair experience that includes an extensive conference program with CEU sessions, hands-on demos and workshops; unique social events held at some of Manhattan's most exciting venues; and an atmosphere conducive to learning, networking and growing your business.
Erosion: Works by Leonard Ursachi - Derfner Judaica Museum
Through November 18, 2018 - Bronx
Derfner Judaica Museum + The Art Collection at Hebrew Home at Riverdale is pleased to announce its latest exhibition, Erosion: Works by Leonard Ursachi on view in the Derfner Judaica Museum and grounds from July 15–November 18, 2018. A reception and artist's talk will be held on Sunday, October 7, 2018, from 1:30–3 p.m. in the Museum, located at 5901 Palisade Avenue in the Riverdale section of The Bronx. This event is free and open to the public. R.S.V.P. 718.581.1596 or art@hebrewhome.org. Photo I.D. required for entry at all times. In this exhibition featuring an outdoor sculpture, installation work, and related maquettes and drawings, Leonard Ursachi addresses themes of environmental and social crises caused by manmade events and reflects on how the destruction of natural resources is intimately interconnected with the effacement of human history and culture. Central to the show will be a new outdoor sculpture created for the exhibition—an iteration of Ursachi's What a Wonderful World series. The large-scale work is on view in the sculpture garden on the Hebrew Home's majestic 32-acre property overlooking the Hudson River and Palisades. Carved in Styrofoam and covered i... (read more)
Aleksandr Solzhenitsyn at 100 - 92Y
November 19, 2018 - Upper East Side
The pianist presents music featured in his father's writings, excerpts from the writings themselves, and rarely heard poems offering the author's deeply personal reflections — some of which will be heard for the first time in English at this performance.
Conversation and Book Launch with Tania Bruguera and Hans Ulrich Obrist - Americas Society
November 28, 2018 - New York
Artist Tania Bruguera and Hans Ulrich Obrist discuss the exhibition Lydia Cabrera and Édouard Glissant: Trembling Thinking. The conversation will be followed by the book launch of Somewhere Totally Else (published by JRP Ringier).
Lobby Nights: Dj Prestige - Ace Hotel
December 01, 2018 - New York
DJ Prestige is a fine purveyor of funk, soul, jazz, hip hop, reggae and other assorted funky treats. When not preserving and promoting quality vinyl records, he is working like a mad scientist to make the perfect cup of coffee at home. He brings his version of the live mix tape to the lobby of Ace Hotel, where funky jazz, deep funk, raw soul, classic hip hop, real reggae, disco tracks, and drum breaks of all kinds make you move and groove like the park jams back in the day. It's all about the vibe. As DJs spin, the photobooth flashes and mixers mix, enjoy delicious selections from the Lobby Bar and high fives from our friendly staff. General RSVP is not required, but does get you on our A-List mailer for the latest in bookings and event info.
Gala Champagne Reception & 'Moulin Rouge' Soiree - Amsterdam Whitney Gallery
Through December 06, 2018 - New York
CORNUCOPIC COUNTERPOINTS: NEIL KERMAN, GUNILLA KLEMENDZ, LORI MOLE; APOTHEOSIS of the ILLUMINATA: AASE BIRKHAUG, PATRICK DENNIS, PAUL KENTZ; FULCRUM of the FANTASTIC: ANAT ARON, CORA CRONEMEYER, MATT GABEL; OPTYX of the AESTHETICA: MADELEINE SCHACHTER, MICHAEL SCHAFFER, DREA VERNAZZA, JEONG-AH ZHANG
Nate Lowman's Never Remember at Gagosian New York - Gagosian
Through December 15, 2018 - New York
Opening Reception: October 19, 6 – 8PM Location: Gagosian, 980 Madison Avenue Gagosian is pleased to present a selection from Nate Lowman's Maps series, as well as new work by the artist. Made from studio drop-cloths that are stretched in the shape of states and arranged in their geographic locations, Lowman's Maps consider what constitutes painting. An element of chance present through the varied and random marking on the drop-cloths contrasts with the ubiquitous and iconic image of the map of the United States, previously employed by Jasper Johns for works shown in the same location nearly 30 years before.
Mark Grotjahn's New Capri, Capri, Free Capri at Gagosian New York - Gagosian
Through December 22, 2018 - New York
Opening Reception: October 30, 6-8pm Gagosian is pleased to present new paintings by Mark Grotjahn. The Capri series chronicles Grotjahn's return to abstraction in three sub-series; the New Capri paintings, the Capri paintings, and the Free Capri paintings. The forthcoming show at the West 24th Street gallery will be his largest exhibition of new work to date.
New York & The Nation in The Robert H. and Clarice Smith New York Gallery of American History - New York Historical Society
Through December 31, 2018 - New York
Collection Highlights and New York and the American Experience Explore the story of New York and America in the Robert H. and Clarice Smith New York Gallery of American History. Highlights include: Mounted on the building's original 1904 columns are grand digital screens displaying a continuous, thematically co-ordinated slide show of treasures from the New-York Historical Society's collections. The west face of the columns features individual stations, incorporating interactive touch screens and museum artifacts, presenting six themes in American history which are found interwoven with the history of New York. Projected on dramatic flat screens affixed to six structural columns, the array of objects and images functions as visual signage that demonstrates to our visitors the depth of New-York Historical's collections.
Liliana Porter: Other Situations - El Museo del Barrio
Through January 27, 2019 - New York
Born in Argentina in 1941, Liliana Porter, originally educated in printmaking — a discipline that deeply influenced her practice — moved to New York in 1964, where she cofounded the New York Graphic Workshop with artists Luis Camnitzer and José Guillermo Castillo. Since then, Porter has worked in a variety of media including painting, drawing, printmaking, photography, assemblages, video, installation and, more recently, theater. Porter's art has been exhibited in more than 35 countries in over 450 group shows, and is a part of public and private collections including El Museo del Barrio. Her work has been reviewed in Artforum, Art in America, and Sculpture Magazine, among other publications. In 2013, the Fundación Patricia Phelps de Cisneros published the book Liliana Porter in Conversation with Inés Katzenstein as part of the Conversaciones/Conversations series. Galleries in Europe, Latin America and the United States represent the artist.
Looking for Free Group Planning Services?
Get free advice on planning your group's trip to New York.
MORE Activity Planner ARTICLES
RESTAURANTS

Vida Verde brings the tastes, colors, sounds, and scents of ...

THEATER

In a heartbeat, 38 planes with 6,579 passengers were strand...

SHOPPING

Specializing in the great vineyards of California, France, A...

SIGHTSEEING

Manhattan's premier all-glass, European-inspired dining crui...