Gallery Shows in New York City This Month - September 2018
September 15, 2018 - by CG Directory Editor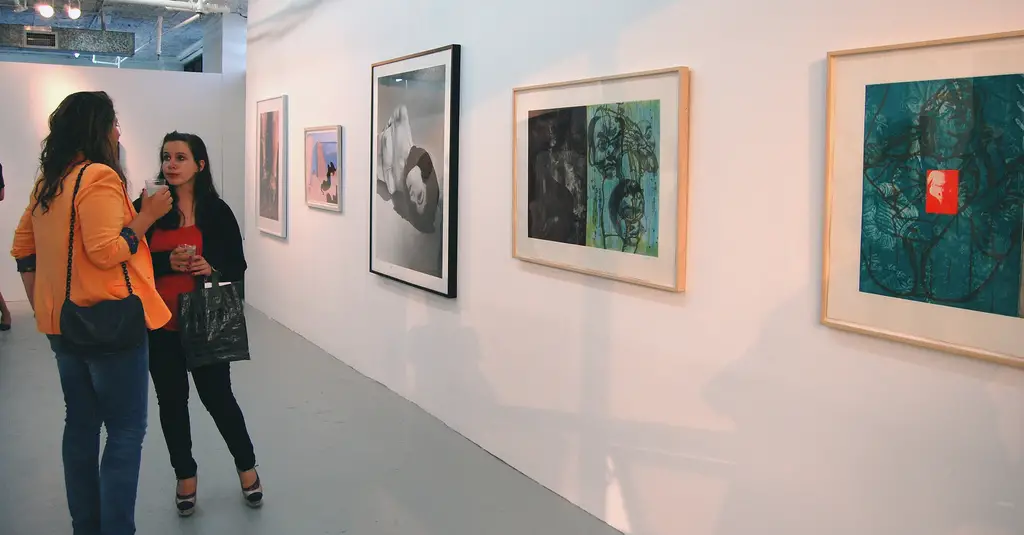 Photo: Andrew Russeth/Flickr

Many of the world's most acclaimed artists live in New York City, including up-and-coming painters, sculptors, video and performance artists, and photographers. Take advantage of the rich art scene by checking out some gallery shows in New York City this month. City Guide has the best gallery events rounded up here.


Celebrating 50 years of New York Magazine - Photoville
September 15, 2018 - Brooklyn
New York's beloved namesake publication celebrates 50 years of visual stories in an evening hosted by Director of Photography Jody Quon. Full Line Up and Programming will be announced in the coming weeks.
CA$H ONLY - Superposition Gallery
September 15, 2018 - New York
Press Release September 4, 2018 New York, NY- "Consumer culture has become an incredibly dominant force in our lives. While humanity would once follow passionately behind religious or political leaders we now find the same passion vouching for our favorite consumer brands. Currency symbols as well as brand logos have become some of the most recognizable iconography present in our daily lives—It feels as if power lies where the cash is." -David Cash Superposition Gallery is pleased to present "CA$H ONLY," a solo exhibition of artworks by David Cash (b. 1997), who interprets the inherent connections in one's identity between art, fashion, and commercial culture. The artworks employ many interpretations of how one is confronted with aesthetic obsession through consumerism and how it affects our relationships and identities. Cash utilizes film, photographic prints and works on canvas and clothing. The works were made specifically for the exhibition, in tandem with Cash's recent New York Fashion Week collaboration with the brand, Tumblr & Tipsy, owned by Michael Kuluva. Some works include CAPITALISTIC ANGST, (2018) and SOLACE IN CONSUMERISM, (2018); which are photograph... (read more)
Artrates Art Group Show at The Local NY - The Local NY
September 15, 2018 - Long Island City
Show dates: September 3rd to 28th Reception party: September, 7th, from 7PM A group of talented and motivated Japansese artists will present their works in an exhibition organized by Artrates and held in The Local NY. Ranging from traditional Japanese presentations to contemporary abstractions, this exhibition will delight and surprise. Participating artists: SENJU chizuko matsukawa? TOMO OGIWARA (0t0mb) Maki NOHARA Yu Kaneko About Artrates: Established and registered in 2011, we support Japanese artists eager to spread their works globally. For those who have gained acclaim within Japan but missed international opportunities, we are happy to assist in bridging the gap and developing new relationships. Our main office in Tokyo, Japan. Facebook: https://www.facebook.com/Artrates/ Tumblr: https://www.tumblr.com/login?redirect_to=%2Fblog%2Fartrates
Chelsea gallery tour - West Chelsea Art Building
September 15, 2018 - New York
Take a fascinating gallery tour of Chelsea - the world's center for contemporary art - and see the very latest in painting, sculpture, electronic media & photography. Our guide, who holds a Ph.D. in arts education, helps explain the artwork and leads the group in lively discussion. The tour takes place Sat. Sept. 15 at 1:00 PM & 3:45 PM. These two tours will be identical in every way: the same guide and the same exhibits, so choose whichever start time best fits your schedule. It will take place no matter the temperature or weather, as the art is all indoors. Meet at 526 W. 26th St. between 10th & 11th Ave. Nearest subways: C- or E-Train to 23rd St. Admission is $25. SPECIAL OFFER: visit our website to request a DISCOUNT ticket link for $8-off admission! For more info, visit http://www.nygallerytours.com or call 917-250-0052.
Curator's Spotlight Tour with Ittai Weinryb - Bard Graduate Center Library
September 15, 2018 - New York
On Saturday, September 15 at 11 am, join Ittai Weinryb, curator of the exhibition Agents of Faith: Votive Objects in Time and Place for an in-depth tour that will give audiences a behind the scenes look at this expansive exhibition. Encompassing exquisite works of art as well as those of humble origin crafted from modest material, more than 300 objects dating from 2000 BC to the twenty-first century will be on display. Powerful works from sub-Saharan Africa, Asia, Europe, and the Americas, representing the majority of world religions, will expose the global nature of votive practices and the profoundly personal nature behind their creation.
On Renoir with Barbara Ehrlich White - 92Y
September 17, 2018 - Upper East Side
The inner lives of great people are often more mysterious and fascinating than their public lives. Dr. Gail Saltz, the author, psychoanalyst and television commentator, invites experts and brings her own expertise to bear as she examines the psychology of people who have shaped history.
'Con Art' a solo exhibition by Dan Alva - Guy Hepner Contemporary Art Gallery
Through September 27, 2018 - Manhattan
The TAX Collection + Guy Hepner present 'Con Art', a solo gallery exhibition by Dan Alva. The Miami based street artist utilizes his marketing and advertisement background to create satirical works that aim to challenge the messages of recognizable ad campaigns and comment on the excesses of materialism and lifestyle marketing. 'Con Art' opens August 16th.
Yang Yuanyuan - Art in General
Through September 30, 2018 - Brooklyn
Yang Yuanyuan (b. 1989, Beijing) lives and works in Beijing. She received a BA (hons) in photography at London College of Communications, University of the Arts London in 2013. By experimenting with different ways of visual storytelling, Yang creates narratives where facts and fiction coexist and speak about topics such as memory and history. Yang's work has been exhibited and published internationally. Her solo exhibitions include: "At the Place of Crossed Sights"(C-Space, Beijing, 2016) and "In-between Places" (Being 3 Gallery, Beijing, 2012). She participated Anren Biennale (2017) and Guangzhou Image Triennial (2017). Her works have been the subject of exhibitions at Guangzhou Times Museum, Guangzhou (2017); Yang Art Museum, Beijing (2017); Fotogalerie Wien, Vienna (2016)?Benaki Museum, Athens (2015); Objectifs, Singapore (2015); Espacio de Arte Contemporáneo (EAC), Montevideo (2015) and Three Shadows Photography Art Center, Beijing (2012).
AUGUST 21, 1968 - Czech Center New York
Through October 05, 2018 - New York
Selection of 20 iconic photographs capturing the dramatic events that occurred on August 21, 1968 in Czechoslovakia. An army of half-a-million soldiers of five Soviet bloc states - the Soviet Union, Bulgaria, Poland, Hungary and the German Democratic Republic - invaded the country with heavy military equipment including tanks. People were horrified and strolled into the streets to protest the occupants. The exhibition includes photographs by Vladimír Lammer, Libuše Kyndrová, Dagmar Hochová, Milo? Novotný, Ji?í Všete?ka, Miroslav Martinovský, Václav Toužimský, Jaromír ?ejka, Bohumil Dobrovolský, Ji?í Stivín, Gustav Aulehla, and Jan Reich, among others. At the beginning of 1968, the so-called rebuilding process began in Czechoslovakia. It was based on the utterly misconceived idea that the regime established and maintained by brutal methods can be democratized and humanized by moderate reforms. If successful, it would probably lead to the loss of the power monopoly of the Communist Party, the re-acquisition of full political sovereignty of Czechoslovakia, and, in its consequence, to the collapse of the Soviet bloc.
Swords into Ploughshares: Sculpture by Jay Moss - Hebrew Home at Riverdale, Goldfine Pavilion Lobby Gallery
Through October 07, 2018 - Bronx
Derfner Judaica Museum + The Art Collection at Hebrew Home at Riverdale is pleased to announce its latest exhibition, Swords into Ploughshares: Sculpture by Jay Moss on view in the Pauline and William Goldfine Pavilion Lobby Gallery from July 15–October 7, 2018. A reception will take place on Sunday, July 15, from 1:30–3 p.m. in the Goldfine Pavilion Lobby Gallery, located at 5901 Palisade Avenue in the Riverdale section of The Bronx. This event is free and open to the public. R.S.V.P. 718.581.1596 or art@hebrewhome.org. Photo I.D. required for admission. The exhibition includes 13 sculptures made between 1980 and 2012. Many of them reflect Moss's experience on the front lines during WWII when he served as a combat engineer. Moss has worked for more than seven decades crafting sculptures that resonate with his experience of the horrors of war and his hope for a lasting peace. In these relief and tabletop works assembled with wood, metal, sheet lead, plastic and other materials, Moss addresses a range of social issues. Sometimes whimsical or ironic, they comment on such subjects as the corrupting influence of power and the treatment of prisoners from German prison camps to Guant... (read more)
Café Grumpy Historic Photo Exhibit - Grand Central Terminal - Café Grumpy
Through October 15, 2018 - New York
Visit Café Grumpy in the Lexington Passage for a Historic Photo Exhibit! Take some time out of your commute to check out the beauty of Grand Central Terminal throughout the years. Details & Light: Historical Photographs of Grand Central Terminal will be on display at Cafe Grumpy from August 15th through October 15th.
Patricia Queiruga - Agora Gallery
Through October 30, 2018 - New York
Collective Exhibition With an ever-changing combination of paints, Patricia Queiruga builds work that ranges from abstract to figurative, but remains reliably organic. In each of the artist's works, paint builds, drizzles, and drips into shape. The movement of the material on the canvas and the artist's action in making the work is always visible. In some works vibrant streaks of red or yellow burst through the composition. Inspired by music, Queiruga makes energetic choices in acrylic, oil, and mixed media, translating the exciting notes into a visual practice. Sharply cutting across one another or carefully blended together in the background, the colors and treatments combine with Queiruga's impulsive choices to form artworks full of emotion and spontaneity. Working freely, Queiruga explores each avenue of interest, whether an elephant or an abstract concept, with versatility and an expressionistic perspective. Born in the city of Córdoba, Patricia Queiruga lives and works in Argentina. The artist incorporates varied influences into each work, sometimes using painting as a means of pure expression while also occasionally highlighting societal issues like human trafficking t... (read more)
Erosion: Works by Leonard Ursachi - Derfner Judaica Museum
Through November 18, 2018 - Bronx
Derfner Judaica Museum + The Art Collection at Hebrew Home at Riverdale is pleased to announce its latest exhibition, Erosion: Works by Leonard Ursachi on view in the Derfner Judaica Museum and grounds from July 15–November 18, 2018. A reception and artist's talk will be held on Sunday, October 7, 2018, from 1:30–3 p.m. in the Museum, located at 5901 Palisade Avenue in the Riverdale section of The Bronx. This event is free and open to the public. R.S.V.P. 718.581.1596 or art@hebrewhome.org. Photo I.D. required for entry at all times. In this exhibition featuring an outdoor sculpture, installation work, and related maquettes and drawings, Leonard Ursachi addresses themes of environmental and social crises caused by manmade events and reflects on how the destruction of natural resources is intimately interconnected with the effacement of human history and culture. Central to the show will be a new outdoor sculpture created for the exhibition—an iteration of Ursachi's What a Wonderful World series. The large-scale work is on view in the sculpture garden on the Hebrew Home's majestic 32-acre property overlooking the Hudson River and Palisades. Carved in Styrofoam and covered i... (read more)
New York & The Nation in The Robert H. and Clarice Smith New York Gallery of American History - New York Historical Society
Through December 31, 2018 - New York
Collection Highlights and New York and the American Experience Explore the story of New York and America in the Robert H. and Clarice Smith New York Gallery of American History. Highlights include: Mounted on the building's original 1904 columns are grand digital screens displaying a continuous, thematically co-ordinated slide show of treasures from the New-York Historical Society's collections. The west face of the columns features individual stations, incorporating interactive touch screens and museum artifacts, presenting six themes in American history which are found interwoven with the history of New York. Projected on dramatic flat screens affixed to six structural columns, the array of objects and images functions as visual signage that demonstrates to our visitors the depth of New-York Historical's collections.
Looking for Free Group Planning Services?
Get free advice on planning your group's trip to New York.
MORE Activity Planner ARTICLES
RESTAURANTS

Beer hall casual meets craft cocktails with a healthy dose o...

THEATER

In a heartbeat, 38 planes with 6,579 passengers were strand...

SHOPPING

An array of quality branded merchandise showcasing HBO's® aw...

SIGHTSEEING

This renovated museum complex includes the 900-foot-long air...