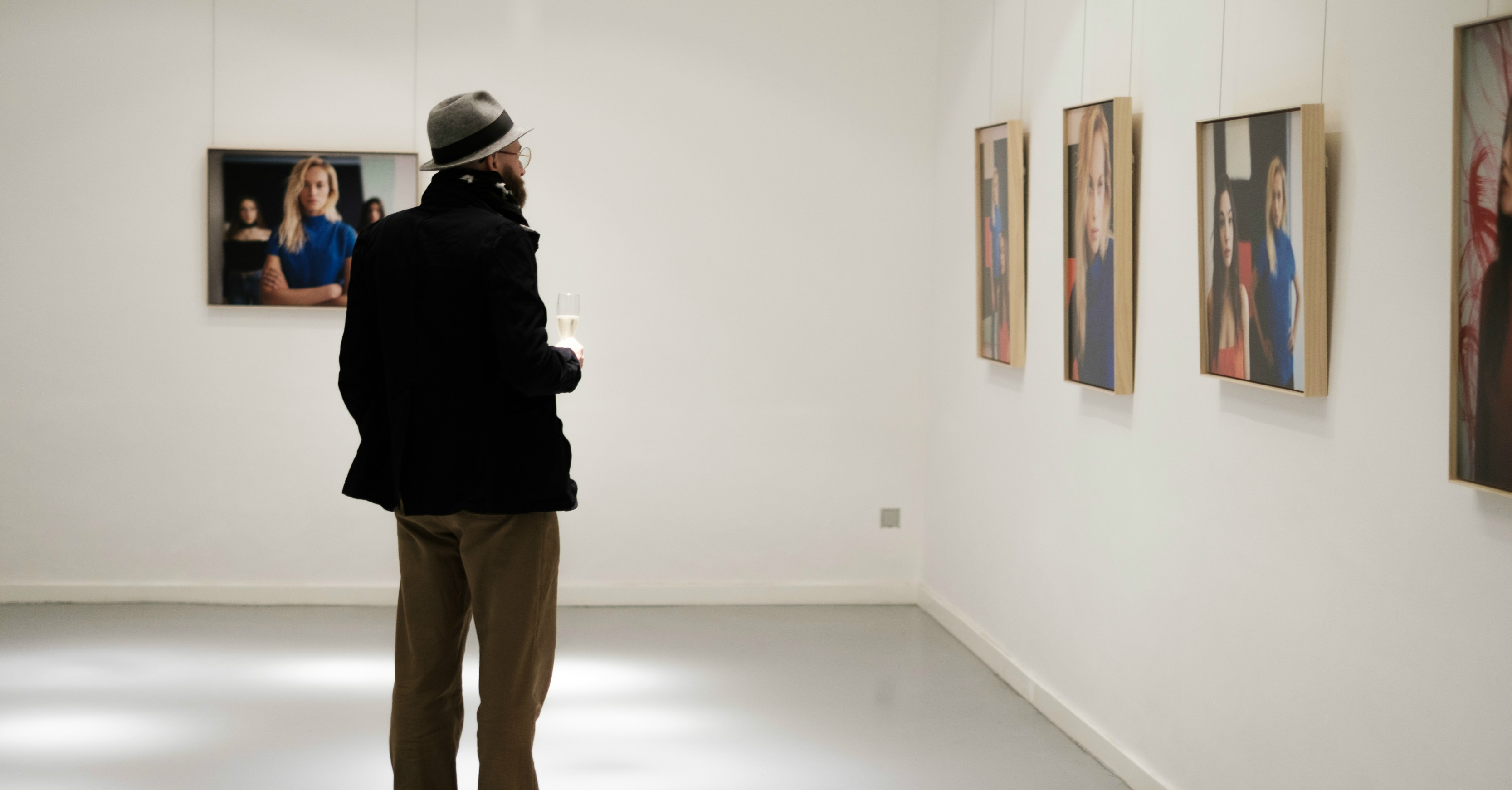 Photo: Flickr/K_rlis Dambr_ns

For art in galleries, from shows to openings to receptions and special events, check out City Guide's calendar listings for New York City. From Chelsea galleries to SoHo galleries to all points in between, we've got comprehensive painting, sculpture, performance art, conceptual art, and photography listings.


The Harlem Pop-up Collective - Silvana
December 09, 2018 - New York
The Harlem Popup Collective is a curated creative space with a goal to SUPPORT LOCAL CREATIVES while BUILDING COMMUNITY. Conveniently located in the heart of Harlem @ Silvana 300 W 116th St & Frederic Douglass Blvd, this Collective seeks to provide a platform for local creatives and vendors from New York; independent brands, artist and designers, to share their goods and link with the community.
Dharma Yoga Conference NYC - Dharma Yog Center
Through December 09, 2018 - New York
Old school yoga for new school yogis. Sri Dharma Mittra has been teaching for 50 years in New York City and the classical style of yoga he shares, Dharma Yoga, is spreading across the globe faster than ever. With studios and communities growing rapidly in Asia, Latin America, and Europe, Dharma will be closing the year by stepping up his teachings in his adopted hometown, New York City. The Dharma Yoga New York Conference will be held December 6-9 at the Dharma Yoga Center in Chelsea. Popular teachers representing his growing communities will come from Hong Kong, London, Mexico City and Washington D.C., to offer classes in support of their beloved teacher. As if yoga wasn't enough, the conference will also host people with backgrounds that are extensions of the yoga practice and philosophy. This will include scientists and plant based activists and businessmen. The conference will all come together under the threshold of yoga with the ever inventive Sri Dharma Mittra introducing new classes to the worldwide base of students, an event not to miss! Sri Dharma Mittra was asked to teach yoga at his teacher's midtown ashram in 1967 in New York City and has been teaching ever... (read more)
Adoration of the Magi - St Bartholomew's Church
December 14, 2018 - New York
Jeff Morrissey, Baritone, returns to St. Bartholomew's intimate chapel this season with his popular Christmas program inspired by the elegant paintings found in the South Chapel of St. Bartholomew's. In 1919 Ethel Parsons Paullin and her husband Telford created the beautiful Adoration of the Magi and the 13 medallions surrounding it depicting subjects connected with the Nativity of Christ. Morrissey, whose voice The New York Times calls "a ringing baritone and first rate," will highlight the artwork weaving passages from the Bible with Polish carols, spirituals and ballads from his own Southern Appalachian Mountains to present a visual and musical telling of the Christmas story. Jeff Morrissey, baritone
Lobby Nights: Dj Prestige - Ace Hotel
December 15, 2018 - New York
DJ Prestige is a fine purveyor of funk, soul, jazz, hip hop, reggae and other assorted funky treats. When not preserving and promoting quality vinyl records, he is working like a mad scientist to make the perfect cup of coffee at home. He brings his version of the live mix tape to the lobby of Ace Hotel, where funky jazz, deep funk, raw soul, classic hip hop, real reggae, disco tracks, and drum breaks of all kinds make you move and groove like the park jams back in the day. It's all about the vibe. As DJs spin, the photobooth flashes and mixers mix, enjoy delicious selections from the Lobby Bar and high fives from our friendly staff. General RSVP is not required, but does get you on our A-List mailer for the latest in bookings and event info.
Nate Lowman's Never Remember at Gagosian New York - Gagosian
Through December 15, 2018 - New York
Opening Reception: October 19, 6 – 8PM Location: Gagosian, 980 Madison Avenue Gagosian is pleased to present a selection from Nate Lowman's Maps series, as well as new work by the artist. Made from studio drop-cloths that are stretched in the shape of states and arranged in their geographic locations, Lowman's Maps consider what constitutes painting. An element of chance present through the varied and random marking on the drop-cloths contrasts with the ubiquitous and iconic image of the map of the United States, previously employed by Jasper Johns for works shown in the same location nearly 30 years before.
Mark Grotjahn's New Capri, Capri, Free Capri at Gagosian New York - Gagosian
Through December 22, 2018 - New York
Opening Reception: October 30, 6-8pm Gagosian is pleased to present new paintings by Mark Grotjahn. The Capri series chronicles Grotjahn's return to abstraction in three sub-series; the New Capri paintings, the Capri paintings, and the Free Capri paintings. The forthcoming show at the West 24th Street gallery will be his largest exhibition of new work to date.
New York & The Nation in The Robert H. and Clarice Smith New York Gallery of American History - New York Historical Society
Through December 31, 2018 - New York
Collection Highlights and New York and the American Experience Explore the story of New York and America in the Robert H. and Clarice Smith New York Gallery of American History. Highlights include: Mounted on the building's original 1904 columns are grand digital screens displaying a continuous, thematically co-ordinated slide show of treasures from the New-York Historical Society's collections. The west face of the columns features individual stations, incorporating interactive touch screens and museum artifacts, presenting six themes in American history which are found interwoven with the history of New York. Projected on dramatic flat screens affixed to six structural columns, the array of objects and images functions as visual signage that demonstrates to our visitors the depth of New-York Historical's collections.
Lydia Cabrera and Édouard Glissant: Trembling Thinking - Americas Society
Through January 12, 2019 - New York
Lydia Cabrera and Édouard Glissant: Trembling Thinking focuses on the ideas developed by the prominent Caribbean thinkers Lydia Cabrera (Havana, 1899–Miami, 1991) and Édouard Glissant (Sainte-Marie, Martinique, 1928–Paris, 2011) and an archipelago of modern and contemporary artists whose works respond to their notions of identity. Artists include: Etel Adnan, Kader Attia, Tania Bruguera, Manthia Diawara, Mestre Didi, Melvin Edwards, Simone Fattal, Sylvie Glissant, Koo Jeong A, Wifredo Lam, Marc Latamie, Roberto Matta, Julie Mehretu, Philippe Parreno, Amelia Peláez, Asad Raza, Anri Sala, Antonio Seguí, Diamond Stingily, Elena Tejada-Herrera, Jack Whitten, and Pedro Zylbersztajn. This exhibition is cocurated by Hans Ulrich Obrist, Gabriela Rangel, and Asad Raza.
Liliana Porter: Other Situations - El Museo del Barrio
Through January 27, 2019 - New York
Born in Argentina in 1941, Liliana Porter, originally educated in printmaking — a discipline that deeply influenced her practice — moved to New York in 1964, where she cofounded the New York Graphic Workshop with artists Luis Camnitzer and José Guillermo Castillo. Since then, Porter has worked in a variety of media including painting, drawing, printmaking, photography, assemblages, video, installation and, more recently, theater. Porter's art has been exhibited in more than 35 countries in over 450 group shows, and is a part of public and private collections including El Museo del Barrio. Her work has been reviewed in Artforum, Art in America, and Sculpture Magazine, among other publications. In 2013, the Fundación Patricia Phelps de Cisneros published the book Liliana Porter in Conversation with Inés Katzenstein as part of the Conversaciones/Conversations series. Galleries in Europe, Latin America and the United States represent the artist.
Mickey: The True Original Exhibition - Mickey Exhibition
Through February 10, 2019 - New York
Mickey: The True Original Exhibition celebrates 90 years of Mickey Mouse's influence on art and pop culture. Opening in November 2018, this immersive experience is inspired by Mickey's status as a 'true original' and his consistent impact on the arts and creativity in all its forms. Guests will have the chance to explore the 16,000 square-foot exhibition featuring both historic and contemporary work from renowned artists.