Gallery Shows in New York City This Week - July 8-July 15
July 8, 2018 - by CG Directory Editor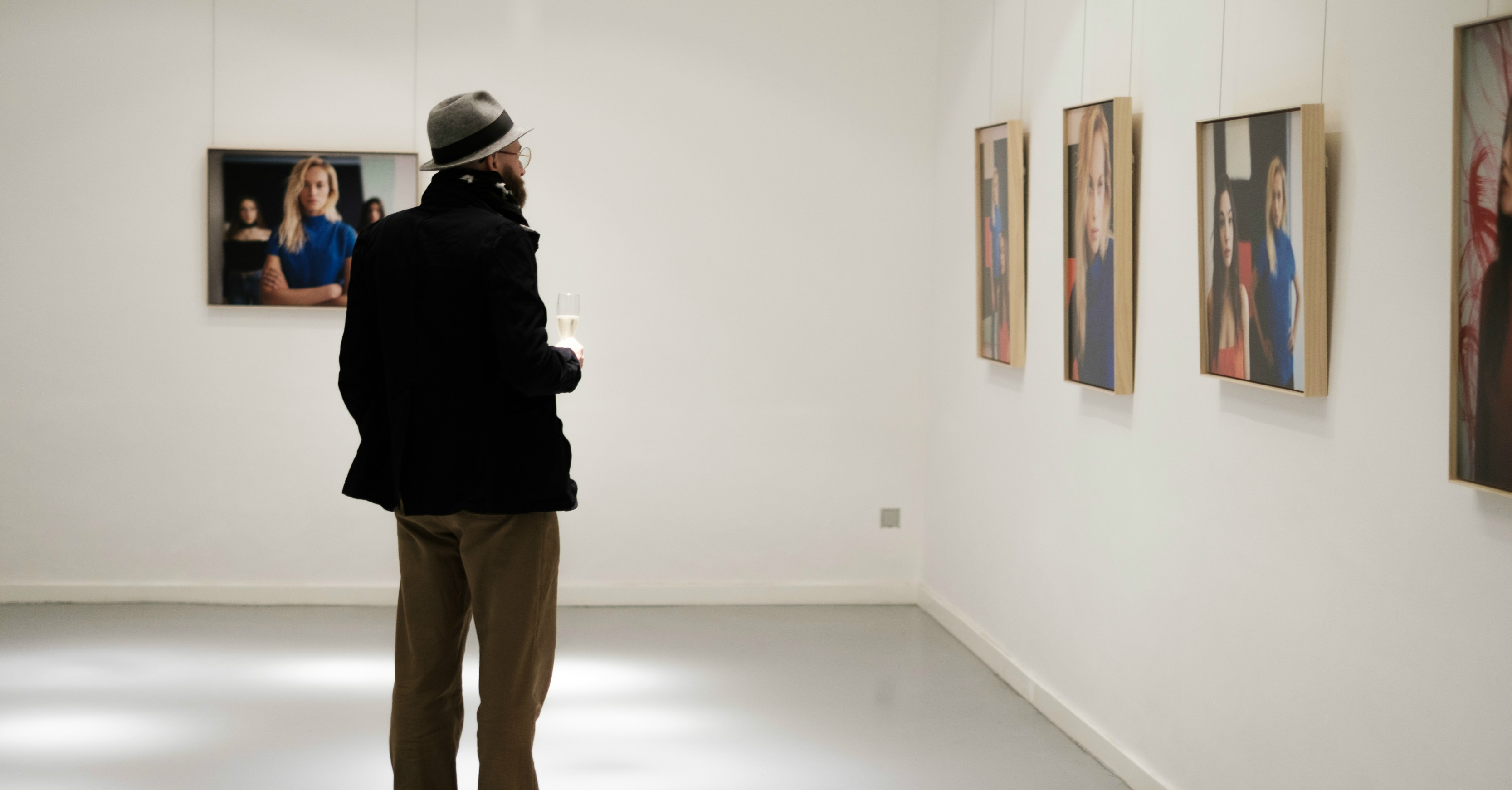 Photo: Flickr/K_rlis Dambr_ns

For art in galleries, from shows to openings to receptions and special events, check out City Guide's calendar listings for New York City. From Chelsea galleries to SoHo galleries to all points in between, we've got comprehensive painting, sculpture, performance art, conceptual art, and photography listings.


Wake - Dorsky Gallery Curatorial Programs
Through July 15, 2018 - Long Island City
Exhibition Opening: Wake Opening reception: Sunday, May 6, 2-5pm Exhibition runs from May 6- July 15, 2018
Others - Gallery 8
Through July 15, 2018 - New York
FACTION Art Projects presents their third New York show, Others, which explores contemporary masculinity. Others presents complex masculine identities that challenge historical depictions of strong, muscled men of stature. The works in this show portray a masculinity that is vulnerable, doubtful, idealized or pretty stimulating discussion around modern perspectives of masculinity. These three artists portray alternative masculine identities using differing styles. Unexpected visual elements of one artists' work morph into the others. Mark Dutcher's use of the grid in his paintings resembles the lattice backdrops in Andrew Mania's portraits. The postures of Aaron Smith's older subjects re?ect those of the young men in Mania's.
Glenn Goldberg - The New York Studio School
Through July 15, 2018 - New York
The New York Studio School presents Glenn Goldberg: Plums and Breezes, June 7 – July 15, 2018. Plums and Breezes is a selection of small works spanning extensive range in time, the earliest made while Goldberg was a student at the Studio School. Rather than a retrospective or complete oeuvre of Goldberg's many periods and bodies of work, this exhibition is a lineage of excerpts joined by a common scale, stamina, and quiet magnitude. The works are all presented as equals, not through a chronological passing of time, but as different pieces that comprise Glenn Goldberg's ideals and explorations as an image maker. Uniting the compositions is a main, often central, anchor around which brushstrokes and subsequent forms orbit. Each piece has a cluster of activity, with a rhythm of marks or a void to hold the constellation in place. Goldberg states, "This show is only one possible way of sharing a history. The hope is that the paintings and drawings reflect the quiet intensity that has been my experience while working for many years. They include nature, people, and places and are made from both what exists and my imagination." The paintings may be derived from memories, dreams, rea... (read more)
The Age of Tiffany: Between Nouveau and Deco - Heckscher Museum of Art
Through July 22, 2018 - Huntington
Decorative arts from the Museum's collection, including work by Louis Comfort Tiffany, the central figure in the Art Nouveau and Aesthetic Movements in America.
Yu He - Agora Gallery
Through July 27, 2018 - New York
The Figure and Unknown Places Self taught painter Yu He's acrylic still lifes and landscapes capture everyday scenes with an expressive palette and painterly brushwork. Born in China and living in the United States, the artist's abstracted compositions offer a playful take on traditional subject matter. She tilts the perspective, eliminates detail, and blurs background and foreground in her works, creating a whimsical effect that challenges the connotations of still life painting. The artist's Still Life No. 579 and Still Life No. 577 depict a typical tablescape with loose, quick brushstrokes, the cool, blue palette lending a sense of calm to the images. Meanwhile, Still Life No. 498, Still Life No. 502, and Still Life No. 575 each image a combination of fruits, flowers, and tableware portrayed with thickly painted turquoise, auburn, and yellow strokes. Horizon lines and fine details are excluded from these works, allowing teacups, blooms, and vases to float in imaginative, richly pigmented environments. Finally, Seaside. Evening No. 372 captures a peachy pink and aqua sunset, the brilliant twilight sky mirrored in the calm waters.
The Figure and Unknown Places - Agora Gallery
Through July 27, 2018 - NYC
Agora Gallery is pleased to announce The Figure and Unknown Places, an exhibition of twenty-six international artists working at the intersection of portraiture and landscape. The diverse selection of artists includes Angela Blattner, Gunter Langer, Ketan Kelkar, Mireille Pizzo, Marco Henrie, Ilaria Castagnacci, Hugo Ximello-Salido, Ashraf Elsharif, Mileidy Plata, Jutta Ebeling-Dehnhard, J.H. Rebelato, Germán Valles Fernández, Taikyu Lim, Susan Marx, Christine Stettner, Yu He, Pino Lavecchia, Gonzalo Urrea Correa, Monica Adams, Andreas Meer, Marliese Scheller, Fiorenza D'Orazi, Francis Annan Affotey, Boguslawa Czarnecka, Richard Tomlin, and Linda Rosen The works featured in The Figure and Unknown Places offer new insights on traditions of portraiture and landscape painting, each artist depicting the world through a subjective and highly personal lens. The paintings and photographs on view employ abstraction, realism, and illustration to convey perspectives on the human condition and the world we inhabit. The complexity of the relationship between man and nature is also explored in works that image the engrained connections between human and animal. Providing insight on the binar... (read more)
Heavy Metal: Photographs by Jan Staller - Heckscher Museum of Art
Through July 29, 2018 - Huntington
Monumental photographs of construction sites and found industrial objects seen as sculptural artifacts of the post-industrial age.
Fernando Carpaneda "New Portraits" - MF Gallery
Through July 29, 2018 - Brooklyn
Fernando Carpaneda "New Portraits" is a series of paintings and drawings depicting the beauty and the sensuality of men and women. The work seeks to provoke debates and questions about equality, in the sense of valuing the human being. Leaving inhibition aside, in scenes that depict sex, gender and relationships, the artist's "in your face" approach is meant to inspire the observer to accept diversity in human sexuality. Carpaneda takes inspiration from the urban element, and uses the language of the street along with his own experiences. Beggars, pop stars, sex workers, punks and outcasts of all kinds are the object of his attention and look. He uses DNA- be it his own hair or that of his models- and blends it with more traditional art materials to create his paintings and sculptures. In the past, Carpaneda has focused his artistic gaze exclusively on the male subject. But for this show, he has created paintings and drawings of females for the very first time. Fernando Carpaneda was one of the first Brazilian artists to exhibit homoerotic works in Brazil, and is well known in the gay arts and erotic arts world. He has been showing in international galleries since 1982, in pl... (read more)
Terry Winters Forces and Fictions - The Drawing Center
Through July 29, 2018 - Soho
A leading figure in the art world for four decades, Terry Winters became well known in the 1980s for his materially-conscious drawings and paintings. Representing the patterns and schema that undergird physical and intellectual life—French philosopher Gilles Deleuze is cited as an important reference—Winters's drawings of grids, networks, and knots illustrate complex encounters between biological drives, technological systems, and mental processes. The Drawing Center's Main Gallery will present an overview of Winters's drawings from 1980 to the present including full cycles of drawings, such as File Drawings (2009), as well as a selection of large-scale works on paper that foreground the overarching theme of Winters's practice: the desire to make sense, however fictively, of the manner in which the visible world is constructed and received. Rather than offering a comprehensive drawing retrospective, the show will be organized with an eye to morphological relationships so that, as viewers move through the gallery, they will recall and ideally return to earlier related images.
People - Jeffrey Deitch
Through July 31, 2018 - New York
Judha Su - Art in General
Through July 31, 2018 - Brooklyn
Judha Su is an art critic and writer, working on shifting boundaries of contemporary arts, diverse forms of artistic practices, and politics of knowledge. She perceives art as a point of contact, negotiation, and entry to imagine beyond a conditioned reality. Her current project revolves around reclaiming thinking subjectivities, a transmission of bodily and nonverbal knowledge, and a re-distribution of sensory experiences. From 2015–16, she received a research fellowship from the Japan Foundation Asia Center to conduct fieldwork about practices of art writing in Indonesia, Philippines, and Japan. Last year, she initiated a collaborative project titled "To Whom It May Concern"; started as a laboratory exhibition at Bangkok CityCity Gallery, the project has now developed into a Thai-English online platform for collective learning. Judha is also a laborer of "soi" – a space for dialogue, research, and pedagogy. Judha is in residence at Art in General from April to July 2018 through the support of the Asian Cultural Council.
Reflections of a Summer Scape - Joan B Mirviss Ltd
Through August 17, 2018 - New York
Joan B Mirviss is pleased to present Reflections of a Summerscape: Japanese clay, prints, and paintings from June 20 to August 17, 2018. The exhibition is inspired by the colors and elements of the Japanese summer landscape from the sweltering heat of the mid-day sun to the blue-green of water, the vibrant reds of the peonies, the creamy tones of the abalone shells, the granular patterns of sand, and the smooth, carved surfaces of viewing stones.
Swiss Institute Annual Architecture and Design Series: Third Edition, Readymades Belong to Everyone: Curated by Fredi Fischli and Niels Olsen - Swiss Institute
Through August 19, 2018 - New York
Including works by Architecten De Vylder Vinck Taillieu, Lutz Bacher, Alan Belcher, Daniella Betta, Petra Blaisse / Inside Outside, Jennifer Bolande, Arno Brandlhuber, Merlin Carpenter, Caruso St. John, Christo, Alain Clairet, Claire Fontaine, Maria Eichhorn, Sylvie Fleury with Lady Pink, Wade Guyton, Trix and Robert Haussmann, Koo Jeong A, Pierre Joseph, Christian Kerez, Rem Koolhaas, Lacaton & Vassal, Adriana Lara, Klara Liden, Ken Lum, Chloe Maratta, Lucy McKenzie, Sveta Mordovskaya, Mos Architects, Kaspar Müller, OFFICE Kersten Geers David Van Severen, Oliver Payne and Nick Relph, Cedric Price, Cecilia Puga, Smiljan Radic, Emanuel Rossetti, Aldo Rossi, Sauter von Moos in collaboration with Herzog & de Meuron, Sergison Bates Architects, Ser Serpas, Richard Sides & Gili Tal, Lena Tutunjian, Flannery Silva, Reena Spaulings, Jan Vorisek, Martin Wong, Lena Youkhana, Heimo Zobernig and more. With public programs by Adjustments Agency, Yuji Agematsu, Germane Barnes, David J. Getsy, Gordon Hall, Helen Molesworth, David K. Ross, Martino Stierli, Aurora Tang of The Center for Land Use Interpretation, Chandraguptha Thenuwara, Jan Vorisek and more. Swiss Institute is delighted to ann... (read more)
Reanimation Library - Pioneer Works
Through August 30, 2018 - Brooklyn
Reanimation Library, an ongoing project by Andrew Beccone, is a collection of 2000+ obscure or out-of-print publications the artist has been collecting over 15 years. Chosen primarily for the images that they contain, this collection of books have been culled from thrift stores, rummage sales, flea markets, municipal dumps, library sales, give-away piles, and used bookstores across the country. Housed at Pioneer Books, Reanimation Library will operate as a public non-circulating collection of books for visitors through August 2018. The library space will include tools to use the collection including a computer, scanner, and copier and host a series of related public events. Join us on Thursday, September 14 at Pioneer Works for the opening reception at Pioneer Works. Learn more. Andrew Beccone, founder of the Reanimation Library, is an artist, librarian, and musician. The library has been exhibited widely at venues around the world including Vox Populi (Philadelphia), SPACE (London), High Desert Test Sites (Joshua Tree), talcual (Mexico City), 98weeks (Beirut), the Museum of Modern Art, the Queens Museum, and Kunsthalle Osnabrück. He was a resident at EFA's SHIFT (2014/15... (read more)
Al Hirschfeld Birthday Celebration - The Algonquin Hotel
Through August 31, 2018 - New York
The Algonquin Hotel and The Al Hirschfeld Foundation invite you to an Al Hirschfeld Birthday Celebration. The exhibit 'Broadway Today As Seen by Hirschfeld' is on view in the Algonquin Lobby through August.
Al Hirschfeld Birthday Celebration - The Algonquin Hotel
Through August 31, 2018 - New York
The Algonquin Hotel and The Al Hirschfeld Foundation invite you to an Al Hirschfeld Birthday Celebration. The exhibit 'Broadway Today As Seen by Hirschfeld' is on view in the Algonquin Lobby through August.
Al Hirschfeld Birthday Celebration - The Algonquin Hotel
Through August 31, 2018 - New York
The Algonquin Hotel and The Al Hirschfeld Foundation invite you to an Al Hirschfeld Birthday Celebration. The exhibit 'Broadway Today As Seen by Hirschfeld' is on view in the Algonquin Lobby through August.
Al Hirschfeld Birthday Celebration - The Algonquin Hotel
Through August 31, 2018 - New York
The Algonquin Hotel and The Al Hirschfeld Foundation invite you to an Al Hirschfeld Birthday Celebration. The exhibit 'Broadway Today As Seen by Hirschfeld' is on view in the Algonquin Lobby through August.
Highlights Of German Art from the Collection - Neue Galerie New York
Through September 03, 2018 - New York
The German collection spans the period from 1890 to 1940, and emphasizes the key movements of that era, including Expressionism, with canvases by members of the Brücke (Bridge), including Erich Heckel, Ernst Ludwig Kirchner, Max Pechstein, and Karl Schmidt-Rottluff, and also artists affiliated with the Blaue Reiter (Blue Rider), such as Vasily Kandinsky, Paul Klee, August Macke, and Gabriele Münter. The Neue Sachlichkeit (New Objectivity) movement is also addressed, with important selections by Max Beckmann, Otto Dix, George Grosz, and Christian Schad. In the decorative arts, the Bauhaus is a special area of emphasis, with major examples of design by Marianne Brandt, Marcel Breuer, Ludwig Mies van der Rohe, and Wilhelm Wagenfeld. Collectively, these works reflect this tumultuous epoch in German history, as the nation shifted from an empire to a fragile democracy under the Weimar Republic following World War I. Likewise, the utopian ideal of uniting art and life in the pre-war era was replaced by a more practical embrace of a machine aesthetic, as artists reconciled themselves to the emergence of modern technology.
Gustav Klimt and Egon Schiele: 1918 Centenary - Neue Galerie New York
Through September 03, 2018 - New York
Gustav Klimt (1862-1918) and Egon Schiele (1890-1918) are two of the greatest artists Austria produced in the early twentieth century. Although born nearly thirty years apart, both tragically died in 1918—the same year that the Austro-Hungarian Empire ceased to exist following its defeat in World War I. Over the intervening century, the works of Klimt and Schiele have come to define the fertile creativity that marked the so-called "joyous apocalypse," an apt term used to connote the waning days of Habsburg rule. This show pays tribute to the groundbreaking achievements of Klimt and Schiele, two masterful artists who are key figures in the collection of the Neue Galerie New York.
Madison Square Park Conservancy Announces Artist Diana Al-Hadid's First Major Commissioned Outdoor Public Art Exhibition - Madison Square Park
Through September 03, 2018 - New York
Madison Square Park Conservancy Announces Artist Diana Al-Hadid's First Major Commissioned Outdoor Public Art Exhibition Date: May 14, 2018 through September 3, 2018. Madison Square Park Conservancy announces its thirty-sixth exhibition, Delirious Matter by artist Diana Al-Hadid. Six new sculptures will be installed across Madison Square Park's central Oval Lawn, peripheral lawns, and northern reflecting pool. Delirious Matter is the artist's first major public art project. It will be on view from May 14, 2018- September 3, 2018. In spring 2018, artist Diana Al-Hadid (American, b. Aleppo, Syria 1981, lives and works in Brooklyn) will create newly commissioned sculptures in Madison Square Park. Two wall works will be combined with rows of hedges to form a room suggesting the elegiac beauty of deteriorating structures nestled into plant material. Three reclining female figures, titled Synonym, sit on plinths and will be displayed on the surrounding lawns. In the Park's reflecting pool, the artist will realize a site-specific sculptural bust of a female figure perched atop a fragmented mountain. Al-Hadid is best known for creating work using traditional and contemporary scu... (read more)
The Means of a Ready Escape: Brooklyn's Prospect Park - Prospect Park Alliance
Through September 30, 2018 - Brooklyn
In celebration of the 150th anniversary of Prospect Park, Brooklyn Historical Society and Prospect Park Alliance present an exhibition that celebrates the founding vision of the Park, traces its social and historical trajectories, and examines the important role that Prospect Park has played as "Brooklyn's Backyard" for 150 years. The Brooklyn Historical Society is closed on major holidays.
Yang Yuanyuan - Art in General
Through September 30, 2018 - Brooklyn
Yang Yuanyuan (b. 1989, Beijing) lives and works in Beijing. She received a BA (hons) in photography at London College of Communications, University of the Arts London in 2013. By experimenting with different ways of visual storytelling, Yang creates narratives where facts and fiction coexist and speak about topics such as memory and history. Yang's work has been exhibited and published internationally. Her solo exhibitions include: "At the Place of Crossed Sights"(C-Space, Beijing, 2016) and "In-between Places" (Being 3 Gallery, Beijing, 2012). She participated Anren Biennale (2017) and Guangzhou Image Triennial (2017). Her works have been the subject of exhibitions at Guangzhou Times Museum, Guangzhou (2017); Yang Art Museum, Beijing (2017); Fotogalerie Wien, Vienna (2016)?Benaki Museum, Athens (2015); Objectifs, Singapore (2015); Espacio de Arte Contemporáneo (EAC), Montevideo (2015) and Three Shadows Photography Art Center, Beijing (2012).
New York & The Nation in The Robert H. and Clarice Smith New York Gallery of American History - New York Historical Society
Through December 31, 2018 - New York
Collection Highlights and New York and the American Experience Explore the story of New York and America in the Robert H. and Clarice Smith New York Gallery of American History. Highlights include: Mounted on the building's original 1904 columns are grand digital screens displaying a continuous, thematically co-ordinated slide show of treasures from the New-York Historical Society's collections. The west face of the columns features individual stations, incorporating interactive touch screens and museum artifacts, presenting six themes in American history which are found interwoven with the history of New York. Projected on dramatic flat screens affixed to six structural columns, the array of objects and images functions as visual signage that demonstrates to our visitors the depth of New-York Historical's collections.
Looking for Free Group Planning Services?
Get free advice on planning your group's trip to New York.
MORE Activity Planner ARTICLES
RESTAURANTS

Vida Verde brings the tastes, colors, sounds, and scents of ...

THEATER

In a heartbeat, 38 planes with 6,579 passengers were strand...

SHOPPING

The world's largest source of cameras, camcorders, and more ...

SIGHTSEEING

Manhattan's premier all-glass, European-inspired dining crui...