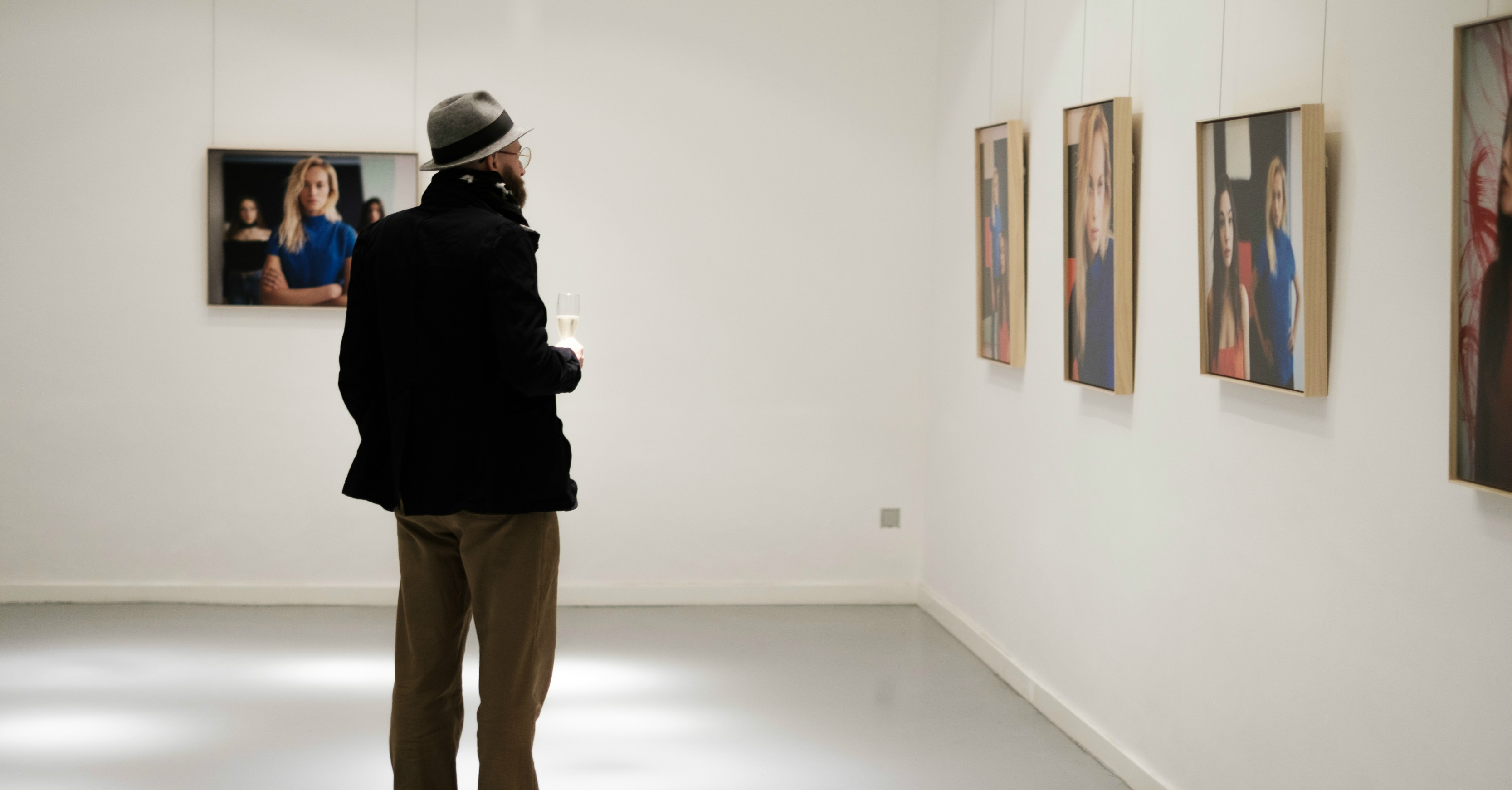 Photo: Flickr/K_rlis Dambr_ns

For art in galleries, from shows to openings to receptions and special events, check out City Guide's calendar listings for New York City. From Chelsea galleries to SoHo galleries to all points in between, we've got comprehensive painting, sculpture, performance art, conceptual art, and photography listings.


Exhibition Sylvia: A 19th Century Life Unveiled - Merchant's House Museum
March 08, 2020 - New York
n 2003, a small, timeworn leather trunk was discarded for garbage on a sidewalk in Lower Manhattan; it was found replete with the cherished keepsakes of a 19th-century New York City woman. Thus began visual artist Stacy Renee Morrison's self-proclaimed love affair with Sylvia DeWolf Ostrander, whose early life parallels that of Gertrude Tredwell, who lived at 29 East 4th Street.
Scope New York 2020 - Metropolitan Pavilion
Through March 08, 2020 - New York
The 20th edition of SCOPE New York returns to its Chelsea location at Metropolitan Pavilion.
scope New York 2020 - Metropolitan Pavilion
Through March 08, 2020 - New York
The 20th edition of SCOPE New York returns to its Chelsea location at Metropolitan Pavilion.
Scope New York 2020 - Metropolitan Pavilion
Through March 08, 2020 - New York
The 20th edition of SCOPE New York returns to its Chelsea location at Metropolitan Pavilion.
Scope New York 2020 - Metropolitan Pavilion
Through March 08, 2020 - New York
The 20th edition of SCOPE New York returns to its Chelsea location at Metropolitan Pavilion.
A Chinatown Odyssey - Pearl River Mart Gallery
Through March 08, 2020 - New York
Through striking illustrations, graphic novel artist Jerry Ma retells the classic Chinese tale of the Monkey King in a modern, urban setting, and takes us on a journey through the Chinatown of his childhood.Join us for the opening reception Jan 18, from 5 to 7pm with delicious Taiwanese bites served by Ho Foods.JERRY MA is a New York-based Taiwanese American graphic artist. Hes the founder of independent comics studio, EPIC PROPORTIONS; the creator of popular graphic T-shirts featuring such Asian American luminaries as Constance Wu, Sandra Oh, and Jeremy Lin (seen sporting Jerrys Constance Wu We Can Do It shirt); and a co-founder of the groundbreaking graphic novel series, SECRET IDENTITIES. Currently at work on his creator-owned graphic novel LEGEND, he also freelances around the world as a graphic designer and illustrator.
VOLTA New York - Metropolitan West
Through March 08, 2020 - New York
VOLTA New York is back! VOLTA showcases contemporary positions by up-and-coming and mid-career artists with an emphasis on discovery, both for the curious newcomer and for the seasoned collector alike. By spotlighting artists through solo projects and tightly-curated presentations, VOLTA encourages exhibitors to present serious gallery shows, while refocusing the fair-going experience back on its most fundamental point: the artists and their works.Reflecting its boutique roots, the New York exhibitor list will feature 55 international galleries. The American incarnation of the original Basel VOLTA show and, since debuting in New York in 2008, it has operated as a beacon for creative discovery and social engagement during Armory Arts Week.In 2020, under the new leadership of Director Kamiar Maleki, VOLTA returns both to New York and to its original intention as a boutique event at the intimate venue of Metropolitan West for a more immersive fair experience.
Live Drawing with Models - Flushing Town Hall
March 09, 2020 - Flushing
Draw from a live nude model. Bring your sketch pad with your favorite drawing medium. Each artist will have the opportunity to hone their skills with a series of quick and long poses while listening to music in a relaxing non-judgmental environment. For ages 18 & up.
Fourth Annual International Womens Day - One Art Space
Through March 10, 2020 - New York
One Art Space is proud to present the Fourth Annual International Womens Day in honor of International Womens Day ( #IWD2020oneartspace ). International Womens Day first began in New York City in 1911 and has historically been utilized to call attention to the many hardships and oppressions faced by women throughout the world. The Suffragettes founded International Womens Day to unite and empower women in their fight for equality and to this day, it continues to inspire individuals to persevere in the face of adversity, celebrate powerful women, and organize direct action to further our progress as a society towards the abolishment of gender inequality.We support the modern day Suffragettes of the International Womens Day Campaign in promoting this holiday and their ten core values of justice, dignity, hope, equality, collaboration, tenacity, appreciation, respect, empathy, and forgiveness.ARTISTS: Kayo Albert, Silvia Aviles, Maria Bablyak, Ayako Bando, Cleopatra Browne, Jean Chiang, Penny Dell, Lena Di, S. L. Fuller, Miho Hiranouchi, Monica Holder, Kumi Hirose, SunHe Hong, Shenan Howard, Jonsie Isasmendi, Susana Jaramillo, Irina Matinian, Sora Park, Caitlin Pazmino, N... (read more)
Communities and Climate Change - The National Arts Club
March 11, 2020 - New York
Returning lecturer Dr. Evangelos Kyriakidis of Kent University and Director of The Heritage Management Organization discusses his engagement projects.This global network encompassing over five hundred members in more than seventy nations was established in November of 2008. Its goal of instructing local key heritage managers has significantly transformed diverse cultural assets from decaying objects of study into dynamic sources of learning, community identity, and economic development.This international collaboration between knowledgeable stakeholders and professional partners offering their unique expertise becomes particularly crucial when adapting to climate change and protecting rare sites.
Members' Hours Curatorial Tour - Poster House
March 11, 2020 - New York
Experience the benefits of Membership and join our exclusive Members' Hours Curatorial Tour.This is a great opportunity to get the inside scoop on how both curators developed their respective shows and get a deeper understanding of both exhibitions.This tour is during our Members-Only early-access hours, and no pre-registration is required. Simply show the front desk your membership card.
Amsterdam Whitney Gallery February 2020 Exhibition - Amsterdam Whitney Gallery
Through March 11, 2020 - New York
AMSTERDAM WHITNEY GALLERY, 531 West 25th Street- Ground Floor-Chelsea, New York City, is proud to showcase its FEBRUARY 8- MARCH 11, 2020 Valentine Exhibition starring leading Contemporary Master Artists whose works explore the abstract, figurative and natural worlds. This sweetheart of an exhibition contains a wealth of visual delights reflecting sublime artistic prowess. The exhibition is highlighted by its 18th Annual "VALENTINE'S" SOIREE on Saturday, FEBRUARY 15, 2020, which embraces unsurpassed contemporary master artworks, radiateing supreme artist energy as it seductively romances our visual senses. Delivering a visual commentary on the art world of today and pulsating with mesmerizing synergy and luminescent artistic creativity, these Valentine treasures are infused with a romantic mystique and become landmark visual gems as they boldly re-imagine the contemporary quotidian. Sophisticated, eclectic and evanescent, this visual diary of art represents the universality of the world as they shine the spotlight on a global artistic language and present various perspectives. Emotional engagement pairs up with acute observation and intelligent analysis to form compelling, thou... (read more)
Carter Burden Gallery Announces New Exhibitions by Re-Emerging NYC Artists - Carter Burden Gallery
Through March 11, 2020 - New York
Carter Burden Gallery presents three new exhibitions: Metamorphosis in the East Gallery featuring Claire Boren, Pauline Chernichaw, & Carlos N. Molina, Visions and Voices in the West gallery featuring nextactART, and On the Wall featuring Adrianne Lobel. The reception will be held February 13, 2020 from 6 - 8 p.m. The exhibition runs from February 13 thru March 11, 2020 at 548 West 28th Street in New York City. The gallery hours are Tuesday - Friday, 11 a.m. - 5 p.m., Saturday 11 a.m. - 6 p.m.In Metamorphosis, Claire Boren presents recent large, abstract mixed media works. The inspiration for Borens works often stem from her personal history; they represent her feelings and mindset as she processes each experience. Boren states, In contrast to much of my earlier work, these paintings express the urgency and anxiety associated with such decisions, offset by the immediacy of our present time. These works embody my current frame of minda transition from one phase to the next.Claire Boren began working with abstraction in 1995 after many years of creating realistic and figurative work. Making the shift to abstract work in mixed media allowed her to translate her interior wo... (read more)
Art and Energy - The National Arts Club
March 12, 2020 - New York
Art and science achieve the seemingly impossible, picturing the energy of the universe by making the invisible visible. Join Dr. Charles A. Riley Ph.D., director of the Nassau Museum of Art, and visual artist Scott McIntire, for a dialogue revealing the ways art permits us to understand the beauty of energy in ways that are beyond our ordinary perception. The star of a recent exhibition curated by Dr. Riley, McIntire manages to weave, subtly, issues of sustainability with a powerful aesthetic message in his highly original Energy Field series of paintings.
"A Most Violent Year" - Tambaran 2 Gallery
Through March 12, 2020 - New York, New York
Alone, dead winter, and again, Im awake with the ravens. I havent really slept since the end of November. On a Fulbright grant in Kyiv, the city of my birth. From a country that no longer exists. In a new country I no longer know, I must spend the remainder of the cold months in Ukraine.The extended metaphor: journey is uphill and the perils too real. War, martial law, global market economies, all of our lives in the balance, and always, the missing. The missing and the art are the only constants.My studio looks like a room prepped for an execution. Plastic wall to ceiling, and Im painting about myself, about vulnerability, about love, about longing. Im painting about politics, about turmoil, about misunderstanding. Im painting about systemic violence, and the present so informed by nostalgia.The winter lasts right up until the summer. I have completed some projects and broken new ground. I have suffered but ate well. I, mostly intact, brought back this testament of my time and labor for your consideration.- Misha Tyutyunik
Cybersecurity in the 21st Century: Outlook for Japan & the U.S. - Japan Society
March 13, 2020 - New York
From Capital Ones massive data breach to the latest hack on Japan-based cryptocurrency exchange Bitpoint losing $32 million, recent headlines are increasingly featuring cyberattacks and security threats of large magnitudes. As cyber threats increase in number, scope and sophistication across the globe, it is imperative for government and companies to be proactive in building cyber resilience. What significant measures are Japan and the United States taking to boost cybersecurity? What is needed to effectively deal with the increasingly sophisticated cyber threats? In this program, cybersecurity experts discuss the cybersecurity landscape in Japan and the United States, the policies and regulations, and the approaches to tackling cybersecurity challenges.Speakers:J. Michael Daniel, President & CEO, Cyber Threat Alliance; former Special Assistant to President Obama & Cybersecurity Coordinator, National Security Council StaffMotohiro Tsuchiya, Dean, Faculty of Policy Management & Professor, Graduate School of Media and Governance, Keio UniversityModerator:Harumi Urata-Thompson, Founder & Chief Executive Officer, HUT Consulting
Contemporary Art in Academic Environment - The National Arts Club
March 13, 2020 - New York
Join us for a panel discussion and visual presentation focusing on the strategies and problems of the education process in the field of digital art, effective instruments of practical and theoretical learning, and multidisciplinary project-based approach.This program is organized in conjunction with the ID.ART:TECH EXHIBITION on display in the Gregg and Marquis Galleries which explores ID as a phenomenon with a wide range of meanings from the term in psychoanalysis (id) to the document that certifies ones identity (ID) - from the forms of sociopolitical function of portraits to the images of mass culture and social networks.
Docent Tour - Poster House
March 13, 2020 - New York
Come learn more about our two current shows The Sleeping Giant: Posters & The Chinese Economy and The Swiss Grid through a docent-led tour.Docent tours are offered once a week and are complimentary with the cost of admission.
thelovemaze.com Singles Dating, Match In Books - Amazon Books
March 14, 2020 - new york
Meet and match in your favorite books and bookstores. See if your thoughts match.Matching is done with LoveMaze scientific match making algorithm. A profile and RSVP in LoveMaze are required. https://thelovemaze.com/events.Join LoveMaze today for free, UNLOCK MAZES to identify your activity partner, and start earning MAZE CREDITS to get FREE fun activity driven dating events: https://enter.thelovemaze.com. More info on LoveMaze: https://thelovemaze.com.
thelovemaze.com Singles Dating NYC, Match In Fashion - Museum at FIT
March 14, 2020 - New York
helovemaze.com Singles Dating NYC, Match In FashionArt, fashion, and life are mysteriously intertwined.Meet and match in your favorite fashion pieces and museums. See if you can find that mysterious connection.Matching is done with LoveMaze scientific match making algorithm. A profile and RSVP in LoveMaze are required. https://thelovemaze.com/events.Join LoveMaze today for free, UNLOCK MAZES to identify your activity partner, and start earning MAZE CREDITS to get FREE fun activity driven dating events: https://enter.thelovemaze.com. More info on LoveMaze: https://thelovemaze.com.
*thelovemaze.com Singles Dating Match In Iconic NYC - St Patrick's Cathedral
March 14, 2020 - New York
Every year, more than five million people of every different nationality and faith enter this magnificent Cathedral. Many of them are tourists. This is a true spiritual landmark that unites people from all over the world. Whats more meaningful than meeting and connecting in this iconic House of Worship to kick off a wonderful partnership?Invite for a virtual date to get to know each other before meeting. Unlock Mazes to see who matches with you fundamentally. Join a Speed Dating Online before you meet offline.Note: A profile and RSVP in LoveMaze are required to attend: https://thelovemaze.com/eventsJoin LoveMaze today for free, UNLOCK MAZES to identify your activity partner, go on Speed Dating Party Online to test compatibility, and start earning MAZE CREDITS to get FREE fun activity driven dating events: https://enter.thelovemaze.com. More info on LoveMaze: https://thelovemaze.com
Free Community Day - Poster House
March 14, 2020 - New York
Join us on this special Saturday and explore all of our shows free of chargeDrop in between 1 and 4pm for an all-ages interactive silkscreen demonstration and hands-on workshop, led by Dingding Hu, illustrator and designer, and Mike King, designer and screenprinter.
Line and Frame: A Survey of European Comic Art - Dansey-Corey
Through March 14, 2020 - New York
Art9 is pleased to present "Line and Frame: A Survey of European Comic Art", featuring a selection of artwork by over 40 renowned European artists including Herg, Moebius, and Enki Bilal. "Line and Frame: A Survey of European Comic Art" will offer American visitors a unique opportunity to experience a comprehensive exhibition of rare, original European comic art from the last 70 years, featuring influential masters alongside artists defining the field today. "Line and Frame: A Survey of European Comic Art" is presented in association with cultural partners The Cultural Services of the French Embassy, The Consulate of the Kingdom of Belgium, The Cultural Services for Wallonie-Bruxelles International and The French-American Foundation. There will be a series of related events over the course of the exhibition. Please check https://www.art9us.com/for further details.
Creative Mosaic II - Flushing Town Hall
Through March 15, 2020 - Flushing
Long Island City Artists present a group exhibition that draws a broad landscape of artistic voices emerging from Queens. Selected by Queens-based independent curator and art writer Osman Can Yerebakan and coordinated by Cristian Pietrapiana, the artists working in painting, photography, sculpture, collage, and performance respond to the borough's multifaceted texture, infused with sounds, flavors, colors, and traditions of innumerable cultures across the globe.
Keeping Hope Alive: 10 Years of Care in Haiti - Tzu Chi Center
Through March 15, 2020 - NY
Join us as we commemorate the 10 years of Tzu Chi USAs commitment to Haiti since the 2010 earthquake through our brand new photo exhibition,Keeping Hope Alive: 10 Years of Care in Haiti.The Exhibit will be on view until March 15, 2020, during the Tzu Chi Center Operational hours every day 11 am- 4 pm. Hourly tours are available.LocationTzu Chi Center229 E 60th StreetNew York, NY 10022
The Sex Workers Pop-Up - The Atrium
Through March 16, 2020 - New York City
The Sex Workers Pop-Up is an exhibition in New York City that features artwork and performances about sex work from around the world. Sex work is often misunderstood, misrepresented, stigmatized, and still criminalized in most countries. Labeling sex workers as villains or victims wont improve lives or society, but labor protections and human rights will. Thats why sex workers are organizing to represent and defend their interests. This pop-up exhibit asks visitors to listen to the voices of sex workers, and reflect on how society defines work.
Homebody: New Prints 2020/Winter - International Print Center New York (IPCNY)
Through March 21, 2020 - New York City
INTERNATIONAL PRINT CENTER NEW YORK (IPCNY) is pleased to present Homebody: New Prints 2020/Winter, an exhibition featuring 31 artists from Australia, Canada, Portugal, Ukraine, the United Kingdom, and the United States whose work explores relationships between personal and domestic structures. IPCNYs New Prints Program is a biannual, juried open call for prints and print-based work that captures current voices and issues in contemporary printmaking.Throughout the jurying process, Ariana Barat, Gregory Burnet, Orit Mardkha-Tenzer, and Keris Salmon were collectively drawn to works that played with themes of domesticity and place. Burnet noted his affinity for things we see all the time but maybe become too used to, including landscapes, domestic interiors, furniture, utensils, and even pets.
EMILY - High Line Nine
Through March 21, 2020 - New York
The first-ever survey exhibition of famed Contemporary Indigenous Australian artist Emily Kame Kngwarreye in the United States, and the most comprehensive exhibition of the artist ever mounted. Curated by Indigenous art specialist, D'Lan Davidson, EMILY brings together seventeen of the finest examples from the artists entire oeuvre from beginning to end.
TAI Modern at Asia Week New York - Colnaghi
Through March 21, 2020 - New York
TAI Modern returns to this years Asia Week New York to exhibit important historic and contemporary works of Japanese bamboo art.Selected Works of Japanese Bamboo Art features works by bamboos most notable artists, including members of the historic Hayakawa and Tanabe family lineages and contemporary masters such as Honma Hideaki and Ebana Misaki, one of the mediums few female artists.Alongside these works, TAI Modern will present Abe Motoshis first solo exhibition in the United States. This master artist is known for his numerous original plaiting techniques and devotion to the art form. The baskets in this show, dating from 1979 to 2019, represent the full breadth of the artists career and creative expression.
New Old: Designing for our Future Selves - Pratt Manhattan Gallery
Through March 23, 2020 - New York
Pratt Manhattan Gallery presents New Old: Designing for our Future Selves, an exhibition exploring cutting-edge design solutions for our rapidly aging society. The design concepts are centered around six themes: Ageing, Identity, Home, Community, Working, and Mobility.From robotic clothing to driverless cars, New Old rethinks design approaches that will help people lead fuller, healthier, and more rewarding lives into old age.New Old features design commissions by: Yves Bhar / fuseproject, Konstantin Grcic, Future Facility, Special Projects, IDEO, and PriestmanGoode.This installment is updated with work by five faculty members from Pratts School of Design, including: Mitchell Reece Johnson, Andrea Katz, Karol Murlak, Alex Schweder, and Keena Suh, along with additional US based projects.Curated by Jeremy Myerson, Helen Hamlyn Professor at the Royal College of Art, this is a touring exhibition from the Design Museum, London, in partnership with the Helen Hamlyn Trust.
Above / Below Opening with Joan Iaconetti and Joshua Benson - The Gallery at W83
Through March 23, 2020 - New York
Above / Below Gallery Opening. Above / Below features Joan Iaconettis watercolors of New Yorks subway system paired with Joshua Bensons images of the citys rooftops and skylines. Opening wine reception Thursday, January 23, from 7:00 - 9:00 pm, and on display at the Gallery at W83 (150 West 83rd Street) until March 23.
JOHANN PERATHONER AND 3-D MANHATTAN ARTWORK - Empire State Building
Through March 25, 2020 - New York
Inspired by the magnetic energy of big bustling metropolises, artist Johann Perathoner looks to convey the spirit of different cities like Hong Kong, Singapore, Dubai, Paris, and New York through 3-D art. Perathoners compositions are made up of over 100 different textures, rhinestones, false diamonds and explosions of vibrant colors that take over 1000 hours to complete.In his Empire State Building installation, Perathoner has brought to life a custom-made, three-dimensional replica of New York City from an aerial perspective. Through his unmatched ambition and attention to detail in his compositions, he looks to recreate epicenters like New York City, where cultures collide and bring forth the fleetings of fleeting moments that a citys inhabitants so often experience. His works have been displayed around the globe and garnered attention and praise from celebrities including Eva Longoria. Come by the iconic building this month to experience his incredible creations!
Solitude, Introspection, & Surrealism - Agora Gallery
Through March 25, 2020 - NYC
Agora Gallery is pleased to announce that its newest exhibition, Solitude, Introspection, & Surrealism will be taking place Wednesday, March 4th through Wednesday, March 25, 2020. There will be an opening reception on Thursday, March 5, 2020.The works of 13 artists are featured in Agora Gallerys March exhibition Solitude, Introspection, & Surrealism. Mixed media abstracts, Victorian-styled drawings, vibrantly colored portraits, scenes from Americana photographs, and sprightly imagined landscapes paint compelling stories with relation to the theme. The artists talents are showcased through a variety of artistic genres and dynamic pieces.Whether achieved through the artists' use of vibrant colors or muted tones, patterns textured on canvas or desolate scenes from sleepy Texas towns the works on display represent myriad emotions. Fear, hesitation, and clarity find a balance with peace and serenity. From brush strokes that are dark and bold to lively bright patterns, observers will find themselves examining their conscious thoughts and feelings while noting the essence of serene isolation in the pieces.The represented artists, Howard Harris, Mana, Susan Whitfield, Linda Beh... (read more)
BEYOND THE STARS: Featuring CASCIONE & LUSCIOV - JoAnne Artman Gallery
Through March 28, 2020 - New York
BEYOND THE STARSJoAnne Artman Gallery is pleased to present Beyond The Stars, an exhibition of new work by artist collective Cascione & Lusciov at the gallerys New York location. Comprised of Silvia Cascione and Roman Lusciov, the duos new body of sculptural work explores both hardwired and au courant notions of form, line, and the romantic associations tied to outer space.The exhibition title, Beyond The Stars, invites multi-faceted connections between the origin of life and futuristic dimension, while visually translating the immateriality of space and time into streamlined, biomorphic forms. Conceptually focused on objects in motion, their installations, which often involve kinetic sculptures, draw parallels between the sensation of forward propulsion and an unknown, abstract future. Conflating the solidity of their materials with the appearance of a fluid, liquid state, the relationship betweenvolume and space is explored in each sculpture.Channeling the transformations of a stars shape and color throughout its lifetime, Cascione & Lusciov demonstrate an understanding of how sculpture can serve as a tool of expression for different realities of life. Each work mad... (read more)
Pratt Institute's Research Open House - Pratt Institute
Through March 28, 2020 - Brooklyn
Pratt faculty, staff, and students will host presentations, live demonstrations,and talks about one of a kind research projects tackling pressing issues, from immigration reform to community civic engagement. The third annual Open House will be a part of Pratts Green Week, a weeklong celebration of sustainability initiatives, and will highlight Pratts unique approach to research, featuring nontraditional exhibition and performance based interdisciplinary projects. The event is free and open to the public.Faculty/staff volunteers, as well as students from Pratts Foundation program a community experience which brings together first year art and design majors to develop creative skills and build relationships together will be serving as judges for Open House projects. Research winners will be selected in four categories: sustainability, innovation, community impact, and entrepreneurship, and will receive grant money to continue their projects. Previous winners include: Grassroots Cactivism: promotes use of the Nopales cactus as a sustainable crop for food and packaging, Lourie Harrisons Pollinators Pavilion: an architectural space that doubles as a visitor center and h... (read more)
Fragments of Beauty: Paintings by Marsha Heller - Ceres Gallery
Through March 28, 2020 - New York City
Artist Marsha Heller returns to Ceres Gallery highlighting nature's vistas in a solo exhibition, 'Fragments of Beauty'. In the exhibition, the viewer experiences Heller's landscapes, skyscapes, intimate details of nature or its broad vistas, as acts of passion rendered through an artists discipline. The fragments of beauty, which she encounters everywhere, imbue the images with power and delicacy in equal measure.The public is invited to attend opening receptions on March 12 from 6 p.m. to 8 p.m. and Saturday, March 14, 3 p.m. to 5 p.m.
LOVE is in the Air - Galerie Gmurzynska
Through April 04, 2020 - New York
A comprehensive exhibition featuring masterpieces from 1959 to 2007 by Robert Indiana.
Shoot Like a Girl with Crissibeth Cooper - Sony Square NYC
Through April 05, 2020 - New York
NYC-based photographer Crissibeth Coopers style may not be traditionally feminine, but she shoots like a girl -- creating bold and powerful images with hallmarks like strong leading lines, precise symmetry, and hard contrast between shadow and light.
Read Me Like a Book: 30 Years of Dobbin Books - Pratt Institute Library
Through April 09, 2020 - Brooklyn
Pratt Library presents Read Me Like a Book: 30 Years of Dobbin Books, a retrospective exhibit of acclaimed artist and Pratt Faculty member Robbi Ami Silverberg. The show celebrates the 30th anniversary of Silverbergs artist book studio, Dobbin Books. Over the course of 30 years, Dobbin Books has published over 130 artist books. Silverberg is involved in all stages of production and publishing, realizing coherent works of art.Her work is conceptually focused on word cognition and interlinearity, with an emphasis on process and paper as active substrate. Unique to Dobbin Books is that Silverberg runs one of four hand paper making studios in NYC located at Dobbin Mill. The exhibition will present circa 65 artist books dating from 1992 to 2019, along with threevideos and threeinstallations.
Shinique Smith 'Indelible Marks' - UBS Art Gallery
Through April 10, 2020 - New York
The UBS Art Collection presents Indelible Marks, an exhibition of new sculptures and paintings by the American artist Shinique Smith at the UBS Art Gallery in UBSs New York headquarters at 1285 Avenue of the Americas from January 27 April 10, 2020. For this exhibition, Smith unveils a selection from her newest body of two and three-dimensional works comprised of coded messages in cloth and calligraphy. Smith, who is represented in the UBS Art Collection, has employed recycled clothing, fabrics and objects to construct sculptures, paintings and site-specific installations. Inspired by the vast nature of the things that we create, consume and discard, her works resonate on personal and social scales, operating at the convergence of consumption, displacement and sanctuary. On view alongside Smiths paintings and sculptures are artworks by other artists in the Collection, which Smith selected, including Brice Marden, Cecily Brown, Cy Twombly, Julie Mehretu and Helen Frankenthaler, that relate to the theme of line and gesture.The UBS Art Gallery opened in 2019 and celebrated its inaugural season of exhibitions with A History and a Moment: Works from the UBS Art Collection and ... (read more)
JoAnne Artman Gallery, Presents: THE BACK ROOM - JoAnne Artman Gallery
Through April 20, 2020 - New York
JoAnne Artman Gallery, Presents:THE BACK ROOM: Featuring AMERICA MARTIN, MARY FINLAYSON, ELLEN VON WIEGAND, ADRIANA OLIVER, GREG MILLER + ANNA KINCAIDEWINTER/SPRING 2020JoAnne Artman Gallery511A West 22nd Street | New York, NY 10011Contact: JoAnne ArtmanTelephone: 949-510-5481 | E-mail: joanneartman@aol.com Website: www.joanneartmangallery.comJan. 17 Apr. 1THE BACK ROOMJoAnne Artman Gallery is pleased to present, The Back Room, a group exhibition that celebrates the seduction and drama of entering a gallerys private, back room. An exploration into past and upcoming shows, the works in The Back Room celebrates the art worlds unique ritual of inviting preferred patrons to view the gallerys exclusive inventory. Including works by America Martin, Mary Finlayson, Ellen Von Wiegand, Adriana Oliver, Greg Miller, and Anna Kincaide, all artists hold distinctive sensibilities in subject matter and concept, yet are linked through an expressive formal approach. In a collaborative effort in bringing the abstract and figurative arts together, the featured artists showcase the extensive visual influences of pop culture.Colombian-American artist America Martin ... (read more)
BLUES - 135 E 22nd St
Through May 22, 2020 - New York
The Mishkin Gallery presents BLUES, an exhibition by Sierra Leone-born, Berlin-based musician and artist Lamin Fofana. Fofanas music is a conduit for engaging with an array of issues involving blackness, migration, displacement, and race through collective listening. The exhibition centers on a trilogy of sound works comprising the albums Black Metamorphosis, Darkwater, and Blues that engage with seminal texts by Sylvia Wynter, W. E. B. Du Bois, and Amiri Baraka to reflect on historical and epistemological trajectories of contemporary social and political thought through the lens of Black Studies. These works will be presented alongside videos and photographs by Fofana and his collaborators Jim C. Nedd and Nicolas Premier.Fofana creates spaces for contemporary black life in the West that are informed by his interest in history and the sonic and allow for dreaming and imagining other ways of being which foreground non-linear thinking and experience. Mishkin Gallery will be the main site of the exhibition, with additional elements such as posters and sounds spiraling outwards through the College campus and into the city. Aiming for both physical and emotional resonance, the wo... (read more)
Painting & Drawing Masterclasses - West New Brighton Library
Through November 21, 2020 - New York
These Masterclasses focuses on simple ways to improve your skills in painting and drawing. Through the workshops, well collectively build a solid foundation of a practice that helps us to refine our creativity!

Want free advice on what to see and do in NYC? Join our Facebook group Everything to Do NYC, a place for people to ask questions and get tips on how to make the most of the city.