Gallery Shows in New York City This Week - October 8-October 15
October 8, 2017 - by CG Directory Editor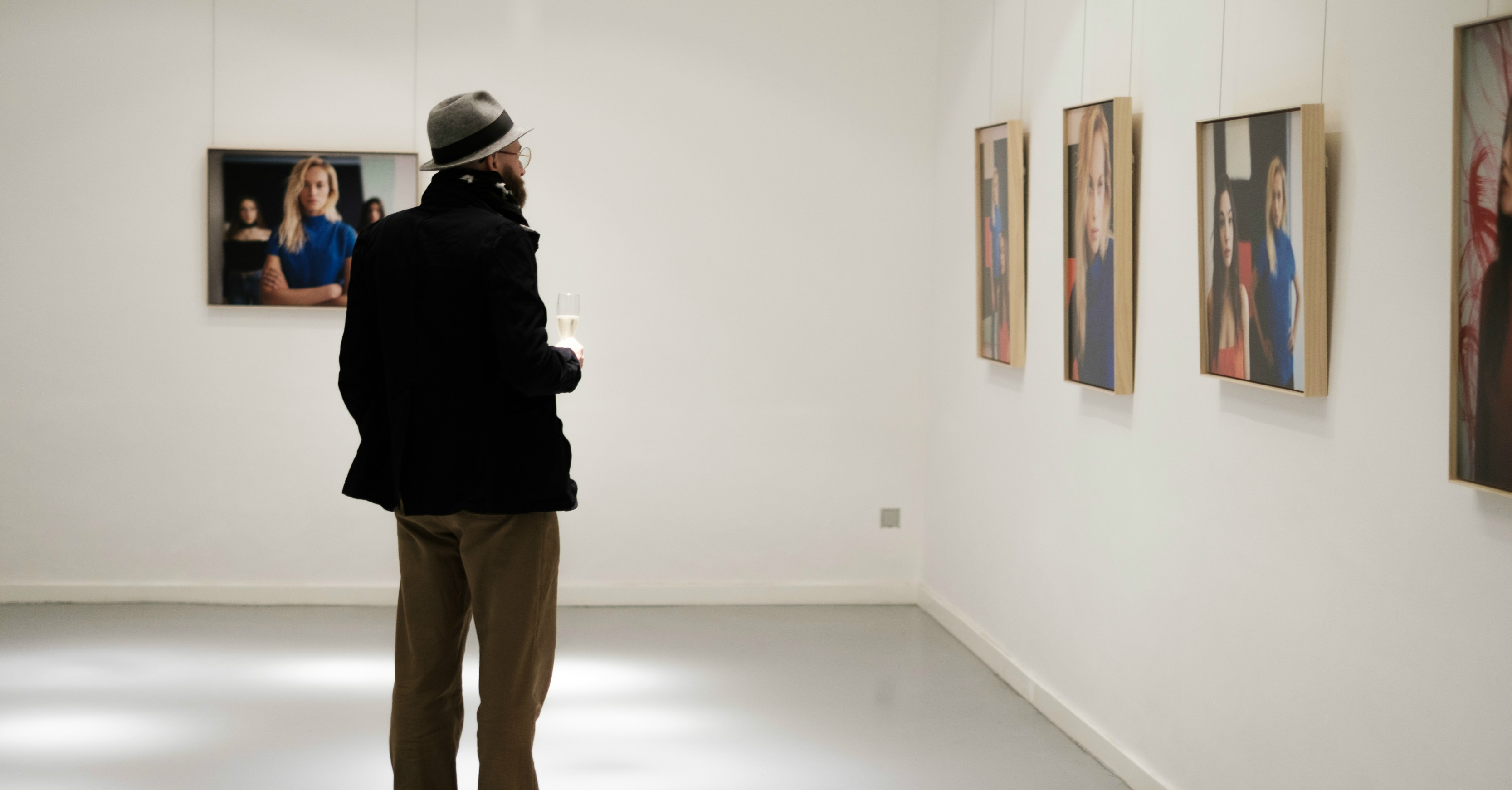 Photo: Flickr/K_rlis Dambr_ns

For art in galleries, from shows to openings to receptions and special events, check out City Guide's calendar listings for New York City. From Chelsea galleries to SoHo galleries to all points in between, we've got comprehensive painting, sculpture, performance art, conceptual art, and photography listings.


Judith Bernstein Cabinet of Horrors - The Drawing Center
Through February 04, 2017 - Soho
Judith Bernstein will present a new body of work, specifically commissioned by The Drawing Center, for her exhibition Cabinet of Horrors in the Main Gallery. Focusing on work made since Donald J. Trump was elected president in November 2016, the exhibition will include approximately fifteen new drawings, four large-scale paper panel murals, a series of drawn "executive orders" and "dollar bills" in vitrines, and a free political campaign pin designed by Bernstein. A selection of five Word Drawings including: Liberty, Justice, Equality, Evil, and Fear, made in 1995, will also be shown. Bernstein began engaging with social issues in her work during the 1960s, creating anti-Vietnam drawings, monumental phalluses, and artworks consisting entirely of her own signature. The present series of drawings use Trump's own insult-driven, childlike syntax and language to distill Bernstein's anger, disgust, and disapproval of the current administration and its policies. Through her new series of drawings, Bernstein transforms her critique into powerful graphic and text-based works.
Board Games & Bright Lights Family Sundays - Rubin Museum
October 08, 2017 - New York
Ages 3 and older with accompanying adults Sundays are for families! Bring your family to the Rubin Museum for a Sunday afternoon of activities both kids and grownups will enjoy. Drop into the Education Center for some art-making, enjoy our 2:00 p.m. family exhibition tour, and go on your own thematic gallery search. Children's day is YOUR day, and we're celebrating it all month at the Rubin Family Sundays. Get your game face and learn how to make and play traditional Nepalese board games with your family. Sculpt cute, silly, or scary game pieces, then play to win! In honor of Diwali, the Hindu festival of lights, you can also create traditional diyas (candles) to take a little festival light home with you.
Creativity Lab - Brooklyn Museum
October 08, 2017 - Brooklyn
Welcome to the Lab! Drop by our studios and explore your creative side. In this drop-in workshop for all ages, take inspiration from our galleries and get messy, experiment with materials, and learn artistic techniques with a new project each month. Bring the whole family and stay as long as you'd like!
Mad. Sq. Art: Josiah Mcelheny - Madison Square Park
Through October 08, 2017 - New York
Madison Square Park Conservancy is proud to announce its thirty-fourth exhibition, Prismatic Park by artist and MacArthur Foundation Fellow recipient Josiah McElheny. The project features three large sculptures of painted wood and prismatic glass on view in Madison Square Park from June 13, 2017 through October 8, 2017. The outdoor exhibition will comprise three exquisite sculptures in painted wood and prismatic glass: minimal, almost architectural forms that will create new spaces within the Park for the creation of music, dance, and poetry: a curvilinear, translucent blue sound wall for experimental music; a circular, reflective green floor for vanguard dance; and a vaulted-roofed luminous red and yellow pavilion for poetry. Each will refract the surrounding natural light, beckoning the passerby and regular Park visitor. The three structures will form open, stage-like platforms—in both the physical and metaphorical sense—for the collaborating choreographers, dancers, musicians, and poets who will be working next to them, on them, and under them in the summer of 2017. Throughout the exhibition, three nonprofit art organizations based in New York—Blank Forms, Danspace Project, an... (read more)
14 Sculptors Inc. On the Rock 2017: An Exhibition of Sculpture - Rockaway Park
Through October 09, 2017 - New York
14 Sculptors Inc. On the Rock 2017: An Exhibition of Sculpture will be on view June 3 through October 9, 2017 adjacent to the newly completed boardwalk on Shore Front Parkway, Rockaway Beach, Queens from Beach 73 Street to Beach 108 Street. Join the Opening Event festivities on Saturday, June 3, 2017 from 12:30 PM - 2 PM at Beach 94 Street plaza. This public art exhibition features 17 sculptural works, 16 artists, and 15 sites that celebrate the spirit and beauty of the Rockaways. The featured sculpture lining the seaside, range from the intimate to the monumental. Inspired by the allure of Rockaway's coastline Herb Rosenberg's A Monument to Hope, Dan Bergman's Bright Moment, Anne Stanner's Rockaway Wave and Allan Cyprys' two sculptures Sunset on the Rock #1 and Sunset on the Rock #3 reveal the artists' interpretations of the elements and effects of nature. Works by artists Stan Squirewell, Unity, and Febrications, No Doubt, showcase cultural icons that have been used to empower and connect people for generations. The Last Mermaid by Christina Jorge, Heart @ Rockaway by Bibiana Huang Matheis, Rock Relics by Esther A. Grillo, and Sprout by Sui Park, use recycled materi... (read more)
Future of StoryTelling (FoST) Festival - Snug Harbor Cultural Center & Botanical Garden
Through October 09, 2017 - Staten Island
There is nothing like getting lost in a great story. The world's leading immersive storytelling event, FoST Festival, returns to New York from October 6-9th. Come lose yourself in over 100 immersive storytelling experiences, including exhibits, hands-on technology demos, interactive installations, live performances, conversation panels with leaders from marketing, technology, and communications, and much more. Designed to inspire, educate, and entertain, FoST Festival is open to everyone who is interested in experiencing firsthand the very latest and most cutting-edge immersive storytelling projects and technologies. Select highlights for this year's FoST Festival will include: • Novo Reality, a 9-ton robotic arm that catapults you through space while you experience an original VR film • Edible Reflections, a multisensory audio and food experience that brings friends and strangers together • Broken Bone Bathtub, a powerful one-woman immersive theater performance that takes place in a bathtub • SPOONS, an otherworldy interactive VR experience set in a surrealistic pop universe • Magic Paint Mirror, an AR experience that transforms your body into a paintbrush • Riot 2.0, a ... (read more)
Opening Reception - The Drawing Center
October 12, 2017 - New York,
Please join us Thursday, October 12 for the opening receptions of Judith Bernstein: Cabinet of Horrors, Eddie Martinez: Studio Wall, What the Body Can Do: Open Sessions 11, and Susan York: Foundation In our Main Gallery, Judith Bernstein: Cabinet of Horrors will present a new body of work commissioned by the Drawing Center focusing on work made since Donald J. Trump was elected president in November 2016, the exhibition will include approximately fifteen new drawings, four large-scale paper panel murals, a series of drawn "dollar bills" and vintage piggy banks in vitrines, and a free political campaign pin designed by Bernstein In our Drawing Room, Eddie Martinez: Studio Wall, will bring the drawing wall to the museum. The artist will paper the gallery with thousands of sketches that he will change throughout the exhibit's run. In addition, several large drawings and paintings will be hung on top of these sketches allowing viewers to observe the interconnection between all aspects of Martinez's practice.
Saturday Sketching - Solomon R Guggenheim Museum
October 14, 2017 - Upper East Side
Explore Frank Lloyd Wright's architectural shapes and spaces through drawing activities in the museum's galleries. Art materials, including a drawing board, paper, pencils, and erasers, are available for loan at the Family Activity Kiosk. This program is geared towards teens, though families with children of all ages are welcome. No registration is required.
Kasten in the Mid-Hudson Valley' Tour with Sanford Levy - Historic Huguenot Street
October 14, 2017 - New Paltz,
Take a special tour of the exhibition Kasten in the Mid-Hudson Valley, led by Sanford Levy. Over a dozen American-made kasten from the HHS Permanent Collection and selected loans will be featured in the Jean Hasbrouck House and the Abraham Hasbrouck House, to complement the exhibition Living in Style: Selections from the George Way Collection of Dutch Fine and Decorative Art. Although variations exist, the typical kast (plural kasten) is a large, free-standing cupboard or wardrobe with two paneled doors surmounted by an over-scaled, molded cornice. The cupboard usually sits on a base with a single drawer or drawers and ball-shaped feet. Some simpler versions made by country craftsmen feature cut-out or stylized feet and may or may not have drawers.
Soho/ Tribeca gallery tour - New York Gallery Tours
October 14, 2017 - New York
Visit the city's most legendary art area – Soho – along with neighboring up-and-coming Tribeca, and see: (1) a Latino artist's charming, heartfelt renditions of regular people in the Barrio, (2) a female artist's colorful and startling fluorescent wall pieces, and (3) a renegade artist's sculpture and video works that comprise the BOLDEST show we've seen in months, among 7 outstanding shows in all.
Souvenirs: New New York Icons - Storefront for Art and Architecture
October 14, 2017 - New York
As a contemporary form of commercialized nostalgia, souvenirs are the ultimate cliche in the representation of a city. Pocket-sized, acritical, and cheap, they populate tourist sites all over the world with a patina of innocence. Producing collective imaginaries made up of lines that follow the profiles of superlative sculptures, buildings, and stories, souvenirs have become the reference points that anchor a particular culture in time, representing (consciously or not) political, cultural, and social values. Souvenirs: New New York Icons, the second iteration of Storefront's model show, commissions 59+ objects that redefine New York's iconic imagery. Inspired by each of the city's Community Districts, more than 59 artists, architects, and designers have reimagined the referential images that constitute the global perception of the city, proposing new understandings of the urban experience. Challenging the symbols that have permeated the gift shop, Souvenirs presents critical approaches to the shifting and complex iconography of the city. The exhibition introduces new objects and, with them, new ways to relate to form, matter, affect, representation, and agency.
Poussin, Claude, and French Drawing in the Classical Age - The Morgan Library & Museum
Through October 15, 2017 - New York
The French refer to the seventeenth century as the Grand Siècle, or the Great Century. Under the rule of Louis XIII and Louis XIV, the period saw a dramatic increase in French political and military power, the maturation of French courtly life at Versailles, and an unparalleled flourishing of the arts. Poussin, Claude, and French Drawing in the Classical Age explores the work of some of the most celebrated artists of the time. More than fifty drawings largely from the Morgan's collections—including works by Claude Lorrain (1600–1682), Nicolas Poussin (1594–1665), Jacques Callot (1592–1635), and Charles Le Brun (1619–1690)—are on view in the exhibition. Together they demonstrate the era's distinctive approach to composition and subject matter, informed by principles of rationalism, respect for the art of classical antiquity, and by a belief in a natural world governed by divine order. Poussin, Claude, and French Drawing in the Classical Age is made possible with generous support from the Eugene V. and Clare E. Thaw Charitable Trust and the estate of Alex Gordon.
The Thing Unseen: a Centennial Celebration of Nicolas Carone - NYSS
Through October 15, 2017 - NEW YORK
Opening Reception: Tuesday, September 5, 6-8pm Exhibition Dates: September 5- October 15, 2017
Pathways: Blurring the Lines - Agora Gallery
Through October 17, 2017 - NYC
Agora Gallery is pleased to announce the opening of Pathways, an exhibition featuring the works of Enrico Ambrosio, Westby and Mercier, Lorena Becerra, Anita Birkenfeld, Hanneke Kempers, Nancy McLean, Iva Milanova, Frédérique Négrié, Alaleh Ostad, Elke Riedel, Rody, Svetlana Sintseva, and Bekir Smolski. Through a survey of the diverse oeuvres of the aforementioned thirteen artists, Pathways examines how art can blur the lines between fantasy and reality. For example, Enrico Ambrosio's digital explosions of color and light are contrasted with Nancy Mclean's dynamically textured, whimsical adaptations of everyday scenes and objects. Meanwhile, Alaleh Ostad reinterprets traditional landscape scenes by transforming them into dynamic, abstract compositions through energetic swirls of oil paint on canvas. The exhibition considers these motifs through a myriad of media, including paintings, sculpture, digital compositions, photography, and multimedia collages. The innovative use of various materials and media by each of the artists in Pathways presents the viewer with the opportunity to overstep the boundary of the real into the ethereal. Pathways will open on September 26th, with a... (read more)
Picturing Female Robots and Androids - New York Hall of Science
Through October 22, 2017 - Flushing
View images of female robots, mannequins and dolls from films, television, video games and more. Robots, androids, mannequins and dolls reflect our age-old efforts to create artificial beings that look amazingly lifelike. They also reveal to us our changing view of women themselves. This exhibit is based on Julie Wosk's recent book My Fair Ladies. Photo: Lady Fortune by Julie Wosk
The Grant Winners Exhibition - The Art Students League
Through October 27, 2017 - New York
This annual exhibition showcases the work of emerging artists who earned the Art Students League's prestigious grants.
Alain Willaume, Vulnerable - Crossing The Line Festival
Through October 28, 2017 - New York
Alain Willaume's unusual photos evoke a ghostly undercurrent in our everyday lives. In depicting the likes of lone and meditative figures in barren landscapes and dusty roads, he highlights the fractures in the places we call home. Working outside of the mainstream and the traditions of documentary photography, Willaume creates an arresting personal cartography of engaged metaphors and enigmatic imagery. His haunting body of work evokes the lurking violence and vulnerability in the world as well as the human beings who inhabit it. This immersive installation designed by François Hébel for the artist's US debut invites new perspectives into Willaume's global body of work. This is the sixth exhibition of the French Protocol series in the FIAF Gallery, curated by François Hébel.French photographer Alain Willaume lives and works in Paris. He began his photography career in 1979 and has been a member of the Tendance Floue Collective since 2010. He has a Masters in DESS Intercultural Relations from Paris III-Sorbonne Nouvelle. Since 2003, he has also been a guest professor at the Haute Ecole des Arts in Rhin, Strasbourg, and the Ecole Nationale Supérieur of Art and Design in Nancy. W... (read more)
Science Inspires Art: Ocean - New York Hall of Science
Through October 31, 2017 - Flushing
Based on new scientific information and personal experiences, the international Open Call for this exhibition asked artists and scientists to help create a new public perception of OCEAN by sharing creative visions of our deep connections to her, the health issues she faces, and feelings she inspires in us. This juried exhibition was organized by Art & Science Collaborations, Inc. (ASCI). Free with NYSCI admission.
Blank - Sous Les Etoiles Gallery
Through November 04, 2017 - New York
Sous Les Etoiles Gallery is pleased to announce "Blank," German photographer Andreas Gefeller's premiere exhibition with the gallery. An opening reception with the artist in attendance will be held on Thursday, September 7, 6–8pm, and an artist talk is scheduled for Monday, September 11 at 7pm. Through his previous series, Japan series and Supervision, Andreas Gefeller has always intrigued us with the pristine and haunting perspective of these urban and industrial landscapes. In his series Blank, he continues his journey but this time by awakening our fears and imaginations. When traveling the world, in Tokyo, Seoul, Amsterdam, London, Dusseldorf, Gefeller, as a surveyor of his time, gives us a reflection of what the world could be in the event of a future catastrophe. The photographs are far beyond historic and ordinary optical occurences. The works from the space uses the artificial lighting from our towns and cities and turns them into an ephemeral wonderland. Excessively overexposed photographs of building façades, motorway intersections, container terminals and refineries reveal vast faded areas. The photographs create tension between urban reality and its potential chao... (read more)
Striking Somewhere - The Java Project
Through November 04, 2017 - Brooklyn
The Java Project is pleased to announce Striking Somewhere, a solo exhibition by Victoria Manganiello, which features new Woven Paintings and a collection of Flower Paintings, a series that has never been previously shown by the artist. About The Flower Paintings differ from the Woven Paintings in terms of material, yet also serve as a timeline. Rather than being hand-woven, the Flower Paintings are machine-woven cloth the artists treats with an ambiguous mix of natural floral dyes and accents of acrylic paint. The floral dyes are derived from seasonal flowers and the synthetic materials further indicate the passage of time, as they nod to technology and the artist's evolution in her process. This is the first time both the Woven and Flower paintings are being shown together, and they provide an interesting juxtaposition in their material and creative differences. Manganiello is involved in every aspect of the production of her paintings from start to finish. Spinning the raw wool, cotton, or silk. Dyeing the yarn with natural or synthetic ingredients on hand, whether they be the avocado pits she has saved from her meals or a paint tube of Fiber Reactive Procion Dye PRST... (read more)
Amie Cunat: the Clock Is Taking a Nap. - Knockdown Center
Through November 05, 2017 - New York
Amie Cunat is a Japanese-American artist raised in McHenry, IL. Her paintings and installations, characterized by biomorphic forms and comedic hues, investigate parallels between abstraction and perception. She earned a BA in Visual Art and Art History from Fordham University, a Post-Baccalaureate Degree in Painting and Drawing from The School of the Art Institute of Chicago, and an MFA from Cornell University. Her recent exhibitions include Curtains at This Friday or Next Friday (NY), C+C: Kat Chamberlin and Amie Cunat at SPRING/BREAK Art Show (Curated by Nicholas Cueva, NY), Hideout at The Sunroom Project Space, Wave Hill (NY), Moon Nets, Alphabet Letters at Outside (MA), Clue, Cue at Foley Gallery Window Installation (NY), and Blood and Sand at Mountain (NY). She has participated in the Studios at MASS MoCA Residency (MA), Guttenberg Arts Space and Time Artist Residency (NJ), The Artist-Teacher Residency at Cooper Union (NY), and AIRY Yamanashi (Kofu, Japan). Cunat is Adjunct Faculty of Painting and Drawing at Fordham University. She lives and works in New York, NY.
GORDON PARKS FOUNDATION Presents Devin Allen's A BEAUTIFUL GHETTO Exhibition / Artist Reception - Gordon Parks Foundation
Through November 18, 2017 - Pleasantville
The Gordon Parks Foundation's (GPF) will be exhibiting photographs by celebrated amateur photographer Devin Allen entitled A Beautiful Ghetto. The exhibit showcases the 2017 GPF Fellow's documentation of the landscape and community of Baltimore immediately following the death of Freddie Gray, capturing the frustration and outrage of a community in response to police brutality in their city and across the nation. The exhibit is also accompanied by Allen's book under the same name, published in 2017 by Haymarket Books. The exhibit will be on view at the Foundation's exhibition space from September 15 through November 18, 2017 and an open artist reception and book signing will be held the evening of Friday, September 15.
Princeton's Art of Science - New York Hall of Science
Through November 30, 2017 - Flushing
The Art of Science 2014 showcases images of artistic merit created during the course of scientific research. The exhibition spurs debate among artists about the nature of art, opens scientists to new ways of "seeing" their own research, and serves as a window through which the general public can appreciate both art and science. These images were chosen from more than 250 submissions from undergraduates, graduate students, postdocs, staff and alumni representing more than 25 different departments at Princeton University. They span the fields of electrical engineering, ecology, evolution, chemistry and biology with images of termites, cockroaches, fruit flies and geological structures.
Senior Writing Workshop - Rubin Museum
Through December 04, 2017 - New York
Make connections with the art in the galleries through lively group discussion and creative writing. Program meets at the base of the spiral staircase in the Museum's entrance hall. Program is facilitated by Nina Goss, a writer and university professor. About the Instructor Nina Goss earned her PhD and MFA at the University of Washington. She currently teaches Creative Writing at Fordham University. She is the co-editor of Dylan at Play, as well as a forthcoming collection of essays from University of Mississippi Press.
John Minihan: Beckett and His World - Irish Arts Center
Through December 15, 2017 - New York
Walter Asmus directed Waiting for Godot and worked with Samuel Beckett in Berlin in the 1970s, author Edna O'Brien and publisher John Calder made up his circle in London, and actor Lisa Dwan gave life to Not I as never before. These are some of the luminaries who made up a world of Beckett, both during his life, and after his passing. John Minihan captures their essence in black and white portraiture, including his iconic images of Beckett himself. In his artist talk "Beckett and the Wake," John remembers spending time with a playwright who was often a reluctant subject and rarely posed. John Minihan photographed volumes I and II of IAC's cultural exhibition To Love Two Countries, a celebration of the men and women who immigrated to the United States in the early half of the twentieth century. Culture Night is an annual public event in Ireland that celebrates culture, creativity and the arts. On Culture Night, arts and cultural organizations and venues of all shapes and sizes extend their opening hours to allow for increased access to the public. This year we join by opening our gallery doors for a daytime opportunity to view Beckett and His World.
art from Santiago Ribeiro at Times Square NY - Times Square
Through December 31, 2017 - New York
New York, United States, 12/08/2017 - ( surrealism now ) - From July 19, 2017 until December 31, 2017 will be shown art from Santiago Ribeiro at Times Square Nasdaq OMX Group, New York city. Nasdaq, MarketSite is located in New York City's Times Square The presentation of the works of art will be alternately. Santiago Ribeiro, Portuguese surrealist painter, who has been dedicated to promoting the Surrealism of the 21st century, through exhibitions held in various parts of the world: Berlin, Moscow, Dallas, Los Angeles, Mississippi, Warsaw, Nantes, Paris, Florence, Madrid, Granada, Barcelona, Lisbon, Belgrade, Monte Negro, Romania, Japan, Taiwan and Brazil. contact: 4 Times Square, New York, NY 10036, USA +1 212-401-8700 irteam@globenewswire.com http://business.nasdaq.com/discover/nasdaq-at-times-square International Surrealism Now - Full Service
War and Pieced: the Annette Gero Collection of Quilts from Military Fabrics - American Folk Art Museum
Through January 07, 2018 - New York
Organized by the American Folk Art Museum, New York, in collaboration with the International Quilt Study Center & Museum, University of Lincoln–Nebraska. Cocurated by Dr. Annette Gero, international quilt historian, author, and collector, and Stacy C. Hollander, Deputy Director for Curatorial Affairs, Chief Curator, and Director of Exhibitions at the American Folk Art Museum. War and Pieced is the first exhibition in the United States to showcase the spectacularly complex geometric quilts made exclusively by men using richly dyed wools derived from British military and dress uniforms. Once termed "Soldiers'" or "Convalescent Quilts," the pieced textiles are most closely associated with the Crimean War as well as conflicts in India, South Africa, and other troubled regions of the British Empire during the nineteenth century. The exhibition further relates these military quilts to an earlier technique of pictorial inlaid or intarsia quilts, made with felted wools during the Prussian and Napoleonic wars beginning in the mid-eighteenth century. The visual virtuosity of the quilts, often incorporating many thousands of pieces no larger than one-inch square, assumes a deeper emotional r... (read more)
Arthur Szyk: Soldier in Art - New York Historical Society
Through January 21, 2018 - Upper West Side
Ominous threats filled the years around World War II—Nazism, the escalating plight of European Jews, Fascism, Japanese militarism, and racism. Arthur Szyk, the great 20th-century activist in art, confronted the turbulent, hate-filled period with forceful artistic depictions caricaturing Hitler, Mussolini, and Hirohito as the evil architects of their regimes' destructive and inhumane policies. Arthur Szyk: Soldier in Art explores the activism of the Polish-born artist through more than 40 politically incisive works that underscore Szyk's role as a kind of "one man army" fighting odious policies and protagonists and advocating civil and human rights. Arthur Szyk: Soldier in Art is curated by Debra Schmidt Bach, curator of decorative arts, with Irvin Ungar, project adviser. The book, Arthur Szyk: Soldier in Art, is available from the NYHistory Store. Support for Arthur Szyk: Soldier in Art is provided by Shelley and Steven Einhorn, the David Berg Foundation, the Edward and Sandra Meyer Foundation, and Nancy and Morris W. Offit. Exhibitions at New-York Historical are made possible by Dr. Agnes Hsu-Tang and Oscar Tang, the Saunders Trust for American History, and the New York Sta... (read more)
Eddie Martinez Studio Wall - The Drawing Center
Through February 04, 2018 - Soho
Eddie Martinez's drawing practice blends seamlessly with his daily life as the New York-based artist carries pen and paper with him on the subway, to the doctor's office, and to restaurants and lectures, among other work and leisure events. Stylistically evocative of mid-century abstraction, Martinez's drawings bring their own complexity, plugging a rotating cast of characters into raw, vigorously-drawn landscapes: cartoon ducks, oversized eyes, coiled snakes, and anthropomorphic blocks of color are among his itinerant motifs. In his Brooklyn studio, Martinez maintains a "drawing wall," wherein sketches ranging in size, shape, and material serve simultaneously as a source of inspiration and a data bank for the artist's incessant imaginative output. The Drawing Center's forthcoming exhibition Eddie Martinez: Studio Wall, will bring the drawing wall to the museum. The artist will paper the gallery with thousands of sketches that he will change throughout the exhibition's run. In addition, several large drawings and paintings will be hung on top of these sketches allowing viewers to observe the interconnection between all aspects of Martinez's practice.
San Marco Quartet - 5 Manhattan West
Through February 21, 2018 - New York
Video Installation by David Rokeby; San Marco Quartet layers all the actions of people and pigeons on Piazza San Marco in Venice into a pair of evolving images showing two views. The images are lit by movement; things that are not moving are invisible. Walking pigeons leave worm-like traces. Gathered people disappear through their shifting motions. Tour groups flow across the image like a river. The left side combines the activities into a very long exposed image that develops over several minutes. In the projection on the right, the past fades more quickly. The moving images are presented as two video projections mirrored at their point of meeting. They use the same material and with differences in how time is portrayed. They present a record of the temporary social architecture that is shaped by the permanent physical architecture of the piazza. Curated by Pari Nadimi. ABOUT DAVID ROKEBY David Rokeby is an installation artist based in Toronto, Canada. He has been creating and exhibiting since 1982. For the first part of his career he focused on interactive pieces that directly engage the human body, or that involve artificial perception systems. In the last deca... (read more)
Reanimation Library - Pioneer Works
Through August 30, 2018 - Brooklyn
Reanimation Library, an ongoing project by Andrew Beccone, is a collection of 2000+ obscure or out-of-print publications the artist has been collecting over 15 years. Chosen primarily for the images that they contain, this collection of books have been culled from thrift stores, rummage sales, flea markets, municipal dumps, library sales, give-away piles, and used bookstores across the country. Housed at Pioneer Books, Reanimation Library will operate as a public non-circulating collection of books for visitors through August 2018. The library space will include tools to use the collection including a computer, scanner, and copier and host a series of related public events. Join us on Thursday, September 14 at Pioneer Works for the opening reception at Pioneer Works. Learn more. Andrew Beccone, founder of the Reanimation Library, is an artist, librarian, and musician. The library has been exhibited widely at venues around the world including Vox Populi (Philadelphia), SPACE (London), High Desert Test Sites (Joshua Tree), talcual (Mexico City), 98weeks (Beirut), the Museum of Modern Art, the Queens Museum, and Kunsthalle Osnabrück. He was a resident at EFA's SHIFT (2014/15... (read more)
Looking for Free Group Planning Services?
Get free advice on planning your group's trip to New York.
MORE Activity Planner ARTICLES
RESTAURANTS

This classic American steakhouse with a touch of luxury offe...

THEATER

In this new musical, Jenna, supported by her quirky crew of ...

SHOPPING

DataVision is redefining retail with their new, fully intera...

SIGHTSEEING

Spirit Cruises is New York City's most vibrant and entertain...