Escape to Georgia O'Keeffe's Visions of Hawaii at The New York Botanical Garden
June 13, 2018 - by Irvina Lew
The 250-acre New York Botanical Garden, now a National Historic Landmark, was founded in 1881, six years before the birth of Georgia O'Keeffe, whose Hawaiian paintings inspired NYBG's current thematic show: Georgia O'Keeffe: Visions of Hawaii, on view until October 28, 2018.
Georgia O'Keeffe, Hibiscus with Plumeria, 1939, Oil on canvas, 40 x 30 in., Smithsonian American Art Museum, Gift of Sam Rose and Julie Walters, 2004.30.6 © 2018 Georgia O'Keeffe Museum / Artists Rights Society (ARS), New York
Throughout her almost 100-year lifespan, the 20th century American artist best noted for her large-scale flowers, animal skulls, and Southwestern landscapes achieved celebrity status. In addition to her talents, her career was enhanced by her skill at marketing herself as an iconic artist by dressing in her own inimitable costume, creating a modernist image by dressing in black (and comfortably), and often wearing a cape, a wrap dress, layers, and a hat or scarf.
Considered the "mother of American modernism," O'Keeffe was already the country's foremost woman artist in 1939 when she accepted a commercial assignment to travel to Hawaii and produce two print ad images for the Hawaiian Pineapple Company, which became Dole.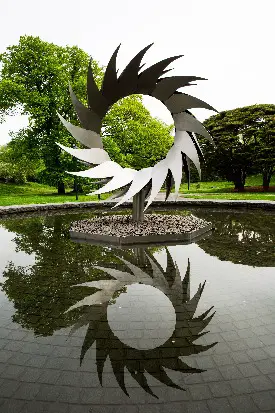 Outdoor installation by contemporary Hawaiian-Chinese sculptor Mark Chai, inspired by the forms of the plants that O'Keeffe encountered while visiting Hawaii.
That collection of paintings is the core of the exhibit, but not the first a visitor sees. The first of the triad of exhibits is the outdoor sculpture, which is on view as visitors walk through the Leon Levy Visitor Center and along Garden Way, where joyful installations by contemporary Hawaiian-Chinese sculptor Mark Chai enhance the vista. The forms are inspired by nature and include plant-shaped lanterns and modern sculptures, all of which are illuminated for evening events.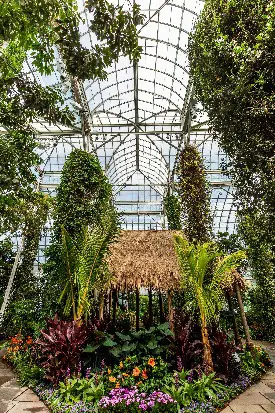 An open-sided, thatched-roof pavilion inspired by a traditional Hawaiian hale.
The art show takes place within the impressive LuEsther Mertz Library and showcases two never-before-exhibited oil sketches plus 17 color-drenched flower and verdant landscape paintings, which are shown together for the first time since 1940, when they were displayed in the New York City gallery owned by O'Keeffe's husband, famed photographer and art dealer Alfred Stieglitz. In addition to paintings, there's a fascinating video and a display about the artist's entire nine-week journey. Letters that she wrote to Stieglitz and photographs that she took clearly illustrate how impressed she was by Hawaii. When she first arrived, she was so busy attending parties in her honor that it took time before she actually got out and about in the pineapple fields and tropical plantations. When she finally discovered the islands' intrinsic beauty, she wrote Stieglitz that Hawaii was a "dreamland…one of those perfect places that nature arranges."
The main event for plant lovers is the amazing botanical display within the one-acre, glass-enclosed Enid A. Haupt Conservatory. Inside, where the warmth and humidity mimics the Hawaiian climate some 2,500 miles away, there are more than 300 tropical plant types, which represent the three major groups of florae in Hawaii—including the exact species that inspired O'Keeffe in 1939. The flowers feature a myriad of ice cream-colored pinks, fuchsia, and oranges. Angel's trumpet, birds of paradise, hibiscus, and orchids are among the most recognizable. Less familiar species include ornamental banana, wild ginger, and heliconia. Plants in more shades of green than a Crayola box can offer are interspersed among the flowers and some are even showcased within the replica of the traditional Hawaiian hale, an open-sided, thatched-roof structure.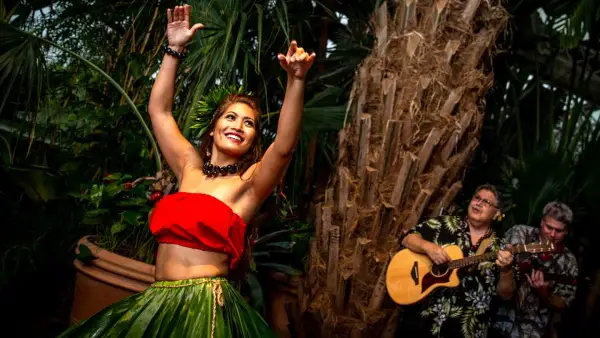 Ukelele background music sets the stage and a poke food truck adds Hawaiian menu specialties to a visit. Throughout the run, NYBG is producing a full complement of authentic cultural events, demonstrations, and Aloha Nights on select weekends, with hula performances, lei-making, and ukulele players.
---
The New York Botanical Garden, just a 20-minute Metro-North ride from Grand Central Terminal, also features a living collection of more than one million plants. 2900 Southern Blvd., The Bronx, 718-817-8700, nybg.org
Looking for Free Group Planning Services?
Get free advice on planning your group's trip to New York.
RESTAURANTS

Vida Verde brings the tastes, colors, sounds, and scents of ...

THEATER

Kander and Ebb's "musical vaudeville" in which Roxie Hart ga...

SHOPPING

DataVision is redefining retail with their new, fully intera...

SIGHTSEEING

The 9/11 Memorial honors the nearly 3,000 people killed in t...