New York is a city made for exploring. There are endless options for visitors to travel within the city: the subway, bus, taxi, and on foot. Take a look through our top ten tips before you hit the streets. New York doesn't have to be intimidating. Once you get the hang of things, you may never want to leave!
1. NYC Transportation Tips: Use Maps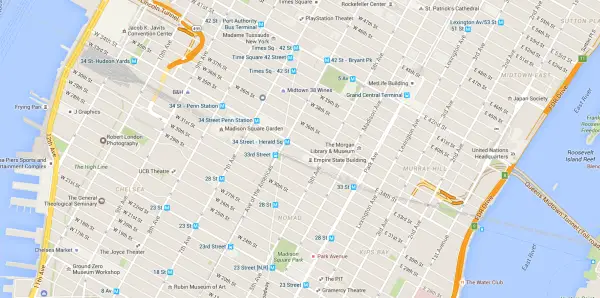 Not sure how to use the subway? Download Google Maps or Citymapper onto your mobile device. These apps will tell you exactly what train to get on, how many stops to take, and where to transfer if necessary. If you're planning ahead on a desktop computer or laptop, use Google Maps for trip directions, mass transit options, and approximate trip times.
Just remember, you'll likely lose Wi-Fi en route between subway stations (though the stations themselves offer free wireless internet). Know your route and your subway stop before you get on the train! If you need additional help, find the handy subway map posted inside the train car and digital screens displaying upcoming stops.


2. NYC Transportation Tips: Take the Staten Island Ferry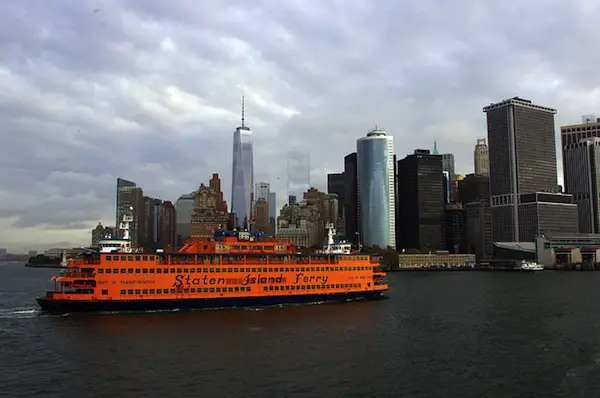 The Staten Island Ferry is 100% free, and it offers amazing views of New York Harbor. Running 24 hours a day between Manhattan and Staten Island, there's really no excuse not to give it a try. Even if you don't have any reason to go to Staten Island, you can just hop on the next ferry back—why not, if it's free?! For the best skyline and Statue of Liberty views, sit on the right side (east) leaving Manhattan and the left side (west) on your return trip.
3. NYC Transportation Tips: Take Taxis with Your Group
Unless everyone in your group has an unlimited MetroCard, taking a cab can be a great option for short distances (from SoHo shopping to the Stonewall Inn, for instance). With one-way subway rides costing $2.75, it may end up being cheaper—and faster!—to split cab fare instead of taking the train a few stops.
4. NYC Transportation Tips: Use the Whole Platform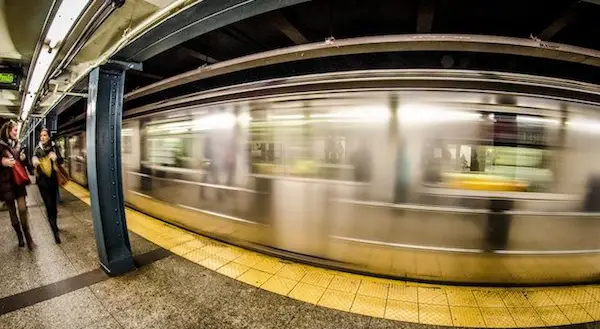 People tend to cluster around the entrances to subway platforms. Escape the crowds by traveling to the front or back-end of the platform, where you'll likely find a less-jammed area. Another tip: M, C, and G lines use shorter trains (the G is the smallest at 4 cars), so don't wait on the front or back ends of the station if you're boarding those trains.
5. NYC Transportation Tips: Know Your Cross-Streets
Most cab drivers know the city pretty well, but even so, it's always good to know your destination's cross-streets in case they don't recognize a specific address or business. Many drivers use their own GPS as well, but there's no guarantee. It's also not a bad idea to have your own GPS system open on your mobile device as backup. Also, when you're on the street, it's much easier to ask a passerby how to get to 5th Avenue and 55th Street rather than rattling off a street address.
6. NYC Transportation Tips: Take the Express
Almost every subway line in NYC has multiple trains running on it—a local and an express. If you're looking to get off at a major stop like Times Square or Canal Street, it's sometimes smarter to wait for an express train instead of hopping on the first local you see. For example, if you're waiting at Columbus Circle, let the local C train go by, and take the A express to Harlem at 125th Street. Also, when you view the subway maps, remember that express stops are marked with white circles and local stops with black circles. The express lines in Manhattan are the A, D, Q, 2, 3, 4, and 5 trains.
7. NYC Transportation Tips: Know Your Taxis, Yellow vs. Green
If you're on a Manhattan street waving your hands frantically at dozens of green cabs, don't take it personally when they whizz right by you. Green cabs are only allowed to pick up customers in the outer boroughs (Brooklyn, Queens, The Bronx, and Staten Island). Simply put: if you're in Manhattan, make sure you're hailing yellow cabs. Once you leave Manhattan, both yellow and green are fair game, no matter your destination.
8. NYC Transportation Tips: Give a Car Service a Shot
A sea of yellow cabs is an iconic image for the streets of New York City, but sometimes it's impossibly hard to catch one. Rainy days, rush hours, and major events all make taxis scarce. Car services like Carmel will respond quickly, and usually don't charge much more than a cab. Uber and Lyft are other popular alternatives. If you're looking for affordable airport transportation, choose Go Airlink, which offers van shuttle service to JFK, LaGuardia, and Newark.
9. NYC Transportation Tips: Buy an Unlimited MetroCard
If you plan to use the subway throughout Pride month, buy an Unlimited card at the subway station. You'll pre-pay for unlimited rides, which could save you a lot of money if you plan to use the subway multiple times a day over an extended trip. 7-Day MetroCards cost $32, while 30-Day cards cost $121. If you plan to sightsee around town on your 5-day trip, go ahead and pay the $32 on the front end. Otherwise, you could rack up $50 on your Pay-Per-Ride card by the end of your time in New York.
10. NYC Transportation Tips: Use Your Feet!
New York City is a city made for walking. Its grid layout makes it easy to get anywhere quickly and without a map. Diverse neighborhoods stand shoulder to shoulder, especially downtown, where in just a few minutes you can pass from NoHo to SoHo to Little Italy to Chinatown to the Financial District to Tribeca. You see so much more when you walk, so if your feet are up for it, skip the public transportation and take a stroll.