The Best of Halloween Shopping in NYC
October 13, 2017 - by Merrill Lee Girardeau
In New York, we do Halloween right, from the Village parade to the Horror Film Festival to the elaborate graveyard decorations on many an uptown brownstone. But to participate, you've got to get your shopping list in order. The city has all kinds of Halloween gear, with several stores that sell costumes and hair-raising decorations all year round. Here's your cheat sheet to some of the best Halloween buys in the city.
Must-Have Halloween Items NYC: Hammacher Schlemmer's 8-Foot Creepy Crawler
We all know the bigger the spider, the scarier the spider. That's why Hammacher Schlemmer has come out with an 8-foot-long inflatable tarantula to decorate your home for Halloween. Its eyes and body glow with LED light, but the best (and freakiest) feature is how the spider moves up and down on a 3-foot cord like a web. Hang one from the eaves of your home, and creep out the whole neighborhood. 147 E. 57th St., 212-421-9001, hammacher.com
Must-Have Halloween Items NYC: Frank Bee Costume Center's Deluxe Marge Simpson
New York doesn't get enough credit as one of the great wig capitals of the world. The proof is in this Marge Simpson wig, tall and blue and simply glorious. As part of this all-in-one-package costume, you'll also have her signature green slip dress and mega-bead necklace in honor of America's favorite animated mom. Frank Bee's has been selling costumes from its Bronx location since 1957 and is a prize in this city that loves to dress up. Call, go online, or drop by so you can embody an astounding variety of licensed characters. 3435 E. Tremont Ave., 718-823-9792, frankbeecostume.com
Must-Have Halloween Items NYC: New York Costumes Halloween Adventure's Bates Motel Sign
Halloween Adventure is the East Village mecca of all things spooky. Get a light-up Bates Motel sign in homage to Hitchcock's horror classic Psycho. Hang it up inside or outside for a classy-yet-creepy Halloween decoration. The store also sells an old-lady wig if you'd like to take your homage to the next level. 104 Fourth Ave., 212-673-4546, store.newyorkcostumes.com
Must-Have Halloween Items NYC: Abracadabra NYC's Green Liquid Body Makeup
If you're looking to dress up like the Hulk, Gamora from Guardians of the Galaxy, or the Wicked Witch of the West, the first item on your shopping list is green body paint. Abracadabra NYC will quite literally have you covered. This water-based body makeup by Mehron will go on smooth and dry quickly so you can suit up in time for the Halloween parade! You'll find a variety of colors as well if you want to mix a specific shade of green. 19 W. 21st St., 212-627-5194, abracadabranyc.com
Must-Have Halloween Items in NYC: Village Party Store's Unicorn Latex Mask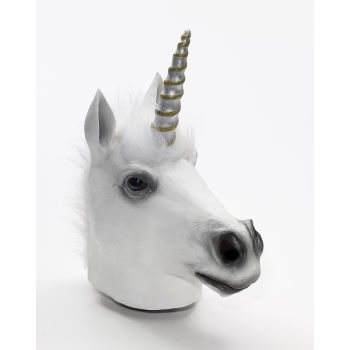 As you shop for costumes, Village Party Store's wall of animal masks might give you the heebie jeebies (why do eye holes make everything creepy?), but the selection is well worth a walk-through. The Greenwich Village store has an incredible menagerie of latex and plastic animal masks. You can be a parrot, a rat, a camel, or basically any character from "Bojack Horseman." But we're partial to the white latex unicorn head. 13 E. 8th St., 212-675-9697, villagepartystore.com
Must-Have Halloween Items in NYC: The Evolution Store's Floral Skull
The Evolution Store embodies the concept of "curiosity shop" to a T. Their taxidermied mice, beaver skulls, anatomical models, and wall of human skulls will rattle your nerves and make you consider dropping some dollars for a cat skeleton in a glass case. But we suggest you go for the Floral Skull, a model of the human skull perfect for a Halloween table centerpiece or a cute companion for the pumpkin on your stoop. A row of them might do nicely with some candles in a windowsill as well! 687 Broadway, 212-343-1114, theevolutionstore.com/floral-skull/
Must-Have Halloween Items in NYC: Party City's Girls Lego Batman Costume
If your daughter loved The Lego Batman Movie, you're in luck. Party City sells a girls Lego Batman costume as cute as it is true to the Lego look. She'll have a mask with a lego face and bat ears, yellow cape, tunic decorated with Bat-gear, and the signature Lego-hand gloves to complete the look. This is the kind of costume she'll love for trick-or-treating, and she'll probably try to wear it to school the next day too. 38 W. 14th St., 212-271-7310, partycity.com
Looking for Free Group Planning Services?
Get free advice on planning your group's trip to New York.
RESTAURANTS

Multi-concept restaurant offering modern Japanese cuisine, a...

THEATER

In a heartbeat, 38 planes with 6,579 passengers were strand...

SHOPPING

An array of quality branded merchandise showcasing HBO's® aw...

SIGHTSEEING

This renovated museum complex includes the 900-foot-long air...