Hippo Ballerina and her friends are coming to New York this February, 2017 to help melt away your February blues!
Hippo Ballerina, a fifteen-foot-tall bronze statue by Danish artist Bjørn Okholm Skaarup, will be installed at Dante Park (64th Street and Broadway) on February 7th, and she'll be sticking around until July 31st. This enormous sculpture will weigh over two and a half tons, and will serve as an artist's interpretation of themes found throughout  ancient myths, art history, contemporary pop culture, and modern day animation. As artist Skarrup himself puts it, "I think a fun way to revitalize themes from art history that have been forgotten lately is through animal allegories, because we are so used to that through animation and fables."
Hippo Ballerina will be joining Manhattan's population thanks to a partnership with NYC Parks' Art in the Parks, a citywide program that fosters the production and installment of over 1,000 temporary artworks in parks throughout the five boroughs.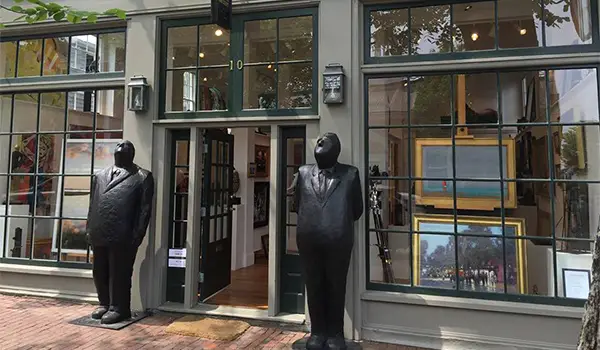 Accompanying Hippo Ballerina in the city in 2017 will be Bronze Creatures Great and Small, Skarrup's first NYC public sculpture installation. Over 12 animal sculptures will be featured at Cavalier Galleries from February 7th to March 17th, including The Majestic Lion (mounted atop a wobbly rocking horse), Dancing Bear (perched atop a Fabergé egg), Rhino Harlequin (dressed in a colorful ensemble), and Cheetah (riding a scooter). Like Hippo Ballerina, many of the sculptures included in Bronze Creatures Great and Small will be coated in bright jewel tones that bring the artwork to life and keep it in line with the grand tradition of ancient Greek and Roman sculpture.
Cavalier Galleries was originally founded in 1986 by Ronald Cavalier Jr., and the Cavalier Renaissance Foundry has worked with many important artists and museums since its inception, including the Museum of Modern Art, the Metropolitan Museum of Art, and the Hirshhorn Museum and Sculpture Garden.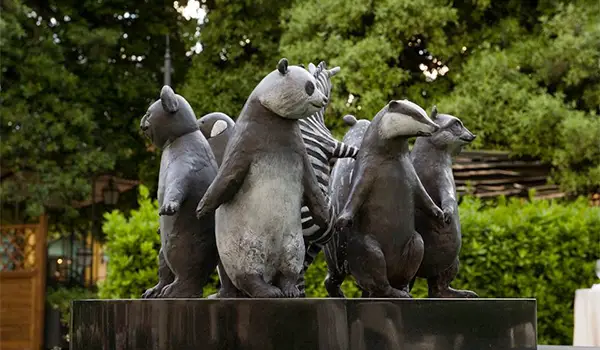 Bjørn Okholm Skaarup was an illustrator at the Danish National Museum (in Copenhagen) before moving to Florence, where he attended the European University Institute and received his PhD. His work is inspired by Renaissance sculptors Donatello, Cellini, and Giambologna. Along with creating his own sculptures, Skaarup has also written and illustrated books on history, anatomy, and archaeology.
Get Involved
If you stop by to greet Hippo Ballerina between February 7th and March 17th, take a photo with her and tag it with the hashtag #Dancewithhippoballerina for a chance to win two tickets to a ballet performance at Lincoln Center. Cavalier Galleries, 3 W. 57th St., 212-570-4696, cavaliergalleries.com