The Brooklyn Historical Society has established a second location in DUMBO to orient visitors to the area's rich history. When you walk around this waterfront Kings County neighborhood, so much of the area looks brand spanking new, from the immaculate Brooklyn Bridge Park to the slick new apartment buildings to the innovative interiors of restaurants like Sugarcane, that it can be heard to grasp just how deep the area's roots go. Learn more about an intriguing heritage at Brooklyn Historical Society DUMBO.
Empire Stores along the waterfront 1936. Photo credit: Brooklyn Historical Society.


BHS DUMBO is located in Empire Stores, a warehouse dating back to the late nineteenth century that has been transformed into a fixture of neighborhood attractions like the furniture store West Elm, as well as several restaurants.
Waterfront, a longstanding new exhibition, will immerse visitors in the area's past, even back to the prehistoric era! This multimedia exhibit features art, artifacts, text, and two digital installations. BHS DUMBO encourages families to come explore this dazzling new experience. Waterfront will show 82 artifacts found beneath Empire Stores during renovations, a series of videos about climate change in the area, and goods historically produced throughout the waterfront's history. A wall of magnetized shapes will also give you the chance to form your own coastline communities on a large scale.
Historical characters will get their due at the exhibition. The section entitled "A Laboring Family" will invite you to consider the life of an actual dock worker, Michael Harkins, at the historical Empire Stores. Stories of Brooklyn slaves come to light in "An Unfree Waterfront." Female factory workers are featured as well, with a dress-up element for kids.
Move through time at lightning speed with "At Water's Edge," an immersive media experience that takes you all the way back to the Brooklyn waterfront 20,000 years ago. Through a quick series of images focusing on ten key moments of the region's ecological history, you'll zoom through thousands of years in only eight minutes!
"History in Motion" may be even wilder. With the help of Kinect technology, you can see yourself in ten different paintings and photos from history. You can talk to the subjects of the pieces, dance, make faces—whatever your heart desires. At the end, you'll get a minute-long movie of yourself playing around in those historical artifacts.
Visit Waterfront and the museum gift shop today, and check back for upcoming exhibitions at this Brooklyn attraction.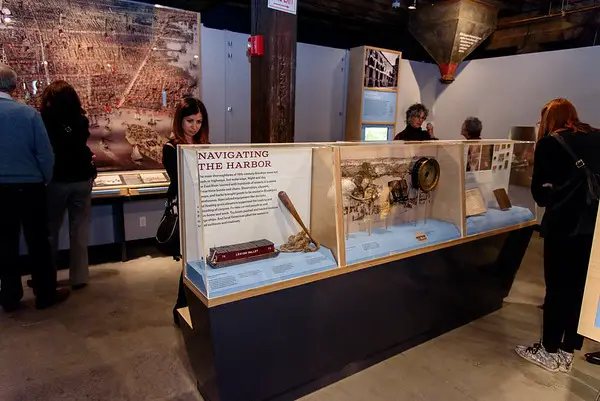 Waterfront at BHS DUMBO is located at 55 Water Street (you can also enter through Brooklyn Bridge Park). Visit Tuesday through Thursday, 11am-6pm; Friday and Saturday, 11am-8pm; or Sunday 11am-6pm. BHS asks for $10 donation per adult and $6 per senior or teacher. BHS DUMBO is free for children under 12, members, and students.
---
Call 718-222-4111 or visit brooklynhistory.org for more information.