The 2015 Grand Central Terminal Holiday Fair opens on Nov. 16, offering six weeks of grand shopping. A perennial destination, you'll marvel at the goods from the fair's 70+ artists. Expect to find art, clothing, jewelry, home goods, table top items, bath and body products, toys, novelties, and stocking stuffers—not to mention many more items this year for the man of the house or the man in your life. In operation since 1993 (staged in Grand Central's Vanderbilt Hall), the Holiday Fair is the longest-running indoor holiday market in the Big Apple.
The Holiday Fair will run from November 16th through December 24th; it's open Monday through Saturday, 10am to 8pm and Sundays 11am to 7pm. The fair is closed on Thanksgiving Day, and shuts down at 6pm on Christmas Eve. Prices range from a few dollars for trinkets and stocking stuffers to thousands for precious jewelry.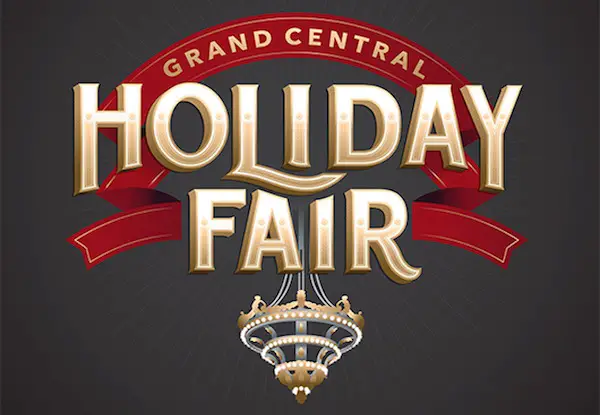 This year's vendor highlights include:
*Adults and kids alike will delight in the gifts created by David Levy, founder of Hardwood. Levy makes kitchenware, desk accessories, game boards and game tables using laminations of hardwoods with contrasting colors and grains to produce artistic patterns.
*General Knot & Co. promotes the talents of American craftsmen by selling limited-edition neckwear and accessories using rare and vintage fabrics collected from around the world. Each collection of General Knot & Co. designs are made in very limited quantities, never to be repeated.
*New to the Fair, MarieBelle Chocolates offers tantalizing sweets, from its signature artisanal ganache to truffles and bars. They're also famous for their Aztec Hot Chocolate. Sourced exclusively from Maribel Lieberman's native Honduran farms, the cacao beans are dried, roasted, and pressed in Brooklyn.
*The Fort Greene General Store sells everything from children's apparel and toys to home goods, bath and body products, and accessories for men and women. All products are handmade in the USA and fit the "retro general store" aesthetic.
*Ilse Eriksson is the designer behind apparel line Mel en Stel. She's drawn towards understated beauty and a utilitarian attitude. One will often notice both feminine and masculine lines in her apparel, which is produced by Eriksson in Brooklyn.
*Nancy Zylstra is known for her Swanky Belts, the beautifully handmade buckles dubbed "jewelry for the waist." Worn by "Good Morning America" celebrities, including Lara Spencer and Robin Roberts, these belts are all handmade in the USA using only the finest imported leathers and semiprecious stones. Nancy Zylstra also offers a new line of Italian leather bracelets, sandals, handbags, and belts.
*Thompson & Bleecker's line of bath and body and fragrance products are all handmade and include bubble bath, candles, and sugar scrubs.
The terminal is located at 89 East 42nd Street, with access from 42nd Street as well as from Lexington and Vanderbilt Avenues. For more information, visit grandcentralterminal.com. For other New York holiday markets, click here.