It's the time of year when New York City's department stores put on a show to rival the ones on Broadway—with holiday-themed windows full of fanciful displays, larger-than-life sculptures, fantasically bedecked mannequins, and even live humans. Some cleverly work in a little merchandise into the exhibit, others are pure festive spectacle (though if they happened to entice you through the revolving doors and into the interior, well…). Here's a 2015 holiday walking tour that hits eight of the best store windows in town (not that you have to do them all in one gulp, or in this order). As it gets later into the month, be prepared for increasing crowds clustered around, ooohing and ahhing and snapping selfies. Best times for less-impeded viewing are in the mid-morning (once the office workers are ensconced in their cubicles, but before they break for lunch) and mid-afternoon. You might also try touring at night: most windows stay lit until at least 11pm, and there's often the added bonus of neon displays on the exteriors of the buildings themselves, an increasing trend as the stores vie to outdo each other. What follows are our picks for the best of the holiday windows in NYC 2015.
Start out at Macy's. For Christmas 2015, the behemoth department store (which claims to have invented the whole holiday window concept back in the 1870s) is commemorating the 50th anniversary of A Charlie Brown Christmas. Six scenes from the now-classic cartoon are recreated, with the Peanuts gang rendered in huge-headed mannequin form, and key bits of dialogue written on the windows. There are a couple of interactive surprises too. Merry Christmas, Charlie Brown!


Walk over to Fifth Ave. and up four blocks to Lord & Taylor. Macy's claims notwithstanding, many New Yorkers see this retailer as the originator in non-commercial, animated holiday displays (it's been unveiling 'em since 1937). Traditionally cute and cozy, the 2015 windows have a particularly sweet, homey theme (perhaps reflecting Lord & Taylor's partnership with Habitat for Humanity). Look for candy stores, bakeries with bobbing cupcakes, and gingerbread men hoisting a gingerbread house, a mansion whose windows Advent-calendar-like open to reveal a picture within.
Head north on Fifth Ave. up to 49th St. to drink in Saks Fifth Avenue's winter wonderland—a kind of high-fashion Ice Age. Six windows visit various miniaturized wonders of the world, clad in ice and snow—an "ice-cold Coliseum," a "frosty Taj Mahal," a "sub-zero Sphinx," etc.—each presided over by a thematically garbed mannequin. Several others show ladies in (purchasable) gowns presiding over white-on-white feasts in a winter palace. Be sure to cross the street for the real spectacle, after dusk, when the illuminated blue, purple, and white palace on the building façade puts on a light show.
Stay on this side of Fifth Ave, and walk north five blocks. Pause at the windows of Henri Bendel, which are on the more conventional side, filled with merchandise, but not without clever touches—see if you can spot all the miniature mice sprinkled among the accessories. Then walk two blocks more up to Bergdorf Goodman for displays bursting with bling. Mannequins in glittery gowns and jewelry (yes, for sale within) float within sparkling fantasy settings created out of millions of Swarovski crystals: an aqumarine underwater world (complete with glittery sea creatures), a purple mine, a red-hot disco.
Cross 57th St.—don't forget to notice at the huge neon snowflake suspended above the intersection—and browse Tiffany & Co.'s windows. If you like miniatures, you'll love these dollhouse scenes of a Downton Abbey-like estate and surrounding woods, with tiny versions of the store's famed robin's egg-blue boxes and life-size (they're real) pieces of jewelry scattered throughout. This is another store to catch after dark, when the illuminated façade comes alive; the four images suggest an elaborate pendant featuring the 128-carat Tiffany yellow diamond, surrounded by a spray of white gems.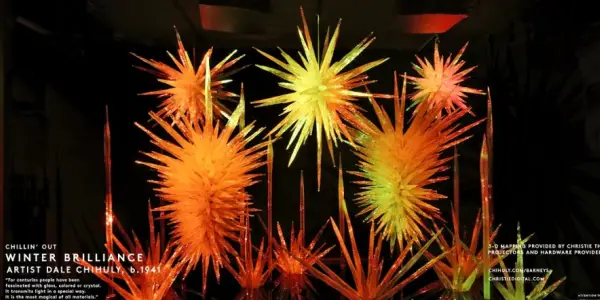 Photographed by Tom Sibley
Walk east to Madison Ave. and north four blocks to Barneys. Known for its avant-garde displays, the fashion-forward store is embracing the art of "Chillin' Out" with ice themes of various types. You can watch ice carvers at work (after 12pm) in one; a slowly growing, color-infused icicle castle in another; crystal-encrusted Lexus cars with penguins racing around a miniature track in a third; and giant glass stars, fashioned by sculptor Dale Chihuly, pulsating with colors and lights in time to music, in yet another.
Continue walking east to Lexington Ave., and head south one block to Bloomingdale's. Each of these five windows combine flowers and faceted mirror sculptures on a theme of the five senses: "scent" is a gold, tree-shaped perfume box that opens to reveal another, icicle-draped tree, while a piney aroma wafts through the air as you stand before the window; "touch" depicts two snowmen holding hands and snapping a pic with their iPhone (touch the screen on the window and you can take a selfie too, which gets put up on the window). Meanwhile, in a couple of corner windows, mannequins huddle in an igloo and under a tree filled with presents from Guess Where.