Holidays and Specials in New York City This Week - January 7-January 14
January 7, 2018 - by CG Directory Editor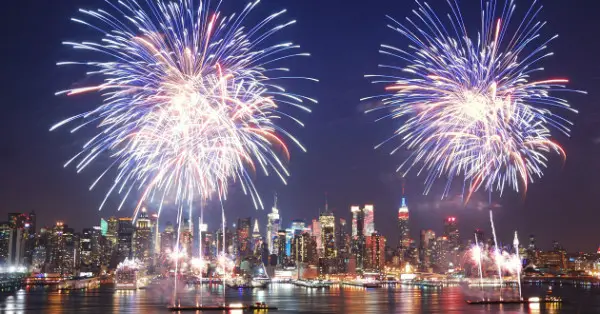 Holiday events and specials join parades and celebrations in City Guide's New York specials activity planner. From the Macy's Thanksgiving Day Parade to New Year's Eve to Christmas, Easter, Valentine's, and St. Patrick's Day, you'll find the best in New York holidays on City Guide's calendar listings. You'll also find amazing street fairs, festivals, and more.


Going Beyond the Dream: Three Epistles on Race in America - St. Paul's Chapel
January 07, 2018 - New York
A free speaker series in honor of Dr. Martin Luther King's birthday from Trinity Church Wall Street, "Going Beyond the Dream: Three Epistles on Race in America," on Sunday, January 7, 14, and 21 at 10 AM, will explore contemporary black/white relationships using writings that, while perhaps lesser known than King's famous March on Washington oratory, resonate powerfully today. Errol Louis, journalist and host of NY1's Inside City Hall, begins the series with a reading from Dr. King's Letter from Birmingham Jail (January 7). Fred Moten, poet and NYU professor, speaks the following week on James Baldwin's A Letter from a Region in My Mind (January 14). Finally, The Reverend Phillip A. Jackson, vicar of Trinity Church Wall Street, discusses Thomas Merton's Letters to a White Liberal (January 21).
Operation Finale: The Capture of Eichmann and Bringing Nazis to Justice - 92nd Street Y
January 07, 2018 - Upper East Side
Fever Tree At Chase Pay Village At The Oculus - The Oculus
Through January 07, 2018 - New York
This holiday season Fever-Tree, an all-natural cocktail mixer that has received widespread acclaim from drinks critics, bartenders and gastronomes worldwide, joins the Chase Pay Village at Westfield World Trade Center in New York City from November 24 – January 7. At our booth you can sample any one of six products sold in the U.S., get to know Fever-Tree and why our principle is that "if 3/4 of your drink is the mixer, mix with the best," learn about our history and our ingredient sourcing story with a live, interactive ingredient wall. You can also purchase our new cocktail book, The Art of Mixing, which hit shelves this month just in time for the holidays! Our book has more than 125+ cocktail recipes from the bartenders and mixologists around the world and is available for purchase onsite for $20. To find out more about Fever Tree, go to www.fever-tree.com and to learn about the Chase Pay Village hours and activities, go to www.ChasePayVillage.com.
Enchanted: Forest of Light - Patina Restaurant Group
Through January 07, 2018 - New York
As the days get darker, Descanso Gardens transforms its grounds into an enchanted forest with whimsical lighting displays and interactive exhibitions. Visitors will stroll along a one-mile walk through the Gardens to experience the most beloved collections of Descanso illuminated in glorious color. Some of these displays will be interactive, allowing visitors to manipulate the lights and sounds.
Bank of America Winter Village at Bryant Park Hosts Late-Night Dance Party with Johnny Weir - Bank of America Winter Village at Bryant Park
January 11, 2018 - New York
On Thursday, January 11th Bank of America Winter Village at Bryant Park invites you to join us for a late-night dance party with two-time Olympian, Johnny Weir! From 7pm on, guests will have a chance to take photos with Johnny, get their face painted and dance along to a live DJ set. Throughout the special night, there will also be giveaways and skate rentals on the city's only free-admission skating rink. Skate rentals are $20 per pair, and will be offered at a buy-one-get-one deal for college students with a valid student ID the night of the party. All are welcome to join in on the fun and keep the holiday celebrations going into the new year!
The Big Debate in a Wife: To Be Adored, or to Appreciate the World? - Aesthetic Realism Foundation
January 13, 2018 - New York
The Understanding Marriage! class is taught by the teaching trio There Are Wives—Barbara Allen, Anne Fielding, and Meryl Nietsch-Cooperman—authorities on marriage. There will be a lively discussion of the following sentences from Mind and Appreciation, a lecture by Eli Siegel, founder of Aesthetic Realism: "To appreciate something means to like it by seeing it as it is. In all true appreciation there must be knowledge. . . . It is very easy not to appreciate something. What people don't see is that in the process of being unfair to the thing that could be appreciated, they are also unfair to themselves. To appreciate rightly is success in life. The purpose of life is to like the world, and that is another way of saying to appreciate the world." Women at this event will be newly educated! They'll learn that what a woman really wants is for herself and her husband to increase appreciation in both of them for the world and for other people. That's what makes for real—and romantic—success. The immediate, practical meaning of this will come alive for each woman, to the great benefit of her life and marriage!
Celebrate Russian New Year 2018 at New York's Legendary Restaurant Russian Samovar - Russian Samovar
Through January 14, 2018 - New York
Celebrate this Russian New Year at renowned restaurant Russian Samovar, which will be serv-ing a special 3-course dinner including drinks for $175 per person (not including tax and gratuity) on Saturday, January 13, 2018 from 9:00pm. The restaurant will remain open until 4:00am and the evening will feature special live performers including Gypsy Fun Trio, classic Russian music and a DJ. The special menu for the evening will feature Cold Appetizers such as Russian Salad Trio, As-sorted Smoked Fish Platter, Charcuterie Platter, Assorted pickled Vegetables, Avocado, Mango and Shrimp Salad and Duck Arugula Salad. Hot Appetizers include Blini with Salmon Caviar, Foie Gras and Seafood in Pasta. The delectable Entrees that diners can select from include Braised Short Ribs with Mashed Potato, Roasted Duck with Baked Apple and Salmon Trio. End the din-ner on a sweet note with either the Kartoshka (potato pastry) or the Medovik (layered honey cake). Featured drinks include the Russian Samovar's own house-infused Flavored Vodkas, a selection of House Drinks, Wine, Beer and a Champagne Toast. For more information, visit www.russiansamovar.com
"Plus Pop-up" at The Gregory Hotel - The Gregory Hotel
Through January 15, 2018 - New York
Open from December 1st to January 15th in the heart of Manhattan's garment district, this plus-size specific pop-up is the first of its kind. Providing an amazing shopping experience for an under-served demographic, leather jacket designer Jeff Cafone has curated this shopping experience with the best plus sized designers and retailers in NYC: All 67, See Rose Go, Plus BKLYN and Impish Lee. Come, shop, and enjoy! Times: (Monday-Friday 12pm-8pm, Saturday 11am-8pm, Sunday 11am-7pm)
Winter Wonderland: George Balanchine's The Nutcracker® - Lincoln Center
Through January 27, 2018 - Bronx
It is so much a part of the holidays in New York, that it is now hard to imagine a time when George Balanchine's The Nutcracker® did not call for an annual pilgrimage to the ballet. When the ballet debuted in 1954 however, it was not an immediate success. But when a televised and narrated version in 1958 brought the magical world into people's homes all across America, a classic was born. In 1964 the ballet saw some choreographic changes, and brand new costumes and sets were commissioned from the artists Barbara Karinska and Rouben Ter-Arutunian. The modifications brought iced perfection to an already sweet work, and The Nutcracker® has remained untouched since this time, allowing multiple generations to bond over a shared experience year after year with the New York City Ballet. The exhibition Winter Wonderland: George Balanchine's The Nutcracker® charts the early years of the ballet's life from its premiere in February 1954 to the success of the remounted production in 1964. Through treasures from the archives of the Jerome Robbins Dance Division, including photographs, set models, costume designs, and original film footage, the story of the work emerges, as do the thematic qu... (read more)
16th Annual Holiday Train Show - Vanderbilt Hall - Grand Central Terminal
Through February 04, 2018 - New York
The holiday season is a time of joy for kids of all ages and nothing says holiday enchantment quite like dazzled little faces watching in wonderment as model trains zip through tunnels, by subway stops, around familiar skyscrapers and through iconic cityscapes. To the delight of kids and railroad enthusiasts alike, the New York Transit Museum will continue its tradition of capturing hearts and imaginations at the 16th Annual Holiday Train Show at Grand Central Terminal starting in November and running through the New Year. The theme of the holiday train show changes every year and the event is free and open to the public. For more information, please visit http://nytransitmuseum.org.
2018 NYE at Marquee NYC - Marquee
Through December 31, 2018 - New York
Ring in the New Year with Marquee, providing you sounds by Sunnery James & Ryan Merciano. Your general admission tickets include 4 hour premium open bar 8:30pm - 12:30am, hors d'oeuvres, and festive attire required. Guests must bring the credit card with which the ticket was purchased as well as valid photo ID. Must be 21+ years to attend.
Looking for Free Group Planning Services?
Get free advice on planning your group's trip to New York.
MORE Activity Planner ARTICLES
RESTAURANTS

Beloved midtown spot takes inspiration from local tradition,...

THEATER

Gaston Leroux's famous period thriller is now one of Broadwa...

SHOPPING

A premier destination for family entertainment....

SIGHTSEEING

The 9/11 Memorial honors the nearly 3,000 people killed in t...