Holidays and Specials in New York City This Week - July 8-July 15
July 8, 2018 - by CG Directory Editor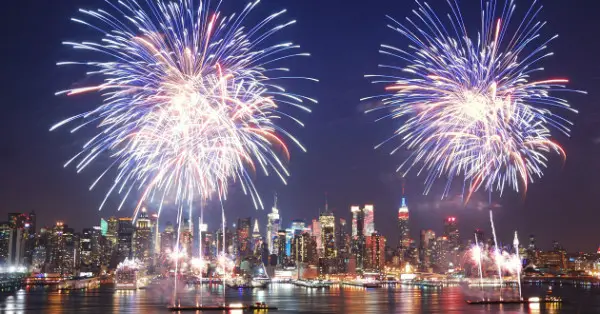 Holiday events and specials join parades and celebrations in City Guide's New York specials activity planner. From the Macy's Thanksgiving Day Parade to New Year's Eve to Christmas, Easter, Valentine's, and St. Patrick's Day, you'll find the best in New York holidays on City Guide's calendar listings. You'll also find amazing street fairs, festivals, and more.


Nyack Famous Street Fair, July 8, Nyack, NY - Downtown Main St. & Broadway
July 08, 2018 - Nyack
This long running fair is held in picturesque Nyack, located on the Hudson River. Three hundred exhibitors with arts, crafts, retail and commercial booths will be lining downtown Main Street and Broadway with a great variety of items. All types of festival foods will be available as well as Nyack's outdoor cafes with many offering fair specials. Music will be provided by Ritchie G in the Main Street gazebo. There is a large "Kidz Zone" provided by C & C Amusements located in the Main Street parking lot. The fair is held rain or shine from 10 to 5. For more information on the fair please go to www.pjspromotions.com or call 201-666-1340. Facebook: https://www.facebook.com/pjspromotions
Red, White and the Deep Blue Sea: Come Celebrate 4th of July at National Geographic Encounter in Times Square - National Geographic Encounter
Through July 08, 2018 - New York
Looking for something fun and new to do on the Fourth of July? Come beat the sweltering summer heat and the beach crowds by diving into an ocean in the middle of Times Square! In celebration of the Fourth of July, National Geographic Encounter: Ocean Odyssey is offering a special ticket deal. From Monday, July 2nd through Thursday, July 5th, ocean enthusiasts can get 2-for-1 tickets with the code SEASAVE. Also if you can't make it to the beach during the holiday week, join Encounter for "Sip n' Sea," a fun beach-themed Wine Night. From 4 p.m. to 9 p.m. Monday, Jul 2nd to Friday July 8th your ticket to Encounter will include a glass of wine or non-alcoholic beverage. National Geographic Encounter will take visitors on an immersive adventure across the ocean from the South Pacific to the coast of California, all without getting wet. SPE Partners, creators of Encounter, has engaged a world-class global team of Academy, GRAMMY, and Emmy Award-winning artists to produce this never-before-seen experience that is changing the landscape of entertainment and cinema. Manhattan's best beach is awaiting right in the heart of Times Square!
Independence Week at Elements Fitness Studio - Elements Fitness Studio
Through July 08, 2018 - East Hampton
Elements Fitness Studio will host an incredible series of events this Independence Week! Trunk Shows, Giveaways, Puppies and a Workout! Kendra Scott Pop-Up Shop: June 29 - July 6, Jewelry trunk show. Giveaway at the end of the week. Bringing 15% off coupons and special edition shirts Hamptons Surf Co. Pop-Up Shop: June 29 - July 8, Hamptons Surf Co. is selling surf boards and merchandise in the studio. On July 7 Barre, Bark & Boards, ARF will be bringing puppies to the studio that can be adopted. 10% of all sales from Hamptons Surf Co. and Elements will go to the ARF foundation on July 7, from 11am to 2:30pm Elements Fitness Studio 68 Newtown Lane, Suite 6, East Hampton, NY 11937
106.7 LITE FM's Broadway in Bryant Park - Bryant Park
July 12, 2018 - New York
106.7 LITE FM's Broadway in Bryant Park returns for its 18th season beginning Thursday, July 12th, with FREE, open-air lunch hour performances, for six consecutive weeks, featuring the best Broadway and Off-Broadway shows. Theater fans in the NYC area can expect musical numbers from hit shows including "The Band's Visit," winner of the 2018 Tony Awards' best musical and best performances by an actor and actress in a lead role in a musical, "Once on this Island," winner of the 2018 Tony Awards' best revival of a musical and "SpongeBob SquarePants," winner of the 2018 Tony Awards' best scenic design of a musical, as well as "Waitress" starring Katharine McPhee, "Beautiful" starring Melissa Benoist, "Come From Away," "Summer: The Donna Summer Musical," "Chicago," "Kinky Boots," "School of Rock," "FRIENDS! The Musical Parody," and many more. New this year, Disney on Broadway will take over 106.7 LITE FM's Broadway in Bryant Park on August 2nd with performances from the hit shows "Aladdin," "Frozen," and "The Lion King." The lineup for July 12th includes numbers from "Chicago", "Spongebob SquarePants", "Stomp", and "Waitress." The event will be hosted by 106.7 LITE FM's Host He... (read more)
Go Africa Harlem 2018 Street Festival - Go Africa Network Inc
July 14, 2018 - New York
Positively 8th Street Festival - Village Alliance Inc.
July 14, 2018 - New York
Positively 8th Street Festival is a FREE family friendly celebration of the rich cultural history, businesses and institutions of 8th Street and features live music, food, pop-up parks, arts, and family fun. Kick back and relax on two massive real grass pop-up parks, while listening to live music from Village favorites including Richard Barone & Friends, Coyote & Crow, The Angry Kickin' Feet, The Bailsmen and many more! Watch the colorful sights and sounds of the Village pass by while dining outside as Eighth Street restaurants throw open their doors. Enjoy over a dozen Eighth Street takeout options at the seating areas dotted along the block. Then, visit the many Eighth Street lifestyle retailers and check out special Positively 8th Street in-store activities and offers. For the creative minds of all ages there will be arts and crafts workshops, create collages, learn life drawing with the New York Studio School of Drawing, Painting and Sculpture, build model cities, and even create your very own Washington Square Arch mobile with Scribble Art Workshop! If you would rather be on the receiving end of creativity, there will be face painting and caricature drawing. Once fini... (read more)
Catskills Irish Arts Week - Irish Cultural Center
Through July 14, 2018 - East Durham
Artistic Director, Reidin O'Flynn has put together another Fantastic lineup for Catskills Irish Arts Week 2018. A week long celebration for all ages with workshops in music, song, dance, language and crafts amidst a genuine Irish village – East Durham, NY. Over 100 events by 60+ world class performers. 40+ Workshops for All Ages, Nightly Concerts, Sessions, Listening Rooms and Ceilis. Don't miss our TRAD FEST FINALE – Saturday, July 14th. An Exciting all day world class feast of Traditional Irish Music, Song, Dance, Poetry, Food and Vendors!
Nicholas K Sample Sale - Nicholas K Studio
Through July 31, 2018 - New York
Up to 80% off apparel and accessories. Shop runway samples and overstocks items including outerwear, leather jackets, dresses, pants, tops, shoes and more. Cash and credit card accepted. All sales final.
Lowercase Summer Popup - Wythe Hotel
Through July 31, 2018 - Brooklyn
We are an independent eyewear brand born and bred in NYC. With every single model designed and manufactured at our workshop in Brooklyn Army Terminal, each frame embodies its own particular story. Inspired by music, location, history and events of the city, you truly are wearing a piece of the city. The details of the frames are purposeful and play to each theme. From bold lines to underlying detail, the designs are unique and allow artistic expression for each individual. Please come and check out our summer pop up at the gorgeous space in Wyeth Hotel. We'll have our full collection available including our newly released collaboration with NU SWIM. Browse the full collection on www.lowercasenyc.com.
Epic New York Beer Tour - Bars, Taprooms, Breweries - Empire State Building
Through December 22, 2018 - New York
The Beer Adventures app offers 150+ highly curated tours in 75 cities around the globe. Currently in 25 US cities, we take you to all of the best bars, taprooms and breweries in town giving you a day out to remember on your own terms. For this 'Epic New York Beer Tour' we invite you to join us in NYC as we hit up to 10 venues across Manhattan and Brooklyn in one day. This is one of our favourite Beer Adventures and it's done best by a combination of walking, subway and whatever else mode of transport is for you! Starting by the Empire State Building you'll pass loads of famous landmarks, go over and under the East River, hit both villages (Greenwich and East) and of course visit all the very best beer bars NYC has to offer. Come thirsty, hungry and ready to make a day of it! HOW IT WORKS: Search for 'Beer Adventures' in the Apple appstore or Google Play and download for free. You can then select the city and tours you want in-app. The Beer Adventures app acts as a magical mystery tour directing beer fans around a city at the touch of a few buttons. Available on iOS and Android, we offer highly curated, built in itineraries in most major cities. STARTING O... (read more)
Looking for Free Group Planning Services?
Get free advice on planning your group's trip to New York.
MORE Activity Planner ARTICLES
RESTAURANTS

Beer hall casual meets craft cocktails with a healthy dose o...

THEATER

Kander and Ebb's "musical vaudeville" in which Roxie Hart ga...

SHOPPING

An array of quality branded merchandise showcasing HBO's® aw...

SIGHTSEEING

Hop aboard these environmentally friendly twin-hulled catama...