Holidays and Specials in New York City This Week - March 17-March 24
March 17, 2019 - by CG Directory Editor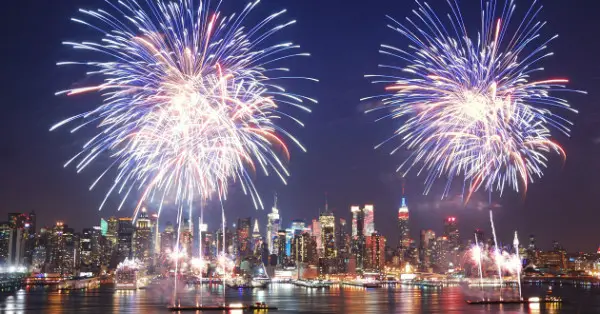 Holiday events and specials join parades and celebrations in City Guide's New York specials activity planner. From the Macy's Thanksgiving Day Parade to New Year's Eve to Christmas, Easter, Valentine's, and St. Patrick's Day, you'll find the best in New York holidays on City Guide's calendar listings. You'll also find amazing street fairs, festivals, and more.


Historic Documents, Maps, Manuscripts on Display/For Sale at Greenwich Ephemera Fair March 16 & 17 - Hyatt Regency Hotel
March 17, 2019 - Old Greenwich
America's Largest Ephemera Fair will be Held in Greenwich, Connecticut March 16 – 17. From under $10 to over $1 million, more than 80 Exhibitors to offer 10,000 items Also on site, very special exhibit valued at over $8 million: National Emergencies and Historic Documents that Shaped America Public invited to view original documents including highlights from the unique Alexander Hamilton Collection, George Washington's clarion call to give "to Bigotry no Sanction," Lincoln's Emancipation Proclamation, and more. (GREENWICH/February 25, 2019) –Ephemera/39 (www.ephemerafair.com) sponsored by The Ephemera Society of America, will provide a rare close look at original historic documents that are at the core of much of today's heated debates. 'Ephemera' refers to paper items such as posters, broadsides, letters, maps, magazines, photographs and other items that were meant to be used. Though not created to be preserved, many types of ephemera have since become collectible. Exhibitors from 12 states will showcase approximately 10,000 items covering hundreds of years of human history from every part of the globe. Ephemera/39 will be held at the Hyatt Regency Hotel at 1800 ... (read more)
Unity of New York Sunday Service - Symphony Space
March 17, 2019 - Manhattan
Unity of New York is a joyful, diverse, and welcoming spiritual community that honors all paths to God. Their mission is to serve the NYC community through spiritual teaching, music, prayer and outreach. They come together at their weekly Sunday Celebration Services (11am, right here at Symphony Space) to discover the power within all to unleash divine potential, know Oneness with God and each other. Unity affirms the power of prayer and the power of thoughts to create our own reality, helping people experience a stronger connection with God every day. Come for the Music... Stay for the message!
MelimeL Digital Art Design and The sisSTAR Loop present A Day of Women Empowerment - Town Stages
March 17, 2019 - New York
MelimeL Digital Art Design and The sisSTAR Loop present A Day of Women Empowerment at Town Stages, 221 West Broadway, NYC Sunday, March 17, 2019, from 9:30am-3:30pm Creative design company MelimeL Digital Art Design and the women-owned business and professionals' platform The sisSTAR Loop host the Women Empowerment sisSTAR Summit followed by the seventh annual Women Empowerment Event at Town Stages, 221 West Broadway, NYC on Sunday, March 17, 2019 from 9:30am-3:30pm.Tickets start at $35 and can be purchased at www.mldigitalart.com/we-event.html. This year MelimeL Digital Art Design is producing two back-to-back events at Town Stages for an empowered filled day, starting with the first ever Women Empowerment sisSTAR Summit featuring women across various industries and professions uniting to discuss and tackle some of the most pressing issues affecting women today to further empower our personal and professional lives, while paving a new way forward for generations to come. The Women Empowerment sisSTAR Summit is an extended platform of the Annual Women Empowerment Event featuring keynote conversations, panels, workshops, performances, opportunities to network with other wo... (read more)
WOW - Women of the World Festival 2019 - Apollo Theater
Through March 17, 2019 - New York
The Apollo Theater will host the third annual WOW – Women of the World Festival. Presented over four days in various spaces at the iconic cultural theater, the WOW Festival runs from March 12-17 and will feature workshops, activities, programming, and performances with artists, community leaders, writers, thinkers, activists, and leaders exploring a variety of issues across cultural, civic, and social boundaries with a focus on empowerment and activism. WOW Apollo will feature more than a dozen events, many of the events free or low cost.
Southampton Inn's St. Patrick's Getaway - Southampton Inn
Through March 17, 2019 - Southampton
Start the fun with a Saturday night stay on March 16, and enjoy an elegant, overnight room for *$160. Price includes brunch and late checkout or breakfast at Claude's Restaurant on March 17. Our brunch menu will include traditional Irish dishes as well as our familiar favorites. Bill Smith will perform Irish tunes. For the latest packages, deals and rates, please call 631-283-6500, or visit southamptoninn.com. We look forward to welcoming you at the Southampton Inn!
Online Open House: Mathematics Programs - Bank Street College of Education
March 19, 2019 - Morningside Heights
This online open house is for our three mathematics programs in Adolescent Mathematics, Teacher Leader in Mathematics, and Leadership in Mathematics. Join us to find out more information about admissions, financial aid, the curriculum, and supervised fieldwork! The Adolescent Mathematics Education program is for student teachers and working teachers who want to create classrooms in which students are expected to gain a conceptual understanding of mathematics and be eligible for a New York state certification in Mathematics, 7-12. The Teacher Leader in Mathematics program prepares elementary school teachers to lead math development in schools. Applicants must already have a valid initial teaching certification to apply. The Leadership in Mathematics Education program is one of the few programs in the nation that grounds preparation for school leadership in a strong mathematics education program. At the end of the program, you'll be eligible for a New York state School Building Leader license.
ROB PEETOOM First Day of Spring FREE Beauty Event - Rob Peetoom Salon
March 20, 2019 - Williamsburg, Brooklyn
Join us at Rob Peetoom, Williamsburg's acclaimed international luxury beauty destination direct from Holland and Bali for a celebration of the first day of spring! We are giving away COMPLIMENTARY services and have partnered with Fleur Noire Tattoo Studio for FREE permanent bepoke designs. Complimentary beauty services include haircuts, blowouts and express facials! We've teamed up with some of our favorite businesses from around the neighborhood to bring you even more goodies in our epic SWAG BAGS! Partners include - Davines - Take home travel size versions of their gorgeous products with a focus on sustainable beauty Biologique Recherche - The cult favorite skincare line - Grab your premium swag bags and get your glow on! Rituals... Offering mini-hand treatments and product giveaways Paintbucket - Nail technicians on-site for first-come, first-serve manicures featuring nail art designs Lululemon - Workout/yoga pants giveaway! Celsious - Complimentary Wash/Dry Cards for Williamsburg's coolest laundry spot! Lucy's Flowers - Gorgeous mini floral arrangements presented and available to take-home Bushwick Tea - Sip in style in our bar/lounge area and takeaway some truly u... (read more)
Death Becomes Us - True Crime Festival - Festival Passes - Gramercy Theatre
March 20, 2019 - New York
Death Becomes Us is a true crime pop culture festival curated by Brightest Young Things. It will take place at Gramercy Theater and Town Hall in New York City from Wednesday, March 20th through Sunday, March 24th, 2019. This *very* limited quantity pass gives you guaranteed entry to all shows for only $126.50 + fees! Festival pass holders will enjoy reserved seating and front of line access at Gramercy Theater and Town Hall!
Bank Street Camp Tour - Bank Street College of Education
March 21, 2019 - Morningside Heights
Since the Bank Street Summer Camp is back in the Bank Street building from June 17 – August 9, we're offering a few evening tours so families can see classrooms and some of the other incredible developmentally appropriate spaces that campers will be making use of. We encourage you to bring your campers.
19th Global Chemistry 2019 - Conference Series LLC Ltd
Through March 21, 2019 - New York
Global Chemistry 2019 extends a warm welcome to the distinguished Nobel laureates, speakers, delegates and all the participants from all over the world to attend the 19th Global Chemistry Conference " scheduled during March 20-21, 2019 in New York, USA, which includes prompt keynote presentations, Oral talks, Poster presentations and Exhibitions. Global Chemistry 2019 focus around the theme " Chemistry Federation : Frontiers in Chemistry and Therapeutic drugs". Global Chemistry 2019 is a global platform to discuss and learn about Organic & Inorganic Chemistry, Medicinal Chemistry, Analytical Chemistry, Synthetic Chemistry, Green Chemistry, Biochemistry, Drug Chemistry, Agriculture & Food Chemistry, Physical Chemistry, Material & Polymer Chemistry, Geochemistry, Marine Science, Environmental Chemistry, Industrial Chemistry, Clinical Chemistry, Forensic Chemistry, Nanochemistry, Nuclear Chemistry, Radiochemistry, Surface Chemistry, Phytochemistry, Petroleum Chemistry, Quantum Chemistry e.t.c. Read more: 19th Global Chemistry Conference 2019
Uptown Nights: Wepa! Movement, Culture and Music the Curtis Brothers and Circa '95 - Harlem Stage
March 23, 2019 - New York
Harlem Stage and the Caribbean Cultural Center African Diaspora Institute (CCCADI) present a two part series of music and conversation celebrating the courageous and resilient Caribbean immigrants who traveled across land and sea and arrived in El Barrio, aka Spanish Harlem, seeking a bright future. What did they bring with them? What was left behind? What was reinvented? Spoken word, hip-hop, DJ and Afro-Latin jazz will be the vehicles that transport us to sunny beaches, sofrito, five floor walk-ups and sun kissed dreams of belonging.
Food on the Page with author Megan Elias - Bartow-Pell Mansion Museum
March 24, 2019 - Bronx
Hungry? Megan Elias, food historian and author of Lunch: A History, will discuss her most recent title, Food on the Page: Cookbooks and American Culture. Registration requested.
New Shanghai Circus - St. George Theatre
March 24, 2019 - Staten Island
Astonishing athletes defy gravity and execute breathtaking feats as they stretch the limits of human ability in this spellbinding show that draws upon 2,000 years of Chinese circus traditions. If it's humanly possible – and even if it seems as if it's not – these acrobats, jugglers and contortionists do it with spectacular flair! The Chinese acrobatic tradition dates back to 700 B.C.; that's over 2,000 years of tumbling, balancing and juggling. Ancient stone carvings, earthen pottery and early written work trace the ancestry of today's spectacular acts. Relics tell the tales of famous acrobats like Confucius' father, who is believed to have lifted a pair of 1,000-pound city gates to let an army storm through.
Coffee & Tea Festival Nyc - Brooklyn Expo Center
Through March 24, 2019 - Brooklyn
Join more than 75 exhibitors from around the nation as they pour tastings of their finest coffees and teas, and introduce you to new and award-winning products! This international extravaganza celebrating all things coffee and tea will offer two days of seminars from well-known industry pros and pioneers, pairings, tastings and more! The exhibit hall will also feature some of the most delectable sweet and savory foods to compliment the spectacular collection of local and national coffees and teas. Get your ticket early and save!
Celebrate Party Showcase - Mitzvah Market
Through March 31, 2019 - New York
Each of the annual Celebrate! Party Showcases attract hundreds of families who are all looking to meet Bar Bat Mitzvah vendors. All showcases are held from 12 noon – 4:00pm. These showcases are especially effective for exhibitors who have something special and different to present to families who are looking for the newest, hottest and greatest for their child's celebration. These Bar Bat Mitzvah families get to spend an afternoon meeting face-to-face with Bar Bat Mitzvah experts who can make their child's celebration different from the rest. Some vendors sign business right at the event. It's fun to sample the food, try out the newest entertainment and learn what's unique in Bar Bat Mitzvah planning. ** We distribute our annual Mitzvah Market Magazine at these events. Editions are also distributed throughout New York City, Northern/Central New Jersey and Westchester/Rockland/Fairfield. Interested in a showcase booth? Contact Sheri Lapidus, sheri@mitzvahmarket.com, 516-445-2394
Ecological City Costume/Puppet Workshops - Two Bridges Neighborhood Council
Through May 08, 2019 - New York
EARTH CELEBRATIONS' ECOLOGICAL CITY - PUPPET & COSTUME WORKSHOPS - MARCH 2 - MAY 8 Volunteers are invited to participate in our workshops led by Earth Celebrations' Artists-in-Residence to create spectacular visual art, giant puppets, and costumes for the culminating Ecological City: Procession for Climate Solutions celebrating and bringing together climate resiliency and ecological sustainability initiatives throughout the gardens, neighborhood and East River Park waterfront on the Lower East Side. -Costume Workshops: WEDNESDAYS, 6-9pm with artist Yelaine Rodriguez -Puppet Workshops: SATURDAYS, 12-4pm with artist Lucrecia Novoa @ Two Bridges Neighborhood Council (Community Room) 82 Rutgers Slip (btw. FDR & Cherry St. LES - F train to E. Broadway - walk two blocks east) Workshops are free of cost - please register here: http://earthcelebrations.com/register-ecological-city-workshops-2/ For more information: http://earthcelebrations.com/
Shopping and Champagne - Trina Turk and Mr. Turk
Through October 08, 2028 - New York
Sip champagne as you shop our new Holiday Collection at 25% off! Plus enter for a chance to win a 1000$ Shopping Spree!
Looking for Free Group Planning Services?
Get free advice on planning your group's trip to New York.
MORE Activity Planner ARTICLES
RESTAURANTS

Multi-concept restaurant offering modern Japanese cuisine, a...

THEATER

Gaston Leroux's famous period thriller is now one of Broadwa...

SHOPPING

The sweetest experience in Times Square!...

SIGHTSEEING

Manhattan's premier all-glass, European-inspired dining crui...