Holidays and Specials in New York City This Week - November 4-November 11
November 4, 2018 - by CG Directory Editor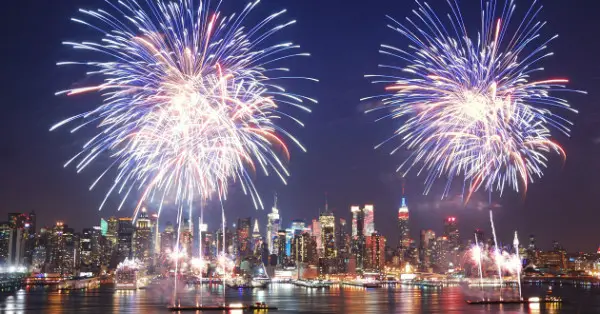 Holiday events and specials join parades and celebrations in City Guide's New York specials activity planner. From the Macy's Thanksgiving Day Parade to New Year's Eve to Christmas, Easter, Valentine's, and St. Patrick's Day, you'll find the best in New York holidays on City Guide's calendar listings. You'll also find amazing street fairs, festivals, and more.


TCS NYC Marathon - The New York Foundling
November 04, 2018 - New York
Cheer on Team Foundling in the 2018 New York City Marathon! Already registered for the marathon, but want to raise money for The Foundling? Email us at Development@NYFoundling.org. More information available at tcsnycmarathon.org.
Horror-Fi Expo 2 - 630 Second
November 04, 2018 - New York
Premier Horror, Sci-Fi and Fantasy Convention Featuring Vendors, Celebrity Guests, Cosplay Prizes and more
Horror-Fi Expo 2 - 630 Second
November 04, 2018 - New York
Premier Horror, Sci-Fi and Fantasy Convention Featuring Vendors, Celebrity Guests, Cosplay Prizes and more
Raffi | 2 Shows - The Town Hall
November 04, 2018 - New York
Raffi, North America's preeminent family entertainer, turns 70 this year, and he is marking the occasion with a new album and a series of #belugagrads concerts. It's been 40 years since the release of Singable Songs for the Very Young, and he wants to celebrate with his U.S. fans.
Bloomingdale's Holiday Window Unveiling - Bloomingdale's 59th Street
November 05, 2018 - New York
This season, the Bloomingdale's 59th Street Lexington Avenue windows draw inspiration from Illumination and Universal Pictures' Dr Seuss; The Grinch. The windows illustrate the cynical grump's journey from holiday hater to merry maker with interactive features and stunning visuals. The flagship will celebrate the highly anticipated holiday window unveiling with a special appearance by SNL cast member Kenan Thompson, who voices the character Bricklebaum in the new movie. To captivate the audiences with a festive performance will be two-time Billboard award winning electronic violinist Lindsey Stirling and actress Cameron Seely, who voices the character Cindy-Lou Who, singing holiday favorites with Carolers as back-up vocals.
Tasting Tuesday - Bryant Park
November 06, 2018 - New York
With the opening of this season's Bank of America Winter Village Holiday Shops comes a new crop of food options right here in the park! From chocolates to empanadas to cider to waffles, the Shops are filled with all kinds of food and drink to fuel your skating and shopping. At this special Tasting Tuesday event, we offer you the chance to browse the Shops, sampling their food and drinks for free. Discover new favorite treats for the season, and explore the shops with a snack in hand. Participating is simple: just RSVP on Eventbrite, then check in and get a wristband at the sign-in table at Le Carrousel (located in the park, on the 40th St. side). You must RSVP on Eventbrite in advance to participate; registration is limited to 300 people. Please check in before 5:30pm to guarantee your spot; after that, any unclaimed spots will be opened up to people on the wait list. Part of the Tasting Tuesday programs.
Skate Fest - Bryant Park
November 06, 2018 - New York
Tuesday, November 6, 10:00am–12:00pm The Rink at Bank of America Winter Village at Bryant Park Learn to skate with free lessons and prizes from US Figure Skating. Part of the Skate School programs
The Other Art Fair Brooklyn: Register Interest - Brooklyn EXPO Center
November 08, 2018 - New York
#TheOtherArtFairBKLYN returns to Greenpoint's Brooklyn Expo Center for an unmissable fourth installment on November 8-11, 2018, showcasing 130 talented emerging artists alongside a unique and immersive features program.
Nycf | Jonathan Van Ness & Antoni Porowski | 2 Shows - The Town Hall,
November 10, 2018 - New York
Antoni Porowski is the Queer Eye food & wine connoisseur. At a young age Antoni was bitten by the culinary bug spending countless hours in the kitchen watching his mother joyously cooking and bringing a world of culinary delights to life. He discovered the worlds of Julia Child, Jacque Pepin and Anthony Bourdain, and soon after began to teach himself how to cook. Self-taught, Antoni put himself through University where he received a degree in psychology, but his love of food soon brought him back to the kitchen. He immediately went to work in restaurants from Montreal to New York City, continuing to hone his craft and finding his place in the culinary world. In New York, Antoni met with the original Fab Five food and wine expert Ted Allen and began a mentorship which quickly turned into him becoming Ted's personal chef. The relationship helped launch Antoni's career and he became the personal chef to some of the upper echelons of New York and Brooklyn's prominent citizens. The President of Barclays Stadium and the Chief Curator of MOMA are two of his biggest fans as is the founder of Tasting Table, who hired Antoni to host segments on the renowned cook... (read more)
Thanking Our Troops on Veterans Day - Staten Island Children's Museum
November 11, 2018 - Staten Island
Free admission all day for veteran and active military families with ID.
Epic New York Beer Tour - Bars, Taprooms, Breweries - Empire State Building
Through December 22, 2018 - New York
The Beer Adventures app offers 150+ highly curated tours in 75 cities around the globe. Currently in 25 US cities, we take you to all of the best bars, taprooms and breweries in town giving you a day out to remember on your own terms. For this 'Epic New York Beer Tour' we invite you to join us in NYC as we hit up to 10 venues across Manhattan and Brooklyn in one day. This is one of our favourite Beer Adventures and it's done best by a combination of walking, subway and whatever else mode of transport is for you! Starting by the Empire State Building you'll pass loads of famous landmarks, go over and under the East River, hit both villages (Greenwich and East) and of course visit all the very best beer bars NYC has to offer. Come thirsty, hungry and ready to make a day of it! HOW IT WORKS: Search for 'Beer Adventures' in the Apple appstore or Google Play and download for free. You can then select the city and tours you want in-app. The Beer Adventures app acts as a magical mystery tour directing beer fans around a city at the touch of a few buttons. Available on iOS and Android, we offer highly curated, built in itineraries in most major cities. STARTING O... (read more)
The Velvet Underground Experience - Velvet Underground Experience
Through December 30, 2018 - New York
Revisit New York City in the early 1960's to explore how this iconic American rock band influenced modern music, fashion, art, and popular culture in frontman Lou Reed's native city. From their go-to Lower East Side hangouts to Andy Warhol's Silver Factory, explore the band's favorite NYC haunts through Matali Crasset's original scenography.
Candytopia - Penn Plaza
Through January 06, 2019 - New York
For a one of a kind, sweets filled experience Candytopia is not one to be missed. Candytopia is as close as NYC is going to get to having a real life Candyland in our reach. Enjoy chocolates and treats of all kinds while exploring their show room, featuring a marshmallow tsunami! Afterwards take a stroll through the gift shop for decadent sweets that can be take home!
Looking for Free Group Planning Services?
Get free advice on planning your group's trip to New York.
MORE Activity Planner ARTICLES
RESTAURANTS

Vida Verde brings the tastes, colors, sounds, and scents of ...

THEATER

A new musical following a wannabe rock star who poses as tea...

SHOPPING

PANDORA, one of the leading names in jewelry for more than 3...

SIGHTSEEING

Manhattan's premier all-glass, European-inspired dining crui...