Holidays and Specials in New York City This Weekend - December 15-December 17
December 11, 2017 - by CG Directory Editor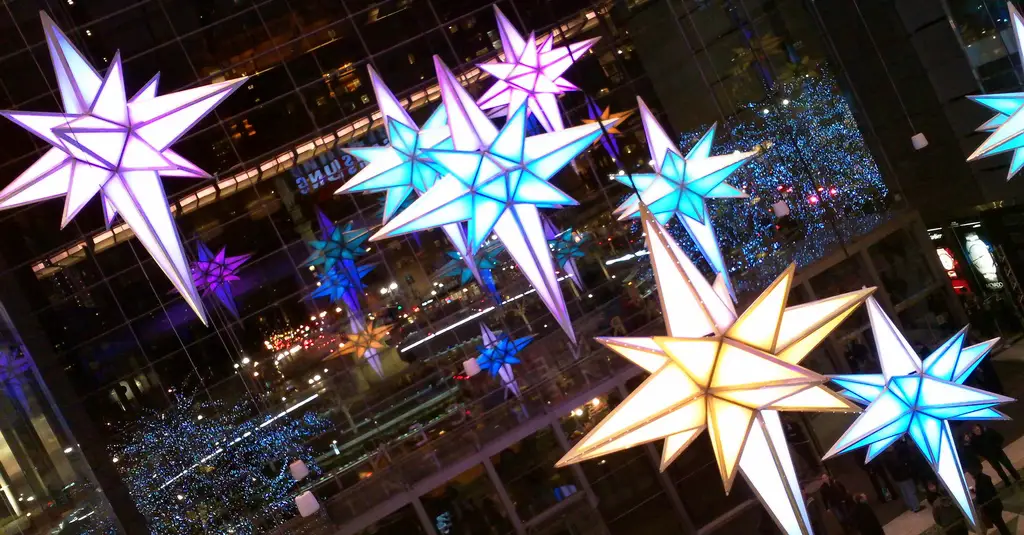 Photo: Shannon McGee/Flickr

New York City takes its seasonal specials and holidays seriously. City Guide's got all the latest and greatest news on the holiday events and specials coming up in New York City this weekend. From scoping out the windows on Saks Fifth Avenue during the Christmas season to catching a round of fireworks on the Hudson on the Fourth of July, you won't miss a thing.


Irish Arts Center Winter Solstice Celebration - Symphony Space
December 15, 2017 - New York
New Yorkers of all backgrounds love this heartwarming celebration of well-woven musical traditions from Ireland and around the world. A parade of special guests old and new join hosts Mick Moloney, Athena Tergis, and The Green Fields of America for a raft of songs and stories to kick off the holiday season in this critically-acclaimed welcome to winter. "A wide-angle, multicultural lens on the season with some startling effects." —The Irish Times "One of the best Irish contributions to a New York Christmas." —Huffington Post
Adelphi Holiday Showcase - Adelphi University Performing Arts Center
December 15, 2017 - Garden City
Celebrate the holiday season at the Adelphi Performing Arts Center (PAC) the student-directed Holiday Showcase! The Holiday Showcase features students from across campus performing holiday classics and more, with music ranging from Israeli folk songs to Mariah Carey's Christmas hit All I Want for Christmas is You. The Holiday Showcase will take place on Friday, December 15 at 7:30 p.m. on the Westermann Stage, Concert Hall in the Adelphi PAC. This event is free and open to the public.
Holiday Cheer Wfuv with Aimee Mann - Beacon Theatre
December 15, 2017 - Upper West Side
WHY SEE HOLIDAY CHEER WFUV WITH AIMEE MANN? INDIE CHRISTMAS Always down for some holiday fun, Aimee Mann is among the artists playing the 2017 edition of the Holiday Cheer concert. Known for her understated, witty lyricism, Mann has carved out a position for herself as one of indie rock's most dependable performers. Earlier this year she released ninth studio record, which, in typically droll Aimee Mann fashion, was titled Mental Illness. This annual benefit always boasts a great line-up, and this year is no different, with Aimee joined on the bill by Randy Newman, Wilco frontman Jeff Tweedy and Lo Moon.
The Merry Carolers - Empire City Casino
December 15, 2017 - Yonkers
Performing in front of our glass staircase The Merry Carolers are the perfect addition to your holiday event. We sing all styles of holiday music to add the extra flare to your special day. Singing 45 minute sets multiple times each day at Empire City Casino.
The Merry Carolers - Empire City Casino
December 15, 2017 - Yonkers
Performing in front of our glass staircase The Merry Carolers are the perfect addition to your holiday event. We sing all styles of holiday music to add the extra flare to your special day. Singing 45 minute sets multiple times each day at Empire City Casino.
Destination Tomorrow presents: Dare To Dream Gala - Bronx Museum of the Arts
December 15, 2017 - Bronx
After eight years serving the LGBTQ youth + adults of the South Bronx, we're throwing our first-ever gala to celebrate our recent move to our Third Avenue office, the strides we've made, and all the work our communities still have left to do. ? Join us for a glamorous and lively evening at the Bronx Museum of the Arts! On deck: delicious food || fashion presentation by MarquiseFoster || performances by the Divine Elites: ? Jasmine -lypsync on point- Van Wales, ? Egypt Labeija -Diva Extraordinare- and ? Brenda -the ageless body goddess- Continental Milan ||
Shababa Fridays - 92Y
December 15, 2017 - New York
Get ready for Shabbat with a joyous and active musical experience! Children, parents, grandparents and nannies are all a part of our Shababa Friday family. Join us for this playful and soulful experience of singing, dancing, jumping and celebrating as a community! Ongoing on Fridays, Session One: 9:30-10:15 am / Session Two: 10:45-11:30 am.
Glow-in-the-Dark Chanukah Dinner - 92nd Street Y
December 15, 2017 - Upper East Side
The Art of Gifting Shopping Event - L'Occitane en Provence
Through December 15, 2017 - New York
For over 40 years, L'OCCITANE has been dedicated to offering the finest beauty products, in which natural ingredients come together to create exquisite, indulgent gifts. You're invited to enjoy a tailored gifting event where you can discover a special gift for every moment big and small. A L'OCCITANE gift is full of beautifully crafted must haves that are sure to put a smile on anyone's face. Complete your last-minute holiday shopping & enjoy: • Surprise gifts with your purchase* • FREE greeting cards** • One-on-one gift consultation • Complimentary gift wrapping • Festive refreshments • And more! *3 Free Mini Cracker Sets with a purchase of $120. While supplies last. Valid from December 14th through December 15th , 2017. **Up to 3 free holiday greeting cards per customer. No purchase necessary. While supplies last. Valid from December 14th through December 15th, 2017.
Byrdie Beauty Lab - Byrdie Beauty Lab
Through December 15, 2017 - New York
Byrdie, a Clique-owned online destination for all things beauty inside and out, has partnered with national leading fashion retailer, Nordstrom, just in time for the holidays to bring its editorial community to life through an immersive beauty pop-up, Byrdie Beauty Lab. As the leading authority on all things beauty, The Byrdie Beauty Lab is a place to experiment with beauty products, indulge in beauty treatments, and learn from the industry's top professionals. From December 1-15, consumers can head to Nordstrom's Broadway location in New York City to touch, try and test over 200 products curated by Byrdie editors and play with the latest in skincare technology including the: Trinity Facial Toning Device, GloPRO's Microneedling Regeneration Tool, Kiss Lip's Plumping System and more. All products are available at Nordstrom and can be purchased within the lab through iPads on-site. For consumers who are located outside of NYC, the lab is one hundred percent shoppable online through Nordstrom.com. • 12/2 at 7:00 PM: Holiday Beauty, Simplified: Fun, Festive Looks With Tobi Henney • 12/3 at 5:00 PM: From Lips to Lids: Makeup Tricks to Enhance Your Best Features with Erin Stein ... (read more)
Ugly Sweater Contest - Bierhaus Nyc
December 16, 2017 - New York
A Staged Reading of A Christmas Carol - Adelphi University Performing Arts Center
December 16, 2017 - Garden City
Every holiday season, Adelphi University's Department of Theatre brings Charles Dickens' A Christmas Carol to the stage as it would have been performed in a radio studio in the 1930s, as a dramatic reading. The production is directed by Professor Brian Rose, and roles are performed by faculty and student actors. The reading will take place on Saturday, December 16 at 2:00 p.m. in the Olmsted Theatre in the Adelphi PAC. There's no charge, but, if you can, please bring a can or box of non-perishable food as a donation to the holiday spirit, for the Mary Brennan Inn food kitchen in Hempstead.
The Merry Carolers - Empire City Casino
December 16, 2017 - Yonkers
Performing in front of our glass staircase The Merry Carolers are the perfect addition to your holiday event. We sing all styles of holiday music to add the extra flare to your special day. Singing 45 minute sets multiple times each day at Empire City Casino.
Shababa Saturdays / All Ages - 92nd Street Y
December 16, 2017 - Upper East Side
Welcome the sun with Grammy® Winner Paul Winter's 38th annual Winter Solstice celebration at the Cathedral of St. John the Divine - Cathedral of Saint John the Divine
Through December 16, 2017 - NY
Seven-time Grammy® Award-winning saxophonist, composer and bandleader Paul Winter returns with his 38th annual Winter Solstice celebration on Thursday, December 14, Friday, December 15, and Saturday, December 16, 2017, at the Cathedral of St. John the Divine, located at 1047 Amsterdam Avenue (at 112th Street), Manhattan. Performances will take place on Thursday, December 14 at 8:00 p.m., Friday, December 15 at 8:00 p.m., and Saturday, December 16 at 2:00 p.m. and 7:30 p.m. Artist in Residence Paul Winter's Solstice performances have been some of NYC's most beloved, family-friendly holiday events for decades. Winter emphasizes, "Of all the places I've played in America, only two could host a concert on this scale: the Cathedral and the Grand Canyon." The Paul Winter Consort includes: Paul Winter on soprano sax, Paul McCandless, oboe; Eugene Friesen, cello; Paul Sullivan, keyboard; Eliot Wadopian, bass; Jamey Haddad, percussion; Tim Brumfield on the Cathedral's great Aeolian-Skinner pipe organ; and Scott Sloan on the giant seven-foot sun gong, which ascends to the 124-foot vault of the Cathedral at the symbolic moment of the return of the sun. The 15 voices of the Pleteni... (read more)
Winter Journey: Prohibition, Sirens and Burlesque Brunch! - The Cutting Room
December 17, 2017 - New York
Hyper, holiday, and energetic, Revel Rouge presents "Winter Journey: Prohibition, Sirens and Burlesque Brunch!" Come follow the journey of Boudoir LeFleur into a magical world where you will meet classic characters you know and love....and each beloved character like you've never seen them before. This vivid brunch will feature: Snow Queen Sasha Lazard Siren Dina Fanai Snowman Hank Stampfl Misfit Toy Taradise Bizub and Snowflake Cassandra Estelle Expect the show to elevate off the stage into your lap. Sing along to familiar Holiday songs, classic show tunes and today's hit music. "Let It Snow, Let It Snow, Let It Snow", "Oh Holy Night", "Jingle Bells", "All I Want For Christmas Is You" and more. After all, what good is sitting alone in your room?
Acnk Entertainment Annual Toy Drive Holiday Extravaganza with Ghosts of Eden, Bound by Substance, Charetta - Drom
December 17, 2017 - Manhattan
Formed in 2008 after years of playing in the New York/New Jersey alternative, hardcore punk and metal scene, the self proclaimed "Velvet Grunge" band had a new shared focus: brotherhood, strong songwriting and never looking back. They wanted to stray from the trends that they were seeing in the music industry. Together they wanted to write songs that could stand the test of time. Inspired by some of their heroes like Smashing Pumpkins, Pixies, Bad Religion, Pearl Jam, Incubus, Dream Theater and Alice in Chains, GOE prides themselves on unforgettable guitar riffs, thought provoking lyrics and melodies that are meant for the masses. With influences which run the gamut from 90s alternative and grunge to hardcore, metal and 80s College Rock, GOE seamlessly combines these seemingly disparate elements with a sound that gives your ear a good swift kick to the backside. For a band that has only been playing live for a little over a year, GOE has accomplished what some only dream of. From being invited to grace the stage at New York City's famed Gramercy Theater and Highline Ballroom to playing multiple shows at Six Flags Great Adventure and an in-house promotional performance at Best Buy... (read more)
Brunch With Santa - Bierhaus Nyc
December 17, 2017 - New York
TAGGED CHRISTMAS, SANTA, BRUNCH
The State Ballet Theatre of Russia Brings Beloved Holiday Classic "The Nutcracker" to Brooklyn - Leon M. Goldstein Performing Arts Center on the campus of Kingsborough Community College
December 17, 2017 - Brooklyn
The beloved holiday classic, "The Nutcracker" comes alive in a breathtaking presentation from The State Ballet Theatre of Russia, as part of On Stage at Kingsborough's fall season. This is a full-length ballet in two acts with an epilogue. The State Ballet Theatre of Russia (from the city of Voronezh), founded by the legendary Bolshoi Theatre Ballet principal dancer, Maya Plisetskaya, is now directed by the award-winning Moiseyev Dance Company soloist, Nikolay Anokhin. The Nutcracker, a perennial holiday favorite, is a captivating adventure through a little girl's fantasy world filled with fairies, princes, toy soldiers, and an army of endearing mice. Audiences will be transported by this stunning full-scale production featuring Pyotr Tchaikovsky's wondrous score, choreography by world-renowned Marius Petipa and The Mariinsky's Vasily Vainonen, and 40 of Russia's brightest ballet stars in glorious costumes.
The Rob Mathes Holiday Concert - Schimmel Center
December 17, 2017 - New York
The holidays have found a new rocking tradition! Emmy winner and Grammy-and-Tony- nominated Rob Mathes returns to the Schimmel stage with his band of all-star musicians including instrumentalists from Saturday Night Live and the Late Show with David Letterman. Come for an afternoon of funk- and R&B-laden original tunes, holiday classics, and audience favorites to put you in the spirit of the season. Rob Mathes has worked professionally with U2, Beyonce, Bruce Springsteen and Sting and many more top musicians throughout the world.
Beauty, Kindness, & the Joyful Criticism of Evil--a Holiday Celebration - Aesthetic Realism Foundation
December 17, 2017 - New York
What do people hope for now?--to see beauty & ethics as powerful; and to feel that what's evil can be effectively & joyfully criticized! That's what this event is about--through holiday songs with vivid comment & Eli Siegel's great lecture "The Meaning of Punch & Judy"--with dramatic & comic scenes!
'Twas the Night Before Christmas – A Holiday Reading with MSNBC's Joy-Ann Reid - The Church of the Intercession and Trinity Church Cemetery & Mausoleum
December 17, 2017 - New York
A holiday reading of the beloved Clement Clarke Moore poem A Visit from Saint Nicholas (also known as 'Twas the Night Before Christmas) with Joy-Ann Reid, political analyst at MSNBC and host of "AM Joy." After the reading, St. Nicholas leads a lantern procession and wreath-laying at Moore's tomb at Trinity Church Cemetery & Mausoleum, followed by a festive reception.
Holiday Handmade Cavalcade Brooklyn - Brooklyn Historical Society
Through December 17, 2017 - Brooklyn
The NY Handmade Collective, formerly Etsy NY Street Team, is showcasing our collective history as makers, and offering our customers something a little bit different and new: the chance to explore the history of making in NYC, past in present. The Holiday Handmade Cavalcade has nine years worth of history, and has become a must for holiday shoppers looking for unique and locally crafted gifts from indie vendors, all based in the NY tri-state area.
The Nutcracker - Count Basie Theatre
Through December 17, 2017 - New Jersey
WHY SEE THE NUTCRACKER? ONE OF THE BEST HOLIDAY SHOWS The Nutcracker is one of the USA's favorite Christmas events, and one of the most performed ballets in the world with productions taking place each Christmas in London, New York City and right here in . The story of The Nutcracker was originally written by E.T.A. Hoffmann however the beautiful score which accompanies this world-famous ballet was created by Tchaikovsky and received its debut over 100 years ago in 1892. An evening spent at a performance of this enchanting Holiday classic by your local ballet company is the perfect way to welcome in Christmas with the whole family! WHAT IS THE NUTCRACKER ABOUT? One snowy Christmas Eve, at a great townhouse where a party is in full swing, local magician Herr Drosselmeyer arrives with gifts for the children, including a wooden nutcracker for Clara, the oldest child. When the clock strikes twelve an adventure begins and the Nutcracker comes to life, leading our heroine Clara into a war between mice and tin soldiers, and into the enchanted Land of Sweets where a festival awaits them.
Grand Holiday Bazaar - Grand Bazaar NYC
December 17, 2017 - New York
In addition, explore the over 100 vendors of Grand Bazaar NYC's weekly market. Entrance is free. Discover + Shop + Eat & Be Social! Grand Bazaar NYC is the city's largest curated weekly market. Open every Sunday, indoors and outdoors, with over 100 amazing vendors offering the finest and most distinctive goods (e.g., antiques, vintage collectibles, art, jewelry, artisanal foods). Grand Bazaar NYC donates all proceeds to four neighborhood public schools, benefiting over 4,000 children.
A SOULFUL CHRISTMAS - The Actors' Temple
Through December 17, 2017 - New York
Just in time for the holidays, "A SOULFUL CHRISTMAS", a new musical revue, will be performed for one weekend only this coming holiday season Off-Broadway at The Actor's Temple Theatre (339 West 47th Street, between 8th and 9th Avenues) on Saturday, December 16th at 8:00 PM and Sunday, December 17th at 7:00 PM. "A SOULFUL CHRISTMAS" transports the audience back to the Disco Era, to a taping of a special holiday-themed episode of the fictional music-dance television program "Groovy Wonderland" (inspired by the hit show "Soul Train"). The whole family should come ready to listen to - and sing along with - favorite songs from beloved groups such as The Temptations, The Supremes and The Jackson 5- after all, the holidays are the perfect time to get down! Written by Kendrell Bowman and Anthony Wayne and directed by Mr. Bowman, "A SOULFUL CHRISTMAS" reunites the creative team behind the hit musicals Mighty Real: A Fabulous Sylvester Musical and An Evening With Phyllis Hyman. For tickets and more information, visit www.AnthonyKen.com.
TMS Makeup Shop NYC - Metropolitan Pavilion
Through December 17, 2017 - New York
Don't miss the return of the TMS Makeup Shop NYC! This is your chance to shop an exclusive luxury beauty sale that introduces all the makeup must-haves and beauty secrets of the professionals to beauty lovers of all kinds! Stock up on your favorites and shop all the trends we see on the runways, red carpets, and favorite celebrities while you refine your skill-set with instruction from some of the most well-known artists in the industry today! Network with brands execs and CEO's, unite with industry insiders, and meet your favorite artists and influencers at our 2 day shop! TMS Makeup Shop is the perfect place for everyone to shop sales of over 40 brands at steep discounts and sample sale prices, from brands including MAKE UP FOR EVER, Crown Brush, Alcone…. and more! DECEMBER 16 – 17, 2017 Saturday 10:00 AM – 5:30 PM Sunday 11:00 AM – 5:00 PM $25 ticket includes access to entire sale and seminar stage on Saturday, December 16th or Sunday, December 17th Tickets are Non-Transferable and Non-Refundable $40 ticket includes access to entire sale and seminar stage on BOTH Saturday, December 16th, 10am-5:30pm AND Sunday, December 17th, 11am-5pm Tickets are Non-Transfera... (read more)
Holiday Market At Bohemian Hall & Beer Garden - Bohemian Hall
Through December 17, 2017 - Astoria
Astoria Market's holiday shopping event will be held on December 3, 10 and 17. So swing by Bohemian Hall's main hall to snag that perfect handmade gift for your loved ones. At all 3 events, there will be a full house of fantastic vendors, where you'll find art, jewelry, toys, chocolates, body care, handbags, clothing, stationery, scarves and hats, pottery, and more! Bohemian Hall will offer their scrumptious "Grandmas Kitchen" menu - which includes a variety of homemade soups, assorted pork and sausage platters, and homemade apple strudel. There will also be eggnog, chestnuts, hot apple cider, and other holiday favorites on the menu. What: Holiday Market  Where: Bohemian Hall & Beer Garden In the Main Hall 29-19 24th Ave, Astoria, NY 11102 When: Sundays, Dec 3 -17th from 12-6pm Cost: Free Admission  Website: astoriamarket.com More info: https://www.facebook.com/events/1771042469860095/
Live Jazz Brunch Saturdays & Sundays at Authentic Italian Restaurant Il Gattopardo - Il Gattopardo
Through December 17, 2017 - New York
Saturday & Sunday, 11:30 AM-3:00 PM Midtown icon Il Gattopardo plays host to "Italian Jazz Brunch" every Saturday and Sunday, 11:30am-3:00pm, offering guests a wide range of dishes from both the full a la carte and Italian-themed brunch menus; "Italian Jazz Brunch" is served in Il Gattopardo's sleek, modern main dining room. Among the dishes on Executive Chef Vito Gnazzo's brunch menu are his "Ricotta pancakes served with maple syrup and fresh berries", "Uova all'Amatriciana, spicy poached eggs in a cherry tomato sauce, pancetta and red onions", and his classic "Spaghetti alla "Carbonara", egg yolk, pecorino cheese guanciale and black-pepper corn." Il Gattopardo 13-15 West 54th Street, New York, NY 10019 www.ilgattopardonyc.com
Holiday Concert - Solomon R Guggenheim Museum
Through December 18, 2017 - Upper East Side
Celebrate the season with the joyous sounds of holiday music and a new Works & Process commission by composer Nico Muhly in the museum's iconic rotunda. George Steel conducts the Vox Vocal Ensemble in what has become a revered annual tradition. The museum closes at 5:45 pm and reopens at 6:45 pm for the concert.
Holiday Extravaganza - Central Booking
Through December 18, 2017 - New York
Launch Party- Thursday, December 7, 5-8pm Art! Tech! Natural Fashion! Plant based Products! Small works galore – 10×10 for under $500 Holiday Treats- Baked Goods, Chocolates, Egg Nog All in a fun filled holiday fair full of unusual gift items and fun activities (that happen to be healthy, too) A Collaboration with Baked Joint, Condemned to be Free and Counterculture
The Doris Dear Christmas Special - The Triad
Through December 20, 2017 - New York
The Metropolitan Room in association with The Triad Theater present a new holiday classic! After the successful premier of his show "Doris Dear's Gurl Talk" 2016 MAC Award winner Ray DeForest is back as "Doris Dear" in "A Doris Dear Christmas Special" at the Triad on December 13th & 20th at 7pm! Grab a seat in the Rumpus Room and come along on a fun holiday romp and relive the glory days of the Holiday TV Specials. Doris Dear is directed by award winning director Lina Koutrakos and musical direction by award winner Rick Jensen. Doris brings her stories and style back for a celebration with her friends dropping in for a holiday drink or two! Come join us for a good old fashioned holiday variety show full of tunes to make your holidays shine! Special guests include award winning vocalists Lina Koutrakos & Lisa Yaeger. Award winning guitarist Sean Harkness and singer/songwriter Rick Jensen. TICKETS MUST BE BOUGHT ON THE METROPOLITAN ROOM SITE!
Spanish 1.2 Classes in Union Square - Learn Spanish New York
Through December 20, 2017 - New York
Spanish as a Foreign Language Learn Spanish New York is a Spanish Language School founded in 2013 in Union Square, downtown Manhattan.? We aim to provide affordable Spanish courses in NYC as well as cultural activities and events to those interested in learning Spanish. From beginner to advanced, and all levels in between, our goal is to help you instantly immerse in the Spanish language as well as to provide you with the best value for each course. Spanish 1.2: Dec 05-Dec 20: Tuesdays, Wednesdays, Fridays 3:00 PM-5:30 PM. This course covers plenty of vocabulary and it focuses on the learning and practice of descriptive terms that will take your Spanish speaking to the next level. Topics include: * numbers pronunciation and spelling, * Objects names pertaining to an office a home and or a location (from table, to pen through washing machine, printer, stationary and kitchen items). * Descriptive terms applied to location: past the post office, two blocks away, etc. * Descriptive terms applied to an object's location: to the side of, right next to, near etc. Secondly and most importantly, this course covers the uses and differences of the verbs "Ser" and "Estar". ... (read more)
Holiday Sounds - One Liberty Plaza
Through December 21, 2017 - New York City
Brighten your lunch break with festive music in the lobby from 12:30-1:30pm! View the full schedule below: Wednesday, December 13: The Mistletones Thursday, December 14: Dan Martin Trio Friday, December 15: Voices of Gotham Monday, December 18: Original Dickens Carolers Tuesday, December 19: Metropolitan Klezmer Thursday, December 21: Brandee Younger
"Home for the Holidays" by Cortney and Robert Novogratz - Home for the Holidays pop-up guideshop
Through December 23, 2017 - New York
Husband and wife design duo Cortney and Robert Novogratz, renowned for designing unique properties and bringing style to entire city blocks for over the last 25 years, are making their highly anticipated return to Manhattan this holiday season with their first-ever experiential guideshop, "Home for the Holidays." From December 9th through December 23rd, holiday shoppers can preview furniture and décor from The Novogratzes' collection on Amazon.com: https://www.amazon.com/b?ie=UTF8&node=17344727011. The pop-up guideshop is open every day from December 9th through 23rd and hours of operation are Monday-Saturday 11:00 AM – 7:00 PM and Sunday from 12:00 PM – 6:00 PM. The Novogratzes also invite the public to celebrate the holiday season with events and entertainment from different musicians, photographers, artists and more. The events will be open to all as there's always an extra chair at The Novogratz table.
The Lambs Club Holiday Carolers Brunch - The Lambs Club
Through December 23, 2017 - New York
Geoffrey Zakarian's The Lambs Club will be hosting their fourth annual season of Holiday Carolers Brunch where carolers will serenade diners as they enjoy a variety of options from the brunch menu. For $68 for adults and $35 for children under 12, guests can enjoy a prix fixe brunch featuring a bountiful pastry assortment for the table, a choice of an entrée, sides to share, and a selection of hot chocolates and house made toppings. Highlighted dishes include House Smoked Pastrami Hash, Tuscan Kale Salad with Radicchio, Stuffed French Toast with Whipped Peanut Butter, Eggs en Cocotte with San Marzano Tomato, Spanish Capers, Pecorino and Fennel, and TLC Hanger Burger with Cabot Sharp Cheddar, Onion Ring and Special Sauce. To top it off, guests will be offered a selection of hot chocolates and house made toppings including pink peppermint white chocolate, milk chocolate, and spiced dark chocolate. To see the full brunch menu available, follow this link: http://www.thelambsclub.com/holiday-carolers-brunch/
Santa at Brookfield Place - Brookfield Place New York
Through December 24, 2017 - New York
Create lasting photo memories with the jolly man in red! Santa's winter wonderland features a special children's activity center and is the place for everyone to capture the magic of the holidays while shopping and dining at Brookfield Place. Located at 230 Vesey Street on the 2nd Level. SCHEDULE: Fri., Nov. 24 - Sun., Dec. 24 Monday – Friday, 12 – 8pm Saturdays, 10am – 8pm Sundays, 10am – 6pm Dec. 24, 10am – 4pm
Madame Morbid's Trolley Tours & Holiday Clothing Drive - Cadman Plaza W
Through December 30, 2017 - Brooklyn
Madame Morbid's Trolley Tours will be collecting winter coats throughout the month of December to benefit New York Cares. Every guest who brings an item for donation will receive a $20 gift certificate for Madame Morbid merchandise or for use on a future tour. In addition, 10% of all ticket sales go towards feeding Brooklyn's homeless throughout the year. Telling scary ghost stories used to be an old Christmas Eve tradition that has died out in the past century. Our trained Morbidologists will dazzle guests with holiday-themed trivia and prizes as they describe the scariest Christmas figures and traditions around the world. The decorated trolley also features a state-of-the-art sound system and newly installed television monitor that will be screening mini documentaries of each neighborhood. Madame Morbid is Brooklyn's only locally owned and operated haunted history tour company, with daily trips running year-round. We have been mentioned in The New York Times, Time Out New York, Untapped Cities, The Brooklyn Paper and RealClearLife. News anchor Sandy Kenyon of ABC7 hailed the tour as "the macabre for millennials." Tour Hours: Fri-Sun: 4pm, 7pm, 9pm Mon, Wed, Thurs: 7pm,... (read more)
The Three Bears Holiday Bash - Swedish Cottage Marionette Theatre
Through December 30, 2017 - Upper West Side
The Three Bears Holiday Bash is a variety show that celebrates the holiday season in song, dance and puppetry. This production quickly becomes a comedy of errors when Baby Bear invites Santa to star in Mama and Papa Bear's annual holiday show. The audience also gets to join in on the fun with a "12 days of Christmas" sing-a-long during the performance!
Nycb: the Nutcracker - David H Koch Theater, Lincoln Center
Through December 31, 2017 - Upper West SIde
WHY SEE NYCB: THE NUTCRACKER? AN ENCHANTING AND UNFORGETTABLE HOLIDAY EXPERIENCE The New York City Ballet's annual production of George Balanchine's The Nutcracker is at the heart of New York City's year-end holiday season, and this year marks the 63rd annual performance of the Big Apple's best loved Nutcracker! Whether it is a family tradition or a once-in-a-lifetime visit, your experience of this glittering classic ballet will stay with you forever and warm your spirit. From the moment the lights dim, you will be transported to a magical place filled with adorable children, marching toy soldiers, a glowing one-ton Christmas tree that seemingly grows forever, mischievous mice, crystalline waltzing snowflakes, the Land of Sweets and some of the most breathtaking costumes, sets and dancing on earth. ONE OF THE WORLD'S PREMIERE NUTCRACKER BALLETS Almost 90 dancers, 62 musicians, 32 stagehands and two casts of 50 young students from the School of American Ballet join forces to make each performance as magical as possible. The elaborate stage elements and intricate lighting unleash the viewers' imagination by providing visual effects that are extraordinarily grand. The m... (read more)
Seasonal Illuminations at Kew - The Billie Holiday Theatre
Through January 01, 2018 - Brooklyn
There's something for everyone at this festive time of year. The new one mile sparkling trail winds its way through the world-famous gardens in a magical after dark experience. Fairy-tale meets fantasy in a world of singing trees, larger-than-life flora, ribbons of light, giant baubles, and a flickering Fire Garden. The Palm House leaps into life with a dazzling show of laser beams, jets of light and kaleidoscopic projections.
Discover the Maserati Levante - The Shops at Columbus Circle
Through January 02, 2018 - New York
This Holiday Season, Maserati has partnered with The Shops at Columbus Circle to bring you the beauty and magic of Levante, the Maserati of SUVs. Please visit us on the ground floor to find out more about our brand and products. Personal test drives available: - October 28 - 10am - 2pm. - November 11 - 10am - 2pm. - December 2 10am - 2pm.
Luminaries - Arts Brookfield
Through January 05, 2018 - New York
Arts Brookfield has re-imagined its annual holiday festival for Brookfield Place in collaboration with the award-winning design firm the LAB at Rockwell Group. This holiday tradition in the heart of Lower Manhattan is built on the season's traditions of sharing, giving, community, and light. Visitors will be immersed in a canopy of light emanating from hundreds of suspended lanterns. Three Wishing Stations on the ground will allow visitors to "send" a wish to the canopy of lanterns above, translating the wish into a mesmerizing display of lights and colors. For every wish sent by the public during the holiday season, Brookfield will donate $1, up to $25,000, to the GRAMMY Museum and its music education programs.
Enchanted: Forest of Light - Patina Restaurant Group
Through January 07, 2018 - New York
As the days get darker, Descanso Gardens transforms its grounds into an enchanted forest with whimsical lighting displays and interactive exhibitions. Visitors will stroll along a one-mile walk through the Gardens to experience the most beloved collections of Descanso illuminated in glorious color. Some of these displays will be interactive, allowing visitors to manipulate the lights and sounds.
16th Annual Holiday Train Show - Vanderbilt Hall - Grand Central Terminal
Through February 04, 2018 - New York
The holiday season is a time of joy for kids of all ages and nothing says holiday enchantment quite like dazzled little faces watching in wonderment as model trains zip through tunnels, by subway stops, around familiar skyscrapers and through iconic cityscapes. To the delight of kids and railroad enthusiasts alike, the New York Transit Museum will continue its tradition of capturing hearts and imaginations at the 16th Annual Holiday Train Show at Grand Central Terminal starting in November and running through the New Year. The theme of the holiday train show changes every year and the event is free and open to the public. For more information, please visit http://nytransitmuseum.org.
Looking for Free Group Planning Services?
Get free advice on planning your group's trip to New York.
MORE Activity Planner ARTICLES
RESTAURANTS

Beloved midtown spot takes inspiration from local tradition,...

THEATER

Gaston Leroux's famous period thriller is now one of Broadwa...

SHOPPING

The world's largest source of cameras, camcorders, and more ...

SIGHTSEEING

Hop aboard these environmentally friendly twin-hulled catama...