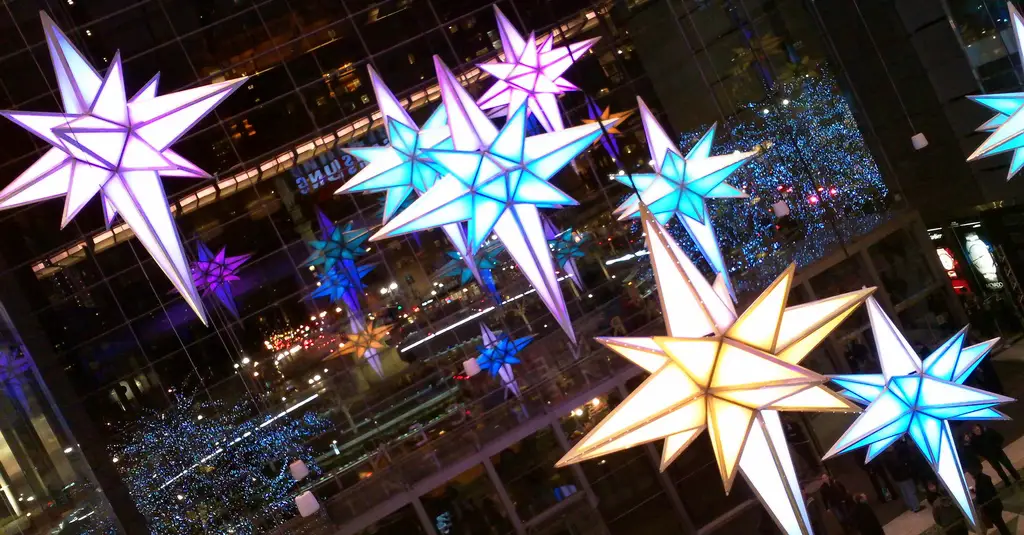 Photo: Shannon McGee/Flickr

New York City takes its seasonal specials and holidays seriously. City Guide's got all the latest and greatest news on the holiday events and specials coming up in New York City this weekend. From scoping out the windows on Saks Fifth Avenue during the Christmas season to catching a round of fireworks on the Hudson on the Fourth of July, you won't miss a thing.


FAD Summer Market | The Invisible Dog - The Invisible Dog Art Center
Through June 14, 2019 - Brooklyn
FAD Market – a curated fashion, art and design pop-up marketplace - is back at The Invisible Dog Art Center in Brooklyn's Boerum Hill for its Summer Markets. Shop the best of the region's handcrafted goods from over 50 makers, designers and small businesses. You'll find a specially curated selection of goods, including impeccably crafted jewelry, apparel, bath and body care, tableware, home furnishings and more. Once you've picked up everything you need, spend a summer evening exploring the neighborhood's popular eateries and watering holes, or wandering through its rows of charming Greek Revival and Italianate brownstones. Don't miss the historic Brooklyn Inn, one of the oldest bars in the borough. Free admission. Open to all ages (and dogs!). Visit fadmarket.co for more details.
837 Literary Salon: Queer Love - Samsung 837
June 14, 2019 - New York
Join us at Samsung 837 for "Queer Love," a storytelling event in honor of Pride Month. Queer Love is an ode to the queer love story. Esteemed LGBTQ+ writers will share their personal narratives—the inspiring and heartbreaking stories often left out of Pride. They will candidly open up about issues such as growing up LGBTQ+, navigating identity, the nuances of queer love, and more. The event will be hosted by Zara Barrie, Samsung Squad member, writer of over 2,000 published essays, founder and Editor-In-Chief of TheDirtyBeauty.Com (a new wellness publication for party girls who want to better themselves without losing themselves), co-host of the weekly "Anxietea Radio," writer and editor for GO Magazine, and proud founding board member of the Stonewall Inn Gives Back Initiative. The storytellers are a diverse group of creatives and entrepreneurs including Dayna Troisi, Austin Nunes, Victor P. Corona Ph.D, and Angelica Torres. RSVP at Samsung.com/837
El Gran Festival de Musica Cubana - Beacon Theater
June 14, 2019 - New York
El Gran Festival de Musica Cubana is coming to Radio City Muisc Hall Lineup: El Gran Festival de Musica Presents: Juan de Marcos Barbarito Torres y su Piquete Cubano Eliades Ochoa y Patria Jesus Aguaje Ramos y su Orquesta Buena Vista Special Guest Ibrahim Ferrer Jr. and the Legendary sound of Cubanismoa
Flag Day - Luma Hotel
June 14, 2019 - New York
Flag Day, also called National Flag Day, in the United States, is a day honoring the adoption of the national flag. It commemorates the date in 1777 when Congress approved the design for the first national flag. The idea for a holiday to honor the national flag was proposed by a Bernard J. Cigrand, a schoolteacher, in 1855. In 1916, President Woodrow Wilson issued a proclamation that officially established June 14 as Flag Day and in August 1949, National Flag Day was established by an Act of Congress.
Josh Cellars Father's Day pop up shop - Grand Central Terminal
Through June 14, 2019 -
In recognition of all the things dads do – and how hard they are to shop for – Josh Cellars has partnered with mobile gift-giving app, Giftagram, to curate an assortment of premium gift boxes that consumers can purchase for Father's Day. Visitors to the shop can purchase Giftagram boxes on-site while sampling an assortment Josh Cellars wine, including its latest varietal Josh Cellars North Coast Chardonnay, all of which will be available for purchase. Josh Cellars will also offer visitors free on-site bottle engravings and complimentary Father's Day cards with custom messages created by on-site calligraphers and filled in with custom "haikus of gratitude" for dads created by the Haiku Guys!
103.5 KTU's KTUphoria 2019 Pre-Party & Concert Presented by Pepsi - Northwell Health at Jones Beach Theater
June 15, 2019 - Wantagh
KTUphoria 2019 will kick-off with an official pre-party celebration from 1:30pm – 5:30pm EST. The event, which is open to ticket holders only, will feature a party atmosphere, KTU's resident DJ's mixing, special artist performances, and interactive displays from some of today's hottest brands. Attendees will also have a chance to win meet-and-greets with KTUphoria artists. The event will take place on the concourse level at Northwell Health at Jones Beach Theater and will be open to fans of all ages. For pre-party information visit https://ktu.iheart.com/featured/ktuphoria/?201923#!preparty. The concert will start at 6:30pm EST featuring live performances by Top Recording Artists: The Chainsmokers, Ellie Goulding, Bebe Rexha, Becky G, Bryce Vine, Ava Max, Loud Luxury and CNCO.
New York Rum Festival - Metropolitan West
June 15, 2019 - New York
Back for its third year, the New York Rum Festival is a grand tasting of over 40 rum expressions combined with entertaining seminars presented by top distillers, bartenders, and historians. Sample rums from around the Caribbean, the United States, and the world, and learn about the culture and history surrounding it all. Speakers include: Jeff "Beachbum" Berry — The author of six books on vintage Tiki drinks and cuisine, which led Esquire to call him "one of the instigators of the cocktail revolution" and Food & Wine "one of the world's leading rum experts." At the New York Rum Festival, he presents his historical research into our first 300 years of enjoying the Planter's Punch. Richard Seale — Master distiller and blender of the Foursquare distillery, Barbados—often considered the finest rum producer in the world. Richard's wealth of knowledge and unique point of view makes him an invaluable resource for rum aficionados as well as rum's new explorers as he discusses the techniques and history of Barbados rum. David Cid — Bacardí's lead educator and rum ambassador, as well as a regular guest lecturer at universities across the United States and Europe. He has been disc... (read more)
World Sea Turtle Day Celebration 2019 - Essex County Turtle Back Zoo
June 15, 2019 - West Orange
Sea Turtle Recovery's World Sea Turtle Day Celebration is a fun evening at the Turtle Back Zoo with all the main zoo attractions, a live band, face painting, a dance you can learn at home and join in on with the band, food, and more! All for just $10 per ticket that goes to help save sea turtles! This is our third World Sea Turtle Day Celebration and they just keep getting better!
Validation - The PIT
June 15, 2019 - New York
Welcome to Season 3 of the only show that's good with the only prize that matters, sweet, sweet VALIDATION. 18 contestants compete for a chance to bask in the glow of glory by surviving round after round of silly tasks, trivia, and random-ass chance. It's all hosted by J. W. Crump, whose functions as judge, jury, and funmaster.
Experience Tanzania NYC - Punto Space
June 15, 2019 - New York
Experience The Possibilities Why Now? Tanzania, the land of Mt. Kilimanjaro, the Serengeti, the beautiful beaches of Zanzibar and its people. As New York City is known as the melting pot of many cultures, on June 15th, we will bring Destination Tanzania to New York City. No Passport Required ! Taste Local Cuisine Vibe to Bongo Flava Music + More Hear Tanzanian Stories + Experiences Dance to Traditional Drums + Live Band Watch Highlights of Juliana, a Swahili Musical Drama
Hillrock Spring Open House - Hillrock Estate Distillery
June 15, 2019 - Ancram
Hillrock Estate Distillery welcomes you to join them at their Spring Open House to celebrate the debut of their Open House Series Limited Edition Father's Day Release: The Triple Cask Rye Whiskey, finished at 102 proof. This is an exclusive limited release (less that 200 bottles sold) that can only be purchased at the distillery, so you don't want to miss it! Attendees can also participate in farm & distillery tours, tastings, and bottle signings with owners Jeffrey Baker and Cathy Franklin.
The 2019 Harlem 1 Miler - Randalls Island Park
June 16, 2019 - New York
The Harlem 1 Miler returns this year - new venue, same community and competition. Save the date and tell everyone you know! For the 5th year in a row, we will host this race on Father's Day - so please invite every father/father figure in your life. More information to come! The Harlem 1 Miler benefits Harlem United: For nearly three decades, Harlem United has changed lives by helping marginalized communities improve their health and well-being through compassionate, client-centered care. From our roots, planted in the basement of a church in Harlem at the height of the AIDS crisis, we've grown into a full-fledged, community-based healthcare and housing provider. Across the decades, our founding ethic has remained the same: Harlem United is a family, and no matter what, we're here to help.
Saravá! São João - House of Yes
June 16, 2019 - Brooklyn, NY 11237
If you know what 'Festa de São João' is you're already excited as we are! Picture this: an authentic and unique Brazilian celebration, almost as big as carnival, created from a mix of European, African and indigenous harvest and spiritual celebrations resulting in unique music, food, games, and dance. Group .BR, NY's Brazilian Theater Company, is happy to announce that there will be Festa de São João!
Eggrolls, Egg Creams and Empanadas - Museum at Eldridge Street
June 16, 2019 - New York
The Museum's signature, fan-favorite festival is back for another year! This multicultural block party unites the vibrant cultures of our neighborhood, pairing Chinese Opera and acrobatics with klezmer music and mambo. Enjoy al fresco Mah jongg games, Jewish scribal arts, Puerto Rican lace making, tea ceremonies, and much more. Plus, enjoy iconic foods of all three cultures!
Taste of Jewish Culture Street Festival - Club Free Time
June 16, 2019 - New York
The Taste of Jewish Culture Annual Street Festival is a signature event that brings together thousands of foodies and dozens of purveyors of delicious food for a day of eating, learning, and celebrating in New York. The festival features dozens of diverse food vendors, music, engaging activities for kids, and much more!
Egg Rolls, Egg Creams and Empanadas Festival - Club Free Time
June 16, 2019 - New York
Celebrate the diverse ethnic communities of the Lower East Side/Chinatown neighborhood. The landmark synagogue as its centerpiece, this neighborhood festival spills out onto the street with a mash-up of Jewish, Chinese and Puerto Rican tastes, traditions, sights, and sounds. Mah jongg Chinese folk instrument making Willie Martinez and the NYC Salsa All Stars Chinese calligraphy Sarah Myerson's Yiddish Dancing Puppet theater Chinese folk music with the East River Ensemble Bomba drum making Egg Rolls! Egg Creams! Empanadas! ...and a whole lot more.
Harlem Meer Performance Festival - Club Free Time
June 16, 2019 - New York
The Harlem Meer Performance Festival brings the best local talent to the park! Enjoy a variety of performances featuring multicultural music and dance, family-friendly entertainment, and more while admiring the lakeside views. All ages are welcome.
Summer 2019 Scandinavian Music Festival - Club Free Time
June 16, 2019 - New York
Scandia Strings. The String Orchestra will perform works by Frank Foerster, Niels W. Gade, Johan Helmich Roman, and Svend S. Schultz. Soloist: Frank Foerster, Viola Music Director/Conductor: Dorrit Matson Bring a blanket and enjoy this free performance with backdrop views of the Hudson River.
Kidpreneur Business Fair - German School Brooklyn
June 16, 2019 - Brooklyn
What: KIDPRENEUR BUSINESS FAIR The first business fair run by children in all of Brooklyn. 60 kids (from K through 6th grade) have come up with their own business ideas, strategies, branding etc. When: Sunday, June 16, 2019 from 12pm to 3pm Where: German School Brooklyn 17 Eastern Parkway, 3rd floor Brooklyn, NY 11238 Why: An early exposure to the business world will inspire our children to develop their skills and learn the steps of entrepreneurship at an early age. The goal of this annual business fair is to provide aspiring young entrepreneurs in NY with a platform to showcase and sell their products and services. Why attend the business fair? It's the 1st children business fair in Brooklyn! Support local young entrepreneurs Develop neighborhood community Get Father Day gifts made by kids with love
FAD fare | Artisanal Food Market - The Invisible Dog Art Center
Through June 16, 2019 - Brooklyn
FAD fare, the culinary sister market of FAD Market – a curated fashion, art and design pop-up marketplace – returns this Father's Day weekend with their bi-annual celebration of locally sourced food brands at the Invisible Dog Art Center in Boerum Hill, Brooklyn. Come support the independent food scene and shop over 40 highly curated makers showcasing locally sourced, small-batch packaged foods including charcuterie, hot sauces, jams, infused syrups, olive oil, kombucha, spirits, spreads and delicious baked goods. You can also pick up handcrafted food-related products including ceramics, cheese boards, and kitchen textiles. Discover a host of unique items and meet the makers (and bakers!) behind your favorite foods. You'll find everything you need for a picnic in Prospect Park or an extra special dinner party. Free admission. Open to all ages (and dogs!). Visit fadmarket.co for more details.
inBloom - a NYC Pop-Up - One Art Space
Through June 16, 2019 - New York
We've got something blooming! June 15 & June 16 from 11am - 6pm each day Join us for our first ever pop-up in NYC, in bloom for one weekend only! Freshen up your closet this wedding season with clothing and jewelry from Harleen Kaur & The Pink Bazaar. Don't need a wardrobe refresh? Find your zen with some of the best all-natural skincare and beauty products or make a bouquet at our DIY flower bars. Come to shop, support and experience the culture by visiting some of the best brands in town and enjoying music and artwork from local South Asian artists & musicians. Make sure to RSVP to skip the line and be the first to know about all of our amazing vendors and performances. *Fitting rooms will be available at the event
Lone Star - 13th Street Repertory Theater
Through June 16, 2019 - New York
The acclaimed revival of James McLure's comedy LONE STAR is back by popular demand at the 13th Street Repertory Theater. The play, which received audience and critical acclaim from its 2017 production, highlights rising star Matt de Rogatis as the lead and features the all female band The Chalks with Broadway actor Leenya Rideout. LONE STAR is directed by Joe John Battista. Reprising their roles and joining Matt de Rogatis as Roy are Chris Loupos as Ray and Michael Villastrigo as Cletis. The club muscle is played by Tony Del Bono and John Constantine is featured in the cast. The Chalks are Mary Brienza, Kathryn Markey, and Leenya Rideout. The production will play eight performances only from Thursday, June 6th through Sunday, June 16th at the 13th Street Repertory Theater (50 W 13th St- between Fifth and Sixth Avenues). Tickets are $20 and can be purchased at lonestarplay.com LONE STAR transforms the theater into a rowdy Texas bar in the early 70's with many surprises. This production marks the second NYC revival since Powers Boothe originated the role of Roy on Broadway in 1979. With a new concept from past productions, LONE STAR features a performance by The Chalks inside a Texa... (read more)
Long Island FunFest - Suffolk County Community College, Brentwood Campus
Through June 23, 2019 - Brentwood
Enjoy live music and entertainment, midway rides, games and favorite fair food at this family-fun annual event. Highlights include Victoria Circus high-wire and Globe of Death motorcycle thrill shows, an exotic animal zoo, World of Wonders sideshow acts from fire eaters to snake charmers, Houdini-style escape artists, fireworks (June 14 & 22) and concerts by Mike DelGuidice & Big Shot (Billy Joel tribute), Gimme All Your Lovin (ZZ Top tribute), Latinology, Milagro (Santana tribute), Freebird (Lynyrd Skynyrd tribute), Mariachi Sol Mixteco and more. FunFest admission is $5 (free for children under 36 inches tall). See website for a buy one, get one free admission coupon valid Tuesday, Wednesday or Friday. Unlimited ride wristbands are $30 ($20 online in advance). Visit the website for ride ticket prices, pre-sale savings and daily deals including BOGO ride wristbands, $1 Day specials and Thursday Carload Nights. FunFest hours are 4 to 11 pm weekdays and noon to 11 pm weekends (10 pm closing on June 23). For more information, call 866-666-3247.
Newburgh Mall Carnival - Newburgh Mall
Through June 23, 2019 - Newburgh
This family-friendly annual event features midway rides for all ages from whimsical kiddie rides to state-of-the-art thrill rides, carnival games and a variety of fair food. Carnival parking and admission are free. Single-day unlimited ride wristbands (for riders 36 inches or taller) are $30 on site. Online pre-sale ride wristbands are $20 each, 2 wristbands for $35, or a Family Four Pack (2 adult/2 child wristbands) for $60. (Pre-sale ends at 5 pm Thurs., June 13.) Ride tickets are $1.50 each, $30 for 20 tickets, or $60 for 50 tickets plus 1 free ride. (Rides take 2 or more tickets each.) Visit the website for $5 off regular-price ride wristbands and other coupon savings on rides and food. Carnival hours are 5 to 10 pm Monday - Thursday, 5 to 11 pm Friday and noon to 11 pm weekends (10 pm closing on closing night, June 23). For more information, call 866-666-3247.
Oyster Bar's 39th Holland Herring Festival - 'Below Sea Level' at Grand Central Terminal
Through June 28, 2019 -
For lovers of "nieuwe maatjes" herring from Holland, the arrival of the tasty delicacy from the waters of the Netherlands is always eagerly anticipated. So, circle Wednesday, June 12, at 12 noon on the calendar when the historic Grand Central Oyster Bar once again will launch its 39th Annual "Holland Herring Festival"with opening ceremonies including the "Official First Tasting" of Dutch Herring, hosted by executive chef Sandy Ingber, president Janet Poccia, vice president Mohammed Lawal,and dignitaries from the Netherlands consulate and special guests participating in the ceremonies. The Herring Festival will continue through Friday, June 28. The Oyster Bar has for three and a half decades been the traditional destination in America for the first Holland Herring of the season. The most-looked-forward-to time of the year for herring lovers, the delicacy arrives air-expressed to the Oyster Bar from Scheveningen, The Netherlands, on the North Sea where the herring fleet makes its home. The Oyster Bar always receives the very first herring shipped to the USA, and the cream of the catch, as well. Beginning on June 12th, and for approximately two weeks thereafter, the Oyster Bar looks... (read more)
BFPL Celebrates WorldPride - Brookfield Place
Through June 30, 2019 - New York
Join Brookfield Place in celebrating WorldPride NYC with activations and events taking place in multiple spaces throughout the complex during the month of June. Explore a large-scale installation in the Pavilion (6/1 – 7/1), visit WorldPride | Stonewall 50 AIDS Memorial Quilt Display Initiative in the Winter Garden (6/27 – 7/1), and snap a photo with a colorful instagrammable moment (6/27 – 7/1) on the Waterfront Plaza. For every post on social media that tags @BFPLNY and #BFPLpride in the Pavilion and on the Waterfront Plaza, $1 will be donated to an LGBTQIA+ charity.
NYC Pride Month - Luma Hotel
Through June 30, 2019 - New York
See why New York is delighted to host the largest Pride celebration in the world, spanning the entire month of June in 2019.
GROOMIT, On-Demand Pet Grooming - Your Home
Through July 31, 2019 - New York
Treat your four-legged family member to the best in at-home grooming. Groomit is the first mobile platform connecting pet owners and groomers. By connecting owners and groomers directly, Groomit offers top quality services at affordable prices, all performed in the convenience and comfort of your home. Groomit's groomers are selected through the company's proprietary vetting system which ensures all are fully insured and trained to care for your pet. Groomit currently provides services in New York City, Westchester, North Jersey and Connecticut. The groomers are selected through Groomit's proprietary vetting system while being fully insured and trained. GroomIt uses all-natural products while providing a low stress, comfortable grooming experience for the pets. For more information: www.groomit.me • 646-589-0556
Poliform Summer Kitchen Sample Sale - Poliform Showroom
Through August 31, 2019 - New York
From now through the end of August, Poliform is hosting a special sales event at their Madison Avenue (112 Madison Ave) and A&D Building (150 E 58th St.) showrooms. The sample sale offers patrons the opportunity to purchase some of the brand's luxury, high-design kitchen systems including Twelve, My Planet, Artex, and Phoenix, at 30% off and beyond. The showroom also offers customization services to assist buyers in retrofitting the kitchens into different space layouts in metropolitan homes. 112 Madison Ave. Showroom Hours: Monday to Friday - 10AM to 6PM Saturday - 11AM to 5PM A&D Building Showroom Hours: Monday to Friday - 9AM to 5PM Saturday, Sunday - CLOSED
Daniel Buren on the High Line - The High Line
Through March 01, 2020 - New York
High Line presents En Plein Air, a group exhibition that broadens and challenges historical ideas of outdoor painting. The exhibition is on view along the length of the park from April 2019 to March 2020. It will bring together work by eight artists, including French artist Daniel Buren, who will string his signature stripe piece The Gardland over the elevated walkway
Scavenger Hunt - Strawberry Fields
Through December 31, 2020 - New York
Explore the sights, sounds, and places that make New York City amazing as we lead you on a New York City scavenger hunt adventure. You and your friends will be guided on an intrepid walking tour as you find the best things to do in New York City. Solve puzzles, uncover historical secrets, and capture wacky moments as you scavenge your way to the New York City hall of fame and scavenger hunt glory. Without giving it all away, here are some of the top spots along this hunt: Bethesda Fountain, Belvedere Castle, The Dakota. Compete against your friends or colleagues in the best large group activity New York City has to offer. Uncover your team's fearless leaders, trivia champions, and sharpshooting photographers as your company works together to conquer New York City. Teambuilders by ScavengerHunt.com are the most epic outdoor team building game in town and one your team will never forget. And does anyone else hear wedding bells? Let us guide you through your New York City bachelorette party adventure as you and your bride tribe take over the town, hitting all the hot spots in New York City and taking some great pictures along the way. It's the New York City bachelorette party... (read more)
New York City Scavenger Hunt: Get out and explore with the Let's Roam scavenger hunt app! - New York City Scavenger Hunt: Get out and explore with the Let's Roam scavenger hunt app!
Through December 31, 2020 - New York City
Forget tourist-filled museums, make your own memories with a photo scavenger hunt tour in New York City! On a Let's Roam scavenger hunt, you and your team will work together to wander throughout New York City, racking up points and laughs along the way. Central Park Scavenger Hunt is the perfect small group activity for anyone looking to spend an enjoyable afternoon in New York City. Some of the more memorable landmarks you'll see are: Bethesda Fountain, Belvedere Castle, The Dakota. Let's Roam scavenger hunts work great for outdoor team building games in New York City too! Whether you work in New York City or are just visiting, you are sure to learn some new facts about the city as well as your teammates on this creative corporate event! This is one of the happiest hours your team will spend together! Fear not, maids of honor, these hunts are sure fire ideas for New York City bachelorette parties! Bachelors and bachelorettes will both enjoy roaming around on their wedding-themed New York City scavenger hunts. Why just bar hop when you and your team can jump for joy as you complete hilarious photo challenges and see the best that New York City has to offer! Looking t... (read more)
Shopping and Champagne - Trina Turk and Mr. Turk
Through October 08, 2028 - New York
Sip champagne as you shop our new Holiday Collection at 25% off! Plus enter for a chance to win a 1000$ Shopping Spree!
Roulette's Spring Open House - Roulette
Through April 02, 2109 - Boerum Hill
Calling all local residents, community organizers, vendors, and anyone who is interested in learning more about Roulette's Rental Program! You are invited to Roulette's free Spring Neighborhood Open House on Tuesday, April 2, 2019. From 6pm – 8pm, we will be opening our doors to the public and inviting the community to visit Roulette. Have a drink, jam to beats by DJ Natural State of Dance, learn about our programming, and see why Roulette has become one of the most in demand venues in Brooklyn for weddings, not-for-profit, and commercial organizations, private celebrations, conferences, galas, and more! Featuring complimentary food with the return of the legendary Pies'n'Thighs and Naturally Delicious, a chance to relive the culinary heaven of our 40th Gala with Night Kitchen Catering, and sweet dreams from our neighborhood chocolate supplier Nunu Chocolates; decor by the top-tier team of Big Dawg Party Rentals; and free photobooth mementos provided by MVS Studio/ Fobo. Whether you're passionate about Roulette's music programming or interested in renting our venue for your next event, come meet our friendly and knowledgeable staff and see the space in action!