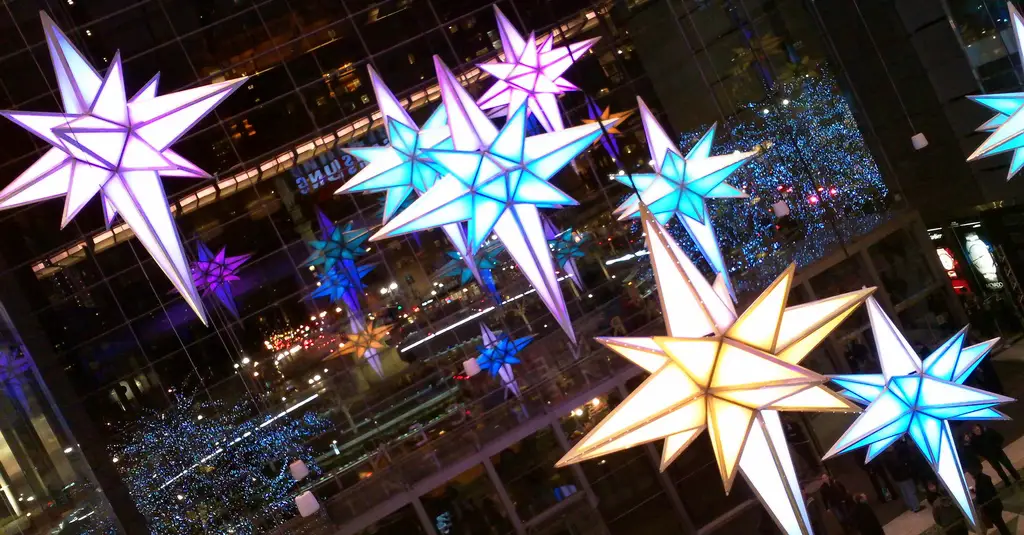 Photo: Shannon McGee/Flickr

New York City takes its seasonal specials and holidays seriously. City Guide's got all the latest and greatest news on the holiday events and specials coming up in New York City this weekend. From scoping out the windows on Saks Fifth Avenue during the Christmas season to catching a round of fireworks on the Hudson on the Fourth of July, you won't miss a thing.


The Week World Tour 2019 Carioca Pride Party - Bowery Ballroom
June 28, 2019 - New York
21+ Carioca promises to be an experience that will bring the Brazilian heat to NYC and you will love it. Featuring a line up of international DJs, an amazing production with a LED stage and the most gorgeous and hottest dancers. Carioca Party will be hosted at Bowery Ballroom. Located in lower Manhattan and is easily accessible by taking the J or Z train to the Bowery station. You're sure to have quite the experience at the Carioca party at World Gay Pride. Embrace your inner Carioca and ginga - the spirit of Brazilians. Join the throngs of international men and dance the night away.
Oyster Bar's 39th Holland Herring Festival - 'Below Sea Level' at Grand Central Terminal
Through June 28, 2019 -
For lovers of "nieuwe maatjes" herring from Holland, the arrival of the tasty delicacy from the waters of the Netherlands is always eagerly anticipated. So, circle Wednesday, June 12, at 12 noon on the calendar when the historic Grand Central Oyster Bar once again will launch its 39th Annual "Holland Herring Festival"with opening ceremonies including the "Official First Tasting" of Dutch Herring, hosted by executive chef Sandy Ingber, president Janet Poccia, vice president Mohammed Lawal,and dignitaries from the Netherlands consulate and special guests participating in the ceremonies. The Herring Festival will continue through Friday, June 28. The Oyster Bar has for three and a half decades been the traditional destination in America for the first Holland Herring of the season. The most-looked-forward-to time of the year for herring lovers, the delicacy arrives air-expressed to the Oyster Bar from Scheveningen, The Netherlands, on the North Sea where the herring fleet makes its home. The Oyster Bar always receives the very first herring shipped to the USA, and the cream of the catch, as well. Beginning on June 12th, and for approximately two weeks thereafter, the Oyster Bar looks... (read more)
M.A.M.A. FESTIVAL BROOKLYN - Dwana Smallwood Performing Arts Center
June 29, 2019 - Brooklyn,
ny
Brew at the Zoo VII - Party with the Animals! - Essex County Turtle Back Zoo
June 29, 2019 - West Orange
Essex County Turtle Back Zoo and the Zoological Society of New Jersey will celebrate the park's 56th Birthday by hosting the 7th Annual Brew at the Zoo on June 29, 2019 from 6:00 PM - 9:00 PM. The festival will feature live entertainment, an abundance of brewers and vendors, and a selection of over 100 craft beers.
Opera Saratoga - Saratoga Performing Arts Center
June 29, 2019 - Saratoga Springs
Music by Gaetano Donizetti Libretto by Jules-Henri Vernoy de Saint-Georges and Jean-François Bayard Sung in French with English Supertitles A spirited and charming tomboy, adopted and raised by an army regiment, has fallen in love with a handsome soldier. But when she receives new information about her identity, she must decide whether to follow her place in society, or follow her heart. Opera Saratoga's 2019 Summer Festival opens with Gaetano Donizetti's sparkling French comedy, La Fille du Régiment (The Daughter of the Regiment), which returns to the company for the first time in 17 years. This new production, directed by Artistic and General Director Lawrence Edelson, will feature the company debut of Argentinian bel canto tenor Santiago Ballerini in the role of Tonio, famous for the bravura aria 'Pour mon âme' in which the tenor sings a succession of nine high Cs in one of opera's greatest showpieces; and the return of soprano Keely Futterer – a distinguished alum of Opera Saratoga's Young Artist Program – in her principal artist debut as Marie, The Daughter of the Regiment!
Hudson Valley/NY Craft Beer & Food Festival Cold Spring,NY June 29 - Mayor's Park
June 29, 2019 - Cold Spring
We, here at "Hops on the Hudson" in Cold Spring are all about Great Tasting Craft Beer, Great Tasting Food, Amazing music, and spectacular Hudson Valley Views!! On Saturday, June 29th, 1pm to 6pm, come and join us for a real New York Festival Experience. You'll be happy you did!
Artists On Site Residency: Jouvayfest Culminating Event (Featuring Dance Workshop, J'ouvert Characters, And Live Steel Band) - Brooklyn Public Library - Flatbush Branch
June 29, 2019 - Brooklyn
Learn how to join the Mas band and become a reveler in sync with J'Ouvert festivities. This culminating event will feature live steelband music, rhythm band, and traditional Mas Characters.
Dear Summer BBQ X - The Well
June 29, 2019 - Brooklyn
Returning for the 10th annual, Dear Summer BBQ™ will once again transport the excitement and Positive Vibes as always. Come out on Saturday, June 29th, 2019 and be apart of whats sure to be the most EPIC event of the summer!!
Cooperstown & Charlotte Valley Railroad: Train Robberies - Cooperstown
June 29, 2019 - Cooperstown
Travel back in time to the exciting world of Outlaws and The Wild West! The train is carrying a strong box full to the brim with money and the local Outlaw Gang knows it. Will the bandits get away with the loot, or will the Lawmen prevail? Find out as a passenger on the Train Robbery featuring action-packed shootouts, period costumes, and fun entertainment for the whole family.
Pride Shabbat at BRJC - Bay Ridge Jewish Center
Through June 29, 2019 - Brooklyn
Finding the right synagogue is no piece of cake, but at BRJC we embrace everyone. Gay or straight, married or single, you will feel welcome. Come see for yourself at Pride Shabbat. Kiddush following Services.
ODSC NYC 2019 - Immersive AI - Convene
Through June 29, 2019 - New York
Details ODSC NYC 2019 - Immersive AI - www.odsc.com/nyc Register now here: https://www.eventbrite.com/e/odsc-nyc-2019-immersive-ai-tickets-60844065237 Are you ready to learn new skills, meet with top companies looking to hire and accelerate your career? Learn from leading experts in hands-on trainings, and hear talks from mentors and career development experts to learn everything you need to grow your career in applied data science and artificial intelligence. Get career-advancing skills in data science, plus essential advice in our unique career mentor talks Upskill Learn from top experts in the field with hands-on training on the most important data science frameworks Connect Connect with our community of data scientists, including speakers, career experts, hiring companies, and others Launch Gain a foothold or advance your career in data science. Over two days, better understand your learning and career pathways Our experienced and passionate instructors provide hands-on training in the most important models, languages, and frameworks in machine learning and deep learning. Our Career Mentor sessions will help you discover your path to this exciting c... (read more)
Queer Liberation March - Sheridan Square
June 30, 2019 - New York
The Queer Liberation March is a people's political march - no corporate floats, and no police in our march. Our 2019 March is a truly grassroots action that will mobilize the community to address the many social and political battles that continue to be fought locally, nationally, and globally. The Queer Liberation March steps off from Sheridan Square at 9:30 a.m., June 30th and proceeds up 6th Avenue. There will be a midpoint gathering in Bryant Park at 11 a.m. where supporters are welcome to meet up before joining the march. We will also provide small buses and some wheelchairs for those who can't walk the route, as well as other services to help make the whole day accessible. For specific access needs, please send inquiries to access@reclaimpridenyc.org. Everyone is welcome to join the march at any point. Pre-Registration or wristbands are not required. The march will end with a Rally in Central Park's Great Lawn (West 85th Street) at 1 p.m. https://reclaimpridenyc.org/
In Conversation With Michael Lang, Woodstock Co-Founder and Producer at The Loft - City Winery
June 30, 2019 - New York
VIP Ticket includes admission to Meet & Greet! Michael Lang was the co-founder and producer of the Woodstock concert, which brought together musicians including the Grateful Dead, Janis Joplin, Jimi Hendrix, Sly and the Family Stone and dozens of others on a single ticket at a dairy farm in Bethel, New York. The concert became one of the cultural milestones of the century, inspiring an Academy Award-winning documentary, countless books and a diverse array of films. For this one time speaking event, Lang will offer his unique behind-the-scenes perspective on the iconic festival and it's legacy. He will also share his vision for the Woodstock 50 festival he is producing this summer, which aims to reinforce the message of the Woodstock Nation with a focus on political activism and awareness, environmental sustainability, and social equality. The format of this event will be a moderated conversation followed by Q&A's. Meet and Greet tickets will be available.
Coffee House Music Festival - Garcia's at The Capitol Theatre - Port Chester
June 30, 2019 - Port Chester
John Fumasoli & The Jones Factor, Stalking Gia, Dante Palminteri, Emily Angell, The Jason Gisser Band, Thomas Claxton, NIcholas Wells, Gabriella Arya, One In A Million, The Dye, Killer Joe & Barry Allen Friedman. This event is 21 and over THIS GARCIA'S EVENT IS 21 YEARS OF AGE AND OVER AND IS GENERAL ADMISSION. Created to bring today's singer songwriter and latest talent to you while keeping that cool vibe coffee house feeling…. CoffeeHouse Music Festival is where you will discover the bands you have been looking for. With a lineup of musicians ranging from Indie Pop, Singer-Songwriters, Country Pop & Alt Rock this is a perfect way to kick back and discover what's happening in the live music scene today.
Summer Brunch & Shop – Ladies Day - Grand Bazaar NYC
June 30, 2019 - New York
Whether she is your best friend from grade school, your roommate since you moved to the Big Apple, or your brand-new gym gal pal, take a day to celebrate the amazing woman in your life! Join us for a day of walking, talking, eating, and shopping at the Bazaar's first Ladies Day, part of our 3-part Summer brunch series. Feel the positive buzz from a curated selection of women-owned small businesses; from handmade crafts, vintage fashion and accessories to delicious artisanal foods. Make sure you stop and talk to these amazingly creative women who help keep NYC creative and vibrant! Ladies, expect to get preferred treatment and special discounts when treating yourself at the Bazaar. Come hungry and ready to shop the 150+ local merchants, indoors and outdoors! 100% of Grand Bazaar NYC's profits are donated to four local public schools, benefiting over 4,000 children.
Splat at NYC Pride March - NYC Pride March
June 30, 2019 - New York
NYC Pride March is an LGBTQIA+ celebration/street fair/extravaganza held every year on the streets of NYC! Join Splat in the fun and outdoor activities that attract thousands of visitors a year! Splat will have a booth open for all to visitors, giving away shirts, bracelets, and Splat bags plus there will be three hairstylists applying Splat Hair Chalk to anyone at the event. Splat products will also be included in the swag bag at the VIP party that is exclusive for major contributors to Pride March and other LGBTQIA+ charities. Visit www.splathaircolor.com
GROOVIN' IN THE PARK CONCERT 2019 - Roy Wilkins Park
June 30, 2019 - United States
Groovin' In The Park is North America's largest annual Reggae and R&B concert. It is a family friendly entertainment event which provides an eclectic array of popular music catering to a very diverse audience from the USA and the Caribbean
ALEGRIA WORLDPRIDE 2019 - Eventbrite
June 30, 2019 - United States
Two amazing events in one unprecedented Alegria production. WOW (Day event) & ALEGRIA (Night Event)
LGBTQ Pride Month: Services and World Pride March - St. Paul's Chapel
June 30, 2019 - New York
Sunday services will highlight Godís love for all people. A reception at St. Paul's Chapel follows. Parishioners are then invited to join the Episcopal Diocese of New York for the WorldPride March, a global celebration of the 50th anniversary of the Stonewall Uprising, beginning with a party in the garden of the Church of the Transfiguration (East 29th Street between Fifth and Madison Avenues) before stepping off in the WorldPride March. For the meeting time and location, email action@trinitywallstreet.org.
Ladyland World Pride 2019 - The Brooklyn Mirage
Through June 30, 2019 - Brooklyn
Ages 21+ Sheeeeee's back! It's the second coming of the LadyLand Festival...and this time she's not one day, but two! Friday, June 28th & Saturday, June 29th LADYLAND is an outdoor queer music festival/ pride party/ intimate concert! It's hours upon hours of DJs, live music, dancing, & good vibes celebrating WORLD PRIDE 2019!
Brooklyn Bridge Park: Environmental Education Center Open Hours - Brooklyn Bridge Park
Through June 30, 2019 - Brooklyn Heights,
Get to know Brooklyn Bridge Park by visiting the Environmental Education Center's 250-gallon aquarium filled with critters from the East River, a 10'-scale model of Brooklyn Bridge Park, crafts, a reading corner, and more.
BFPL Celebrates WorldPride - Brookfield Place
Through June 30, 2019 - New York
Join Brookfield Place in celebrating WorldPride NYC with activations and events taking place in multiple spaces throughout the complex during the month of June. Explore a large-scale installation in the Pavilion (6/1 – 7/1), visit WorldPride | Stonewall 50 AIDS Memorial Quilt Display Initiative in the Winter Garden (6/27 – 7/1), and snap a photo with a colorful instagrammable moment (6/27 – 7/1) on the Waterfront Plaza. For every post on social media that tags @BFPLNY and #BFPLpride in the Pavilion and on the Waterfront Plaza, $1 will be donated to an LGBTQIA+ charity.
NYC Pride Month - Luma Hotel
Through June 30, 2019 - New York
See why New York is delighted to host the largest Pride celebration in the world, spanning the entire month of June in 2019.
Town Park Beach Carnival at Point Lookout - Town Park at Point Lookout
Through July 07, 2019 - Point Lookout
This family-friendly event presented by the Town of Hempstead features a daily carnival with midway rides and games for all ages, favorite fair food, and live music and entertainment including fireworks and a free concert by That 70's Band on Sat., June 29. Free event admission includes the World of Wonders Amazement Show, 10 old-time sideshow acts under the big top starring fire eaters, sword swallowers, contortionists, snake charmers and other exciting acts. Free concerts July 4-7 will include Beatles tribute band Penny Lane (7 pm Fri., July 5), country music singer-songwriter Frankie Justin Lamprey (8 pm Sat., July 6) and Lynyrd Skynyrd tribute band Freebird (7 pm Sun., July 7). Unlimited ride wristbands (for riders 36 inches or taller) are $30 on site. A BOGO wristband deal is available to U.S. veterans and active military personnel with proof of veteran or active military status. Online pre-sale ride wristbands are 2 for $30 or a Family 4 Pack (2 adult and 2 child wristbands) for $60. (Online sales end at 5 pm Thurs., June 27.) Visit the website for ride ticket prices and coupon savings on rides and food. Carnival hours are 5 to 10 pm Monday-Thursday and 5 t... (read more)
Rebecca Minkoff virtual sale - Rebecca Minkoff
Through July 14, 2019 - New York
Hi, Hope all is well! Excited to share details on Rebecca Minkoff's upcoming virtual sale. Items are shoppable on the below link starting today, June 13th - July 14th, including some amazing pieces. See below for additional details. Attached is the flyer with all relevant information. Let us know if you are able to cover on your site! Best, Lindsey Goldberg Link to Sale: https://www.rebeccaminkoff.com/collections/sale Dates of Sale: June 13th- July 14th Percentages Off: Up to 50% off
GROOMIT, On-Demand Pet Grooming - Your Home
Through July 31, 2019 - New York
Treat your four-legged family member to the best in at-home grooming. Groomit is the first mobile platform connecting pet owners and groomers. By connecting owners and groomers directly, Groomit offers top quality services at affordable prices, all performed in the convenience and comfort of your home. Groomit's groomers are selected through the company's proprietary vetting system which ensures all are fully insured and trained to care for your pet. Groomit currently provides services in New York City, Westchester, North Jersey and Connecticut. The groomers are selected through Groomit's proprietary vetting system while being fully insured and trained. GroomIt uses all-natural products while providing a low stress, comfortable grooming experience for the pets. For more information: www.groomit.me • 646-589-0556
Poliform Summer Kitchen Sample Sale - Poliform Showroom
Through August 31, 2019 - New York
From now through the end of August, Poliform is hosting a special sales event at their Madison Avenue (112 Madison Ave) and A&D Building (150 E 58th St.) showrooms. The sample sale offers patrons the opportunity to purchase some of the brand's luxury, high-design kitchen systems including Twelve, My Planet, Artex, and Phoenix, at 30% off and beyond. The showroom also offers customization services to assist buyers in retrofitting the kitchens into different space layouts in metropolitan homes. 112 Madison Ave. Showroom Hours: Monday to Friday - 10AM to 6PM Saturday - 11AM to 5PM A&D Building Showroom Hours: Monday to Friday - 9AM to 5PM Saturday, Sunday - CLOSED
Daniel Buren on the High Line - The High Line
Through March 01, 2020 - New York
High Line presents En Plein Air, a group exhibition that broadens and challenges historical ideas of outdoor painting. The exhibition is on view along the length of the park from April 2019 to March 2020. It will bring together work by eight artists, including French artist Daniel Buren, who will string his signature stripe piece The Gardland over the elevated walkway
Scavenger Hunt - Strawberry Fields
Through December 31, 2020 - New York
Explore the sights, sounds, and places that make New York City amazing as we lead you on a New York City scavenger hunt adventure. You and your friends will be guided on an intrepid walking tour as you find the best things to do in New York City. Solve puzzles, uncover historical secrets, and capture wacky moments as you scavenge your way to the New York City hall of fame and scavenger hunt glory. Without giving it all away, here are some of the top spots along this hunt: Bethesda Fountain, Belvedere Castle, The Dakota. Compete against your friends or colleagues in the best large group activity New York City has to offer. Uncover your team's fearless leaders, trivia champions, and sharpshooting photographers as your company works together to conquer New York City. Teambuilders by ScavengerHunt.com are the most epic outdoor team building game in town and one your team will never forget. And does anyone else hear wedding bells? Let us guide you through your New York City bachelorette party adventure as you and your bride tribe take over the town, hitting all the hot spots in New York City and taking some great pictures along the way. It's the New York City bachelorette party... (read more)
New York City Scavenger Hunt: Get out and explore with the Let's Roam scavenger hunt app! - New York City Scavenger Hunt: Get out and explore with the Let's Roam scavenger hunt app!
Through December 31, 2020 - New York City
Forget tourist-filled museums, make your own memories with a photo scavenger hunt tour in New York City! On a Let's Roam scavenger hunt, you and your team will work together to wander throughout New York City, racking up points and laughs along the way. Central Park Scavenger Hunt is the perfect small group activity for anyone looking to spend an enjoyable afternoon in New York City. Some of the more memorable landmarks you'll see are: Bethesda Fountain, Belvedere Castle, The Dakota. Let's Roam scavenger hunts work great for outdoor team building games in New York City too! Whether you work in New York City or are just visiting, you are sure to learn some new facts about the city as well as your teammates on this creative corporate event! This is one of the happiest hours your team will spend together! Fear not, maids of honor, these hunts are sure fire ideas for New York City bachelorette parties! Bachelors and bachelorettes will both enjoy roaming around on their wedding-themed New York City scavenger hunts. Why just bar hop when you and your team can jump for joy as you complete hilarious photo challenges and see the best that New York City has to offer! Looking t... (read more)
Shopping and Champagne - Trina Turk and Mr. Turk
Through October 08, 2028 - New York
Sip champagne as you shop our new Holiday Collection at 25% off! Plus enter for a chance to win a 1000$ Shopping Spree!
Roulette's Spring Open House - Roulette
Through April 02, 2109 - Boerum Hill
Calling all local residents, community organizers, vendors, and anyone who is interested in learning more about Roulette's Rental Program! You are invited to Roulette's free Spring Neighborhood Open House on Tuesday, April 2, 2019. From 6pm – 8pm, we will be opening our doors to the public and inviting the community to visit Roulette. Have a drink, jam to beats by DJ Natural State of Dance, learn about our programming, and see why Roulette has become one of the most in demand venues in Brooklyn for weddings, not-for-profit, and commercial organizations, private celebrations, conferences, galas, and more! Featuring complimentary food with the return of the legendary Pies'n'Thighs and Naturally Delicious, a chance to relive the culinary heaven of our 40th Gala with Night Kitchen Catering, and sweet dreams from our neighborhood chocolate supplier Nunu Chocolates; decor by the top-tier team of Big Dawg Party Rentals; and free photobooth mementos provided by MVS Studio/ Fobo. Whether you're passionate about Roulette's music programming or interested in renting our venue for your next event, come meet our friendly and knowledgeable staff and see the space in action!

Want free advice on what to see and do in NYC? Join our Facebook group Everything to Do NYC, a place for people to ask questions and get tips on how to make the most of the city.