Holidays and Specials in New York City This Weekend - November 17-November 19
November 13, 2017 - by CG Directory Editor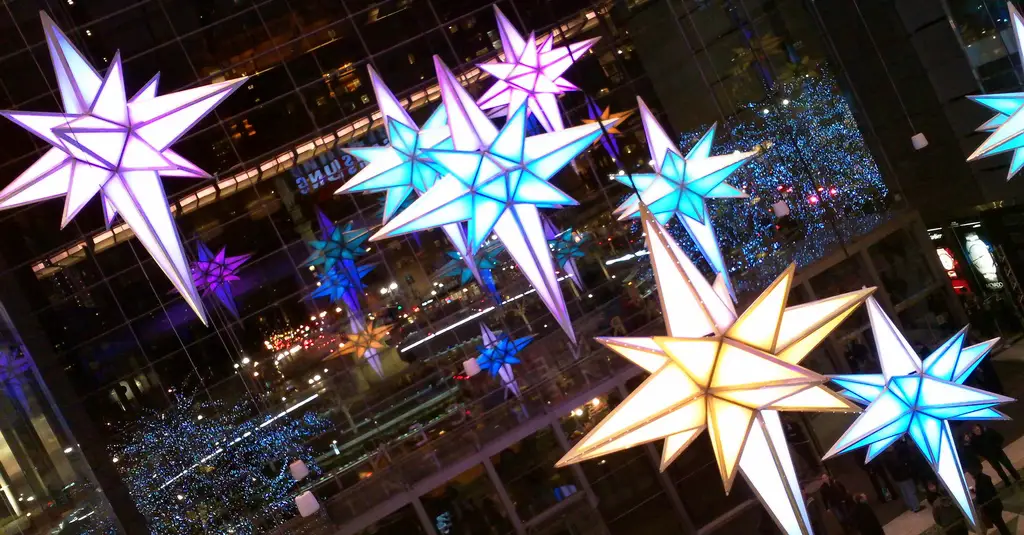 Photo: Shannon McGee/Flickr

New York City takes its seasonal specials and holidays seriously. City Guide's got all the latest and greatest news on the holiday events and specials coming up in New York City this weekend. From scoping out the windows on Saks Fifth Avenue during the Christmas season to catching a round of fireworks on the Hudson on the Fourth of July, you won't miss a thing.


Shababa Fridays - 92Y
November 17, 2017 - New York
Get ready for Shabbat with a joyous and active musical experience! Children, parents, grandparents and nannies are all a part of our Shababa Friday family. Join us for this playful and soulful experience of singing, dancing, jumping and celebrating as a community! Ongoing on Fridays, Session One: 9:30-10:15 am / Session Two: 10:45-11:30 am.
Queer Coney! - Coney Island USA
November 18, 2017 - Coney Island
Come one! Come all! To the Queerest Show of All! Kinetic Cabaret Productions & The Brides of Burlesque with Coney Island USA proudly and loudly give you QUEER CONEY! The launch of this new partnership will feature some of the most amazing and provocative Queer stars of circus, sideshow, and theatre of the bizarre! We invite people of all sexuality and gender to enjoy a magical evening! Dress Code: The truest version of YOU! Mistress of Ceremonies: Faux Pas le Fae Stage Clown: Viktor Devonne Starring: Faux Pas le Fae Aurora North Nati Amos Pink Velvet The Lost Boys Sage Sovereign Zoe Ziegfeld and more! In the spirit of the mission to defend the honor of American popular culture, we recognize that LGBTQ people have historically played a vibrant role. Queer Coney centers these artists in the beloved genres of circus sideshow, vaudeville and burlesque. We invite audiences to safely and proudly celebrate themselves during a magical experience filled with death defying feats and life affirming hope.
The 8th Annual Holiday Spirits Bazaar - Astor Center
Through November 18, 2017 - New York
Kick off the season of entertaining with an annual celebration of wintry cocktailing on Saturday, November 18 at the 8th Annual Holiday Spirits Bazaar! Guests will sip their way through an unlimited array of holiday cocktails and punches made by some of NYC's best bartenders, each competing for the top title in a friendly Punch-Off. Using text-to-vote technology, the crowd will pick a People's Choice winner for the ultimate bragging rights. Hosted by The Dizzy Fizz, this year the spectacular bash will be held at Astor Center (339 Lafayette Street, New York, NY 10003), transforming the modern industrial venue into a cozy, woodland scene. This year, the merry-making is spread over two rooms—a Fireplace Tavern and a Sparkling Spirited Parlor. VIP hour is from 6 to 7 p.m., giving guests an extra hour of imbibing before the crowds arrive, plus access to an oyster bar featuring Bluepoint Oysters. General admission is from 7 to 10 p.m. All ticket-holders can enjoy unlimited libations as well as small bites from local purveyors, including cheese and charcuterie. Tickets are $55-$85 while supplies last. For more information, please visit holidayspiritsbazaar.com. A portion of ticket proceed... (read more)
Member Day - Museum of Jewish Heritage
November 19, 2017 - New York
Sunday, November 19 Tours will be available at: 10:00 AM, 12:30 PM, 1:00 PM, 3:30 PM, 4:00 PM, 5:00 PM, 5:30 PM, 6:00 PM, 6:30 PM, and 7:00 PM. Advance registration is required. Join us at 2:00 PM for The Participants: The Men of the Wannsee Conference, a free book launch with authors Dr. Hans-Christian Jasch and Dr. Christoph Kreutzmuller discussing the infamous meeting of high-ranking members of the SS and how it is understood in present-day Germany. Advance registration is recommended. RSVP for your date of choice with your name, the name of your guest (one guest per member), and tour time preferences to membership@mjhnyc.org or 646.437.4334.
The Suite Sounds of Christmas - Stern Auditorium/Perelman Stage, Carnegie Hall
November 19, 2017 - New York
Sunday, November 19, 2017 at 8:30 PM Stern Auditorium/Perelman Stage, Carnegie Hall The Suite Sounds of Christmas The New York premiere of composer and conductor Mark Hayes's International Carol Suites weaves together familiar and lesser-known Christmas carols in a multicultural celebration of the season. Maestro Jonathan Griffith conducts The Night Before Christmas, Gloria, and A Feast of Carols narrated by composer Randol Bass. Both acts feature the Distinguished Concerts Singers International and Distinguished Concerts Orchestra. Performers: Distinguished Concerts Orchestra and Distinguished Concerts Singers International Jonathan Griffith and Mark Hayes, Conductors Randol Bass, Narrator Program: MARK HAYES International Carol Suites (NY Premiere) RANDOL BASS Gloria RANDOL BASS A Feast of Carols RANDOL BASS The Night Before Christmas Tickets $20-$100! On Sale Now! Visit CarnegieHall.org or call 212-247-7800 Box Office: 57th Street and Seventh Avenue Ticket Link: https://www.carnegiehall.org/Calendar/2017/11/19/0830/PM/Distinguished-Concerts-Orchestra-and-Distinguished-Concerts-Singers-International/
Long Island Music Hall of Fame Family Holiday Concert - The Theatre at Westbury
Through November 19, 2017 - Westbury
A Benefit for Music Education Programs Featuring Many of Long Island's Top Music Education Students and Limhof Inductees Performing Songs of the Season and Limhof Artists. Everyone Needs a Ticket Regardless of Age. Interested in Vip Membership and Premium Seating for Our Events? for Information Please Call 516-247-5211 Members Get the Best Seats!.
Spirits of the Holidays Pop-Up Market - Down to Earth Farmers Market
Through November 19, 2017 - Croton-on-Hudson
Get Ready for Holiday Entertaining and Gift Giving at a Special Spirits Pop-Up Market at the Rye Farmers Market. We'll Have Our Usual Farmers and Food Makers as Well as Local Spirits, Mead and Cider Makers with a Wide Range of Products Made Here in New York with New York Grown Fruits, Herbs and Grains. Each Vendor Will Offer Tasting Samples of Their Range as Well as a Sample of a Signature Cocktail with a Printed Recipe to Jumpstart Your Holiday Party Planning. We Look Forward to Welcoming Nahmias Et Fils Distillery (Mahia), Gristmill Distillers, Adirondack Distilling Company, Cliffton Dry, Mysto Mead Andtaconic Distillery with More to Be Announced!
Join Stand Up to Cancer and CVS in the fight to find a cure for cancer and enter to win a trip to Hollywood - CVS Stores
Through November 19, 2017 -
CVS is partnering with Stand Up To Cancer (SU2C) starting Oct. 29 to give customers the opportunity to harness the "Power of a Dollar" to support groundbreaking cancer research by donating in-store and a chance to win a trip for two to Hollywood. From Oct. 29 to Nov. 19, every CVS customer can donate $1 or $3 or more to SU2C by touching a button on the checkout pin pad. The proceeds benefit breakthrough cancer research taking place in labs across the country. Capture yourself donating with a selfie to share or spread the "Power of the Dollar" message across your social channels to win points. The more you do, the more points you get as you compete for the chance to win this special prize - two tickets and an all-expenses paid trip to attend a red carpet Hollywood premiere! For more information or to donate, visit: www.StandUpToCancer.org/CVSHealth.
Holiday Cocktails & Cheese - Murray's Cheese Shop
Through November 24, 2017 - New York
'Tis the Season for Something Special! Spend an Evening with a Murray's Cheese Expert and a Nyc Beverage Specialist as We Explore All the Flavors the Holidays Have to Offer. All Paired with Murray's World-Class Cheeses! with the Right Choices, These Sweet and Bitter Drams of Liquor Can Lead to Eye-Opening, Taste Bud Inspiring Pairings. You'll Leave with the Tips (And the Swagger) to Become the Ultimate Home Bartender, Entertainer, and Budding Cocktail Enthusiast.
Pumpkin Pie Cake Shake & Pumpkin Pie Cheesecake available at Junior's Restaurant this Fall! - Junior's Restaurant
Through November 30, 2017 - Brooklyn
Pumpkin fans rejoice! This fall, Junior's Restaurant is debuting a Pumpkin Pie Cake Shake — an Instagram-worthy milkshake featuring your favorite fall flavors. Vanilla ice cream with cinnamon and brown sugar is blended with fresh milk and placed in a Junior's signature glass adorned with crushed graham crackers and vanilla frosting. To top it off, this milkshake is crowned with an entire slice of Junior's newest offering, Pumpkin Pie Cheesecake. This cheesecake starts with a graham cracker crust with freshly grated cinnamon and nutmeg. Next, Junior's Original Award-Winning New York cheesecake is baked atop a generous layer of homemade pumpkin pie filling and finished with a layer of pumpkin mousse rosettes. The shake is then finished with a heaping helping of whipped cream.  This decadent milkshake will be available for $15.95 at all Junior's Restaurant locations during the months of October and November. If you're in the mood for just the cake, the Pumpkin Pie Cheesecake will also be available at all Junior's Restaurant locations as well as for nationwide shipping at https://www.juniorscheesecake.com/  About Junior's Restaurants Founded by Harry Rosen almost seven decades a... (read more)
New York Cares Winter Wishes - New York Cares
Through December 08, 2017 - New York
Take part in this year's "Winter Wishes" program with New York Cares to provide holiday gifts to children, teens, and seniors in need. Winter Wishes is underway now and individuals and teams can register to participate here: https://www.newyorkcares.org/winter-wishes Each year, New York Cares partners with hundreds of Community Partners, including homeless shelters, schools, and other deserving nonprofit organizations, to provide holiday gifts for children, teens, and seniors, many of whom would not otherwise receive gifts during the holidays. To accomplish this, New York Cares collects and screens more than 35,000 gift requests and sends them to volunteers who purchase, wrap, and send the gifts to its partners.
Live Jazz Brunch Saturdays & Sundays at Authentic Italian Restaurant The Leopard at des Artistes - The Leopard at des Artistes
Through December 17, 2017 - New York
"Jazz Brunch at des Artistes" is served every Saturday and Sunday, 11:30am-3:00pm, and features Executive Chef Vito Gnazzo's brunch menu, as well as a selection of "Beyond Brunch" dishes. The southern Italian-accented brunch dishes include Chef Vito's "Uova all'arrabbiata" Poached organic eggs with spicy tomato sauce and bread croutons, served in a skillet", "Des Artistes eggs Benedict with Hollandaise sauce served with prosciutto San Daniele and herb roasted potatoes", and his irresistible "Frittatina with porcini mushrooms and oven-roasted fingerling potatoes". The "Beyond Brunch" menu includes his beloved "Gnudi" - Buffalo ricotta gnocchi, in butter and Parmigiano Reggiano sauce, with sage and organic asparagus", and the "Ricotta and basil ravioli in butter, sage and Parmigiano Reggiano sauce". With the fully restored Howard Chandler Christy murals adorning its walls, and a great mix of menus and programs, The Leopard at des Artistes is a beloved neighborhood restaurant on a tree-lined block near Central Park that attracts guests from all over the world, and continues to be the place to go for a discerning clientele seeking excellent food and wine, and an unmatched l... (read more)
Live Jazz Brunch Saturdays & Sundays at Authentic Italian Restaurant Il Gattopardo - Il Gattopardo
Through December 17, 2017 - New York
Saturday & Sunday, 11:30 AM-3:00 PM Midtown icon Il Gattopardo plays host to "Italian Jazz Brunch" every Saturday and Sunday, 11:30am-3:00pm, offering guests a wide range of dishes from both the full a la carte and Italian-themed brunch menus; "Italian Jazz Brunch" is served in Il Gattopardo's sleek, modern main dining room. Among the dishes on Executive Chef Vito Gnazzo's brunch menu are his "Ricotta pancakes served with maple syrup and fresh berries", "Uova all'Amatriciana, spicy poached eggs in a cherry tomato sauce, pancetta and red onions", and his classic "Spaghetti alla "Carbonara", egg yolk, pecorino cheese guanciale and black-pepper corn." Il Gattopardo 13-15 West 54th Street, New York, NY 10019 www.ilgattopardonyc.com
Enchanted: Forest of Light - Patina Restaurant Group
Through January 07, 2018 - New York
As the days get darker, Descanso Gardens transforms its grounds into an enchanted forest with whimsical lighting displays and interactive exhibitions. Visitors will stroll along a one-mile walk through the Gardens to experience the most beloved collections of Descanso illuminated in glorious color. Some of these displays will be interactive, allowing visitors to manipulate the lights and sounds.
16th Annual Holiday Train Show - Vanderbilt Hall - Grand Central Terminal
Through February 04, 2018 - New York
The holiday season is a time of joy for kids of all ages and nothing says holiday enchantment quite like dazzled little faces watching in wonderment as model trains zip through tunnels, by subway stops, around familiar skyscrapers and through iconic cityscapes. To the delight of kids and railroad enthusiasts alike, the New York Transit Museum will continue its tradition of capturing hearts and imaginations at the 16th Annual Holiday Train Show at Grand Central Terminal starting in November and running through the New Year. The theme of the holiday train show changes every year and the event is free and open to the public. For more information, please visit http://nytransitmuseum.org.
Looking for Free Group Planning Services?
Get free advice on planning your group's trip to New York.
MORE Activity Planner ARTICLES
RESTAURANTS

Beer hall casual meets craft cocktails with a healthy dose o...

THEATER

This new American musical offers a deeply personal and profo...

SHOPPING

Find the right gear for your workout. ...

SIGHTSEEING

This renovated museum complex includes the 900-foot-long air...