Jesse Tyler Ferguson: Fully Committed
May 12, 2016 - by Griffin Miller, Theatre Editor
Fully Committed, starring Jesse Tyler Ferguson, is Broadway's only solo show and one that requires a triple shot of adrenaline just to keep up with it. It also packs a hard wallop of hilarious. Ferguson's key role is that of Sam, an actor who works in the basement of a "ridiculously trendy Manhattan restaurant" answering a non-stop reservation line, the needy/chatty chef's direct line, and, whenever possible, his cellphone. Ferguson also plays every hysterical/demanding reservation seeker and assorted others: we're talking 40 characters.
When not acting on Broadway, Ferguson works in L.A. on the ridiculously successful sitcom Modern Family, for which he's amassed five Emmy nominations playing Mitchell Pritchett. Thus, the West Coast beckons and his limited Broadway run will end on July 31st. So, this is how Jesse Tyler Ferguson chose to spend his summer vacation—wow...and thank you, thank you, thank you!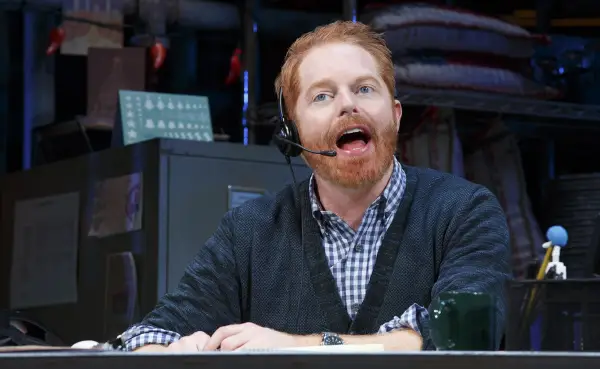 Image: Joan Marcus, 2016
CG: The show has you bouncing off the walls...what do you do to maintain that sort of onstage energy eight performances a week?
JTF: The show itself is a 90-minute cardio routine but I have been working with a trainer to stay conditioned. I used to love going out and grabbing a few drinks with friends after a performance but I had to really cut back with this show. I can't risk a hangover with this one!
CG: What would you say is your favorite moment in the show?
JTF: I love the moments later in the play when Sam starts to win his power back. The audience seems to really respond to that shift and it's fun to ride. I also get to cuss a lot as the chef. It's fun yelling the F bomb on a Sunday at 3pm.
CG: Which character—other than Sam—do you find most interesting/fun to play?
JTF: It's like choosing a favorite child when I'm asked this question. The answer constantly shifts depending on my mood. Recently I've enjoyed playing Judith Rush, my senior citizen. Maybe because I feel a bit tired and sore!
CG: Have any of your Modern Family costars seen the show? Feedback?
JTF: Ty [Burrell] and Aubrey [Anderson-Emmons] came early in previews. I had to apologize to Aubrey for all the F bombs...but she's seen Cabaret so I think she was okay. Eric Stonestreet came to my opening night and then came again with his mom the following week. Feedback?! I would never ask anyone for feedback! I won't even read reviews!!!!
CG: Are you a foodie? If so, how do you determine a fabulous restaurant?
JTF: I am a big foodie. I love trying new hotspots. I'm always on the eater and infatuation blogs looking for the best new places. They usually have their finger on the pulse. I'm friendly with several chefs and culinary personalities so I pull from their resources too. I'm also fairly ambitious in the kitchen. I have a huge cookbook collection and I subscribe to a few culinary magazines so I'm constantly trying new dishes and learning new techniques.
CG: Did you ever try to get into a posh restaurant or party, and if so, what were your go-to persuasive techniques?
JTF: I've pretended to be my personal assistant calling on my behalf...that way if they say no it doesn't feel like such a direct rejection.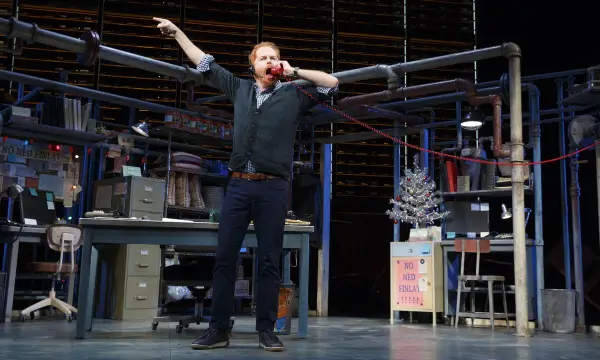 Image: Joan Marcus, 2016
Looking for Free Group Planning Services?
Get free advice on planning your group's trip to New York.
RESTAURANTS

Beloved midtown spot takes inspiration from local tradition,...

THEATER

Kander and Ebb's "musical vaudeville" in which Roxie Hart ga...

SHOPPING

Specializing in the great vineyards of California, France, A...

SIGHTSEEING

Spirit Cruises is New York City's most vibrant and entertain...
SAVINGS OPPORTUNITIES
The Imbible: A Spirited History of Drinking - Save $15 off each ticket. Go to Telechargeoffers.com and use code IECTYGD15 or for Day Drinking The Brunch Musical, use code IDCTYGD15 at telechargeoffers.com to get $15 off each ticket. -02/28/2019