A handful of years before the #MeToo movement turned the spotlight onto female empowerment, Broadway shattered the glass ceiling when Waitress announced an all-female creative team. It was a Broadway first.
The groundbreaking quartet of women responsible for whipping Waitress into one of Broadway's top grossing shows are Tony-winning director Diane Paulus (Pippin; Finding Neverland; Hair); five-time Grammy nominee Sara Bareilles, the musical mastermind (and sometimes star) behind the show's Tony-nominated score; Jessie Nelson (Corrina, Corrina; I Am Sam), who adapted the show's script from Adrienne Shelley's 2007 breakout film; and Julliard-trained choreographer Lorin Latarro (The Curious Incident of the Dog in the Night-Time).
"I'm thrilled that Waitress is breaking boundaries as the first Broadway musical with book, score, choreography, and direction by a team of women," said Paulus at the time, adding, "It's a historic and long overdue moment for Broadway, and I'm honored to be working alongside such passionate and inspiring women."


At the heart of Waitress is another woman, Jenna, a small town waitress whose lousy marriage to an abusive husband, Earl (Ben Thompson) is counterbalanced by a) her ability to bake amazing pies with names that manage to reflect her life's cockeyed trajectory ("White Knuckle Cream Pie,"); and 2) her circle of friends at the diner where she waitresses, especially her fellow waitresses: prickly Becky (NaTasha Yvette Williams) and nerdy Dawn (Caitlin Houlahan).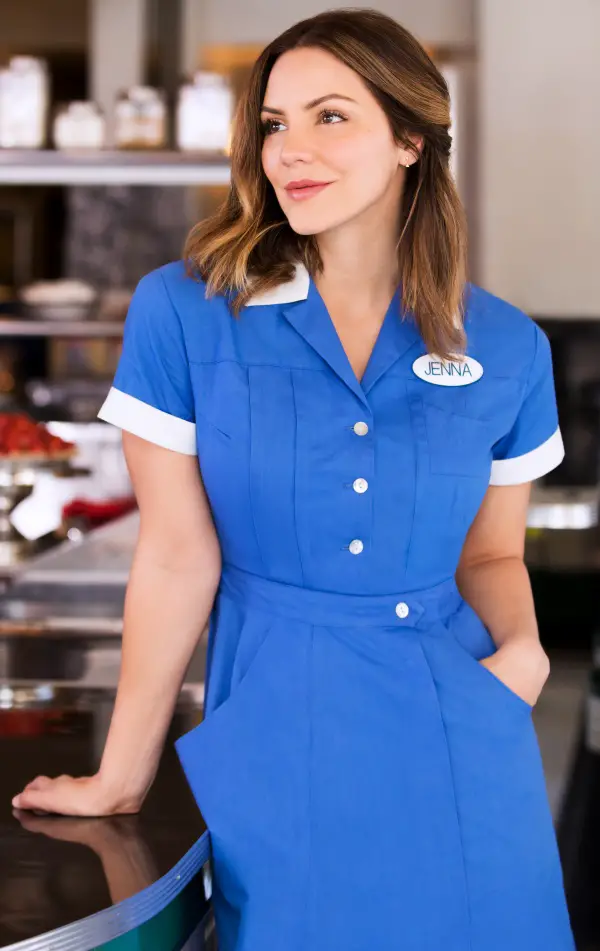 Photos by Matt Murphy
As for Jenna, Katharine McPhee—whose impressive fan following, taking off during Season 5 of American Idol and snowballing throughout her subsequent recording career and emergence as the breakout star of NBC's Smash—is the latest actress to assume the role (April 10 through June 16th).
The show's storyline finds McPhee's Jenna finessing her way through various emotions once she learns she's pregnant ("Betrayed by My Eggs Pie"), and her imperfect day-to-day existence becomes a showdown of emotions and decisions. Tell or don't tell/dump or don't dump Earl ("My Husband's a Jerk Chicken Pot Pie")? Have an affair/don't have an affair ("Pursuit of Happiness Pie") with her married OBGYN (Drew Gehling)? Enter the National Pie Bake Off in a nearby town ("Jumping Without a Net Bottomless Pie") that would give her the money to revamp her life ("Getting Out of the Mud Mud Pie")...or let insecurity stand in the way? ("My pies are good but I'm no Sara Lee," Jenna argues.)
Indeed, doubts, fears, and insecurities haunt pretty much all the characters inhabiting this uniquely human and wonderfully uplifting musical. In the end, it's a contemporary musical about imperfect people seeking happiness in large or small doses, and the highs and lows they encounter along the way. Prominent in this regard is Dawn's reticence to forego TV dinners for dating, although she eventually gives in to Ogie—played by Tony nominee Christopher Fitzgerald—an endearing customer so smitten by the self-effacing Dawn that he declares his love with full-blown musical comedy panache in the show-stopping number "Never Getting Rid of Me." How could Dawn resist?
And while true romance may elude some of the show's key characters, love does not—which makes Waitress one of those remarkable, heartwarming Broadway success stories, told by women, but with universal appeal. And wait till you get to the final scene...Spoiler alert: it's a lulu!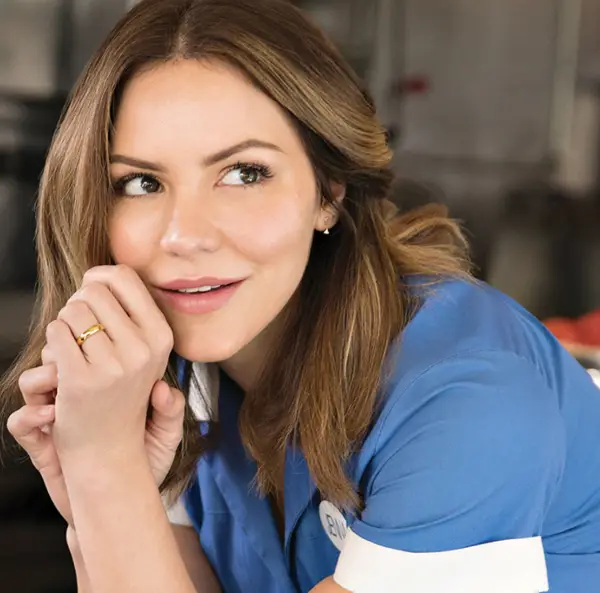 The Sweet Smell of Temptation
Apparently, it's not enough that diner-inspired towers of luscious-looking pies flank either side of the Brooks Atkinson stage—a heartless study in diet assassination if ever there was one. The provocateur producers opted to up Waitress's mouth-watering ante with an olfactory enticement that's simultaneously evil and delicious—a kind of "surround smell" wafting from the theatre's entryway. It's a scent that pays homage to pie virtuoso Jenna turning out pie after pie starting with Act I, Scene I.
Indeed, not long after not long after Waitress opened (4/24/16), producer Barry Weissler confessed to "desperately" wanting the baking aroma to be part of the experience. And, as it happens, the best way to achieve a genuine pie scent (apple, of course) was to install a convection oven in an area just outside the orchestra seating area. Bottom line: it's a good thing you can buy pie during the intermission...
Waitress is playing at Broadway's Brooks Atkinson Theatre, 256 W. 47th St. For tickets
call 877-250-2929 or visit waitressthemusical.com.