Ripley's Believe It or Not! Times Square is hosting the 44th annual Odor-Eaters National Rotten Sneaker Contest on Tuesday, March 26th, at 10am. Seven youthful contestants will be bringing the sweat smell of success from across America. The reward—beyond glory—is a generous New York prize package.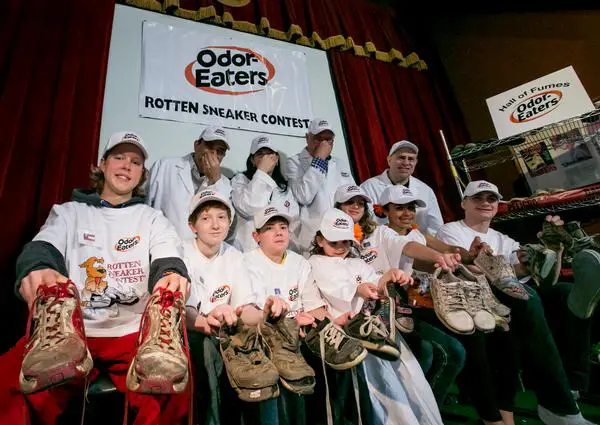 Past contenders failing the sniff test.
An expert panel of judges will be on hand, including Stacy Shuster, VP, Marketing and Sales, Ripley's Believe It or Not! Times Square, and stench specialists George Aldrich (NASA's "Master Sniffer"), Dr. Rachel Herz, a world-renowned expert and author on the psychology of smell, and Buck Wolf of the Huffington Post.
Sneakers are judged based on odor and interior and exterior shoe condition. Contestants also have to share the story of how their sneakers ended up so dirty and smelly. The winner receives $2,500, an additional two nights' stay in New York, tickets to see a Broadway show, the Golden Sneaker award, a year's supply of much-needed Odor-Eaters products, and a spot in the Hall of Fumes.
Regular admission rates to Ripley's apply. For more information, visit ripleysnewyork.com.