Live Music in Clubs and Bars in Brooklyn This Week - October 15-October 22
October 15, 2017 - by CG Directory Editor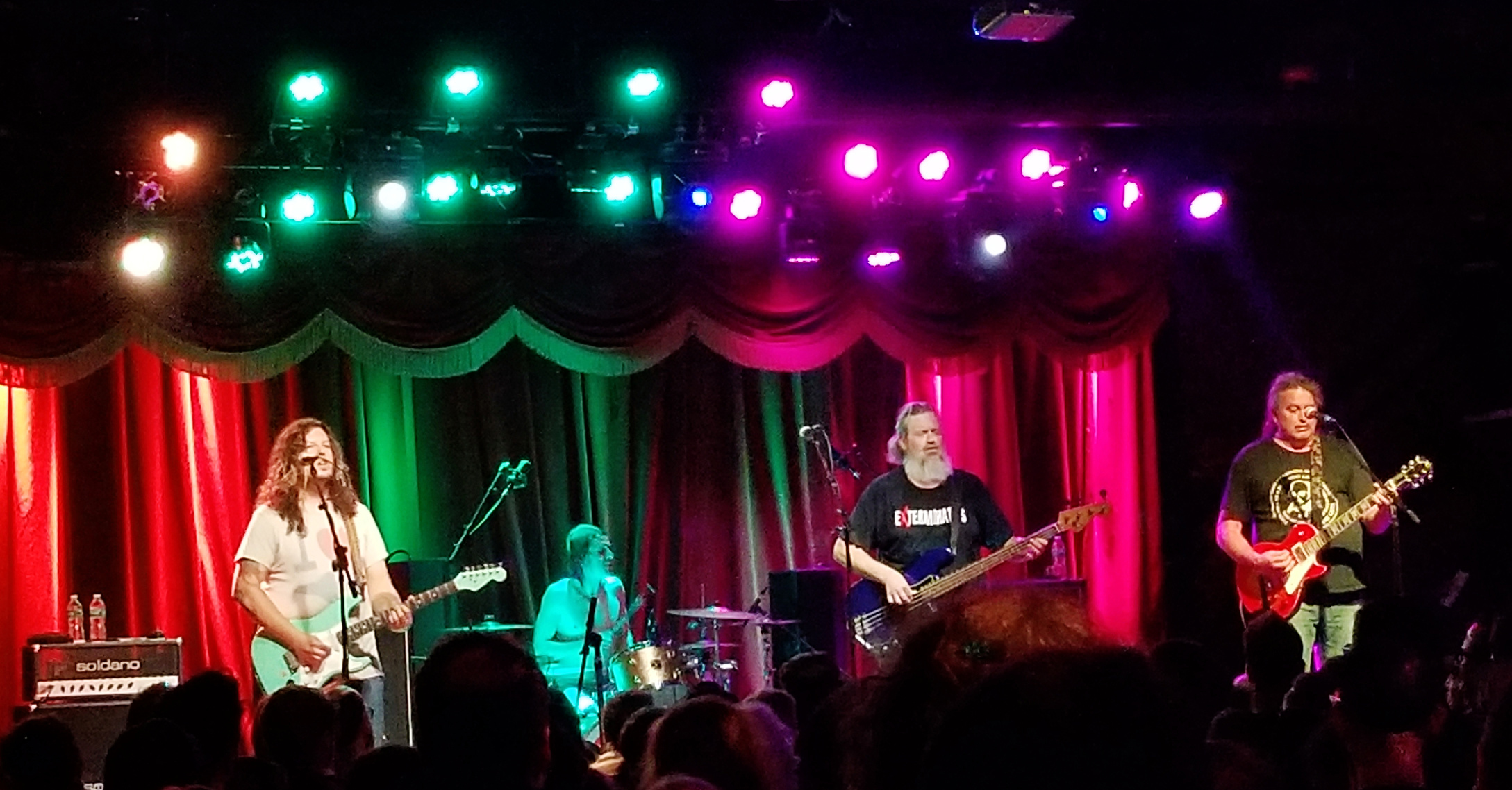 Photo: Vladimir/Flickr

Brooklyn is as happening as cities get, with live music in the bars and clubs from Williamsburg to Park Slope to downtown. With a younger crowd taking to the always trending burough, you can bet that great shows can be found all over Brooklyn. Whether you're more into a rock scene or music that's an eclectic mix, check out places like Brooklyn Steel, Barbes, and the Pine Box Rock Shop all around Brooklyn.


Acfny Moving Sounds Festival: Ars Electronica / Eyebeam Edition: Mshr / Yatta / Br-Laser - Roulette
October 15, 2017 - Brooklyn
BR-Laser is an engineer, visual sound artist and cofounder of Kunstverein NewJörg Vienna. He is a regular guest at international experimental music festivals, music fairs and soldering workshops. Performance highlights include: Ars Electonica (Linz), Superbooth (Berlin), Modular Days (Barcelona), and Machines in Music (New York). MSHR is the art collective of Birch Cooper and Brenna Murphy. They build and explore systems to reveal pathways toward ecstatic sensory experience and work at the intersection of digital sculpture, analog circuitry and ceremonial performance. The physical projects revolve around analog light-audio feedback systems built from macro-arrangements of our sculptural synthesizers. On the virtual side, they weave computer generated portraits of inter-dimensional entities and psychedelic realms. These physical and virtual pursuits inform each other deeply, unfolding a hyper-shape that houses both. YATTA is a Houston-born interdisciplinary artist, digipoet, and musician currently based in Brooklyn. Using incantations born of loop pedal drones, folk acoustics, and ecstatic beats, they alchemize and creolize jazz vocals with Krio cries to create music to lie do... (read more)
Guerilla Science Presents: Fire Organ Soundscapes - National Sawdust
October 15, 2017 - Brooklyn
Experience music in a new way. Join us for a spectacular showcase of sound and fire where multisensory artists perform new works designed to reveal the interconnectedness between music and the physical nature of sound.
The Weeks - Music Hall of Williamsburg
October 15, 2017 - Brooklyn
Rowdy, Raucous, Longhair Mississippi Glam Rock. That's the sound of Easy, The Week's long-awaited followup to their breakthrough album, Dear Bo Jackson. Recorded at Ardent Studios in Memphis — a place filled with the ghosts (and gear) of the Replacements, ZZ Top, and Big Star, all of whom traveled to Ardent to create their own landmark albums —Easy finds The Weeks doubling down on a mix of groove, grit, and guitars. It's swaggering and sharply-focused, shining new light on a band of brothers who, although still in their mid-20s, have already logged a decade's worth of sweaty gigs together. If Easy bears resemblance to the raw, rowdy attitude of the The Weeks' live show, it's because the album was written at the end of a busy, five-year period that found the group rarely leaving the road.
Stephane Wrembel - Barbès
October 15, 2017 - Park Slope
The French virtuoso guitarist first learned his craft with the manouche (the French Gypsies) but he has also gotten deep into American vernacular musical styles. He scored the theme song to Woody Allen's "Midnight in Paris" which he also performed live dng the 2012 Academy Awards and he has been called "a revelation" by Rolling Stone. While his playing falls into the general umbrella of Gypsy Swing his weekly sets showcase his own compositions which owe as much to Django Reinhardt as they do Pink Floyd or middle eastern modes.
Ministry+Death Grips - Brooklyn Steel
October 16, 2017 - New York
Ministry is the brainchild of Al Jourgensen. Beginning in 1981 playing synth pop with a strong disco influence, they released their first 12" on Wax Trax! Records, before being signed to Arista and releasing their debut "With Sympathy" in 1983. After a falling out with the label and the direction of the project, Jourgensen returned to Wax Trax! Records to release a series of 12" Singles, including "All Day / Everyday (Is Halloween)" which became an instant club favorite and would go on to become one of the band's most popular songs. Jourgensen then signed to Sire/Warner Bros. Records in 1985. Ministry's second album "Twitch" was produced by Adrian Sherwood and had a more menacing sound reflecting Jourgensen's interest in the international EBM (electronic body music) scene of the time. Ministry's third album, "The Land Of Rape And Honey" (1988,) was both a natural evolution of their aesthetic and a sharp break with previous pop tendencies and, with the arrival of Paul Barker and other new members, Ministry's sound developed into a crossover between EBM, industrial, and heavy meta. Their experimentation with heavy metal was then continued with the following "The Mind Is A Terrible... (read more)
Kelly Moran: Hallucinations for Keyboard and Electronics - Roulette
October 16, 2017 - Brooklyn
Kelly Moran is a composer and pianist from New York. As the sole engineer and producer of her five solo albums, her intricately arranged electro-acoustic compositions have been described as accomplishing "the rare feat of making the work of a single individual sound like the artistic output of a veritable creative army." (Zoe Camp, Clrvynt) As a pianist, Moran specializes in works that employ extended techniques and prepared piano. Her album Bloodroot was released by Telegraph Harp Records in March 2017 and received praise from Pitchfork, NPR, The Log Journal, KEXP, and many more. In recent years she has performed as a bassist in Weasel Walter's no-wave outfit Cellular Chaos, and keyboardist for avant-rock band Voice Coils. Recent collaborations include projects with Toby Driver (Kayo Dot), Charlie Looker (Extra Life), and acclaimed pianist Margaret Leng-Tan. Moran completed her undergraduate degree at University of Michigan-Ann Arbor where she studied piano performance, sound engineering, and composition. In 2010, Moran received a fellowship for the MFA program in Integrated Composition, Improvisation, and Technology at University of California-Irvine. Moran works as a freelance p... (read more)
Why Not: A Serenade of Eschatological Ecology - National Sawdust
October 16, 2017 - Brooklyn
Presented by Miwako Tezuka (consulting curator of Reversible Desitny Foundation), Diana Lee (Partner of Dillon + Lee Gallery), Peter Katz (Executive Director of Reversible Destiny), and Jay Sanders (Chief Curator of Artists Space).
Brain Cloud - Barbès
October 16, 2017 - Brooklyn
Every Monday. "My brain is cloudy, my soul is upside-down... When I get that low-down feeling, I know the blues must be someplace around." (Bob Wills)The Brain Cloud's brand of western swing draws from the New Orleans-meets-Texas, strings-meet-horns, jazz-meets-country sound that Bob Wills perfected on his mid-1940's Tiffany Transcriptions radio broadcasts. The Brain Cloud includes Dennis Lichtman (mandolin/fiddle/clarinet), Tamar Korn - of the Cangelosi Cards (vocals), Raphael McGregor (lap steel guitar), Skip Krevens (guitar), Andrew Hall (bass), and Kevin Dorn (drums), plus frequent guest appearances by Matt Munisteri (guitar) and Rob Hecht (fiddle).
Tropical Vortex Mondays! - Barbès
October 16, 2017 - Brooklyn
Every Monday, Tropical Vortex showcases bands and DJs who specialize in variations on Tropical sounds from Latinolandia and elsewhere.
Cults - Music Hall of Williamsburg
October 17, 2017 - Brooklyn
Cults made their name in black and white. A pair of film school dropouts who burst onto the New York scene with a perfect single and a darkly retro sound, the band's first two albums play like noirish documentaries on a lost girl group. Four years after Static, Cults returns with Offering, an exciting collection of songs bursting with heart, confidence, shimmering melody and buzzing life. The time off has given the band new energy and new ideas–Cults are working in Technicolor now. The core duo remains the same. Madeline Follin and Brian Oblivion, both 28, still live in New York. They still finish each other's thoughts and still share a love of catchy music and black humor (this is a band that sampled cult leader Jim Jones on their first hit). But the pair have put some blood on the tracks since their breakout debut: they've toured the world, built a devoted audience, survived a breakup, grown up in green rooms, parted ways with their old label and made a home of their new one. After the whirlwind of Static died down, Follin and Oblivion made a conscious decision to shift gears:
Slavic Soul Party - Barbès
October 17, 2017 - Brooklyn
Fiery Balkan brass, throbbing funk grooves, Roma accordion wizardry, and virtuoso jazz chops: Slavic Soul Party! is just what it says. Brash and strong as slivovitz, these nine musicians have forged a virtuosic new brass band music in the heart of New York City; their Tuesday bacchanal is a destination for locals and brass band fans from around the globe. SSP!'s latest album - "Plays Duke Ellington's Far East Suite" was recorded live at Barbès. John Carlson & Kenny Warren (trumpet), Peter Hess (sax/clarinet), Peter Stan (accordion), Tim Vaughn & Adam Dotson (trombone), Ken Bentley (tuba), Matt Moran and Chris Stromquist (go?/snare/perc).
Summer Heart - Sunnyvale
October 18, 2017 - New York
Summer Heart It's not so often that a band's name truly reflects their sound, but when it comes to Swedish solo pop producer act Summer Heart (David Alexander), you can expect just that; hazy, sun- bleached tracks that are the perfect anthem to remembering hot July nights filled with skinny dipping and sleeping in.
Moon Taxi - Music Hall of Williamsburg
October 18, 2017 - Brooklyn
With the snowballing trend towards electronic instrumentation in music, it's easy to forget where it all first started: on street corners with real instruments, playing for tips, that is until you've heard Too Many Zooz. Too Many Zooz is a three-piece "BrassHouse" band comprised of Matt Doe, Leo P, and King of Sludge. The group found their voice playing for change on New York's subway platforms, honing extremely danceable rhythms and melodies. Named one to Billboards' Top 25 Next Big Sound, thanks in part to a video of one of their frenetic subway performances was posted to Reddit and went viral to the tune of over 2.2 million views, and in a very short time amassed a large fan base. Additional videos have millions of views, and Facebook likes over 360,000.
The Mandingo Ambassadors - Barbès
October 18, 2017 - Brooklyn
Every Wednesday Guitarist Mamady Kouyate has been at the forefront of Guinean music since the 1970's. He is best known as one of Bembeya Jazz's guitarist but he has really made his mark with his own band, Les Ambassadeurs du Mandingue. "Dazzling vocal and guitar patterns over a rhythm section that is like a perfect system" Ben Ratliff, NY Times.
Brooklyn Rider: Spontaneous Symbols - Roulette
October 19, 2017 - Brooklyn
Veteran string quartet Brooklyn Rider presents Spontaneous Symbols, an evening of new works composed for the intrepid ensemble. Often noted for their global collaborations and provocative readings of the standard repertoire, this event shows the quartet at the core of their mission; bringing new works to life. The evening will feature works by Battles veteran Tyondai Braxton, Brooklyn Rider's own Colin Jacobsen, Bang On A Can founder Evan Ziporyn, electro-acoustic composer Paula Matthusen, and Brooklyn-based Kyle Sanna. Brooklyn Rider combines an eclectic repertoire with a gripping performance style that is attracting legions of fans and drawing critical acclaim from classical, world and rock critics. NPR credits Brooklyn Rider with "recreating the 300-year-old form of string quartet as a vital and creative 21st-century ensemble." The group has performed in venues as varied as Carnegie Hall, the San Francisco Jazz Festival, Telluride Bluegrass Festival, London's Wigmore Hall and the South By Southwest Festival.
Tv Girl, Brothertiger - Sunnyvale
October 19, 2017 - New York
TV Girl Indie pop band from LA. "What makes T.V. Girl stick out instantly from their peers is their heavy use of samples, honed in on after several releases spanning six years on Bandcamp. Combining the aesthetic of 90's hip hop with modern psychedelic pop, Who Really Cares offers a glimpse into the psyche of a love scorned twenty-something.Upon first listen, the lush layers, hushed vocals, and bedroom style production put you into a dreamlike haze that makes you want to dance your way down to the beach on a summer afternoon.
Son Little - Music Hall of Williamsburg
October 19, 2017 - Brooklyn
What is the new magic of music? If you trace the path of a plan back to its beginnings, what do you find? Is it a tree, growing from seed with deep roots planted in fertile soil, branches arcing out in all directions? Or a spark in the dark, an electrical charge? Is it a waterway, with swirling currents raging to create a river? Or is it a snowflake, falling from on high and dropping down to earth with a singular splash? For Son Little, the genesis of a musical idea -- the magic -- remains largely a mystery. But his kinetic ability to summon that energy all the same, to command it, hold onto it, and set it in motion, is the stuff of alchemy. "The magic is this well I can draw from; you can't necessarily see it, you just have to believe that it's there," he says. "If you believe, then you can reach your hand down in there and get it wet. But if you don't feel like it's there, it won't be." Son Little, the singer and songwriter born Aaron Livingston, is the easygoing musical alchemist of our time. He is a conjurer, and much like those of his heroes Stevie Wonder and Jimi Hendrix, his songs are deconstructions of the diaspora of American R & B. Deftly he weaves different eras... (read more)
Alex Calder (Record Release) at Sunnyvale - Sunnyvale
October 20, 2017 - New York
Alex Calder (Record Release) at Sunnyvale
Noah Gundersen - Music Hall of Williamsburg
October 20, 2017 - Brooklyn
WHITE NOISE In America today, anyone can engage in spiritual surrender. Performing the rite is simple: one first gathers with their community in a room of mirrors (in peripheral vision these mirrors appear as windows). Next, the agendas, hopes, and grievances of each individual are written down and cast along pulsed radio frequencies to data centers. From here they are automatically sifted through a neural network of graphics processing units, and contributed to an artificial intelligence engine. The principal aim of the ritual is to preserve the cosmic movement of collective perception. Secondary aims include catharsis, prosperity, and (occasionally) procreation. Because of the persistence of social stresses and mounting political dread, the ritual's cyclic performance is necessary (twice daily, once at dusk and once at dawn).
The Crooked Trio - Barbès
October 20, 2017 - Park Slope
Every Friday, 5:00pm to 7:00pm, our special cocktail hourset. Straight and skewed standards with Oscar Noriega - drums; Marta Sanchez - piano; Jeong Lim Yang - bass, and a rotating cast of special guests..
Uplift! Brooklyn: A Concert Benefiting Exalt Empowering NYC's Youth - The Bell House
October 20, 2017 - Brooklyn
On Friday, October 20th, The Sound Mind Collective presents Uplift! Brooklyn, an evening of comedy and music raising money for the EXALT Youth Program. The show will be hosted by comedian Carolyn Castiglia (Comedy Central, HLN) and will feature musical performances by The London Souls, The Nth Power, Qaasim & The Juggernaut War Party, Revel In Dimes, and Wishes and Thieves. Free Lagunitas beer from 6-7pm. This event is 21+. Tickets are $17 in advance, $20 day of show, and available here: http://www.ticketfly.com/purchase/event/1561756
Jeffrey Zeigler presents Mike Block Solo Show - National Sawdust
October 21, 2017 - Brooklyn
Mike Block, GRAMMY-Winning cellist and vocalist, presents a mixture of original compositions and songs, arrangements of folk standards, and short Classical selections that draw inspiration from his diverse collaborations with artists such as cellist Yo-Yo Ma, fiddlers Mark O'Connor and Darol Anger, Indian tabla player Sandeep Das, Malian balafon player Balla Kouyate, and pop stars such as Will.i.am, Stevie Wonder, and Bon Iver.
Kali Uchis - Music Hall of Williamsburg
October 21, 2017 - Brooklyn
Colombian-born and Virginia-raised singer Kali Uchis released her first studio recorded EP, Por Vida, this February and has already collaborated with artists/producers including Tyler The Creator, Snoop Dogg, Diplo, and Rick Rubin. Her first studio release has garnered praise from the likes of Billboard, Pitchfork, Noisey and The Fader (see links below). With a sound that mirrors Amy Winehouse and 60s soul, Kali makes the old sound new again--with a funky twist--and is well on her way to becoming a household name
Midnight Dj Set - Barbès
October 21, 2017 - Brooklyn
Every saturday at midnight, mostly vinyl sets of Tropical music from around the world.
The Grasping Straws - Sunnyvale
October 21, 2017 - New York
The Grasping Straws formed in the summer of 2012 when singer/songwriter, Mallory Feuer started working with guitarist, Rob Krug. What started as an indie/folk duo, slowly evolved into a rock band with some jazzy elements when the duo met drummer, Jim Bloom. The group recorded 3 songs featuring saxophonist, James Delano in a studio at NYU before the addition of bassist, Sam Goldfine. The group has been featured in the Anti-Folk Festival at the Sidewalk Cafe, the NYC New Music Festival at the Bowery Electric, and has performed at other venues spanning Manhattan and Brooklyn including the Mercury Lounge, Arlene's Grocery, Cakeshop, Rockwood Music Hall, The Red Lion, Glasslands, Palisades, Don Pedro and Greenpoint Gallery among many others.
Hope Sandoval & the Warm Inventions - Brooklyn Steel
October 22, 2017 - New York
The delicious dichotomy between darkness and light, the space between inspiration and the manifestation of thought, is where Hope Sandoval's music and lyrics catch fire. Through The Devil Softly, her second album with Warm Inventions partner Colm Ó C"osóig (My Bloody Valentine), is a rich brocade of pastoral meditations that resonate with the kind of restrained yet provocative intimacy that only these two artists can provide. Well known for their reticence in the media, they've once again chosen to pour out their hearts and minds on record. It's been eight years since the release of the critically acclaimed Bavarian Fruit Bread, but Colm and Hope aren't ones to adhere to traditional timetables and conventions. "Time is vibrations for us," he says. "We didn't feel like [this album] was ready until it was ready." In the meantime, however, neither artist has been creatively idle. Hope has collaborated with Devendra Banhart, Air, Bert Jansch, Death In Vegas, and is due to appear on Massive Attack's forthcoming album. And yes, a new Mazzy Star record is on the horizon. ("It's almost finished," says Hope, "but when it will be coming out, I don't know.") Meanwhile, 2009 saw the reunion... (read more)
Benjamin Booker - Music Hall of Williamsburg
October 22, 2017 - Brooklyn
Considering how controlled the chaos is on Eight Houses -- the bands latest album, which is ruptured by riffs and rattled by rhythms without leaping straight off the rails -- it's tough to imagine a time when Jessica Larrabee and Andy LaPlant didn't finish each other's sentences, creatively and personally. But that's how She Keeps Bees began: with LaPlant bashing a borrowed kit (including a garbage-picked floor tom) atop a step-ladder and Larrabee directing the dark solo recordings she began after moving from Philadelphia to Brooklyn. The band, which formed in 2006, have been compared to the likes of Patti Smith, The White Stripes, and Cat Power. The New York Times's ArtsBeat compared Larrabee to PJ Harvey, but added that "far from Ms. Harvey's theatrical poise, Ms. Larrabee is loose, vehement and un-choreographed, jittering around the stage."
Stephane Wrembel - Barbès
October 22, 2017 - Park Slope
The French virtuoso guitarist first learned his craft with the manouche (the French Gypsies) but he has also gotten deep into American vernacular musical styles. He scored the theme song to Woody Allen's "Midnight in Paris" which he also performed live dng the 2012 Academy Awards and he has been called "a revelation" by Rolling Stone. While his playing falls into the general umbrella of Gypsy Swing his weekly sets showcase his own compositions which owe as much to Django Reinhardt as they do Pink Floyd or middle eastern modes.
Looking for Free Group Planning Services?
Get free advice on planning your group's trip to New York.
MORE Activity Planner ARTICLES
RESTAURANTS

Vida Verde brings the tastes, colors, sounds, and scents of ...

THEATER

In this new musical, Jenna, supported by her quirky crew of ...

SHOPPING

DataVision is redefining retail with their new, fully intera...

SIGHTSEEING

A state-of-the-art Coney Island amusement park that's home t...