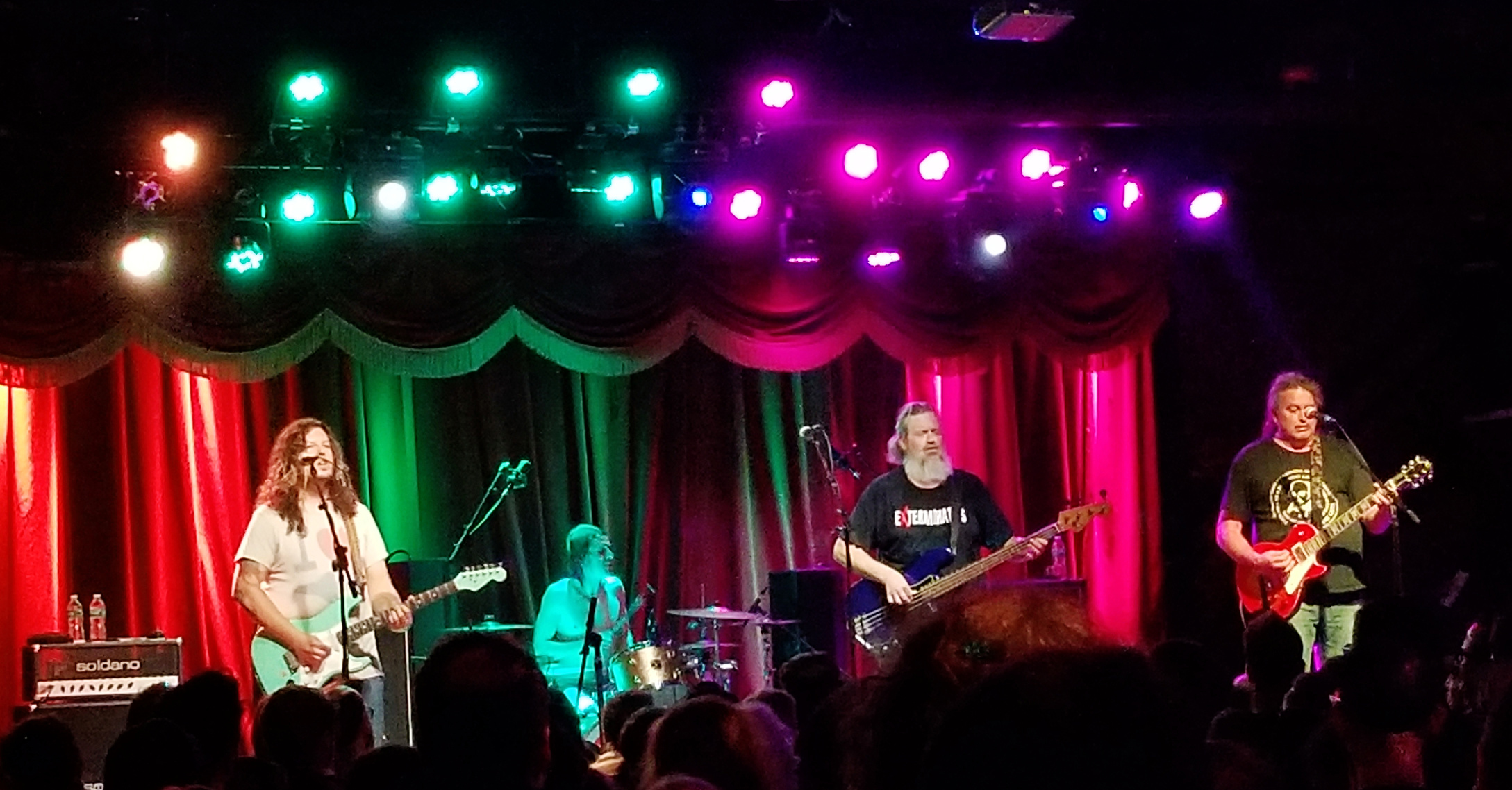 Photo: Vladimir/Flickr

Brooklyn is as happening as cities get, with live music in the bars and clubs from Williamsburg to Park Slope to downtown. With a younger crowd taking to the always trending burough, you can bet that great shows can be found all over Brooklyn. Whether you're more into a rock scene or music that's an eclectic mix, check out places like Brooklyn Steel, Barbes, and the Pine Box Rock Shop all around Brooklyn.


Jake and Josh Are Not Funny - Pine Box Rock Shop
October 06, 2019 - Brooklyn
Two of the worst comedians in the city have some of the greatest comedians on their show to save it from being an utter failure, and actually make it... pretty damn good
Bombay Bicycle Club The Greeting Committee - Brooklyn Steel
Through October 08, 2019 - Brooklyn
Ages: 16 & Over It might seem odd to describe Bombay Bicycle Club as veterans given that nobody in the band is older than 24, but this is their fourth album, which is something of a landmark achievement in today's blink-and-you'll-miss-them climate. The Bombay Bicycle Club story is something that isn't meant to happen any more – a band given the space by their label, Island, to evolve with each release. The album was produced by Jack in the band's studio in London, making it their most personal record to date. There was always purpose from the beginning to bring everything together for this album, to tell a story from the first track through to the finale with everything interconnecting as a complete body of work.
Spooky Freres Kitten Revenge - Sunnyvale
October 09, 2019 - Brooklyn
All Ages Spooky Freres Kitten Revenge
Big Thief - Brooklyn Steel
October 09, 2019 - Brooklyn
Ages: 16 & Over The trails that Brooklyn's Big Thief—Adrianne Lenker (guitar, vocals), Buck Meek (guitar), Max Oleartchik (bass), and James Krivchenia (drums)—take us down on Capacity, the band's highly anticipated second record, are overgrown with the wilderness of pumping souls. After last year's stunning Masterpiece, Capacity was recorded in a snowy winter nest in upstate New York at Outlier Studio with producer Andrew Sarlo. The album jumps right into lives marked up and nipped in surprisingly swift fashion. They are peopled and unpeopled, spooked and soothed, regenerating back into a state where they can once again be vulnerable. Lenker's songs introduce us to a gallery of multifacted women and deal with the complicated matters of identity — at once dangerous and curious, though never unbelievable. Lenker shows us the gentle side of being ripped open. Tricked into love, done in and then witnessing the second act of pulling oneself back together to prepare for it to all happen again, but this time to a sturdier soul, one who is going to take the punches better than ever before and deal some jabs and roundhouses of their own.
Johann, Drop the 4, and Holy Vulture - Sunnyvale
October 10, 2019 - Brooklyn
Johann, Drop the 4, and Holy Vulture
Kero Kero Bonito - Brooklyn Steel
October 10, 2019 - Brooklyn
Ages: 16 & Over Kero Kero Bonito
An Evening with over the Rhine - The Bell House
October 10, 2019 - Brooklyn
This event is 21 and over When you listen to Over the Rhine, the supremely talented musical couple comprised of Karin Bergquist and Linford Detweiler, you quickly fall under the spell of Karin's timeless voice "which has the power to stop the world in its tracks" (Performing Songwriter). But then the songs start hitting you. Paste magazine writes, "Over the Rhine creates true confessional masterpieces that know neither border nor boundary" and included Bergquist and Detweiler in their list of 100 Best Living Songwriters. Rolling Stone recently wrote, Over the Rhine is a band "with no sign of fatigue, whose moment has finally arrived." That's quite a sentiment for a band celebrating 30 years of writing, recording, and life on the road. But as Karin Bergquist states, "There is still so much music left to be made." Love & Revelation, the brand new album from Over the Rhine, is a record for right now. The songs have been rigorously road tested and burst at the seams with loss, lament, and resilient hope. The LA Times writes, "The Ohio based husband and wife duo has long been making soul-nourishing music, and the richness only deepens."
Need To Belong - Pine Box Rock Shop
October 10, 2019 - Brooklyn
The best comics in New York (and thus, the world) come together for this hilarious monthly stand up comedy show hosted by Jordan Lilly, Lauren Ballantyne, and Nick Fields. Laugh your butt off, then shake what's left of it on the dance floor immediately after the show
Brian Posehn - The Bell House
October 11, 2019 - Brooklyn
Ages 21+ Comedian/actor/writer Brian Posehn always has a full plate in front of him. He is constantly touring as a stand-up comedian in the best comedy clubs and rock venues in the country. 2013 marked the release of his first hour long special, The Fartist, through Netflix. Brian is currently writing a book to be released in 2017. His latest specials "25x2" and "Criminally Posehn" can be seen on SeeSo. He has a popular podcast, Nerd Poker, on the Earwolf Network.
House of Bricks - Pine Box Rock Shop
October 11, 2019 - New York
HOUSE OF BRICKS is a rip-roaring comedy show hosted by your three best friends Michael Good, Brandon Ream and Gideon Hambright. The second Friday of every month they bring out their absolute favorite comedians to tell jokes, party and have an all around good time. It's the most fun you'll ever have in Brooklyn; put together by the nicest people you'll ever meet. This month we're excited to feature: Martin Urbano (Comedy Central) Chloe Radcliffe (TBS Comic To Watch) Jordan Jensen (Nashville Comedy Festival) Kendall Farrell (Rogue Island Comedy Festival) Jaffer Khan (Laughing Skull) Doors at 7:45pm, Show at 8:00pm
Gavin Rayna Russom - National Sawdust
October 11, 2019 - Brooklyn
PHYSICALITY: An Exploration of Embodiment in Three Remixes The dynamic artist Gavin Rayna Russom, who received acclaim as LCD Soundsystem's "Synth Wizard", has always delighted in exploding restrictive boxes of genre and discipline. Moving fluidly between the worlds of academic composition and underground dance clubs, Russom brings that stylistic open-mindedness to her series of three residency shows at National Sawdust.
Found Footage Festival: Volume 9 - The Bell House
October 12, 2019 - Brooklyn
Ages 21+ Joe Pickett (The Onion) and Nick Prueher (The Colbert Report) return to The Bell House with a live guided tour through their latest VHS finds, including the 1987 Miss Junior America Wisconsin pageant, a mysterious tape labeled "bonion sergery," home movies taken at a Canadian hose factory, and a fitness video called Jugglercise.
Backyard Show - Pine Box Rock Shop
October 12, 2019 - Brooklyn
Co-hosted and produced by longtime comedians, friends, and 1-year-anniversary roommates Leanne Velednitsky and Rebecca Weiser, Backyard Show is a FREE variety show about getting cozy with NYC's best comedians, celebrities, and inanimate objects
Dumb People Town - The Bell House
October 13, 2019 - Brooklyn
This event is 21 and over Dumb People Town is as much an exploration as it is a celebration of dumb people doing dumb things (often in Florida). Incredible improvisor and comedian Dan Van Kirk rustles up wild local news stories and riffs on their details with the Sklar Brothers, joined by a hilarious well known or up and coming comedy guest. Wherever there's a drunk, buck-naked man running around with a machete, the boys of Dumb People Town will be there. The Criminal Mischief comes fast and furious in Dumb People Town.
Wilco - Brooklyn Steel
October 13, 2019 - Brooklyn
16 & Over Wilco

Want free advice on what to see and do in NYC? Join our Facebook group Everything to Do NYC, a place for people to ask questions and get tips on how to make the most of the city.