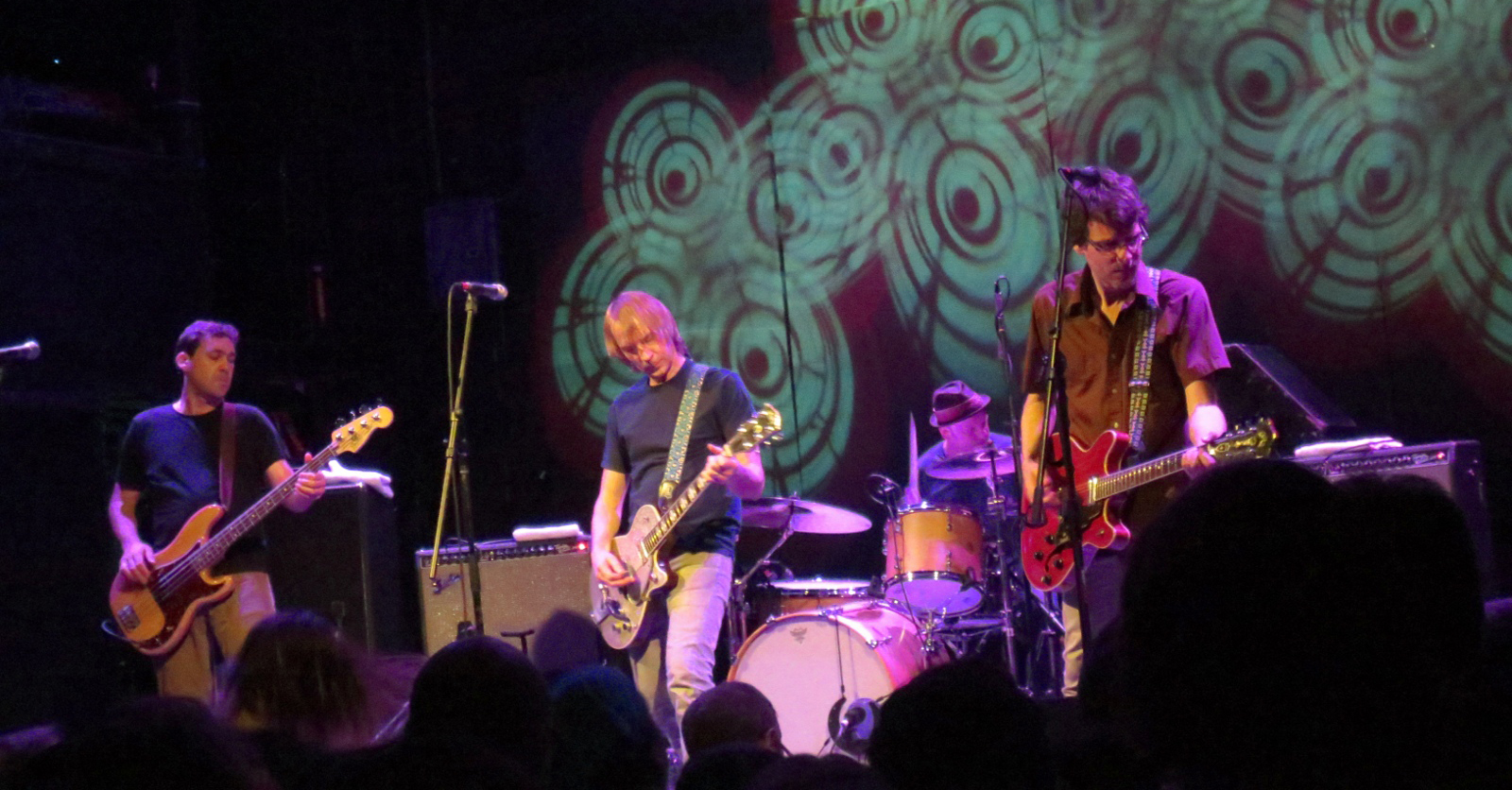 Photo: Vladimir/Flickr

Downtown NYC has long been a capital of live music. With venues like the Bowery Ballroom, Mercury Lounge, and Terra Blues, fans of rock, jazz, and more have long been drawn here. City Guide's roundup of live music in clubs and bars will connect you with tunes at dozens of great downtown venues.


Melanie Kraut : A Musical Memoir to benefit Why Hunger at The Loft - 4/28 - City Winery
April 28, 2019 - 2nd floor New York
Celebrated by the NY Times as having "a sweet, strong, supple voice", Melanie Kraut has headlined the legendary Capitol Theatre, sung opera on national television, starred in a new musical with Ellen Foley (Night Court, Paradise By The Dashboard Light), guest starred on primetime TV with Robin Williams, and opened for Eric Clapton to 8,000 people. Her passion for life and music is contagious and electrifying on stage. Join Melanie and some very special guest artists and friends for this soul satiating evening of music as she shares her intensely personal musical journey with you. Stories and songs ranging from her time on NY stages to LA sets, to her fascination with leather pants and The Rolling Stones, to the trials and tribulations of raising three active kids! Musical styles will range from opera to musical theatre standards to country to the screaming vocals of classic rock n roll. And learn about Melanie's newest passion - WhyHunger: musicians and social activists making huge strides in the fight against hunger and poverty. Too many people in this country go hungryand it is so easy to be a part of the solution. Thanks to the generosity of City Winery, 100% of ticket sales... (read more)
Arcadia Mandala Gabriela Martina - Pianos
Through April 28, 2019 - New York
This event is 21 and over Arcadia (n): any real or imaginary place offering peace and simplicity; grunge-funk band based in West Haven, CT. Made up of guitarist/vocalist Chris Theurer, drummer Tom Barvick, and bassist Michaela Sullivan, we've been playing shows since December 2017 and we plan on releasing our first full-length album in 2019. Our music pairs both lighthearted and contemplative lyrics with the funk/alternative rock elements of the Red Hot Chili Peppers and Nirvana-esque grunge, producing a unique, fun and authentic sound.
Adam Larson Band - 55 Bar
April 28, 2019 - New York
Adam Larson...Saxophone Matt Stevens...Guitar Henry Hey...Rhodes Matt Clohesy...Bass Jimmy Macbride...Drums
Stefan Bauer's Voyage West - 55 Bar
April 28, 2019 - New York
Tammy Scheffer...Voice Chris Bacas...Soprano and Tenor Saxophne Stefan Bauer...Vibes and Marimba Mary Ann McSweeny...Bass Dayeon Seok...Drums
New York School of Burleque Student Showcase - DROM
April 28, 2019 - New York
The sexy students of the New York School of Burlesque have been working hard (oh! so! hard!) to come up with delicious new acts that tease and tantalize. After a five-week Act Development class with Jezebel Express, we're finally ready to reveal our newest creations! That's right... this is an entire show of never-before-seen acts. We'll reveal our brand-new acts during an unforgettable night that shows you just how sexy, silly, wonderful and weird burlesque can be! Hosted by MISS JEZEBEL EXPRESS With special guest performances from THE FABULOUS FLIRTS! Don't miss this sizzling night of brand new acts. We can't wait to show you our stuff (if you know what we mean!) 21+ with Valid ID
Brazen Acorn Cabaret - The Duplex
April 28, 2019 - New York
An evening of music to benefit the Hetrick-Martin Institute LGBTQ Youth Services Agency.
Start Over Again with Evelyn Lochart - The Duplex
April 28, 2019 - New York
NYC native and high school senior Evelyn Lochart has been studying piano since 2006 and composing songs for as long as she can remember. Her influences range from Carole King to Stephin Merritt, from Broadway shows to the Beatles. She is thrilled to be sharing some of her original songs in her first public performance.
The Manhattan Transfer - Blue Note
Through April 28, 2019 - New York
Beginning with their first performances in the early 1970s, The Manhattan Transfer have become the cornerstones of contemporary music. Originally launched by Tim Hauser in 1969, Hauser, Alan Paul, Janis Siegel and Laurel Masse were the group by 1972. Cheryl Bentyne joined the group in 1979 after Laurel Masse left. Known for their amazing harmony and versatility, incorporating pop, jazz, R&B, rock and roll, swing, symphonic, and a cappella music, the group was signed by the legendary Ahmet Ertegun to Atlantic Records. The group made their recording debut with their self-titled album in 1975. Known primarily as an East Coast cult act, they expanded their following by starring in their own 1975 CBS-TV variety series as a summer replacement for the Cher Bono Show. Starting as an underground group in New York City, The Manhattan Transfer garnered international popularity when "Chanson D'Amour" from the 1976 Coming Out album became a number one hit in Europe. One of the co-writers on The Junction – the group's new album which draws inspiration in part from The Transfer's classic 1975 version of Glenn Miller's "Tuxedo Junction" — is the group's new member, bass vocalist Trist Curless.... (read more)
Wolfe Glass Drew Bond Joel Ansett Forbrothers - Pianos
April 29, 2019 - New York
This event is 21 and over Growing up in New York's Lower East Side and coming from an artistic family, Zack Glass was exposed to a wide variety of music from an early age. By the time he turned 13, he had taken up piano and electric guitar and was beginning to write his own songs. He is in the process of recording his 2nd album, Southern Skies, an eclectic album infusing many different styles.
Anya Marina & Mary-Elaine Jenkins at the Loft - 4/29 - City Winery
April 29, 2019 - 2nd floor New York
Mary-Elaine Jenkins' music sounds like a premonition. Like sweat and perfume. Bourbon and salt water. Spanish moss on ruins. A product of her upbringing amidst the canopy of her Lowcountry family tree, Mary-Elaine carries herself as if she had never left the humidity of the coast. But she did. First Washington DC, then Spain, and now Brooklyn. Venturing far from home, time and space removed from her roots have further distilled Mary-Elaine's distinctly Southern charm. Arriving in New York City in 2013, Mary-Elaine played in venues all over town and surrounded herself with a creative network that would eventually include producer / engineer Thom Beemer. Working together out of Good Child Music Studios, they were joined by Cat Popper (Ryan Adams), Lawson White (My Brightest Diamond, Tony Trischka), JJ Appleton, and Dave Hassell, to make a record as well traveled as it is rooted in the musical traditions of the Southern coast. Her debut album, Hold Still, was released in September 2018 via Good Child Music. ANYA MARINA is a provocative and gifted live performer, touring nearly non-stop throughout her career, both as headliner as well as in tandem with such artists as Jason Mraz, Spo... (read more)
Paul Jost - 55 Bar
April 29, 2019 - New York
Paul Jost...Voice Jim Ridl...Piano Dean Johnson...Bass Tim Horner...Drums
Guitar Masters Series: Ed Cherry Trio. - Zinc Bar
April 29, 2019 - New York
Acclaimed jazz guitarist Ed Cherry brings his formidable trio to Zinc jazz club on Monday, April 29. He's supported by pianist John DiMartino and bassist Gary Wang. Guitarist Ed Cherry has been playing professionally since the early '70s, as a sideman to musicians such as Tim Hardin, Jimmy McGriff, Henry Threadgill and Jimmy Smith. Most famously, he spent over fifteen years in Dizzy Gillespie's band, remaining with the group until the trumpeter's death in 1993.
Silver Arrow Band - DROM
April 29, 2019 - New York
The Silver Arrows are a premium 3-14 man band that are specialists in high-energy music for festivals, events and private functions - at a sensible price. We pride ourselves on having a "cooler-than-average" song list that is never cheesey, and focuses squarely on filling your dance-floor. With the Silver Arrow Band you'll get the best musicians in the country, playing your favourite music. The Silver Arrows play a wide variety of tunes, but our trademark specialty is up-tempo festival-style music - capable of everything from chart classics, funk grooves, soul, swing/jazz to current top 40 and dance hits. On one night we might be playing completely 1950s rock n' roll, and on the next night, only 80s hits. Or a mixture of eveything- you really have to see it live to understand!
A Star Is Born This Way - The Duplex
April 29, 2019 - New York
The Duplex and Williams/Bartholick Theatricals present Artists for Awareness: A Star Is Born This Way. Come join us for an evening filled with songs you know and love from both the 2018 Oscar nominated motion picture and the vast catalogue of Grammy award winning artist. Featuring some of New York City's finest performers, Artists for Awareness is a budding concert series that raises funds for charities including The Arthritis Foundation. Through the catalogs of favorite singers and scores of beloved musicals, we strive to bring attention to important causes through the power of music.
Casey Balsham Does a Thing - The Duplex
April 29, 2019 - New York
Casey Balsham is trying to find a job that fits. She's not qualified for anything, but has done everything. Come join her and a few special guests as she recounts the ridiculous jobs she's had and tries to figure out what her next career move will be.
Kid Le Chat Axtell Turismo Girlfriend World Tour Phil and the Osophers - Pianos
April 30, 2019 - New York
This event is 21 and over Austinite David Wilson and Brazilian-born New Yorker Leo Moretti continue their exploration of electro-analog timbres on Kid le Chat's sophomore album "Lost Critters". Enlisting the talents of Michael Sue-Poi on bass guitar, the album was recorded in both Rio de Janeiro, Brazil and Brooklyn, New York. Produced by Abe Seiferth at Transmitter Park Studios in Greenpoint, Lost Critters expands on the duos trademark 1980's new-wave/synth-pop sound initially cultivated at the time of the bands inception in Rio in 2016."
Lost Leaders at The Loft - 4/30 - City Winery
April 30, 2019 - 2nd floor New York
Sun Mountain Studio (as the name suggests) is on the top of a mountain in the Catskill mountains of New York over looking the Ashokan reservoir. When Byron came off the road with The Lumineers this is where we headed to reinvent our selves. While their tour was in motion we traveled along to support our Heavy Lifting E.P. Even got hang out backstage at Soldiers Filed in Chicago when they were opening for U2. We did videos with Relix & Paste magazines and even did a Daytrotter session and drank a few vineyards along the way. When we'd finished threatening the muses into giving us some more songs we contacted David Baron who had worked with Vance Joy, Jade Bird, Meghan Trainor and Peter Murphy and asked if he'd like to produce our next record. Thus we found ourselves in rented a house nearby playing stupid games involving camouflaged walkie-talkies and commuting to the mountain top each morning to begin the new record. We pushed through our tissue paper ties to Americana and came out in a slightly retro pop/rock universe of cynical commentary on the current craziness enveloping our country. Promises, Promises (as we're calling this release) takes the permanent background noise of anx... (read more)
Maria Raquel - The Django
April 30, 2019 - New York
Maria Raquel
La Pachamambo - The Django
April 30, 2019 - New York
La Pachamambo
Leni Stern - 55 Bar
April 30, 2019 - New York
Birthday Show! Leni Stern...Guitar & Voice Mamadou Ba...Bass Alioune Faye...Percussion
MSM Vocal Series - 55 Bar
April 30, 2019 - New York
Up-and-coming jazz vocalists and musicians from the esteemed Manhattan School of Music showcase their talents in a monthly series of Tuesday evening performances. Two sets of jazz vocal combos will perform songs from the '30s through the '80s in a musical nod to the past that is firmly rooted in the present. The series performs on the last Tuesday of the month and each show will be hosted by the MSM students themselves. Come hear the new voices that you'll be listening to for years to come!
Feedback Collective by Sonicbids Showcase The 'Write Stuff' Songwriting Workshop - DROM
April 30, 2019 - New York
Our first music workshop for the year will be focused on songwriting. This is a FREE event for our artist community. Come down, play a song and get constructive feedback from our expert panelists. You'll learn a ton and polish that song that you always needed a "little something
CEG/iStandard Competition - DROM
April 30, 2019 - New York
Since 2005, the word [istandard] has become synonymous with the world of music creation, and it's easy to see why. Its founders' vision was to create a platform in which the music producer and songwriter could step out from behind the boards and display their talents to anaudience conducive to enhancing their career. In essence, we wanted to unlock the industry doors and let more people in. We invited Grammy Award winning producers, multi-platinum engineers, hit songwriters, artists, executives, etc to come give advice and feedback to unknown beat makers hoping to gain access to the industry and the craziest thing is, it started workin
Wahgwantwon DJ Party, Ilya Setrakian, Matt Demello, Natalie Mack - Pianos
May 01, 2019 - New York
This event is 21 and over Ilya Setrakian is a singer/songwriter from New York City, currently based out of Philadelphia. Ilya's debut EP, "Vanity" is out now!
Lucy Yeghiazaryan - The Django
May 01, 2019 - New York
Lucy Yeghiazaryan
Robert Edwards Big Band - The Django
May 01, 2019 - New York
Robert Edwards Big Band
Pericles Kanaris - DROM
May 01, 2019 - New York
Greek, New York based composer and performer Pericles Kanaris returns to his New York residency at Drom with 3 concerts for the Spring and Summer seasons. The theme for the new performances is entitled "Road to Athens", as the New York series will culminate in a concert at the prestigious NOSTOS Summer Festival at the Stavros Niarchos Cultural Center in Athens, Greece on June 30th. Pericles Kanaris calls this "a milestone for his career" as he will focus on new, original music and present material from two collections of songs. One collection is inspired by classic poets such as Constantine P. Kavafy and T.S Eliot and the other by unreleased material from contemporary poets, such as Manos Eleftheriou and the younger generation of Greek poets. The repertoire will also include songs from other Greek and international artists who have inspired the composer over the years and will be presented with his own, signature orchestrations. Pericles Kanaris will be joined by his band which features some of New York's finest musicians including Ben Butler (guitars), Richard Hammond (bass), Peter Douskalis (guitars, assistant director), Agapitos Maganaris (bouzouki, vocals), Gary Schreiner (... (read more)
Karriem Riggins Live! - Blue Note
May 01, 2019 - New York
Karriem Riggins' is best known as a jazz drummer and hip-hop producer for artists like Common, Kanye West, Erykah Badu, and The Roots, but he doesn't categorize himself as anything but an artist. He advises younger musicians to do the same. As a beatmaker, Riggins pivots between wistful soul and gritty drum breaks, giving ample room for his featured artists to shine. A student of late jazz bassist Ray Brown, he tours with another Brown protégé, Grammy Award winner Diana Krall. In 2011, he collaborated with former Beatle Paul McCartney in concert and on Kisses on the Bottom, McCartney's first studio release in five years. Names of some of the jazz artists he's backed reads like the genre's hall of fame - Hank Jones, Oscar Peterson, Milt Jackson, Donald Byrd and Ron Carter. In early 2016, Riggins, Robert Glasper and Common formed the super group August Greene, culminating years of mutual respect and friendship, channeling the musicians' various talents into a cohesive project. The perfect marriage of jazz, hip-hop and soul. In 2017, Riggins, won an Emmy for Outstanding Original Music and Lyrics from director Ava DuVernay's 13th documentary. Karriem has made major accomplishments wi... (read more)
Mike Stern - 55 Bar
May 01, 2019 - New York
KJ Denhert - 55 Bar
May 01, 2019 - New York
Angel and Dren + Friends DJ Set (12 Am Free), Axxa/Abraxas, Grand Vapids, Early Show: Adair Powers, Scott Rocco, Dan Zlotnick Band, Chill Russell - Pianos
May 02, 2019 - New York
This event is 21 and over
Sunay Akin and Ilhan Sesen - DROM
May 02, 2019 - New York
Sunay Akin and Ilhan Sesen
Arda Türegün - DROM
May 02, 2019 - New York
Arda Türegün
Arda Türegün - DROM
May 02, 2019 - New York
Arda Türegün
Wayne Krantz - 55 Bar
May 02, 2019 - New York
Amy Cervini - 55 Bar
May 02, 2019 - New York
Grumby DJ Set (11 PM Free) Unlucky Theta Herbivores Manta Matt Demichiel - Pianos
May 03, 2019 - New York
This event is 21 and over Unlucky Theta is a psychedelic sludge band from Los Angeles, CA incorporating hypnotic jams, esoteric lyrics, dimension warping polyrhythms and blazing guitar solos
Tangier's Blues Band - 55 Bar
May 03, 2019 - New York
Danny Clinch...Harmonica Huey...Lap Steel Chris Scianni...Guitar King...Voice & Guitar Peter Levin...Keys Dave Sellar...Bass Dave Borla...Drums
Emily Braden - 55 Bar
May 03, 2019 - New York
John Dokes - The Django
May 03, 2019 - New York
John Dokes
Fleur Seule Latin Big Band - The Django
May 03, 2019 - New York
Fleur Seule Latin Big Band
Memo Acevedo's Manhattan Bridges Orchestra. - Zinc Bar
May 03, 2019 - New York
One thing drives the father and daughter team of Memo and Jacquelene Acevedo… their love and passion for the music they do! Desiring to have the freedom element in their art, they refuse to be labeled by being opened to experiment with the fusion of Be-Bop lines and Jazz harmonies, mixed with Latin American rhythms from Brazil, Cuba, and Colombia. Their band, The Manhattan Bridges Orchestra (10-piece) holds a residency doing the First Friday at the club and it has been described by critics as "a powerhouse"! Drummer/percussionist, Memo Acevedo is the recipient of numerous awards in the music industry as a performer, leader, educator, and author. Jacquelene, an upcoming percussion star, has (in a short time career) received a Latin Grammy Award, toured and recorded two CDs with trumpet stalwart, Jeremy Pelt and currently touring with Nicholas Payton, among numerous bands. Together, they hold a monthly residency at New York City's legendary Jazz/World venue, The Zinc Bar.
Samba New York's 2019 Queen of the Drums Samba Party - DROM
May 03, 2019 - New York
Come out to Samba New York's 2019 Queen of the Drums Samba Party! Inspired by the electrifying open samba school rehearsals that precede Carnaval in Rio de Janeiro, the "Samba Party" is a communal gathering where Brazilian music enthusiasts share their love of samba drumming, dance, and culture in NYC. This Springtime edition of the event will feature an official dance contest to select Samba New York's 2019 "Queen of the Drums" — A Rainha da Bateria. The Party will also include a samba lesson with our MC, Brazilian dance master Danielle Lima, and a set of live batucada by the Samba New York! Drum Section, under the leadership of Dr. Samba. Founded and directed by percussionist/ethnomusicologist Philip Galinsky (a.k.a. Dr. Samba), Samba New York! is a world-renowned samba performance company dedicated to entertaining, educating, and uplifting people of all backgrounds with the exhilarating music and dance of Brazil. Having grown up immersed in Rio's samba world, Danielle Lima is one of NYC's foremost Brazilian dancers, teachers, and choreographers and founder of the Brasileirando Dance Group.
Hot Rabbit LGBTQ Dance Party - DROM
May 03, 2019 - New York
HOT RABBIT is a queer dance party started in 2011 that features LGBTQ performers and DJs from NYC and around the world. Winner of many NYC Nightlife awards, Hot Rabbit has been named "Best in Gay Nightlife" by the New York Times, Gothamist, HuffPo, NY Magazine, TimeOut, NBC Out, and more! With new DJs and performers at every event, and a variety of high-energy, positive, dance, music and performance styles, you'll never find the same lineup twice! Working to make sure everyone can walk in and feel like they belong, Hot Rabbit represents all parts of the LGBTQ community. Hot Rabbit Fridays will take place two Fridays a month at DROM!
Ain't Misbehavin': Ladies Who Cocktail - The Duplex
May 03, 2019 - New York
The gals are back in town to sing you their rollercoaster-of-emotional ride through love, life and everything in between…
The 2019 WSJwine Annual Tasting - City Winery
May 03, 2019 - New York
You're Invited: Join us for the 7th Annual WSJwine Spring Tasting @ NYC's City Winery! We're very excited about returning to City Winery for our annual spring tasting – we hope you'll join us for another unforgettable evening of world-class wine. Early birds are in for a real treat this year, too. Buy your tickets by midnight on March 22 and receive a $10 discount (automatically applied to your order). You'll also be among the few attendees who'll have a chance to sign up for our all-new, exclusive wine expert-guided sessions (included in ticket price, details to follow). We'll be pouring over 70 fantastic wines – everything from fine Brunello and luxurious Pomerol to a glory-vintage Napa Cabernet and a 91-point English bubbly with royal connections. Meet and mingle with exciting producers like Tuscany's Barbanera family, Châteauneuf superstar Jean-Marc Diffonty, and Sonoma's Francis Ford Coppola Winery. Plus, our in-house wine experts will be on-hand all evening to answer any wine-related questions you may have. Exclusive Savings & Gift Take 20% off any wine you buy at the tasting and enjoy FREE shipping on orders of 12+ bottles. Plus, all guests will receive a FREE gift t... (read more)
Snkr Joe Music Video Vj/Dj Party (12am Free); The Cause and the Cure, Fysics, Hills to Height, Jade Zabric & A-D, the Screenplay - Pianos
May 04, 2019 - New York
This event is 21 and over
KJ Denhert - 55 Bar
May 04, 2019 - New York
Ayana Lowe - 55 Bar
May 04, 2019 - New York
Nick Hempton Quartet - The Django
May 04, 2019 - New York
Nick Hempton Quartet
King' Solomon Hicks - The Django
May 04, 2019 - New York
King" Solomon Hicks
Sunay Akin and Ilhan Sesen - DROM
May 04, 2019 - New York
Sunay Akin and Ilhan Sesen
Sunay Akin and Ilhan Sesen - DROM
May 04, 2019 - New York
Sunay Akin and Ilhan Sesen
Rico Suave vs D'marquesina - DROM
May 04, 2019 - New York
For over 5 years — but 12, really, if you've been with them since the Nacotheque days — Rico Suave (Marcelo C.) and D'marquesina (Hector Arce) have been filling up various dancefloors in New York City by playing the best — "and worst," they say — "cumbiaton, nutropial, perreopop, merenguetrap, rockitsch," and other mashups of Latino music. No artists or band is too obscure, no era is too old, but Spanish-sung music, from popular wedding standards to brand-new club bangers, is always front and center.
The Joy of Music | A Cabaret by Luisa Majnoni - The Duplex
May 04, 2019 - New York
Luisa Majnoni d'Intignano returns to the stage after eight years to celebrate the unique joy that music brings to our lives. Everyone can relate to hearing lyrics that perfectly describe our feelings. We all know what it's like to sing our favorite song at the top of our lungs, as the notes whisk us off to a different time and place. Exhilaration, a shared story, a sense of wonder—these are some of music's priceless gifts. This musical theatre cabaret celebrates that special way music captures life itself, and the happiness that comes from encountering something so beautiful.
Beth Slack in RUFFLED FEATHERS - The Duplex
May 04, 2019 - New York
"Beth did well in school. Beth knew what she wanted to be when she grew up. Beth moved to New York. Beth is turning 40. Beth thought she'd have it together by now......boy was she wrong. Beth is going to sing her feelings. Beth thinks it will be fun and funny, but honestly, she's been wrong before.
Piano Jazz Series: Ethan Iverson Trio. - Zinc Bar
Through May 04, 2019 - New York
Acclaimed jazz pianist Ethan Iverson brings his formidable trio to Zinc for a splendid evening of jazz piano. He's supported by bassist Ron Carter and drummer Al Foster. Pianist, composer, and writer Ethan Iverson was a founding member of The Bad Plus, a game-changing collective with Reid Anderson and David King. The New York Times called TBP "…Better than anyone at melding the sensibilities of post-60's jazz and indie rock." During his 17-year tenure TBP performed in venues as diverse as the Village Vanguard, Carnegie Hall, and Bonnaroo; collaborated with Joshua Redman, Bill Frisell, and the Mark Morris Dance Group; and created a faithful arrangement of Igor Stravinsky's The Rite of Spring and a radical reinvention of Ornette Coleman's Science Fiction. Iverson also has been in the critically-acclaimed Billy Hart quartet for well over a decade and occasionally performs with an elder statesman like Albert "Tootie" Heath or Ron Carter. For over 15 years Iverson's website Do the Math has been a repository of musician-to-musician interviews and analysis, surely one reason Time Out New York selected Iverson as one of 25 essential New York jazz icons: "Perhaps NYC's most thoughtful and... (read more)
Gideon King & City Blog w/ Saul Rivers at The Loft - 5/4 - City Winery
May 05, 2019 - 2nd floor New York
In 2015, Gideon King & City Blog (GKCB) released a full-length CD, City Blog. The music was met with wide critical acclaim, with the Huffington Post calling King a "musical genius." Having worked for years in establishing a reputation as a rising force in the New York Jazz scene, King has worked with John Scofield and members of Steely Dan and many other musical giants. GKCB is excited to have just released their newest album Upscale Madhouse on October 19, 2018, and the work is even more refined, abstract, and compelling than the first release. The album features John Scofield, Marc Broussard, Grace Weber, Nate Smith, Conrad Sewell, Donny McCaslin, Brendan Fletcher, Sonny Step, James Genus, Elliott Skinner, Luques Curtis, Carolyn Leonhart, Kevin Hays, Donald Edwards, Matt Powell, Willard Dyson, Vivian Sessoms, Roslyn McClure, Mike Rodriguez, Adrian Harpham, Nathan Peck, Kate Kay Es, Bryan Reeder, Seamus Blake, Itai Kriss Music, Alex Sipiagin, Bruce Flowers, Liam Budge, Mike Stephenson and David Kahne. GKCB's latest single "Lady of a Thousand Sorries" will be released on 1/25/19! "Some of the most complex and satisfying music you may ever hear, layered with impressive solos & vari... (read more)
West Sonoma Coast: West of West Wine Festival (Consumer Tasting) - 5/8 - City Winery
May 05, 2019 - 2nd floor New York
Taste through an unparalleled selection Pinot Noir, Chardonnay, and Syrah, and experience why the West Sonoma Coast is quickly gaining reputation as California's Côte d'Or.
Tim Miller - 55 Bar
May 05, 2019 - New York
Vic Juris - 55 Bar
May 05, 2019 - New York
Pharaoh's Daughter - DROM
May 05, 2019 - New York
Pharaoh's Daughter - Starring Basya Schechter, Meg Okura, Daphna Mor, Yuval Lion, Brian Marsella, Matias Kunzli , Ben Zwerin welcomes Spring with passionate music and celebration of life.
JUDY GLAD – Glad All Over - The Duplex
May 05, 2019 - New York
Judy is a singer and actor in New York City. She is a vocal coach and is on the voice faculty at NYU/TISCH. She directs, choreographs and enjoys telling people what to do. Judy is a graduate of Carnegie Mellon University with a degree in Music and Vocal Performance.