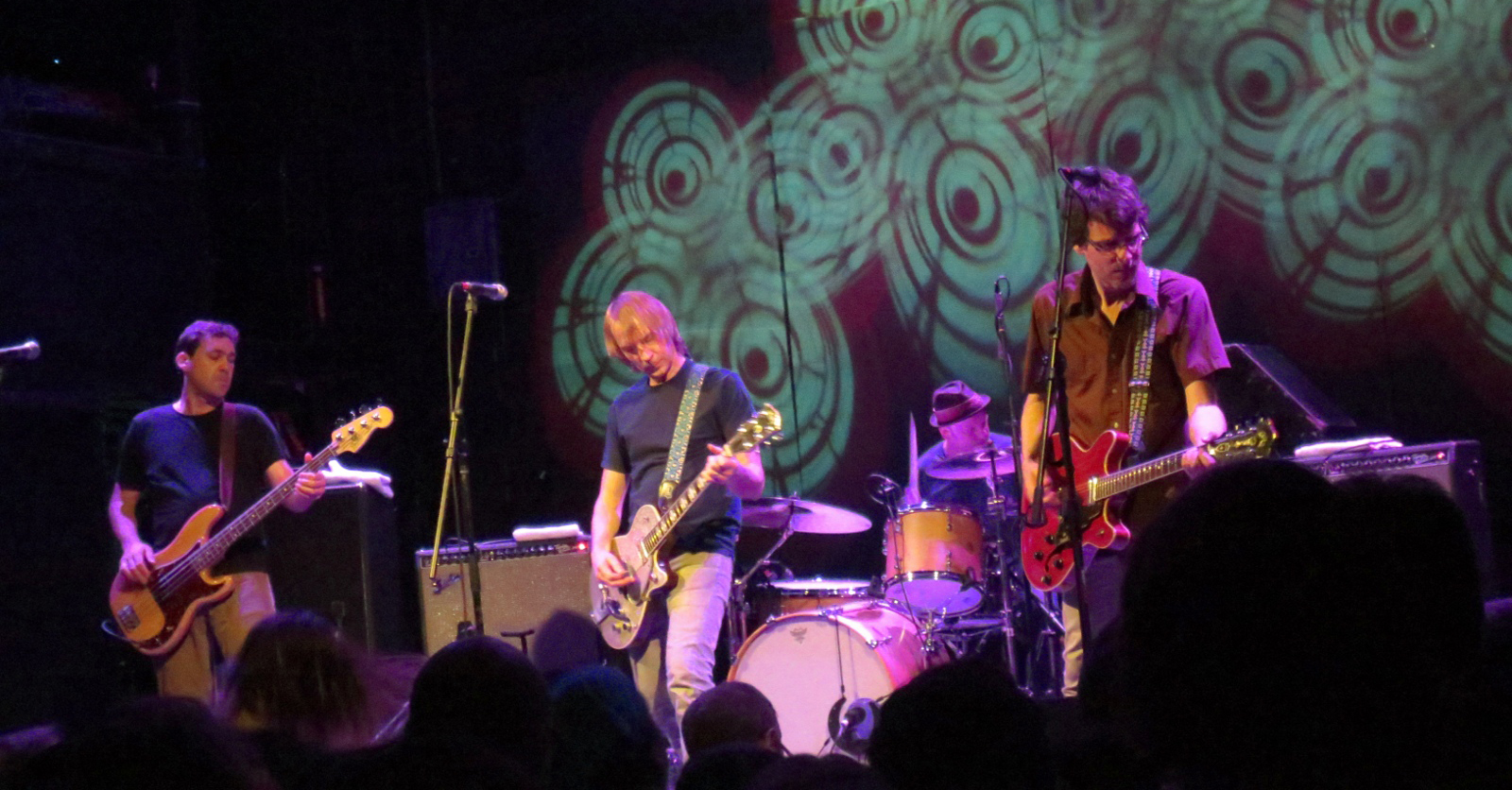 Photo: Vladimir/Flickr

Downtown NYC has long been a capital of live music. With venues like the Bowery Ballroom, Mercury Lounge, and Terra Blues, fans of rock, jazz, and more have long been drawn here. City Guide's roundup of live music in clubs and bars will connect you with tunes at dozens of great downtown venues.


Linda May Han Oh - Village Vanguard
July 07, 2019 - New York
The bassist and composer Linda May Han Oh makes music that is resolutely of the moment...Her innovative range and stellar improvisations have made Ms. Oh one of the most dynamic rising stars in jazz today.
The Weeklings at The Loft - City Winery
July 07, 2019 - New York
"THE WEEKLINGS are America's most unique tribute to the music of THE BEATLES...and much more." You can hear The Weeklings on Sirius XM's The Beatles Channel, Little Steven's Underground Garage and The Loft as well as on terrestrial radio such as the nationally syndicated Joe Johnson's Beatles Brunch Club plus WMGK's Andre Garner (Philadelphia) and WXPN's Helen Leicht (Philadelphia) Breakfast with The Beatles shows, New Jersey's 90.5 The Night and many others around the world. Members of The Weeklings tour as the backup band for Springsteen drummer "Max Weinberg's Jukebox" project. The Weeklings are annually featured at premier Beatles festival events like Abbey Road On The River and BeatleFest.
Linda May Han Oh - Village Vanguard
July 07, 2019 - New York
The bassist and composer Linda May Han Oh makes music that is resolutely of the moment...Her innovative range and stellar improvisations have made Ms. Oh one of the most dynamic rising stars in jazz today.
Tim Miller - 55 Bar
July 07, 2019 - New York
Vic Juris - 55 Bar
July 07, 2019 - New York
Dirty Dozen Brass Band - Blue Note
Through July 07, 2019 - New York
Roger Lewis - Baritone Sax/Vocals Kevin Harris - Tenor Sax/Vocals Gregory Davis - Trumpet/Vocals Kirk Joseph - Sousaphone TJ Norris - Trombone Julian Addison - Drums/Vocals Takeshi Shimmura - Guitar
Wise Fruit 8.0, Summer 2019 Edition - DROM
July 08, 2019 - New York
Headlining Choreographers Stephanie Klemons Batala New York Pendulum People Karla Garcia Noel Bajandas Sekou McMiller Derek Moore Tweet Boogie Featured Live Collaborations of 8.0: Emily Greenwell (Dance) + Birsa Chatterjee (Sax) Tyrone Bevans (Dance) + Camille Trust (Vocals) Meghan McFerran (Dance) + Tandra Das (Vocals) Justice Moore (Dance) + Joe Tucker (Percussion) What is Wise Fruit? Wise Fruit, curated by Brinda Guha, is an artistic showcase dedicated to the feminine divine. All proceeds go directly to Planned Parenthood Action Fund of NYC. Come join us for the Summer WF event: "A Call to Action". Sip on top-shelf beverages, nibble on fresh fruits, network with the live arts community, enjoy world-class performances by NYC choreographers and artists, and open meaningful dialogue to plant seeds of action.
Tricoastal: the songs of Selda Sahin and Derek Gregor at The Loft - City Winery
July 08, 2019 - New York
Tickets will be $25 Day of Show Selda Sahin and Derek Gregor are a NYC-based songwriting team-they wrote the original songs for the upcoming feature film "American Reject", in which their songs were sung by Keala Settle, Angelica Hale, Rebecca Black, Annaleigh Ashford, Juvenile and Billy Ray Cyrus. Their song "Filling Space" recieved a single-song publishing contract with Ole in Nashville, and their song "The Storm" was a finalist for the Great American Song Contest. They co-wrote Eric Michael Krop's (Broadway: Godspell) debut pop album "Greater Things" (also available on iTunes). Their film GRIND starring Anthony Rapp and Claire Coffee (NBC's "Grimm") received awards at the NYC Downtown Short Film Festival, SENE Film Festival, Honolulu Rainbow Film Festival, and FilmOut San Diego (among others). Album available on all platforms. Their musical "Modern", about a group of Amish teens on their Rumspringa will be presented in the Steven Schwartz ASCAP workshop this fall, and was a finalist for NAMT and the O'Neill. Derek (with collaborator Sam Carner) is the recipient of the Richard Rogers award, a NYMF "Best Of Fest" award, the John Wallowitch, and MAC award. Selda was selected for t... (read more)
Gratitude - Members of Earth, Wind & Fire - Blue Note
July 08, 2019 - New York
Gratitude is an emotion of the heart, excited by a favor or benefit received; a sentiment of kindness or good will towards a benefactor; thankfulness. Gratitude is a virtue of the highest excellence, as it implies a feeling and generous heart, and a proper sense of duty. Gratitude is the assembly of 9 gifted musicians of which 7 are currently touring and performing as band members of Earth Wind & Fire. This very special evening of music will feature Classic Soul, Funk and R&B Classics in addition to selections inspired by the aforementioned "Elements of the Universe" having you feel as if you're in a Fantasy… Like a Shining Star beyond Jupiter! You'll want to Sing a Song and exclaim Let's Groove as you and your fellow music lovers dance your way to a Boogie Wonderland! Gratitude is the gathering of (in alphabetical order) Amy Bellamy – Keyboards Gary Bias – Saxophone Bobby Burns, Jr. – Trumpet Serg Dimitrijevic – Rhythm Guitar Nate Edgar - Bass Morris O' Conner – Lead Guitar John Paris – Drums B. David Whitworth – Vocals / Percussion Reggie Young – Trombone
Nir Felder - 55 Bar
July 08, 2019 - New York
Jim Ridl - 55 Bar
July 08, 2019 - New York
BMI LAMC Showcase - DROM
July 09, 2019 - New York
FEATURING PERFORMANCES BY TOP LATIN SONGWRITERS CABLE HEAD, CRSTNA, SOPHY MELL, SEBASTIÁN OTERO, JONA CAMACHO AND NOHEMY Los Angeles, CA – June 17, 2019 – BMI (Broadcast Music, Inc.) is proud to present the annual showcase "Verano Alternativo" in support of the 20th edition of Latin Alternative Music Conference (LAMC) on Tuesday, July 9, at Drom (85 Avenue A, New York, NY) in the East Village. The summer concert will feature performances by Cable Head, CRSTNA, Sophy Mell, Sebastián Otero, Jona Camacho and Nohemy. The concert will spotlight a diverse roster of fresh artists from around the Caribbean and Latin America. Fans will enjoy a night of electrifying beats from the retro-futuristic artist Cable Head along with colorful lyrics and dance rhythms by Ecuadorian urban singer/songwriter Sophy Mell and fellow female Puerto Rican urban singer/songwriter Nohemy. The soulful songstress CRSTNA will also perform along with Afro-Caribbean rapper Sebastián Otero andColumbian pop-rock singer/songwriter Jona Camacho round out the showcase.
Joshua Skate Party, Liz Brennan - Mercury Lounge
July 09, 2019 - New York
Joshua Skate Party, Liz Brennan Tickets on sale Fri, 5/10 at 12pm EST Citi® Cardmember Presale: Tues, 5/07 at 10am - Thurs, 5/09 at 10pm EST Code: Use the first six digits of your Citi® card.
Mike Rocket, Crystal Joilena, Victor V. Gurbo & Co, Eliza and the Organix at The Loft - - City Winery
July 09, 2019 - New York
Tickets will be $20 Day of Show Mike Rocket: Alternative/Rock and Roll Mike Rocket returns to The Loft for his 3rd appearance in the past several months. Recently, Rocket's cover of Bruce Springsteen's "Give The Girl A Kiss" has been played several times on E Street Radio. Along with Rocket's music, the band will include some classic covers during this performance. Credited as "the hardest working man" by some, Rocket is different from many artists in his relentless, fearless, self promoting, and outside the box approaches. Rocket often sets up and performs in places like Times Square, in concert parking lots, at network television shows like The TODAY Show, and by the entrances of large festivals in order to expose his music to the masses. To date he has been seen/heard on national television as well as on major New York, New Jersey, and Philadelphia radio stations, including over 30 visits to The TODAY Show. After four years of setting up outside, Mike Rocket became an official act at Firefly Music Festival 2016 along with some of music's biggest acts. Other well-known festivals he has officially played at include SXSW, CMJ, and Light of Day. His most recognizable song is ... (read more)
Itai Kriss and Gato Gordo - The Django
July 09, 2019 - New York
Itai Kriss and Gato Gordo
Supreme Bars Itch - Pianos
July 09, 2019 - New York
This event is 21 and over
Lamc Presents Sounds From Spain Showcase - DROM
July 10, 2019 - New York
Sounds from Spain returns to the LAMC. Joining us this year are Club del Río, Tu Otra Bonita, Candeleros, and Sol Escobar at DROM on Wednesday, July 10th.Sounds from Spain made its LAMC debut three years ago to rave reviews from outlets like Billboard, Paste, KCRW and EFE, among many others. This year's showcase promises to once again highlight Spain's diverse music scene with a lineup featuring some of the country's up-and-coming, as well as more established, talent in a variety of genres.
Slam Allen at The Loft - City Winery
July 10, 2019 - New York
Tickets will be $20 Day of Show Former James Cotton guitarist and lead singer, Slam Allen is an internationally acclaimed retro-performer of Blues and Soul music. In his unique approach to entertainment, Slam echoes the voices of Otis Redding, Ray Charles, and Sam Cooke, on top of a stirring guitar that links all styles of electric blues through a stage energy reminiscent of James Brown. Born to play, Slam Allen is the keeper of the flame that burns bright the minute he touches the stage.
Yotam Silberstein Solo Guitar - The Django
July 10, 2019 - New York
Yotam Silberstein Solo Guitar
Evan Sherman Big Band - The Django
July 10, 2019 - New York
Evan Sherman Big Band
LAMC Indie Showcase 2019 - DROM
July 11, 2019 - New York
Joining us at this year's LAMC Indie Showcase (presented by Symphonic Distribution and KCRW) are Dorian, Amandititita, Campo-Formio, Los Rivera Destino and Santaferia at DROM on Thursday, July 11th. Indie Showcase presents emerging and established artists from the across the globe. This year's showcase promises to once again highlight the diverse Latin indie music scene. Tickets $10 online, $12 at the door. This event is free for all LAMC badge holders. If you are registered for the LAMC, you will not need to purchase a ticket.
YARN at The Loft - City Winery
July 11, 2019 - New York
You might expect a band that calls itself Yarn to, naturally, tend to spin a yarn or two. "that's what we do, we tell stories, live and in the studio, truth and fiction" singer/songwriter Blake Christiana insists. "We don't always opt for consistency. There's a different vibe onstage from what comes through in our recordings. There's a difference in every show as well, you never know what you're going to get." It's with that in mind that Yarn has announced a series of singles that will be digitally released on the 13th of every month beginning in January and continuing throughout the year. Each "single" will include an "A side", a "B side" and an exclusive alternate version of one of the songs. Naturally, there's no better name for the project than "Lucky 13."
Motherfolk, Wylder, Amos Ender - Bowery Electric
July 11, 2019 - New York
Motherfolk, Wylder, Amos Ender
Real People Not Actors - Le Poisson Rouge
July 11, 2019 - New York
18+ Please note that our ticketing system is paperless. All tickets are for will call only.** Refund Policy & Terms of Service: LPR does not issue refunds or exchanges for ticket purchases. All sales are final. No refunds will be processed for unused tickets or for patrons who are denied entry due to not having valid identification for will call pickup or admittance to an age restricted event. Events are subject to change in date, time, reserved seat location or scheduled act at anytime. In the case of an event cancellation, refunds will be provided via the method of payment originally used.
Roger Clyne & The Peacemakers at The Loft - City Winery
July 12, 2019 - New York
Tickets will be $35 Day of Show Bridging the gap between rock & roll, roadhouse Americana, and the music sound of the southwestern United States, Roger Clyne & The Peacemakers have carved their own path over the last 25 years. They've traveled the world, sent eight albums to the top of the Billboard Internet Sales Chart, launched an annual music festival in Mexico, started their own line of ultra-premium tequila and built a global community of music-lovers and peacemakers – all while remaining 100% independent. The band just released their 10th studio album in 20 years - "Native Heart". Produced by Grammy winning legend Steve Berlin and mixed by Michael Brauer at the iconic Electric Ladyland, they shine new light on a band that's built a career on trekking their own path with their own sound style of twang and taller-than-life characters of the Southwest to a rock & roll soundtrack. The band's roots run deep, sinking back to a time with The Refreshments – the hometown heroes of Phoenix during the mid-1990s, fueled by a major-label deal with Mercury Records, a popular song ("Banditos") on American rock radio and MTV, and the unique distinction of being both the composers and per... (read more)
Matthew Dear - Le Poisson Rouge
July 12, 2019 - New York
18+ Matthew Dear is a shapeshifter, oscillating seamlessly between DJ, dance-music producer, and experimental pop auteur. He is a founding artist on both Ghostly International and its dancefloor offshoot, Spectral Sound. He writes, produces, and mixes all of his work. He's had remixes commissioned by The XX, Charlotte Gainsbourg, Spoon, Hot Chip, The Postal Service, and Chemical Brothers; he's made mixes for DJ Kicks, Get Physical's Body Language, and Fabric mix series. He maintains four aliases (Audion, False, Jabberjaw, and Matthew Dear), each with its own style and distinct visual identity. He straddles multiple musical worlds and belongs to none, now nearly 20 years into his kaleidoscopic career, with five albums and two dozen EPs plus millions of miles in the rearview of his biography.
Michael Feinberg - Blue Note
July 12, 2019 - New York
Michael Feinberg - bass Morgan Guerrin - saxophone Giveton Gelin - trumpet Leo Genovese - piano JK Kim - drums
Próxima Parada - Mercury Lounge
July 12, 2019 - New York
18+ Próxima Parada with Melt Tickets on sale Fri, 4/12 at 12pm EST
Chris Blackburn & Vue5 - DROM
July 13, 2019 - New York
Chris Blackburn Electronic, folk, singer-songwriter synth-pop of sp00ky fame. This particular performer has been living in many genres putting this set together. VUE5 Spawned out of a desire to create, spread good vibes, and awareness for a passionate cause -- VUE5 (pronounced VIEWS) stands for a voice (V) for underwater (U) environments (E) all (5) oceans. An audio-visual journey holding an underlying optimistic message towards something greater than us, VUE5 first track '5TAND UP' is dedicated to the world's oceanic environments.
NY Forro Fest Presents: Eduardo de Carvalho & NY Forro Fest All-Stars - DROM
July 13, 2019 - New York
The NY FORRÓ FEST is New York's original Brazilian forro festival, with six days of Brazilian forro dance classes and live music. Eduardo de Carvalho, a native of Paraná, Brazil, is a talented accordionist, bandleader. The NY Forro Fest All-Stars are comprised of Everton Isidoro, Dennis Bulhoes, and Duda Soprani, plus special guests from all over the New York forro scene.
Marissa Nadler at The Loft - City Winery
July 13, 2019 - New York
Tickets will be $18 Day of Show By asking difficult questions about her relationships, Marissa Nadler has found a stronger sense of self and a sharper voice as both a songwriter and a vocalist on For My Crimes, culminating in her most evocative entry in an already impressive discography. Following the release of 2016's acclaimed Strangers, Nadler's relationships were put to the test as she left the Boston area on tour. She wrote throughout 2017 about this tension, and ended up with three times as many songs as she needed. But after reviewing the demos with her co-producers Justin Raisen and Lawrence Rothman, Nadler wrote a flurry of tight but no less intense new songs in the week before arriving at Rothman's Laurel Canyon studio, House of Lux, in early January. She considered it a challenge to herself, applying new strategies and structures to the craft of "slow music" she's honed over the last 15 years. From that group of songs came nearly all of the singles on For My Crimes, some of the most indelible of Nadler's career. The opening title track is classic Nadler: a sweeping, vaguely Southern drama of voices, strings, and acoustic guitar, that walks the fine line between charac... (read more)
Alex Anwandter - Le Poisson Rouge
July 13, 2019 - New York
18+ One of the leading voices of the vibrant Latin indie pop scene, and now based in Los Angeles, Alex Anwandter brings together 80's-influenced dance music and emotional songwriting all wrapped up in an engaging live performance full of intimacy and showmanship.
Bassel & The Supernaturals - Blue Note
July 13, 2019 - New York
Bassel & The Supernaturals combines funk and soul with captivating lyrics about love, loss, and a war in Syria that has affected Bassel Almadani's family along with 10,000,000 others. The soulful Syrian-American vocalist and his ensemble donate over 20% of their merchandise proceeds to humanitarian relief through the Karam Foundation, including $3,000 from the preorder campaign for their full-length album, Elements (2017). Their latest album - drawing inspiration from artists such as Snarky Puppy, Jamiroquai, and Steely Dan's "Aja" - was premiered by Noisey (Vice), and led to their involvement in the nationally-acclaimed SXSW 2017 showcase 'ContraBanned: #MusicUnites' featuring artists from the diaspora of countries targeted by the travel ban. They've since been featured on PRI, Al Jazeera, Reuters, Paste Magazine, Huffington Post, NowThis, and many others.
Adam Ezra Group at The Loft - City Winery
July 14, 2019 - New York
Tickets will be $20 Day of Show It's difficult to impart the roots-steeped, road-trippin' essence of the Adam Ezra Group into a single word, but frontman Adam Ezra nonetheless keeps one in mind as something of a mantra: community. Community is epitomized by a belief that has long doubled as a mission statement for the group: namely, that making music together is itself a form of grassroots organizing, capable of nothing less than changing the world. For their most recent release, Hurricane Wind (2017), the AEG fanbase turned the full power of its collective hurricane wind outward, and shared the music for free with over 5000 people over the course of two weeks. Such a groundswell of activity wouldn't have been possible even a few years ago; "Hurricane Wind," to AEG, represents both a celebration and reaffirmation of how remarkably that community has grown. A tireless touring outfit, the Adam Ezra Group (AEG) is constantly on the road, often devoting their time to local charities and always going out of their way to connect with fans. They are creating a powerful, inclusive community around AEG shows that is beginning to be compared to a social-movement as much as a traditional ... (read more)
Heart Bones – In The Round - Le Poisson Rouge
July 14, 2019 - New York
18+ Heart Bones is a collaboration between Sean Tillmann (aka Har Mar Superstar) and Sabrina Ellis (A Giant Dog/ Sweet Spirit). The two became friends while touring together in 2016. They recognized a kindred quality of over-the-top showmanship, and their new project became inevitable. Throughout 2018 the duo have been alternating visits to each other's hometowns of Minneapolis and Austin to co-write original material. Inspired by their favorite classic duos such as Nancy Sinatra/ Lee Hazelwood, Serge Gainsbourg/ Jane Birkin, Sonny & Cher, and Sam & Dave, their influences have spanned everything from doo wop, classic duets, musical theater, electro dance, and melancholy pop.
Ron Carter Quartet - Blue Note
Through July 14, 2019 - New York
Ron Carter - Bass Renee Rosnes - piano Jimmy Greene - Saxophone Payton Crossley - Drums

Want free advice on what to see and do in NYC? Join our Facebook group Everything to Do NYC, a place for people to ask questions and get tips on how to make the most of the city.