Macy's Thanksgiving Parade Turns 91!
November 13, 2017 - by City Guide News Desk
Macy's Thanksgiving Day Parade returns to march down the streets of New York City on Thursday, November 23rd. This is the 91st annual version of the spectacle, with more than 3.5 million spectators and 50 million television viewers nationwide. The Macy's lineup for 2017 is as star-studded as ever, with performances from Leslie Odom Jr. (Broadway's Hamilton) with the cast and Muppets of Sesame Street; R&B legend Smokey Robinson; The Radio City Rockettes®; 98 Degrees; the Goo Goo Dolls; Jimmy Fallon & The Roots; and Padma Lakshmi and Tom Colicchio from Bravo's Top Chef, among others.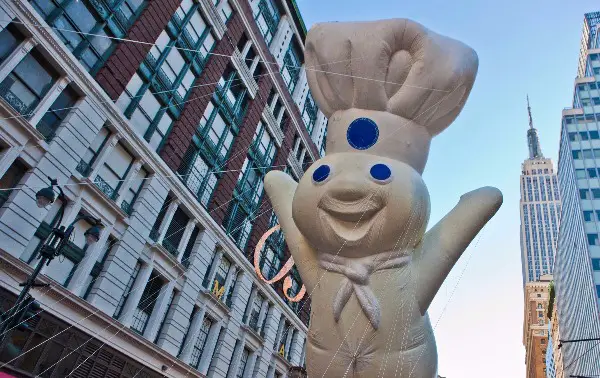 Image: Anthony Quintano/Flickr

STARS ON PARADE
BALLOONS
Returning favorite balloons include the Pillsbury Dough Boy, Angry Birds Red, Ice Age's Scrat and his Acorn, Red Mighty Morphin Power Ranger, Hello Kitty, Ronald McDonald, SpongeBob SquarePants, Pikachu, Trolls, Diary of a Wimpy Kid Greg Heffley, and the Elf on the Shelf. Novelty balloons for this year will include Harold the Policeman, Harold the Fireman, Harold the Baseball Player, Rex the Happy Dragon, the Blue Ornament, Candy Cane, and Red & Gold Macy's stars. New balloons for this year include Frozen's Olaf, The Grinch, and Paw Patrol's Chase.
This year's floats include Snoopy's Doghouse from Peanuts Worldwide, Heartwarming Holiday Countdown from the Hallmark Channel, Oh Christmas Tree from Balsam Hill, Green Giant from Green Giant Vegetables, Fun House from Krazy Glue, The Cranberry Cooperative from Ocean Spray, Big Apple from NY Daily News, Winter Wonderland from Delta Airlines and, of course, Santa's Sleigh.
Image: Macy's
PARADE ROUTE
*Kickoff 77th Street and Central Park West, 9am
*Turns at Columbus Circle to Central Park South
*Veers south onto Sixth Avenue, from 59th to 38th Streets
*Parade makes its final turn, ending at Macy's Herald Square
THE DAY BEFORE
Fans that can't get enough of the Macy's Thanksgiving Day Parade can check out the Macy's Giant Balloon Inflation event on Wed, Nov. 22, from 3 to 10pm. Kids love to see the balloons coming to life. Enter the special inflation areas surrounding the Museum of Natural History beginning at 79th Street and Columbus Avenue.
The televised parade kicks off at 9am and continues through noon. Click here for more information on the parade.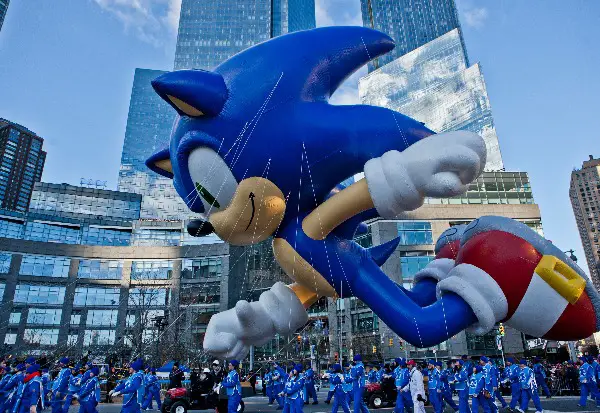 Image: Anthony Quintano/Flickr

PRIX FIXE WITH ALL THE FIXIN'S
City Guide has the lowdown on the best restaurants in the city to enjoy Thanksgiving dinner. Check out our picks, with some great prix fixe deals included.
Looking for Free Group Planning Services?
Get free advice on planning your group's trip to New York.
RESTAURANTS

Multi-concept restaurant offering modern Japanese cuisine, a...

THEATER

Gaston Leroux's famous period thriller is now one of Broadwa...

SHOPPING

The landmark store for America's longest-running catalog, of...

SIGHTSEEING

Enjoy the best prices for deluxe double decker, hop-on, hop-...