The Macy's Thanksgiving Day Parade turns 93 years old this year! Thanksgiving Day, the city stops in wonder to see the gigantic balloons, floats, and performers that process through Manhattan toward Macy's flagship location at Herald Square. Read on for what (and who) will appear at this year's parade. You can view the event via the live TV broadcast or in-person, only in New York City. The event will include Astronaut Snoopy, Frozen's Idina Menzel, Glee's Lea Michele, Billy Porter, and more.
What You'll See
Astronaut Snoopy joins this year's balloon lineup, in honor of NASA's 50th anniversary.
New balloons this year include Snoopy decked out in an astronaut helmet (in honor of the 50th anniversary of the moon landing); Spongebob Squarepants and Gary the snail; Dr. Seuss' characters riding in a car made from green eggs and ham; a red sun designed by artist Yayoi Kusama; and a new iteration of the former Smokey Bear balloon. Returning balloons will include Olaf from Disney's Frozen, Chase from Paw Patrol, Macy's "Starflakes," and the Pillsbury Doughboy. There will also be several "Balloonicles" processing down the streets—not quite as high or as large as the main balloons, but no less fun to see!
Floats this year will include "Rexy in the City," a tricked-out T-rex from fashion brand COACH. The folks at Lego have also created an extraordinary creature on their float, and Cracker Barrel will debut a new "Home Sweet Home" float with a fireplace and rocking chairs. Ronald McDonald will appear again in his classic Big Red Shoe Car. Other favorites like Macy's Cornucopia and its Singing Christmas Tree will also return.


Celebrity Guests
Frozen's Idina Menzel will be a musical guest.
Get ready to spot your favorite stars on these fabulous floats! COACH's "Rexy and the City" will carry actor/fashion icon Billy Porter, and the TV broadcast will feature a special musical performance from Celine Dion. Musical guests will include Frozen's Idina Menzel, Destiny Child's Kelly Rowland, Ciara, Ozuna, and Lea Michele from Glee. Extant members of popular groups like TLC, Chicago, and the Black Eyed Peas will also perform. Other special guests will be the cast of Sesame Street, NASA astronauts Dr. Janet L. Kavandi and Kay Hire, and Miss America 2019, Nia Franklin.
In addition to these musical performers and famous faces, you'll get to hear 11 different marching bands as they head through Manhattan during the parade! You'll also see performances from the Big Apple Circus, Alvin Ailey Dance Company, and the cheerleaders of Spirit of America Cheer.
Image: Macy's.
Parade Route
The parade begins at Central Park West, heading south from West 77th Street near the Museum of Natural History. View the parade as it goes down Central Park West between West 75th and 59th Streets.
The procession will turn left and proceed down Central Park South until 6th Avenue (a.k.a. Avenue of the Americas). See the balloons and floats between West 59th and 38th Streets, where there will be plenty of other spectators to join you! The parade terminates at Herald Square, but there will be little opportunity to view here due to the television crew filming the broadcast.
Find more info, such as nearby public restrooms and places to eat, on Macy's official parade map.
TV Broadcast & Streaming
NBC is the exclusive provider of the Macy's Thanksgiving Day Parade broadcast. All time zones can enjoy live coverage of the parade from 9am to noon. Al Roker, Hoda Kotb, and Savannah Guthrie will host the show. The broadcast will begin with an appearance from your favorite Sesame Street characters, and viewers will also see musical numbers from Broadway shows like Ain't Too Proud, Tina: The Tina Turner Musical, Hadestown, and Beetlejuice.
You can also stream the parade live via Verizon 360, beginning at 8:30am on the company's YouTube page. This stream will incorporate augmented reality and other features to enhance your experience of the parade.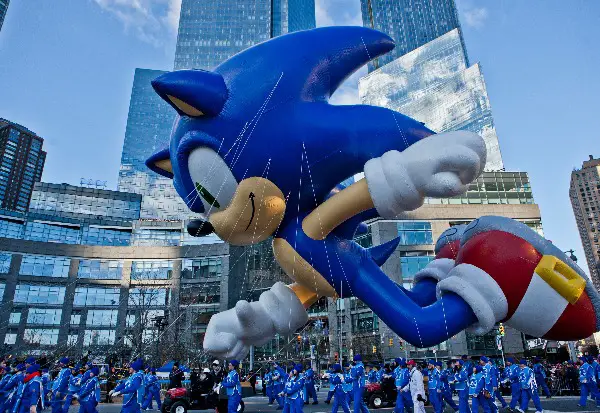 Image: Anthony Quintano/Flickr
Balloon Inflation
The day before Thanksgiving, watch the magic happen as giant balloons are inflated next to the Museum of Natural History on the Upper West Side. Visitors can walk around the perimeter of the museum to see the balloons filled with air, from 1 to 8pm, on Wednesday, November 27.
For more information on the balloon inflation, visit the official parade map, and click the "Balloon Inflation" tab on the left.
Feast On
After a fun day of parade-viewing (and maybe a little shivering), keep the celebration going with a delicious meal. Check out our list of great restaurants in "Thanksgiving Dinner NYC: Where to Eat 2019."