Museum Events in New York City This Week - April 8-April 15
April 8, 2018 - by CG Directory Editor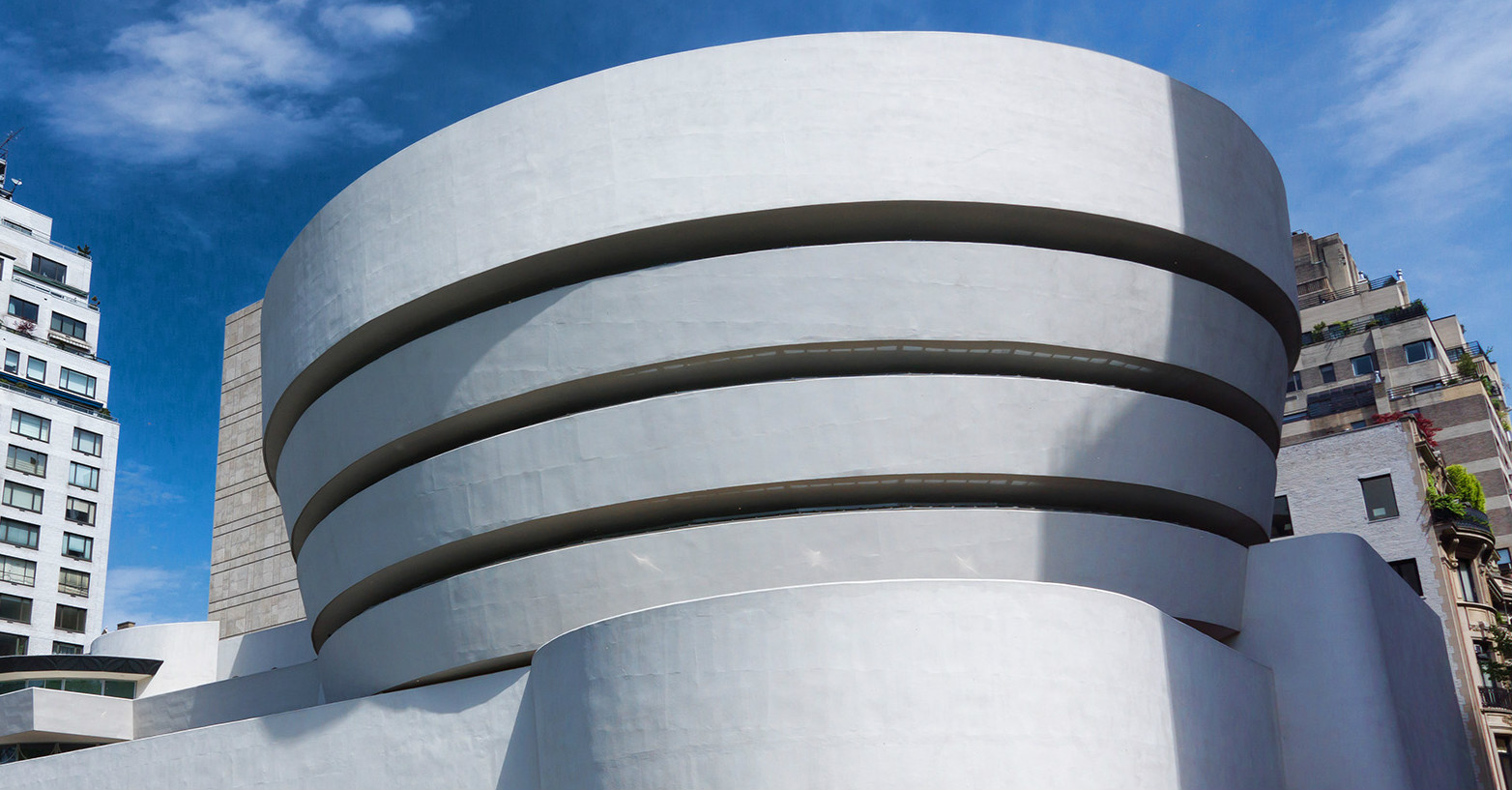 New York's museums have constantly changing exhibitions and special events; check in with City Guide's calendar for the latest goings-on in NYC, with all the great painting, photography, sculpture, video art, history, and general culture that the city's institutions are known for.


Second Sunday Family Tours - Solomon R. Guggenheim Museum
April 08, 2018 - New York
The More You Know: Investigate the stories behind works of art and discover how this information can shape our understanding. On the second Sunday of every month, explore the museum on a family-friendly tour that includes conversation and creative, hands-on gallery activities. Tours are organized around a single theme and highlight artworks on view from the permanent collection and special exhibitions. For families with children ages 5 and up. $20 per family (includes admission and tour for two adults and up to four children); $15 members; free for Family Members and Cool Culture families. Please register your family as a unit. Do not register individuals.
Second Sunday Family Tours - Solomon R. Guggenheim Museum
April 08, 2018 - New York
The More You Know: Investigate the stories behind works of art and discover how this information can shape our understanding. On the second Sunday of every month, explore the museum on a family-friendly tour that includes conversation and creative, hands-on gallery activities. Tours are organized around a single theme and highlight artworks on view from the permanent collection and special exhibitions. For families with children ages 5 and up. $20 per family (includes admission and tour for two adults and up to four children); $15 members; free for Family Members and Cool Culture families. Please register your family as a unit. Do not register individuals.
A Giant Leap: The Transformation of Hasegawa T?haku - Japan Society
Through April 08, 2018 - New York
This special exhibition focuses on the life and legacy of Hasegawa T?haku (1539-1610), founder of the Hasegawa school of painting and one of 16th-century Japan's leading artistic innovators. As the first ever exhibition in the U.S. dedicated to T?haku, A Giant Leap traces the artist's evolution from a provincial painter of Buddhist subjects to a master favored by shogun, samurai, and other cultural luminaries. Vibrantly painted screens and scrolls, including Important Cultural Properties, illustrate T?haku's dramatic transformation. Steep yourself in the Golden Age of Japanese art and revel in T?haku's most sumptuous and atmospheric masterpieces in this once-in-a-lifetime exhibition.
Thinking Machines: Art and Design in the Computer Age - The Museum of Modern Art
Through April 08, 2018 -
Drawn primarily from MoMA's collection, Thinking Machines: Art and Design in the Computer Age, 1959–1989 brings artworks produced using computers and computational thinking together with notable examples of computer and component design. The exhibition reveals how artists, architects, and designers operating at the vanguard of art and technology deployed computing as a means to reconsider artistic production. The artists featured in Thinking Machines exploited the potential of emerging technologies by inventing systems wholesale or by partnering with institutions and corporations that provided access to cutting-edge machines. They channeled the promise of computing into kinetic sculpture, plotter drawing, computer animation, and video installation. Photographers and architects likewise recognized these technologies' capacity to reconfigure human communities and the built environment. Thinking Machines includes works by John Cage and Lejaren Hiller, Waldemar Cordeiro, Charles Csuri, Richard Hamilton, Alison Knowles, Beryl Korot, Vera Molnár, Cedric Price, and Stan VanDerBeek, alongside computers designed by Tamiko Thiel and others at Thinking Machines Corporation, IBM, Olivetti, ... (read more)
Unpacking the Green Book - Museum of Arts and Design (MAD)
Through April 08, 2018 - New York
The Negro Motorist Green Book, commonly known as The Green Book, was a travel guide that helped black road-trippers avoid the dangers, injustices, and racial violence of segregation during the Jim Crow era in America. It was published by New York postal worker Victor Hugo Green from 1936 to 1967, and listed establishments such as hotels, restaurants, beauty salons, nightclubs, bars, gas stations, and more, where black travelers would be welcome. In an age of sundown towns, segregation, and the Civil Rights Movement, The Green Book became an indispensable tool for safe navigation. Unpacking the Green Book: Travel and Segregation in Jim Crow America explores the history of The Green Book in an interactive project space through materials such as a library and reading area devoted to the topics of segregation, automobility, travel, and leisure, specifically as they relate to the black American experience in the midcentury; digitized copies of The Green Book; interactive maps that explore travel destinations included in it; and multiple film excerpts from upcoming documentary projects. It will also include two banners by Cauleen Smith, featured in the 2017 Whitney Biennial, and now i... (read more)
The Coney Island Museum - Coney Island USA
Through April 08, 2018 - Brooklyn
Coney Island USA is thrilled to announce the opening of "Five Cents To Dreamland" at the Coney Island Museum. Presented in cooperation with the New York Transit Museum, this special exhibition brings together highlights from both permanent collections to explore Coney Island's history from a new and unique perspective!
The American Express Experience - An Immersive Event That Brings The Best of The Internet To Life - Industria
Through April 12, 2018 - New York
The American Express Experience is a hands-on experience that brings the best of the internet to life with a series of themed spaces, each one inspired by the internet at its finest. Forget just clicking 'like' - taste the most Insta-worthy foods, step into vignettes that simulate incredible travel trends, and feel your endorphins spike in a room full of puppies from that viral video. Created to celebrate how people live blended lives today, with personal lives and work deeply intertwined, The American Express Experience will be open to the public from April 10th - 12th from noon to 6 p.m. ET at Industria in New York City. We hope you share the sensation-filled journey with a friend, colleague or loved one and create a memorable experience together. Learn more and RSVP here: http://bit.ly/AmexExperienceApril2018
Impressionism and Post-Impressionism in Japanese - The Met Fifth Avenue
Through April 12, 2018 - New York
The tour introduces visitors to the origins of Impressionism in the late 1860s and its flourishing in the following decades in landscapes and scenes from modern life by such artists as Monet, Degas, and Renoir. The tour also explores the impact of Impressionism on the next generation of artists, which includes Cézanne, Gauguin, and Van Gogh.
American Museum of Natural History Presents, Mickey Hart: Musica Universalis - American Museum of Natural History
Through April 14, 2018 - New York
Join legendary Grateful Dead drummer Mickey Hart for a unique program at the Museum. The evening begins with a walk-through of the special exhibition Our Senses: An Immersive Experience featuring a curated soundscape based on Hart's recently released album, RAMU. Then, join Hart in the Hayden Planetarium Dome for an electrifying live performance of Musica Universalis, created in collaboration with the Museum's Director of Astrovisualization Carter Emmart. The show will be followed by a discussion with neuroscientist Adam Gazzaley and Our Senses Curator Rob DeSalle. Ticket holders will take home a signed statement and a copy of Hart's album, RAMU.
Alexandra Pirici - New Museum
Through April 15, 2018 - Lower East Side
Her new project for the New Museum takes the form of an ongoing action with live performers and one holographic performer. The project approaches the concept of presence in an expanded sense, focusing in particular on its increasing dispersion. In Pirici's ongoing action—conceived especially for the New Museum's South Galleries—presence is revealed in a variety of ways: as physical body as well as artificial stand-in, avatar, and ghost, taking on the character of a memorial or monument; as image and abstraction of the living subject into quantifiable, monetizable data; and as the expanded life of "dead" objects in museum collections—using the presence of live performers to challenge their stable state and static interpretation. This new work continues Pirici's recent interrogations into the collective body through choreographies that link different temporal and spatial events in real time. In the work, performers embody amalgamated parts, intersecting with each other yet separately manipulable. Pirici's project attempts to enact the dispersion of presence and to comment on contemporary processes of abstraction that separate sign from substance and image from material support. Prop... (read more)
Sara Magenheimer - New Museum
Through April 15, 2018 - Lower East Side
Working Across a Range of Media Including Video, Sound, Performance, Sculpture, Collage, and Installation, New York–Based Artist Sara Magenheimer (B. 1981, Philadelphia, Pa) Disrupts, Manipulates, and Defamiliarizes Language with Bold Combinations of Image and Text. Her Videos Incorporate Traditional Filmic Editing Techniques Alongside Those Inspired by Music and Collage. in Syncopated Progressions of Pictures and Words, Magenheimer Pushes Against the Bounds of Narrative, Charting Circuitous Storylines Through Vernacular Associations That Invite Individual Interpretations. Through Surprising Juxtapositions of Language, Graphic Compositions, and Idiosyncratic Imagery, She Reveals How Visual and Verbal Signs Mutate and Guide Manifold Pathways to Understanding. Magenheimer Will Present a New Video Installation in the Window of the New Museum's 231 Bowery Building. This Project Is Part of a New Series of Window Installations, Which Relaunches the Program the New Museum Originally Mounted in the 1980s. in Conjunction with Her Window Installation, a Selection of Magenheimer's Films Will Also Be on View as Part of the Museum's Ongoing Screen Series. This Project Is Curated by Margot Nort... (read more)
The Art of Mike Mignola: Hellboy and Other Curious Objects - Society of Illustrators
Through April 21, 2018 - New York
In this specialized exhibit, Mignola reveals some of his best pieces, providing viewers a look into his dark, spectral perspective. With his easily recognizable style of thin lines, unwieldy shapes, and heavy use of black forms, Mignola has amassed a large following of avid readers of his best-selling graphic novels. In 1982, hoping to find a way to draw monsters for a living, he moved to New York City and began working for Marvel Comics. During the 1990's, after developing his iconic technique, Mignola moved to Dark Horse Comics, where he created his signature Hellboy series, a collection of comic books and graphic novels that chronicles the fate of a half-demon occult detective who may or may not be the Beast of the Apocalypse. In this exhibit, the Society will feature highlights from his fan-favorite Hellboy series, as well as other spin-off titles including work from B.P.R.D., Abe Sapien, and Witchfinder. The Society is also pleased to feature samples from his award-winning comic books including the Eisner Award winner The Amazing Screw-On Head (Dark Horse Comics) as well as Baltimore, or, The Steadfast Tin Soldier and the Vampire (Bantam Spectra), co-written by best-sell... (read more)
The Smallest Mollusk at Rockefeller Center - Rockefeller Center
Through April 29, 2018 - New York
THE SMALLEST MOLLUSK MUSEUM, A 6-FOOT-TALL SCIENCE MUSEUM CONTAINING 15 EXHIBITS, TO BE DISPLAYED AT ROCKEFELLER CENTER® APRIL 4TH – 29TH MICRO's Smallest Mollusk Museum, a 6-foot-tall science museum that contains 15 multimedia exhibitions, will be displayed on the concourse level of Rockefeller Center, located between 49th and 50th Streets and 5th and 6th Avenues in Manhattan, from Wednesday, April 4 – Sunday, April 29. The museum features two miniature movie theaters, a full-sized holographic aquarium filled with creatures, and a variety of exhibits exploring the evolution of mollusks, their physical traits, behaviors, and their similarities with people. An online audio tour and e-book accompany the museum. The museum is free and open to the public. For more information visit rockefellercenter.com.and micro.ooo. IMAGE CAPTION: MICRO's Smallest Mollusk Museum is packed with exhibits that explore over 500 million years of life on earth. IMAGE COURTESY OF MICRO. TWITTER: @rockcenternyc INSTAGRAM: @rockcenternyc FACEBOOK: @rockefellercenternyc Join the conversation by using #RockCenter. TWITTER: @TheMicromuseums INSTAGRAM: @themicromuseums FACEBOO... (read more)
Now and Forever: The Art of Medieval Time - The Morgan Library & Museum
Through April 29, 2018 - New York
What time is it? The question seems simple, and with a watch on your wrist or a cell phone in your hand, the answer is easy. In the Middle Ages, however, the concept of time could be approached in many different ways, with vastly different tools. Drawing upon the rich holdings of the Morgan's collection of medieval and Renaissance illuminated manuscripts, Now and Forever explores how people told time in the Middle Ages and what they thought about it. The manuscripts range in date from the eleventh to the sixteenth centuries and come from all the major countries of Europe. The exhibition begins with the quirks of the medieval calendar, exploring sacred feasts, the mysteries of Golden Numbers, the utility of Dominical Letters, and how the Middle Ages inherited the Roman Calendar of Julius Caesar. Visitors will engage with the complexities of time as defined by liturgical celebrations and their two overlapping systems of temporale (feasts of time) and sanctorale (feasts of saints), systems that still influence the way we tell time today. Now and Forever also explores how time beyond the grave preoccupied medieval people for whom life on earth was a mere dress rehearsal for the m... (read more)
Exhibition: the Tredwell Book Collection and the Changing 19th Century Culture of Books - Merchant's House Museum
Through April 30, 2018 - New York
Over the course of the their almost 100-year residency on East 4th Street, the Tredwells collected 314 books. These volumes, many inscribed, provide a glimpse into the family's interests, tastes, and intellectual pursuits over the century. It is not surprising that the most common subject/genre of literature is education, including foreign languages, since books in the 19th century were meant to be studied. Religion, biography, poetry, and fiction followed.
Cover Stories: Remembering the Twin Towers on The New Yorker - 9/11 Memorial Museum
Through May 01, 2018 - New York
"Cover Stories: Remembering the Twin Towers on The New Yorker" is an exhibition of 33 covers from the weekly news and culture magazine spanning more than four decades of the evolving New York City skyline. The exhibition takes visitors through the magazine's depictions of the city's experience as the Twin Towers were constructed and stood as icons of the city, their sudden absence when they were destroyed, the widely felt grief and anxieties in the aftermath of the 9/11 attacks, their commemoration in the years that followed, and the rebuilding of the World Trade Center site now home to The New Yorker and the 9/11 Memorial & Museum. The exhibition will run through May 2018 in the museum's South Tower Gallery.
Modern and Contemporary Art in French - The Met Fifth Avenue
Through May 01, 2018 - New York
Visitors are introduced to the Museum's exceptional collection of modern art—including painting and sculpture—through works representing the major stylistic movements of the twentieth century. The European collection includes works by artists such as Bonnard, Picasso, Matisse, Miró, Balthus, and Kiefer; the American collection encompasses paintings by the Eight, the Stieglitz circle, Edward Hopper, the Abstract Expressionists, and Jasper Johns. The tour may also visit sculpture by Isamu Noguchi, David Smith, and others.
Exhibition Tour—Thomas Cole's Journey: Atlantic Crossings - The Met Fifth Avenue
Through May 02, 2018 - New York
This exhibition provides a vivid new context for one of the Museum's most celebrated works, Thomas Cole's The Oxbow, 1836, a founding masterpiece of American landscape painting. Assistive listening devices are provided in the gallery where the program begins.Assistive listening devices are provided in the gallery where the program begins.
Edmund Clark: The Day the Music Died - ICP Museum
Through May 06, 2018 - New York
British photographer Edmund Clark has spent ten years exploring structures of power and control in the so-called global War on Terror. Edmund Clark: The Day the Music Died presents photographic, video, and installation work focusing on the measures deemed necessary to protect citizens from the threat of international terrorism. It also explores the far-reaching effects of such methods of control on issues of security, secrecy, legality, and ethics. From Guantanamo Bay to Afghanistan to extraordinary rendition and the CIA's secret prison program, Clark's work finds new ways to visualize the processes, sites, and experiences associated with the United States' response to international terrorism. His engagement with military and state censorship defines the secrecy and denial around these subjects. Through photographs and declassified documents, Clark reveals how the unexpected connections between those who exercise control and those who are subject to it bring this covert torture trail to a human level. He highlights the everyday veneers under which purveyors of detention and interrogation operate in plain sight, brings light to the processes beneath, and reflects on how terror... (read more)
Exhibition Tour—William Eggleston: Los Alamos - The Met Fifth Avenue
Through May 08, 2018 - New York
The exhibition presents the landmark series Los Alamos by photographer William Eggleston (American, born 1939). Completed in 1974, the work has never been shown in its entirety in New York City.
Tennessee Williams: No Refuge but Writing - The Morgan Library & Museum
Through May 13, 2018 - New York
One of the greatest American playwrights of the twentieth century, Tennessee Williams (1911–1983) was a master of language and a tireless craftsman. This exhibition focuses on Williams's career during the years 1939–1957, when he authored such masterpieces as The Glass Menagerie, A Streetcar Named Desire, and Cat on a Hot Tin Roof. The show examines his creative process and his involvement with the production of his plays, along with their reception and lasting impact. Uniting his original drafts, private diaries, and personal letters with paintings, photographs, production stills, and other objects, the exhibition tells the story of one man's struggle for self-expression and how it changed the landscape of American drama.
American Life: Historic Rooms and Decorative Arts - The Met Fifth Avenue
Through May 16, 2018 - New York
This voyage through the history of American domestic interiors uses architectural elements, furnishings, silver, glass, and other decorative and utilitarian objects to tell fascinating stories of American life, from the seventeenth through the early twentieth century. Many of the newly renovated period rooms are equipped with state-of-the-art interactive computer touch screens, which explore the social and historical context of the rooms and catalogue information about their furnishings. The Henry R. Luce Center for the Study of American Art displays additional examples of American art.
American Art in French - The Met Fifth Avenue
Through May 17, 2018 - New York
This tour provides an overview of the comprehensive collections of The American Wing and may include paintings, sculpture, furniture, period rooms, and decorative arts, as well as architectural spaces. Periods covered are from Colonial America to the early twentieth-century Frank Lloyd Wright Room, and will emphasize the newly reopened Galleries for Paintings, Sculpture, and Decorative Arts. The American Wing has outstanding examples of furniture by John Townsend, Duncan Phyfe, and Charles-Honoré Lannuier; paintings by John Singleton Copley, Thomas Cole, Winslow Homer, and John Singer Sargent; and sculptures by Augustus Saint-Gaudens.
Rebel Spirits: Robert F. Kennedy and Martin Luther King Jr - New York Historical Society
Through May 20, 2018 - Upper West Side
On the surface, Robert F. Kennedy and Martin Luther King Jr. were born worlds apart?culturally, geographically, racially, financially, and politically. But by the time they were killed within two months of each other in 1968, their worlds had come together. Images taken by some of the most renowned photojournalists of the era?alongside original correspondence, publications, and ephemera?illustrate the overlapping trajectory of their lives, exploring their deepening tie as well as how their interests expanded beyond civil rights and organized crime to encompass shared concerns for the poor and opposition to the war in Vietnam.
Peter Hujar: Speed of Life - The Morgan Library & Museum
Through May 20, 2018 - New York
With Speed of Life, the Morgan presents the first in-depth retrospective of the New York-based photographer Peter Hujar (1934–1987). Drawn from the extensive holdings of the artist's work at the Morgan and from nine other collections, the exhibition and its catalog explore the artist's full career, from his beginnings in the mid-1950s to his central role in the East Village art scene three decades later. Hujar's sharp, serene, square-format photographs confer gravity on the object of his attention, granting it an eternal moment's pause within the rush of passing time. Hujar focused on the spark of encounter between himself and his subject, be it a goose, a lover, an underground theatrical performer, the dappled surface of the Hudson River, or the placid features of his own face. In early adulthood Hujar worked as a studio assistant to magazine professionals and spent years in Italy with two successive partners, artists Joseph Raffael and Paul Thek. His short career in fashion photography ended in 1971, when Hujar decided the hustle of magazine work "wasn't right for me." After moving into a loft above a theater at Twelfth Street and Second Avenue in 1973, Hujar pursued a boh... (read more)
30-Minute Met: Guide's Choice in Japanese - The Met Fifth Avenue
Through May 22, 2018 - New York
A tour of favorite objects; guide's choice, your treat.
The New Yorker - National September 11 Memorial Museum
Through May 24, 2018 - New York
New on View "Cover Stories: Remembering the Twin Towers on The New Yorker" is an exhibition of 33 covers from the weekly news and culture magazine. From the time the original World Trade Center first rose into the skyline, it began appearing on covers of The New Yorker. For years, artists treated the Twin Towers playfully. After 9/11, somber imagery emerged. While the destruction of the towers was not depicted, the anxiety and sadness engulfing the nation took form on New Yorker covers after the attacks. Over the years, the covers commemorated the loss of the towers while documenting the revitalization of the site. The exhibition runs through May 2018.
Vestiges & Verse: Notes from the Newfangled Epic - American Folk Art Museum
Through May 27, 2018 - New York
Vestiges & Verse: Notes from the Newfangled Epic unites more than two hundred and fifty works by twenty-one seminal and recently discovered self-taught artists, who will be introduced for the first time through the examination of the idiosyncratic structures of their lifelong, intricate narratives—notably, their sequential and developing aspects. Rare manuscripts, series of drawings, illustrated notebooks with coded texts, expanding cartography, journals, and multi-part collages will provide an art historical and pluridisciplinary perspective on the mechanisms behind visual storytelling.
Stephen Shore - MoMA : Museum of Modern Art
Through May 28, 2018 - New York
Stephen Shore encompasses the entirety of the artist's work of the last five decades, during which he has conducted a continual, restless interrogation of image making, from the gelatin silver prints he made as a teenager to his current engagement with digital platforms. One of the most significant photographers of our time, Stephen Shore (American, b. 1947) has often been considered alongside other artists who rose to prominence in the 1970s by capturing the mundane aspects of American popular culture in straightforward, unglamorous images. But Shore has worked with many forms of photography, switching from cheap automatic cameras to large-format cameras in the 1970s, pioneering the use of color before returning to black and white in the 1990s, and in the 2000s taking up the opportunities of digital photography, digital printing, and social media. The artist's first survey in New York to include his entire career, this exhibition will both allow for a fuller understanding of Shore's work, and demonstrate his singular vision—defined by an interest in daily life, a taste for serial and often systematic approaches, a strong intellectual underpinning, a restrained style, sly hum... (read more)
DREAM MACHINE - DREAM MACHINE
Through May 31, 2018 - Brooklyn
The Dream Machine is a self-guided journey that takes visitors through ten rooms inspired by the human sleep cycle. The pop-up brings the wonders of the dream state to life creating a one-of-a-kind playground full of interactive exercises. Participants can float through clouds and explore a galaxy all while walking through the space which is set in Brooklyn's Williamsburg neighborhood. The experience promises to be "the closest you'll ever get to walking through your dreams and remembering them afterwards." --Esiwahomi Ozemebhoya
Explore Walks: Brooklyn Bridge and Lower Manhattan Walking Tour - Brooklyn Borough Hall
Through June 01, 2018 - Brooklyn
Let the entire city be your museum! Our guided walking tour starts in downtown Brooklyn and explores the history and evolving present of Brooklyn as we cross the world's most famous bridge. The tour continues up through Chinatown and back to Lower Manhattan, passing some of the most historic sites and diverse architecture in all of New York. Sites like Federal Hall, Wall Street, African Burial Ground, World Trade Center, and many more that might otherwise fly beneath the radar! The tour finishes steps from the 9/11 Memorial and Museum and ferries to the Statue of Liberty, perfect for continuing your trip!
Tarsila do Amaral: Inventing Modern Art in Brazil - MoMA : Museum of Modern Art
Through June 03, 2018 - New York
Tarsila do Amaral (Brazilian, 1886–1973) is a foundational figure in the history of modernism in Latin America. The first exhibition in the United States exclusively devoted to the artist focuses on her pivotal production from the 1920s, from her earliest Parisian works, to the emblematic modernist paintings produced in Brazil, ending with her large-scale, socially driven works of the early 1930s. The exhibition features over 130 artworks, including paintings, drawings, sketchbooks, photographs, and other historical documents drawn from collections across Latin America, Europe, and the United States. Born in São Paulo at the turn of the 19th century, Tarsila?as she is affectionately known in Brazil?studied piano, sculpture, and drawing before leaving for Paris in 1920 to attend the Académie Julian. Throughout subsequent sojourns in Paris, she studied with André Lhote, Albert Gleizes, and Fernand Léger, fulfilling what she called her "military service in Cubism," ultimately arriving at her signature painterly style of synthetic lines and sensuous volumes depicting landscapes and vernacular scenes in a rich color palette. The exhibition follows her journeys between France and Braz... (read more)
Visiting Exhibit Gallery - Brooklyn Children Museum
Through June 10, 2018 - Brooklyn
BLOCK PARTY brings together the elements of the iconic Brooklyn block party all under one roof, including a series of dimensional stoops set against a backdrop of artistic facades of residential buildings, and different "street" and green spaces to play games, meet friends, relax, and have fun. Large-scale photographs by Brooklyn-based artist Anderson Zaca, who has long documented block parties in Brooklyn, will be featured and invoke the joy, action, and diversity of block parties celebrated annually across neighborhoods in New York City. Families will be invited to add to the photographs, and record their own images and experiences in the city among those of their neighbors.
Arts of the Islamic World in French - The Met Fifth Avenue
Through June 11, 2018 - New York
A tour of the New Galleries for the Art of the Arab Lands, Turkey, Iran, Central Asia, and Later South Asia explores the Metropolitan Museum's collection of Islamic art, a collection that is one of the finest and most comprehensive in the world. Fifteen galleries grouped by geographic region trace the course of Islamic civilization from Spain in the West to India in the East. The tour draws on this collection to explore the rich artistic traditions of the Islamic world and the distinct cultures within its fold.
30-Minute Met: Guide's Choice in Spanish - The Met Fifth Avenue
Through June 11, 2018 - New York
Morning Hours for Members and Patrons - The Met Fifth Avenue
Through June 30, 2018 - New York
Start your day at The Met! Each month, Members and Patrons* are invited to attend private morning hours for one or more select exhibitions before the Museum is open to the public. Please present your Member or Patron card to admit you and a guest. Only the street-level entrance at 81st Street and the Parking Garage entrance will be open during this hour.
Beyond Suffrage: A Century Of Women In New York Politics - Museum of the City of New York
Through August 05, 2018 - Manhattan
In honor of the women's suffrage centennial in New York State, the Museum of the City of New York explores women's political activism from the fight for voting rights up to the present day. Among the themes explored through artifacts, documents, costumes, photos and audiovisual materials are labor, health reform, good government and the women's liberation movement.
Derrick Adams: Sanctuary - MAD Museum of Art and Design
Through August 12, 2018 - Columbus Circle
Derrick Adams is a New York–based, multidisciplinary artist working in performance, video, sound, textile- and paper-based collage, and multimedia sculpture. His practice is rooted in deconstructivist philosophies such as the fragmentation and manipulation of structure and surface, and the marriage of complex and improbable forms. Through these techniques, Adams examines the force of popular culture and the media on the perception and construction of self-image.Derrick Adams: Sanctuary is an exhibition of large-scale sculpture, and mixed-media collage and assemblage on wood panels that reimagine safe destinations for the black American traveler during the mid-twentieth century. The body of work was inspired by The Negro Motorist Green Book, an annual guidebook for black American road-trippers published by New York postal worker Victor Hugo Green from 1936 to 1966, during the Jim Crow era in America.
Surface/Depth - Museum of Arts and Design (MAD)
Through September 09, 2018 - New York
In June of 2015, Miriam Schapiro, the pioneering feminist artist and founding member of the Pattern and Decoration movement, passed away at the age of ninety-one. Surprisingly, given her status as the elder stateswoman of the feminist art movement, the tremendous impact of her oeuvre on contemporary art has yet to be fully acknowledged or critically assessed. This exhibition seeks to redress this gap in the history of American art through an exploration of Schapiro's signature femmages, the term she coined to describe her distinctive hybrid of painting and collage inspired by women's domestic arts and crafts and the feminist critique of the hierarchy of art and craft. In examining the aesthetic and political objectives of Schapiro's femmages, this exhibition highlights the pivotal role her work and leadership played in the expansion of the art world to include historically marginalized forms of craft, decoration, and abstract patterning associated with femininity and women's work. Although she is unheralded as the source, the influence of Schapiro's subjective approach to forms of decoration can be identified today in an remarkably diverse group of artists who continue to find i... (read more)
La Frontera - Museum of Arts and Design (MAD)
Through September 23, 2018 - New York
Nearly two thousand miles long, the US-Mexico border (la frontera) is the most frequently crossed international border in the world. Although predominantly depicted in the American media as a hub of drug trafficking and violence, the border—porous in nature—is also a place that allows for the exchange of ideas, wealth, and culture. Recently at the forefront of political and cultural conversation following the current US President's anti-immigration discourse and executive orders, the border has been characterized by contradictions since the nineteenth century, when the US annexed an important portion of Mexican territory. For Mexicans, Central Americans, and the United States citizens living alongside it, the border presents daily challenges that carry within them both hope and devastation. It is a complex physical, economic, cultural, social, and emotional landscape of human interaction.
Susan York Foundation - The Drawing Center
Through October 18, 2018 - Soho
For the second long-term installation presented in The Drawing Center's Lab Corridor, Santa Fe-based artist Susan York will create a site-specific installation that references the internal structure of the museum's 35 Wooster Street building. Using graphite as a sculptural rather than a two-dimensional medium, York will create replicas of parts of the museum's foundation: eroded concrete piers that protrude above the museum's ground floor. York's long-term installation will initiate an expanded field of activity at The Drawing Center, pointing to new opportunities for exploring drawing as an interactive and socially-minded practice. Additionally, by bringing attention to The Drawing Center's building, York's installation will generate opportunities for discussion about the importance of museums continuing as public spaces with permanent, physical presence
The Long Run - MoMA : Museum of Modern Art
Through November 04, 2018 - New York
Floor Four, The David Geffen Galleries Innovation in art is often characterized as a singular event—a bolt of lightning that strikes once and forever changes what follows. The Long Run provides an alternate view: by chronicling the continued experimentation of artists long after their breakthrough moments, it suggests that invention results from sustained critical thinking, persistent observation, and countless hours in the studio. Each work in this presentation exemplifies an artist's distinct evolution. For some, this results from continually testing the boundaries of a given medium, for others it reflects the pressures of social, economic, and political circumstances. Often, it is a combination of both. The Long Run includes monographic galleries and rooms that bring together artists across a broad range of backgrounds and approaches. All the artists in this presentation—drawn entirely from MoMA's collection—are united by a ceaseless desire to make meaningful work, year after year, across decades. They include Lee Bontecou, Louise Bourgeois, Melvin Edwards, Gego, Philip Guston, David Hammons, Jasper Johns, Joan Jonas, Helen Levitt, Elizabeth Murray, Georgia O'Keeffe, Gerhard ... (read more)
Vertical Tour - Cathedral of Saint John the Divine
Through December 31, 2018 - New York
On this adventurous, "behind-the-scenes" tour, climb more than 124 feet through spiral staircases to the top of the world's largest cathedral. Learn stories through stained glass windows and sculpture and study the grand architecture of the Cathedral while standing on a buttress. The tour culminates on the roof with a sweeping view of Manhattan.
Inside You - American Musuem of Natural History
Through June 16, 2019 - New York
Did you know that your gastrointestinal tract is home to about 100 trillion bacteria? That's more organisms than there are stars in the Milky Way! Our bodies are home to many trillions of microbes, including bacteria, viruses, fungi, and other organisms collectively called the human microbiome. In any human, microbial genes outnumber the genes in human DNA by more than 100 to one. This new perspective leads us to look at our bodies not just as individuals, but as entire ecosystems.Inside You explores the rapidly evolving science that is revolutionizing how we view human health and introduces some of the scientists who are breaking new ground in microbiome research.Inspired by the Museum's popular exhibition The Secret World Inside You, this exhibition introduces visitors to microbes that live in, on, and around all of us. Engaging graphics detail how microbes aid digestion, influence your immune system, and help fight harmful microbes. You'll find out how we acquire our microbiome and how it is shaped by the foods we eat and the environment we live in. Inside You is co-curated by Susan Perkins and Rob DeSalle, curators in the Museum's Division of Invertebrate Zoology and the ... (read more)
Picasso's Le Tricorne - New-York Historical Society
Through December 31, 2020 - Upper West Side
Now on display at the New-York Historical Society is a newly acquired and conserved Picasso in the exhibition Picasso's "Le Tricorne." It is the first work by Picasso, and one with great wall power and a New York history, to enter New-York Historical's collection. Pablo Picasso painted the stage curtain for the two-act ballet The Three-Cornered Hat (El sombrero de tres picos or Le tricorne). The ballet and curtain were commissioned by the impresario Sergei Diaghilev for his avant-garde, Paris-based Ballets Russes, the most influential ballet company of the twentieth-century. The ballet was choreographed by Léonide Massine with music by the Spanish composer Manuel de Falla. It premiered on July 22, 1919, at the Alhambra Theatre in London with sets, costume designs, and the monumental stage curtain created by Picasso. Picasso biographer John Richardson once called "Le Tricorne" the artist's "supreme theatrical achievement." The production, which was conceived by Diaghilev and Massine during a trip to Spain, was enhanced by its many Spanish collaborators, including Picasso who also designed the costumes and set for the ballet. Measuring roughly 20 feet square, the curtain depict... (read more)
Looking for Free Group Planning Services?
Get free advice on planning your group's trip to New York.
MORE Activity Planner ARTICLES
RESTAURANTS

Brings together the character of Hell's Kitchen past with th...

THEATER

In a heartbeat, 38 planes with 6,579 passengers were strand...

SHOPPING

The sweetest experience in Times Square!...

SIGHTSEEING

Located in Times Square in the heart of New York City, Riple...