Museum Events in New York City This Weekend - December 14-December 16
December 10, 2018 - by CG Directory Editor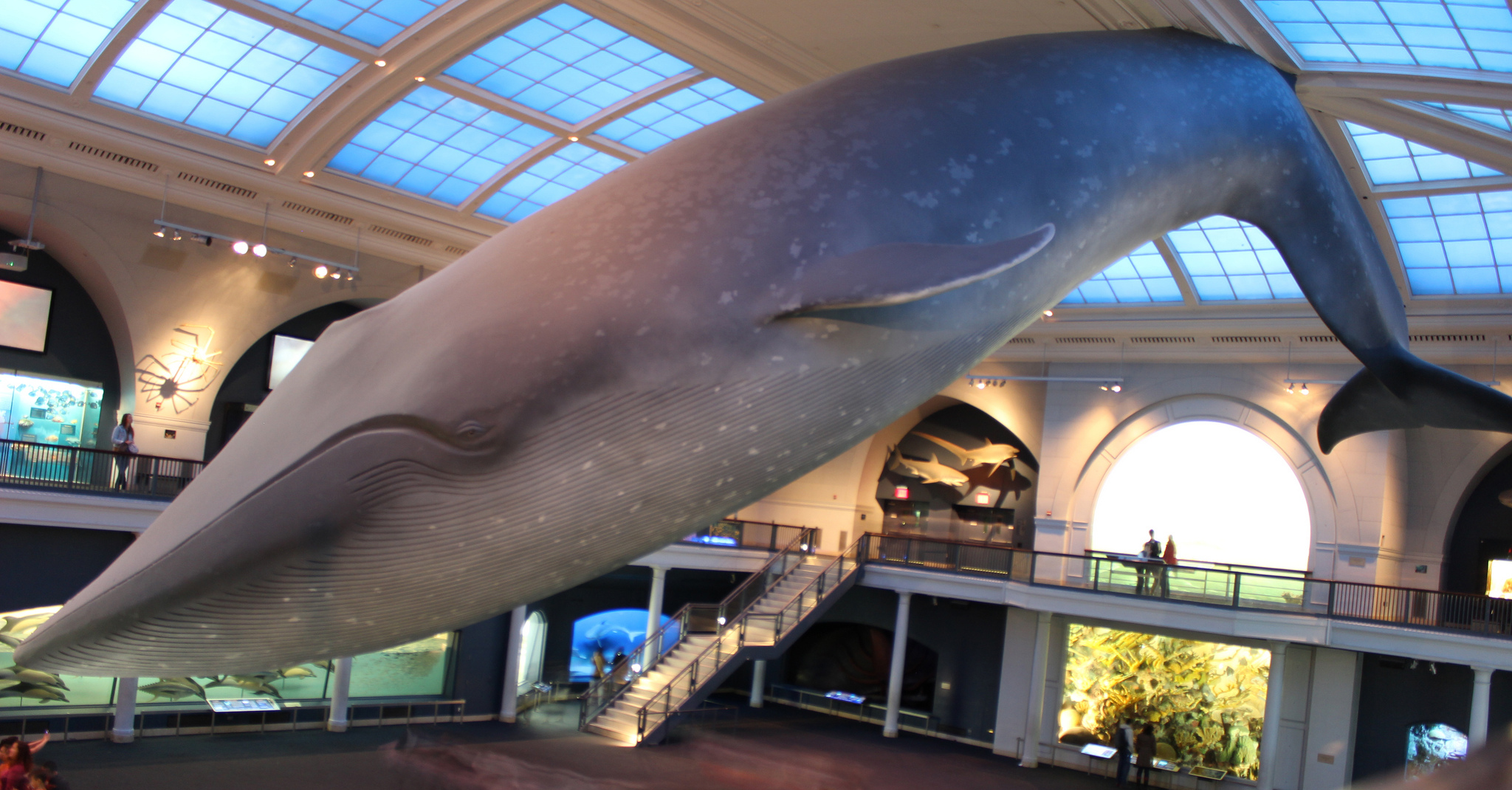 Photo: F. Dassan/Flickr

The Met, the MoMA, the Guggenheim, the Whitney, and the Museum of Natural History ? these are just a sampling of the many great museums open to the city. If you're wanting to spend some time exploring these cultural gems, then City Guide's guide to museum events in New York City this weekend will be your best companion.


Art After Dark: December - Solomon R. Guggenheim Museum
December 14, 2018 - New York
Join us for an after-hours private viewing of current exhibitions, including Hilma af Klint. Cash bar serves wine and beer. Guests will be asked for a photo ID. Members at the Individual level ($85) and above receive free entry to Art After Dark. Limited general admission tickets will go on sale closer to the event date. No tickets will be sold at the door. Join as an Individual Member ($85) or above for free admission for one to Art After Dark. Join as a Dual Member ($140) or above for free admission for two to Art After Dark. Ticket buyers may enter the event at 2 East 89th Street. Members may enter the event through the Fifth Avenue entrance. Bring your member confirmation e-mail and a photo ID for entry. Members receive free entry to Art After Dark, but please arrive early as we cannot guarantee entry once we have reached capacity. For more information, contact the Membership Department at [email protected] Corporate members must present a Guggenheim card labeled "Corporate Courtesy Card" for free entry into the event. For more information, contact the Corporate Membership Department at [email protected] Exclusive Members' Hour... (read more)
Watson Adventures' Dancing Nudes Murder Mystery Scavenger Hunt - Metropolitan Museum of Art
Through December 15, 2018 - New York
Join Watson Adventures on a murder mystery scavenger hunt for adults at the Metropolitan Museum of Art! An eminent scholar's husband has been shot dead, a week after receiving strange messages and images of "dancing stick figures" on her computer. The messages are somehow linked to nude artwork in the museum. Who is the murderer? What is the secret of the dancing nude figures? See if your team of sleuths can figure out whodunit on this unusual murder mystery scavenger hunt based on a Sherlock Holmes story. Price includes museum admission. Advance purchase is required.
Peter Max: Early Paintings - Bethel Woods Center for the Arts
Through December 31, 2018 - Bethel
The art of Peter Max helped define the psychedelic 1960s, with its colorful imagery of gurus, sages, runners, flyers, Zen boats, snow-capped mountains, planets, stars, and sunbeams. His Cosmic posters were found in every college dorm room and in major museums across the globe. Peter Max has stayed in the public eye through five decades, but visitors to The Museum at Bethel Woods will have a rare opportunity to see inspiring artwork from a pivital moment in the artist's illustrious career: the period from 1967 through 1972 when his work moved from nostalgic collage-inspired realistic paintings to his visionary, imaginative Cosmic creations. Peter Max: Early Paintings brings together for the first time the collections of Robert Casterline and Shelly Fireman for a Peter Max experience that should not be missed. The exhibit will be on display through December 31st.
Luminaries - Brookfield Place
Through January 04, 2019 - Battery Park City
This holiday tradition in the heart of Lower Manhattan features a canopy of colorful lights emanating from hundreds of suspended lanterns. This interactive exhibit features three Wishing Stations located on the ground will allow visitors to send a touch-activated wish to the canopy of lanterns above, activating a magical display of lights and colors. Presented by Arts Brookfield, in collaboration with the award-winning design firm, The LAB at Rockwell Group.
Toward A Concrete Utopia: Architecture In Yugoslavia, 1948–1980 - The Museum of Modern Art
Through January 13, 2019 - Manhattan
Situated between the capitalist West and the socialist East, Yugoslavia's architects responded to contradictory demands and influences, developing a postwar architecture both in line with and distinct from the design approaches seen elsewhere in Europe and beyond. The architecture that emerged—from International Style skyscrapers to Brutalist "social condensers"—is a manifestation of the radical diversity, hybridity, and idealism that characterized the Yugoslav state itself. Toward a Concrete Utopia: Architecture in Yugoslavia, 1948–1980 introduces the exceptional work of socialist Yugoslavia's leading architects to an international audience for the first time, highlighting a significant yet thus-far understudied body of modernist architecture, whose forward-thinking contributions still resonate today.
Judson Dance Theater: The Work Is Never Done - The Museum of Modern Art
Through February 03, 2019 - Manhattan
For a brief period in the early 1960s, a group of choreographers, visual artists, composers, and filmmakers made use of a local church to present performances that Village Voice critic Jill Johnston declared the most exciting new developments in dance in a generation. Redefining the kinds of movement that could count as dance, the Judson participants—Trisha Brown, Lucinda Childs, Philip Corner, Bill Dixon, Judith Dunn, David Gordon, Alex Hay, Deborah Hay, Fred Herko, Robert Morris, Steve Paxton, Rudy Perez, Yvonne Rainer, Robert Rauschenberg, Carolee Schneemann, and Elaine Summers, among others—would go on to profoundly shape all fields of art in the second half of the 20th century. Taking its name from the Judson Memorial Church, a socially engaged Protestant congregation in New York's Greenwich Village, Judson Dance Theater was organized as a series of open workshops from which its participants developed performances. Together, the artists challenged traditional understandings of choreography, expanding dance in ways that reconsidered its place in the world. They employed new compositional methods to strip dance of its theatrical conventions, incorporating "ordinary" movements—ge... (read more)
Constantin Brancusi Sculpture - The Museum of Modern Art
Through February 24, 2019 - Manhattan
Poet Erza Pound spoke of artist Constantin Brancusi's work as providing "the master keys to the world of form." Over a career that spanned half a century, Brancusi's innovations transformed sculpture as it had been known, and influenced generations of artists to come. After moving to Paris in 1904 from his native Romania, Brancusi affected the appearance of a Romanian peasant—a long beard, work shirt, and sandals—while embedding himself in avant-garde art circles. He soon began pushing modernist sculpture to the threshold of abstraction, developing a new, simplified vocabulary of graceful crescents, gleaming ovoids, and rough-hewn blocks that often evoked rather than resembled the things named in their titles, such as Bird in Space or Fish. He put the natural properties of his materials on display, carving directly into wood and stone and polishing metal to high reflectivity. The bases for his sculptures were often built of stacked elements—wood cubes, cylindrical slices, pyramidal blocks, or cruciform stones—becoming an integral component of the work itself and hinting at the possibility of infinite rearrangement, an idea that would prove fertile in future decades.
Bruce Nauman: Disappearing Acts - The Museum of Modern Art
Through March 17, 2019 - Manhattan
Schaulager, Basel, The Museum of Modern Art, and MoMA PS1 present the first comprehensive retrospective of American artist Bruce Nauman (b. 1941) in over 20 years. Opening at Schaulager in March 2018 and traveling to New York in October of that year, the exhibition expands upon the rich holdings of the organizing institutions. Spanning the artist's entire career, from the mid-1960s to the present, Disappearing Acts provides a singular opportunity to experience his command of a wide range of mediums, from drawing, printmaking, photography, and sculpture to performance, film, neon, and large-scale installations.
Inside You - American Musuem of Natural History
Through June 16, 2019 - New York
Did you know that your gastrointestinal tract is home to about 100 trillion bacteria? That's more organisms than there are stars in the Milky Way! Our bodies are home to many trillions of microbes, including bacteria, viruses, fungi, and other organisms collectively called the human microbiome. In any human, microbial genes outnumber the genes in human DNA by more than 100 to one. This new perspective leads us to look at our bodies not just as individuals, but as entire ecosystems.Inside You explores the rapidly evolving science that is revolutionizing how we view human health and introduces some of the scientists who are breaking new ground in microbiome research.Inspired by the Museum's popular exhibition The Secret World Inside You, this exhibition introduces visitors to microbes that live in, on, and around all of us. Engaging graphics detail how microbes aid digestion, influence your immune system, and help fight harmful microbes. You'll find out how we acquire our microbiome and how it is shaped by the foods we eat and the environment we live in. Inside You is co-curated by Susan Perkins and Rob DeSalle, curators in the Museum's Division of Invertebrate Zoology and the ... (read more)
Picasso's Le Tricorne - New-York Historical Society
Through December 31, 2020 - Upper West Side
Now on display at the New-York Historical Society is a newly acquired and conserved Picasso in the exhibition Picasso's "Le Tricorne." It is the first work by Picasso, and one with great wall power and a New York history, to enter New-York Historical's collection. Pablo Picasso painted the stage curtain for the two-act ballet The Three-Cornered Hat (El sombrero de tres picos or Le tricorne). The ballet and curtain were commissioned by the impresario Sergei Diaghilev for his avant-garde, Paris-based Ballets Russes, the most influential ballet company of the twentieth-century. The ballet was choreographed by Léonide Massine with music by the Spanish composer Manuel de Falla. It premiered on July 22, 1919, at the Alhambra Theatre in London with sets, costume designs, and the monumental stage curtain created by Picasso. Picasso biographer John Richardson once called "Le Tricorne" the artist's "supreme theatrical achievement." The production, which was conceived by Diaghilev and Massine during a trip to Spain, was enhanced by its many Spanish collaborators, including Picasso who also designed the costumes and set for the ballet. Measuring roughly 20 feet square, the curtain depict... (read more)
Looking for Free Group Planning Services?
Get free advice on planning your group's trip to New York.
MORE Activity Planner ARTICLES
RESTAURANTS

Multi-concept restaurant offering modern Japanese cuisine, a...

THEATER

In a heartbeat, 38 planes with 6,579 passengers were strand...

SHOPPING

DataVision is redefining retail with their new, fully intera...

SIGHTSEEING

The only provider of ferry transportation to the Statue of L...