In a city with many museums, all with gift shops, the Store at the Museum of Arts and Design (MAD) is a stand-out. The museum's shop, a celebration of the creative process, is lively and original, offering a way to take home a special piece of artistry.
"Many of our items are one-of-a-kind, while others are from a very limited studio production," says Franci Sagar, Director and Vice President of Retail and Brand Development at MAD, who oversees the Store. "Our merchandise changes all the time and we strive to include both modestly priced items as well as some that are more expensive. We are far more than an ordinary museum shop, but rather a specialty store with close ties to a museum."
Staff at the shop is welcoming, knowledgeable, and able to explain how items are made and what materials are involved. Goods on offer include handbags, items for the home, accessories, and wearable art like scarves and hats. In addition, there are well-curated books, items for children, cards, stationery, and a great deal of fabulous jewelry, displayed in specially designed three-tiered cases in the store's center. Products exclusive to the museum shop include work from North America as well as from many international destinations known for their celebration of natural materials and workmanship, including England, Germany, Italy, Turkey, and Japan.
To keep abreast of trends and continually find exciting new items, Sagar travels nationally and internationally, scouting artists and studios. When new merchandise arrives, she arranges briefings for floor staff so they are comfortable providing shoppers with details about an item under consideration.
Ginny tote bag in Latico Leather, in Tomato (also available in Crackle White).
The Store at MAD has a number of celebrity followers, as well as diplomats and dignitaries who enjoy the presentation of craft and design objects as much as regular museum-goers and shoppers. Among the stand-out products currently available is a tomato Ginny tote bag in Latico leather. It's the perfect size—neither so big that the contents are a jumble, or so small there's no room for your daily haul. For the home, there is the curved Lift Trivet from Seattle-based Fruitsuper Designs, providing graceful protection for table tops.
Arttdinox Penguin Cutlery Set
Little hands can easily grasp the Penguin Cutlery Set, each piece sporting a brightly colored penguin to help tots master the art of eating by themselves. For gift givers, there is a stunning three-piece cheese spreader set, available with a gold or natural handle, made from excess material that the logging industry leaves behind so you can bestow it (or use it yourself) knowing that no new trees were felled in the making.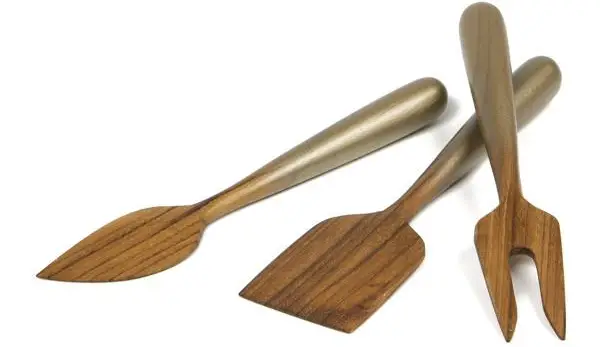 Cheese spreader set in gold by Be Home. Also available in black.
The Store at MAD is on the ground floor as you enter the museum, encouraging a visitor to browse among the well-displayed merchandise without museum entry. Shopping here provides the opportunity to take home a piece of beautifully designed original art knowing it was selected with the same care and concentration that goes into exhibitions upstairs. A bonus—each purchase helps support the exhibitions and educational programs of the Museum of Arts and Design.
For more information, visit thestore.madmuseum.org or call 212-299-7700. The Museum of Arts and Design is located at 2 Columbus Circle in midtown Manhattan.