Get ready to go on a hero's journey from fan to champion at the brand-new NFL Experience Times Square. This first-of-its-kind attraction brings fans closer than ever to the National Football League and their favorite teams. The experience combines immersive content, interactive displays, a state-of-the-art 4D (yes, 4D!) cinema, and some amazing new multimedia effects. Fans are transported from the stands to the field, moving from locker room and training camp on to the playoffs and the game's ultimate stage: the Super Bowl.
"Going through NFL Experience brought me back to the game and triggered the emotions that I cherished as a player," says NFL Hall of Famer Michael Strahan of the New York Giants. "As someone who spent 15 years in the league, I think the NFL Experience offers the most authentic look at the game outside of playing on Sundays."
Highlights of NFL Experience include:
"The 32" exhibit lets fans explore team traditions, fun facts, top plays, and even get a look inside home stadiums around the country. Test your knowledge or vote for your favorite player, and take a tour through all 32 teams with authentic club treasures on display.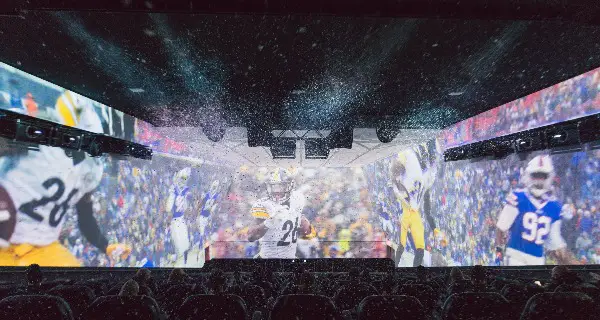 At "The Stadium," fans transport themselves onto the playing field with a fully immersive, 4D film that lets them experience all the hits, speed, snow, and wind of an NFL game, with exclusive content from NFL Films.
In "The Equipment Room" guests get a behind-the-scenes look at all that goes into an NFL practice or game. Fans can enter the training grounds and measure their skills with a combination of digital and physical tracking activities.
Blocking dummies measure tackle strength—have fun seeing how you stack up against your friends while getting a taste of an NFL practice or training camp.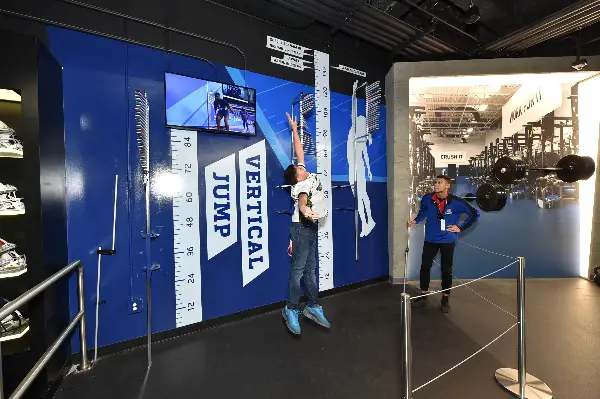 Fans also can see how their vertical jump compares to their friends, or to NFL players. Finally, fans will get inspired by postgame speeches from NFL coaches and view gear worn by the stars themselves.
Fans can see themselves in the game—literally! NFL Experience's digital mirror lets fans "Suit Up" to go full motion on gameday in their favorite NFL team's uniform!
Guests can learn the strategy behind the big game-winning play from legendary coach Jon Gruden.
They'll prepare by studying the X's and O's, then huddle up in a VR experience to call the play, read the defense, and get the play off in time, all while the coach is yelling at them from the sidelines.
Another fun experience is the "QB Challenge." Employing new technologies, you'll have the chance to show off your skills as a passer.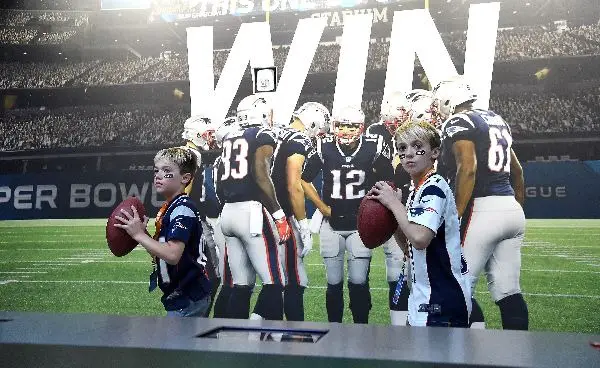 Visitors can test their skills as an NFL quarterback by passing to their favorite team's tight end and comparing their speed and accuracy against their team's QB.
Augmented reality cameras let guests celebrate a Super Bowl win like a pro on the 50-yard line.
Take a photo with the Vince Lombardi Trophy, check out every Super Bowl ticket, and even show off your own Touchdown Dance!
You can explore all 51 Super Bowl rings, getting an an up-close look at every championship ring from the Green Bay Packers in Super Bowl I to the New England Patriots' Super Bowl LI ring and its 283 diamonds.
Forty-two mirrored screens engulf fans in the spirit of victory as they move through the postgame tunnel. Guests have a one-of-a-kind experience of the game from both the player and fan perspective with exclusive, never-before-seen footage.

Guests can hang out after to stock up on exclusive NFLX swag and check out NFLX Eats for all their food cravings, with "stadium-chic" concession carts inspired by all 32 teams. With locally sourced ingredients from every NFL hometown and input from all 32 stadium head chefs, the rotating menu changes based on the big game of the week.
In the words of NFL Commissioner Roger Goodell, "Whether you are a seasoned veteran or new to the game, NFL Experience Times Square takes you on an unforgettable journey where you enter as a fan, become a player, and leave as a Super Bowl champion."
646-863-0088
20 Times Square | entrance btw. 47th & 48th Sts. on Seventh Avenue
NFL Experience is open daily. Check nflexperience.com for up-to-date daily hours, special events, watch parties, and player appearances!