NYC's Best Iced Coffee Drinks
June 23, 2017 - by Chelsey Grasso
Don't let hot summer weather get you off your coffee game. New York City has all kinds of great ways to refresh and recharge with amazing iced coffee drinks. From Italian and Mexican influences to the latest in nitro trends, read on for our picks for the best iced coffee experiences in NYC.
Best of NYC Iced Coffee Drinks: Zibetto Espresso Bar (Midtown West)

If you want an authentic Italian coffee shop experience (and who doesn't?) Zibetto Espresso Bar is the place to go. All of the drinks on the menu are to die for, but make sure you try their iced coffee. They offer a Shekkarato, the Italian choice for iced coffee, made with two shots and shaken with ice to achieve a blissful concoction that will have you addicted. Also on the menu is the Affogato al caffe, a drink and dessert rolled into one with two generous scoops of gelato drowned in espresso. Additional locations in midtown. 1385 Sixth Ave., 646-707-0505, zibettoespresso.com
Best Iced Coffee NYC: Caffe Palermo (Little Italy)
Caffe Palermo is in the heart of New York's Italian heritage, and no one beats the Italians when it comes to coffee. For a refreshing spin on a classic, check out their iced coffee, finished with a decadent whipped cream capping. (While you're there, don't miss out on a prime New York cheesecake and the city's best cannoli.) 148 Mulberry St., 212-431-4205, caffepalermo.com
Best of NYC Iced Coffee Drinks: La Colombe Coffee (Financial District)
La Colombe Coffee is known for serving coffee with a bold taste and a smooth feel. So good that they've had to open locations all over the city, so you can be sure that the moment that itch for coffee hits, you'll be able to find one without a problem. Try the iced latte, or anything else iced, because La Colombe doesn't do watered down coffee. Get ready to taste that espresso flavor with every sip. Additional locations in Tribeca, NoHo, Soho, Greenwich, Chelsea and Midtown. 67 Wall St., 212-220-0415, lacolombe.com
Best of NYC Iced Coffee Drinks: Le Pain Quotidien (Midtown West)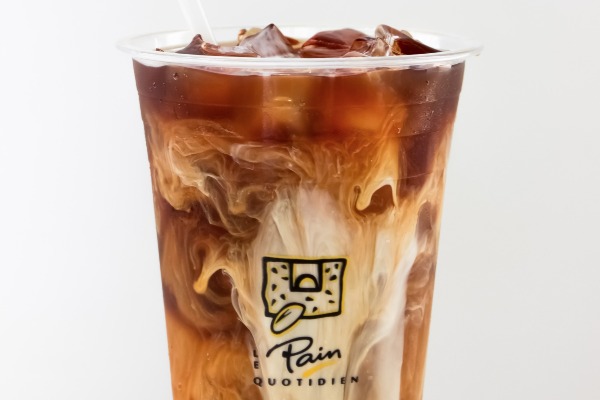 Originally from Belgium, Le Pain Quotidien has been serving up European-inspired cafe specials and seriously fine coffee since 1990. You'll find locations in central spots all around New York City—there are over three dozen in Manhattan, and another two in Brooklyn, on top of branches in 17 countries around the world. Summer is the perfect time to chill out over Le Pain Quotidien's organic Cold Brew, which is crafted from 100% Arabica, single-source Peruvian coffee. It's shade grown and hand harvested, so you can feel good about that, too. On the side, fresh-made artisanal breads, pastries, tartines, salads, and quiches await. 70 W. 40th St. and locations all around New York City, 212-354-5224, lepainquotidien.com
Best of NYC Iced Coffee Drinks: Coffee Project New York (East Village)

Nitro coffee is sweeping the nation, and Coffee Project New York knows just how to brew the perfect cup. As the name suggests, nitro coffee is coffee infused with nitrogen for a bit of a bubbly feel. Coffee Project offers a creative and tasty Nitro Flight, which is two cups of coffee, one black (no cream) and one white (with cream). Don't let the black scare you off though, as the magical nitrogen makes it tastes like it's got cream too! 239 E. 5th St., 212-228-7888, coffeeprojectny.com
Best of NYC Iced Coffee Drinks: Culture Espresso (Midtown West)
Culture Espresso is no stranger to the classic coffee and scrumptious baked good combo. Come for the warm and fresh baked cookies, but stay for the no-nonsense, premium roasted coffee. You can grab your usual iced coffee here, or you can opt for a foamy nitro brew. Whether your drink of choice is latte, mocha, macchiato, or something else, visiting this quaint café needs to be on your itinerary. Additional location in Midtown West. 72 W. 38th St., 212-302-0200, cultureespresso.com
Best of NYC Iced Coffee Drinks: El Rey Coffee and Luncheonette (Lower East Side)

El Rey Coffee and Luncheonette has it all: lovely coffee made with beans from Ethiopia, a mouthwatering food selection, and giant windows that point out onto the street that make this a prime people-watching location. The menu here is extensive, but take a moment to consider their cold brew or their must-have Mexican mocha. Small, but not lacking in charm, El Rey will certainly fulfill your coffee needs and fill your stomach. 100 Stanton St., 212-260-3950, elreynyc.com
Looking for Free Group Planning Services?
Get free advice on planning your group's trip to New York.
RESTAURANTS

Multi-concept restaurant offering modern Japanese cuisine, a...

THEATER

In a heartbeat, 38 planes with 6,579 passengers were strand...

SHOPPING

The sweetest experience in Times Square!...

SIGHTSEEING

In addition to 360-degree views from Midtown Manhattan, the ...