Planning for the 2018 TCS New York City Marathon
October 19, 2018 - by City Guide News Desk
When November hits, the city's thoughts turn to pounding pavement and the excitement of the TCS New York City Marathon. Some 50,000 runners from 125 countries will be cheered on by millions across all five boroughs of the city. The TCS New York City Marathon on Sunday, November 4 is more than a one-day event, too: it's a weeklong celebration of New York, runners, and their families, friends, and fans. Read on for some highlights and tips for planning, whether you're running or cheering on the action. tcsnycmarathon.org
Poland Spring Marathon Kickoff (5M). This race travels the roads of Central Park and ends at the marathon finish line (registration required) on Sunday, October 28th.
The TCS New York City Marathon Pavilion. Back for race week, the Pavilion is free and open to the public. This entertainment hub and welcome center is located at W. 67th St. and Central Park West, just steps from the finish line. Stop by to enjoy food and drinks, official merchandise, film screenings, athlete appearances, panels, giveaways, interactive photo ops, and more.
The NYRR RUNCENTER Featuring the NB Run Hub. New York Road Runners' community running center at 320 W. 57th St. will be a destination throughout race week for shopping, group runs, clinics, programs, meet-and-greets, and more. On race day, spectators can take a break from the course, warm up, and hang while waiting for runners to finish.
TCS New York City Marathon Expo Presented by New Balance. The largest running exhibition in the U.S., and one of the top 10 health and fitness expos in the world. Join race participants, health enthusiasts, and runners as they prepare for race day, shop fitness products, and experience the excitement. Free and open to the public November 1-3 at the Jacob K. Javits Convention Center.
TCS New York City Marathon Opening Ceremony Presented by United Airlines. On Friday, November 2 at 5:30pm, kick off Marathon Weekend as the Parade of Nations showcases runners from around the world as they parade across the finish line; fireworks follow and tickets are free.
For more info visit tcsnycmarathon.org/race-week
Prime Spots to Watch the TCS New York City Marathon
Brooklyn. Fourth Avenue (Miles 2–4): Catch runners as they exit the Verrazano-Narrows Bridge from Staten Island. Williamsburg and Greenpoint (Miles 10–13): Enjoy local treats as you watch runners head toward the Pulaski Bridge to cross into Queens.
Queens. The Pulaski Bridge (Mile 13.1): The bridge is closed to spectators, but many fans watch on the Queens side, just past the race's halfway mark, where runners appreciate some loud encouragement.
Manhattan. First Avenue (Miles 16–18): The avenue's many bars and restaurants contribute to the festive atmosphere.
East Harlem. (Miles 18–20): Runners fear hitting the dreaded "wall" here, so this is a perfect location to cheer your heart out to help keep motivation high. Fifth Avenue between 90th and 105th Sts. (Mile 23): Museum Mile is a cultural hub as well as a crucial spot to catch the runners before they enter Central Park.
Where to Carb Load Before or After the TCS New York City Marathon
If you're looking to do some carb loading before or after, don't miss the pasta pros at New York's favorite Italian restaurants. In Midtown West our go-tos are Buca di Beppo, La Masseria and its new sister spot Masseria dei Vini, plus Chazz Palminteri Italian Restaurant and Patsy's Italian Restaurant. For a quick pick-me-up in midtown, the Zibetto Espresso Bars have desserts and coffees as only the Italians can do it. Over in the Flatiron District you'll find us at Obicà Mozzarella Bar, Pizza E Cucina. Further downtown, Villa Mosconi and Monte's have been Village favorites for decades. On narrow, ancient streets downtown you'll also find one of the most vibrant places in Manhattan: Little Italy. For decades now, bold-face names and hungry New Yorkers have come here for pizza, pasta, and the best cannoli in the city. Our recommendations include the family-owned classic Il Cortile. When you're ready for a sweet ending to your Little Italy adventures, Caffé Palermo is your destination. Baby John "The Cannoli King" serves up cannolis that keep to that perfect balance between sweet cream and satisfying crunch, making these the best in the city. And you don't have to be in training for a marathon to enjoy them.
Show your Marathon badge at the Heartland Brewery Midtown West or Heartland Heartland Brewery and Rotisserie Empire State Building from Nov. 1-4 and enjoy a $14.95 pasta special (just $6 more for beer or wine)!
TCS New York City Marathon History
The first New York City Marathon, in 1970, consisted of 44-some laps around Central Park. It had 55 finishers and a budget of $1,000. Forty-seven years later, over 100,000 feet will pound the pavement through all five boroughs in a rite that is now as much identified with the Big Apple as the Empire State Building and the Brooklyn Bridge. Two million people will cheer the runners who have trained for months, logged thousands of miles, and come from all corners of the globe.
The 48th running of the marathon once again features a diverse array of athletes, including Olympians and world and national record-holders, as well as civilian runners ages 18 to 90.

The New York Road Runners Club, the world's largest running organization, organizes the 26.2-mile journey from the Verrazano-Narrows Bridge in Staten Island to Central Park in Manhattan. The Marathon provides the runners with stunning vistas as it crosses five bridges and winds through the five corners of the city, passing classic city landmarks, historical sites, and colorful ethnic neighborhoods.

From the start, the two-mile-long Verrazano-Narrows Bridge, the world's longest single suspension bridge, gives runners a spectacular view of the breathtaking southern Manhattan skyline. Runners then enter Brooklyn to run the next 12 miles of the race. The Pulaski Bridge, which separates Brooklyn from Queens, marks the halfway point of the race, but it is the Queens Borough/59th Street Bridge at Mile 15 that provides the more memorable crossing. The marathoners run north on First Avenue and cross through a corner of the Bronx at Mile 20. Re-entering Manhattan from the Madison Avenue Bridge, they pass through East Harlem down Fifth Avenue, and through the hilly southeast corner of Central Park. Turning right on Central Park South, they head back into the park at Columbus Circle for the triumphant final stretch.

The atmosphere is exciting for the spectators, who turn the marathon into 26.2-mile stadium. To see runners at their freshest, go to Brooklyn, along 4th Avenue. A quiet place to view the runners is in lower Queens, though it gets livelier at mile 15 in Long Island City. The race is most spectacular around mile 16 as the marathoners exit the Queensboro Bridge and enter Manhattan at 59th Street. The crowds are as big and as loud as they get, and they stay big and loud for the next 40 blocks along First Avenue.

By the 20-mile mark in the Bronx, the crowd is calmer. At mile 22, the marathoners are back in Manhattan at 122nd St., and the crowd is lively again for the next mile and a half along Fifth Avenue. At this point, the marathoners need all the cheering and encouragement they can get. At mile 24, the marathoners enter the park. Central Park and Central Park South are thrilling places to watch the race, but they're crowded, so arrive early. The Marathon is an inspiring event, celebrating the triumph of the human spirit, and the possibilities of individual achievement.

Whether they finish the grueling race in just over two hours or more than six, all finishers are warmly greeted with medals to show off their accomplishment. Top winners share hundreds of thousands in prize money.
Don't let an injury slow you down: acupressure specialist Injae Choe (646-823-5386, injae.choe@gmail.com) works with athletes to relieve muscular pain and get them back in the race.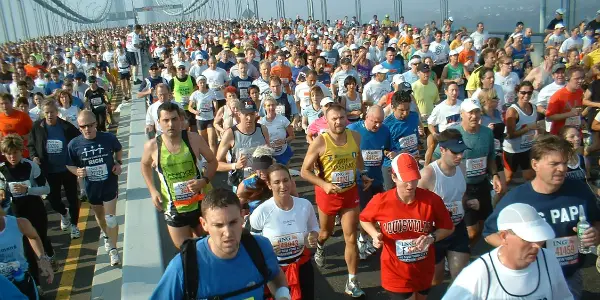 Gearing Up for the 2018 TCS New York City Marathon
Reebok pioneered the fitness movement and the company is still pioneering today. Reebok stores (Midtown and Union Square) are staffed with experts that will help you find the right gear for your workouts and can drive you toward better health and performance through in-store activities. New to Reebok is the Reebok Floatride Run, the company's most technically advanced running shoe to date, which provides an unprecedented level of comfort and performance. The shoe features lightweight Floatride Foam technology, which helps runners float through their run. 420 Fifth Ave. (37th St.),
212-395-9614; 1-3 Union Sq. W. (14th St.), 212-206-7641; stores.reebok.com
NYC Race Day Ready with JackRabbit & Saucony. On Thursday, November 1st, RSVP for a free pre-Marathon event kicking off at 6pm. After a shake out group run in Central Park, catch a championship-level chat with some of running's finest (around 6:45pm): Rod Dixon, winner of the 1983 NYC Marathon, will be a part of a short Q&A with Saucony's pro athletes who will be hitting the pavement come Sunday: Molly Huddle (3rd place, 2016 NYC Marathon), Jared Ward (6th place, 2016 Olympic Marathon), and Tim Ritchie (1st place, 2017 USATF Marathon Road Championships). They'll also have free airbrush artists on-site to tag your shirt or gear, and a Sharpie station, so you can make sure it's easy for spectators to call your name. Enjoy complimentary snacks and refreshments all night long. New York Running Company, Powered by JackRabbit, The Shops at Columbus Circle, 10 Columbus Cir., 212-823-9626, jackrabbit.com
Looking for Free Group Planning Services?
Get free advice on planning your group's trip to New York.
RESTAURANTS

Multi-concept restaurant offering modern Japanese cuisine, a...

THEATER

Gaston Leroux's famous period thriller is now one of Broadwa...

SHOPPING

The world's largest source of cameras, camcorders, and more ...

SIGHTSEEING

Sweeping, unobstructed, open-air views of NYC from the top o...